Some innocuous apps like weather forecasting, dating apps, news feeds, and more, can leak your current location to unknown. This, in turn, may become dangerous for you as someone can harass you or can chase you for robbery. Yes, you can deny location access to these apps, but it will limit the functionality of regular useful apps like uber, tinder, Pokemon Go, weather forecast, and more.
So, to protect your privacy and to keep the apps functional, you need to spoof your location on your device. In Android, spoofing can only be done by enabling "Allow mock locations" under developer option. You can use mock location apps to change your current location on the device. Also, disabling the mock location is also easy when you want to use your real location.
Faking your GPS location with allowing mock location features available on any Android device, regardless of brand. Also, to allow mock locations Samsung s8 or any other android device, you do not need to root your smartphone.
In this article, we have discussed more benefits of Android. Allow mock locations. Also, we have discussed the way to enable it while using a fake location app. Take a look!
Part 1: Benefits of Android Allow Mock Locations
Using allow mock locations Huawei, Samsung, Moto G, and other android devices have several benefits:
When "allow mock locations" feature enable, you can use any fake GPS app to hide your current real location.
It allows you to create specific mock data regarding your location coordinates safely and effectively.
You can virtually set any location on your device for testing purposes and to check the functions of any app. Also, with this feature, you can check how a particular app functions on the desired location.
You can also get local news updates, weather reports, and so on, depending upon the location you choose to spoof.
"Allow mock location" feature on Android gives an opportunity to fake GPS for location-based games like Pokemon Go to access more control.
This amazing feature is also best for localized dating apps like Grindr Xtra to unlock more profiles from different cities.
You can also unlock music from other cities on streaming apps like Spotify, Netflix, Prime Video, etc.
The best way to fake GPS location is to download a Fake location app on Android an enable "allow mock locations." In the following section, we will discuss how to fake GPS on Android with allow mock locations android settings. Take a look!
Part 2: How to Fake GPS on Android with Mock Location Settings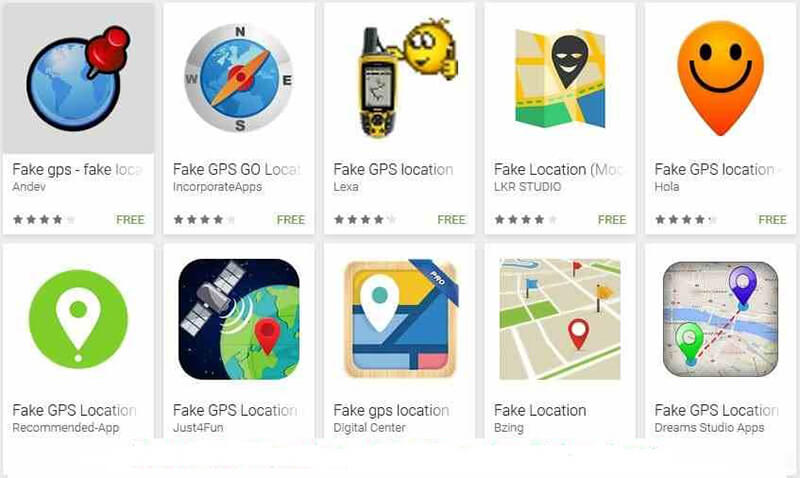 To fake GPS on Android, you first need to allow mock locations feature. After, this only you can use spoofing app to fake location. Thankfully, there are many reliable and free location spoofing apps for Android on the Play Store.
Most of the new Android devices like Samsung S8, Xiaomi, Huawei, Galaxy s7, and more have the inbuilt feature of mock locations. However, you need to enable the developer option first in some android devices. In the following points, we have discussed the steps to enable developer option, allow mock locations in developer option, and to use fake GPS apps.
2.1 Enable Developer Options for Fake Location on Android
In order to access the fake location app, you will first need to unlock the developer option on android devices. To begin, go to your phone settings, select about phone and tap on build number about seven times without a break. This will unlock your developer option and turn it on.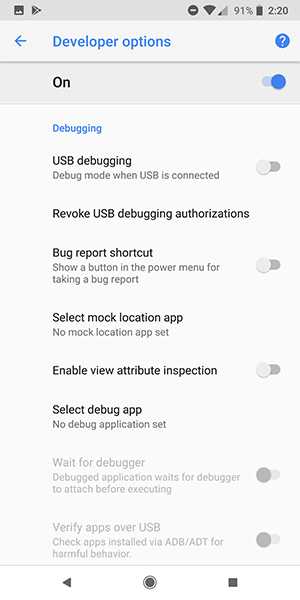 2.2 Allow Mock Locations under Developer Options
Now, the trick to spoof location on Android is to on the "allow mock locations" under developer options. To do this, tap on the developer option that you have unlocked with the help of the above steps. Under this, go to "allow mock locations" and toggle on.
This is how you can enable the allow mock locations on Android with ease. Now, learn how to spoof location with the fake location app on Android.
2.3 Change your Android Location with a Spoofer App
After you enabled the developer option and allow mock locations Samsung, you are ready to use fake location GPS. This allows you to spoof the location on apps like Tinder, Pokemon Go, Ingress, and other location-based apps.
Follow the following steps to change your location with fake GPS on Android:
Step 1: Once you enabled the mock location feature on your Android device, go to the Google Play Store and search for a location spoofing app. There is a search bar on top of the Play Store, where you can search for desired free or paid fake location app.
Step 2: Now, download the desired app on your device by tapping on the "install" button. Some reliable options are Fake GPS, GPS Emulator, Location Changer, and more that you can install on your device.
Step 3: Afterward downloading the app, go to your device's Settings > Developer Options to make sure it is on.
Step 5: now, under the developer option, you can see a "Mock Location App." When you tap on it, you will get a list of all the GPS spoofing apps installed on your device. You can select any to spoof your location.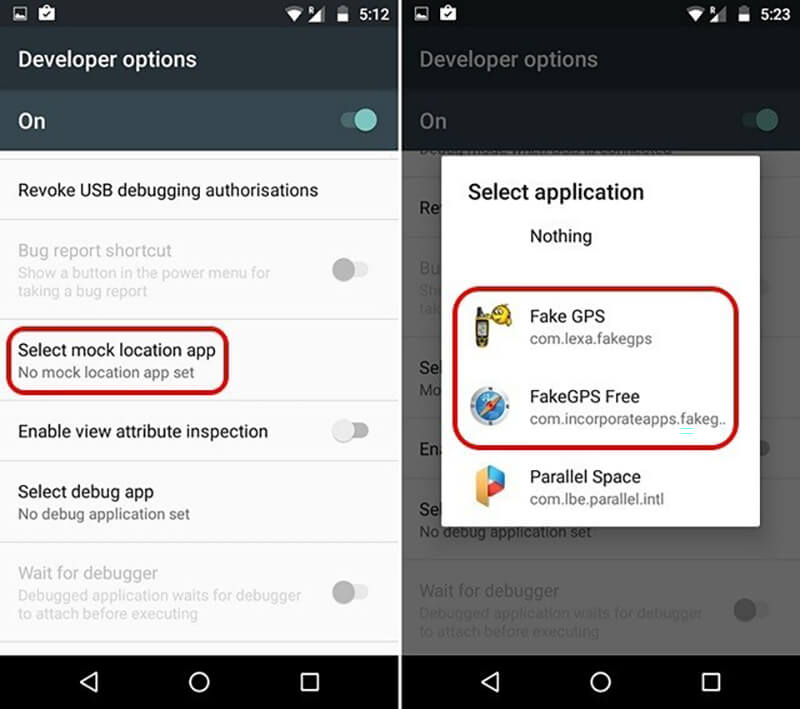 Allow the fake location app running on the background while downloading other apps like Grindr Xtra, Ingress, Spotify, and more. It is because this will help you access more fake location options. On the map of the fake GPS app search for your desired location and tap on the move here button, now you are ready to spoof.
Part 3: Is Allow Mock Location Feature Available on iPhone
No, allow mock location feature is not available on iOS, and spoofing location on iPhone is different from that on Android. For fake locations on iPhone, you will need a trustworthy and reliable fake location app like Dr.Fone - Virtual Location.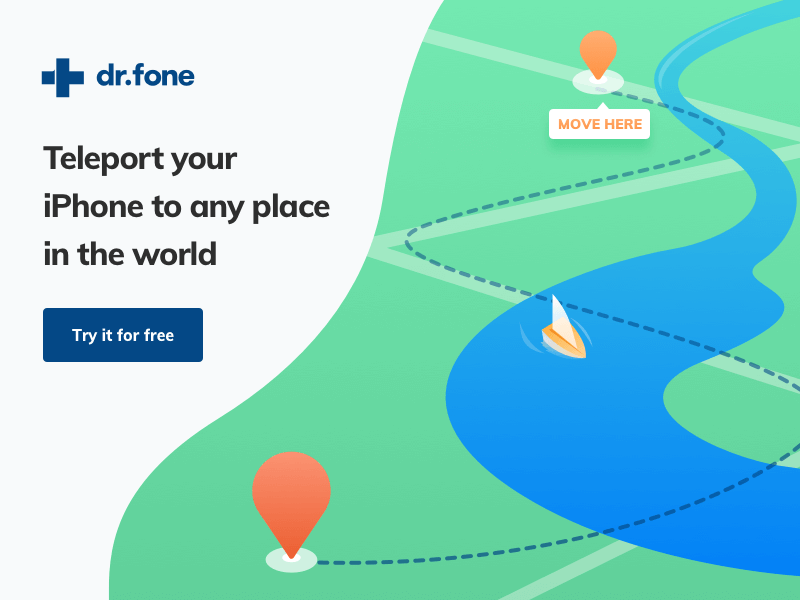 Why choose Dr.Fone-Virtual Location for iPhone?
This is a user-friendly application that supports iOS and can spoof the device's location with ease. It will show a map-like interface and allow you to change location to anywhere in the world. The best thing about this program is that it is completely safe and secure to use on iPhone. It also allows users to simulate between two or more locations at a customizable speed. Further, you also do not need to jailbreak the iOS device to spoof its location using Dr.Fone
How to change GPS location on an iPhone?
Fone application works on all iOS devices, including the latest iOS 13. All you have to do is to download it from the official site. After downloading, go to its virtual location tool and install it and launch it on your system.
Connect your system with your iPhone and click on the "get started" button. After this, you can select the "Teleport Mode" to the desired location in the search bar.
Adjust the pin on the map and click on the "Move Here" button to spoof the location on the connected device.
To simulate the movement, you can select the "Walk/Route Mode" on the interface.
In this way, you can easily mock your location on the iPhone for gaming, dating, and numerous other apps.
Conclusion
Now, as you know, the benefits of the "allow mock locations" feature, you can enable it with the help of the above guide. But keep in mind that it is not available on iOS. So if you own iPhone, you would need a reliable spoofing app like Dr.Fone - Virtual Location app.
Go ahead and try these techniques to allow mock locations on Android and iOS.