Moving to a new country is pretty exciting. In all this excitement, changing your Google Play Store's location might be the last thing on your mind. However, it's extremely important, especially if you're planning to move there permanently.
The reason why you must change Google play store country or location on your smartphone is that Google displays varied content (in terms of listed apps) in different countries. For instance, if you're living in Los Angles, USA, you may not have access to apps that people are easily installing in Japan or China.
It means that when you decide to move to a new country, it becomes quite imperative to change Play Store location as well. This can be done in two different ways and we're going to explain each of them in detail.
So, amidst all your busy planning schedules, take a few minutes out to read the following guide so that you can access and install apps from Google play store without any hassle.
Part 1: When to change location in Play Store
Moving permanently to a new country is one of the situations where changing Play Store location is important. Apart from this, if you're planning to go for a short vacation, it is better to temporarily change the location.
This will help you access the play store for a specific time period and once you're back, you can easily change back to the original location. Now, without wasting another fraction of a second, let's discuss the methods to perform play store region change.
Part 2: Change Play Store location in Google's way
Using the Google Play Store directly is the conventional and an easier way of changing the play store location. However, this method has some drawbacks. First of all, you are only allowed to change your region once a year and any balance in your previous account will not get transferred to the new one.
You also won't be able to use the previous payment method and you'll have to add new card details to make transactions on Play Store. This method is beneficial if you are planning to shift to a new country for a long time.
Follow these steps to change Google Play region while shifting to a new country.
Step 1 - Locate and open the Google Play Store app in your Android smartphone.
Step 2 - Tap the "navigation drawer" button in the top-left corner.
Step 3 - Click on the "Account" button.
Step 4 - You'll see the "Country and Profiles" section under the "Preferences" tab. Click on the country button and choose the new country from the displayed list.
Step 5 - Follow the directions carefully and add a new payment method. Keep in mind that you can only add a payment method that's valid in your new country.
Step 6 - At last, you'll be asked to accept the change. Make sure to confirm the payment details and tap the accept "button".
That's it; your Google play store location is now changed. It is important to note that it may take up to 24 hours for these actions to get implemented. Once your location changes, though, you'll have to wait at least for a year before you can change it again.
It means that if you're going for a short vacation or planning to move for a few months (less than a year), this method is not an optimal solution. In this case, we recommend using a VPN to change location in Play Store.
Let's discuss this in detail.
Part 3: Change Play Store location using a VPN
Using a VPN is a temporary way of changing the play store location. You can use a VPN to change the location for a specific time period, mainly if you're going for a 5-6 days trip to a new country.
Also, you can use a VPN to install country-exclusive apps on your smartphone. When Pokemon Go was first released, it was only made available in specific countries. However, people across the globe, installed the app using a VPN software.
So, if you are also failing to use a region-specific app on your smartphone, try doing it with a VPN. Here are a couple of tips you should remember while using a VPN for changing the play store location.
3.1 Tips when using VPN for change Play Store location
While using a VPN, it's better to remove your existing Google account and use a separate account. Why? Because if you're not using a secure VPN connection, your personal information may go in the wrong hands.
Avoid changing your location frequently (such as every once in a week) as this will send wrong signals to Google.
Be careful while choosing a VPN for your device. There are hundreds of VPN tools in the market. However, it's important to look for the ones that offer proper encryption.
3.2 How to do this
Once you have picked the right VPN, follow these steps to change the Google Play location on your device.
Step 1 - First, remove the existing Google account. To do this, open the "Settings" window in your device and tap on the "Accounts" button.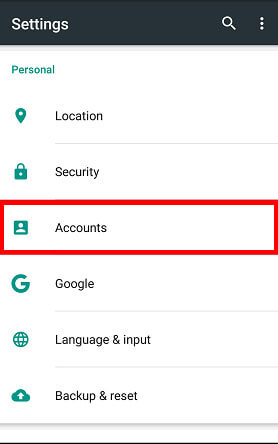 Step 2 - You'll see a list of accounts that are logged-in on your device. Choose Google and this will open up a new window with information about your Google account.
Step 3 - Tap the three-dots in the top right corner and select the "Remove Account" option. This will delete the current Google account from your device.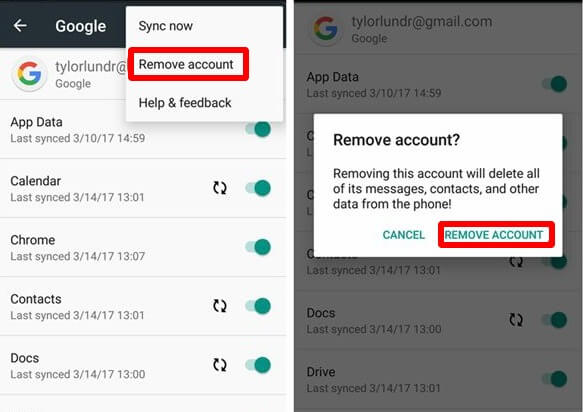 Step 4 - Now, connect the VPN software to a specific location (the country of your choice).
Step 5 - Once you have connected the VPN software, add a new Google account to your device by logging in with the new Google account credentials. Open Google Play Store on your device and you'll be asked to enter the e-mail and password.
Step 6 - Tap "Next" and grab a cup of coffee while Google verifies your account details.
Step 7 - Once you are logged in to your account, follow the same steps we mentioned in the first part of the article, i.e, how to change play store location using the Play Store app itself.
The Bottom Line
That concludes our guide to change Google Play region on your Android device. Whether you are planning to move to a new country or want to install a region-exclusive app on your smartphone, changing the play store location will help. However, it completely depends on your requirements which method you want to go with. In case you face any difficulties while changing the location, simply clear out the device's cache and you'll be good to go.