In this 21st Century, we all carry smartphones in our pocket which is like a powerhouse of essential information. Today we have almost all important information like important documents, private and confidential images, liquid money in your phone. We sometimes tend to misplace them in public places or it becomes the prime targets for strangers which therefore makes us feel like it's the end of everything. Therefore today you need to learn the art of finding your phone via Google in this article. It does not matter how careful one stay with their phones but the awful experience can take place anywhere anytime.
Part 1: Preparations for Find My Phone to work with Google Account
Once in your lifetime, you all have experienced the lost tragedy of your Phone or it has been stolen. Didn't you? If yes, then today let us gain little information regarding opening Google account and joining my device with it as it would be an easy way enough to find my phone through Google account. Once you link up the both you will see that an option will pop up "Find My Phone" which will turn on automatically.
For preparing your phone for "Find My Phone" option and work with Google Account your phone must be:
Turn On
You must sign in to your Google Account
The phone must be connected to the Network properly
The Google Play must be visible
Your phone location must be switched on
"Find my phone" option must be on
Part 2: Set up Find My Phone for Android using Google Account
The moment an Android user signs in to the Google Account "Find my Device" automatically gets turned on. It helps you to track your device no matter what happens to your phone, either stolen or lost. Follow the steps to set up the "Find my Phone" so that it becomes easy for Google to find your phone location.
Firstly open the "Setting" option from your Android Device
Look for the next option "Security & Location"
There you will get to find the last option i.e. Find My Device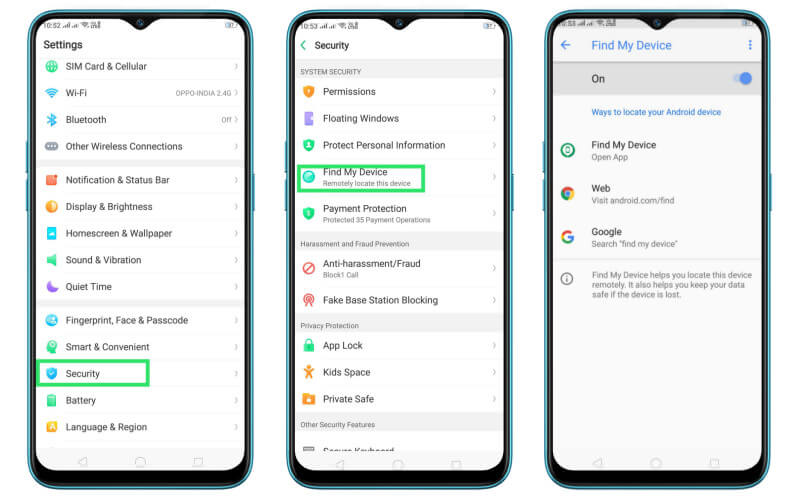 Try these steps to easily get back to your phone. Apart from that signing up for the Google account has another benefit. You can easily track your device from another phone if you logged into the same Google Account. Lastly, it will also help you to get the last location of your device from the internet.
Part 3: Set up Find My Phone for iPhone using Google Account
Unlike all Android devices, the iPhone comes with an in-built tool that enables you to track your lost device via the internet or other similar device with Apple ID. Now, here's the thing. Since, you'd like to keep everything over your Google account, you simply need to register your Google account as your Apple ID. Once done, follow the steps mentioned below to setup find my phone for iPhone using Google account.
Hit on Settings app, tap on "Sign in to your iPhone" and punch in the credentials carefully, followed by "Sign in".
Then, you'll have an entire list of apps that you wish to sync with your Apple ID.
Here, swipe down to "Find My iPhone" and turn it "ON".
You can try these above steps to get control over your phone once you misplace it. You can sign in from another device with the same account that will help you to get track of your own iPhone apart from that it will also help you to get the last report of your phone location on the website.
Part 4: How to find lost Android or iPhone using Google Maps
Android, Apple, and Google-like gathering all information and among all "Location" are also included. For some iPhone and Android users, they feel that Google is invading into their privacy so therefore they change their setting and disable the location service in their phone. But it's advisable not to so as it can be useful if by chance you lose your phone or it's stolen. All location data is always collected in your iPhone and Android Device and on the other hand it also makes it work at a very good interface.
Find lost iPhone using Google Maps:
You need to visit the google.com/maps/timeline website.
You have to select the current date which you will locate at the top left side of the page.
Scroll down till the end to find the option "Last Location" on your iPhone. You need to check the Time Stamps to get information related to the last time your phone got connected to the Google Map.
Find lost Android Phone using Google Maps:
First of all, go to the Android.com/find using the Computer browser or other smartphone.
In the Google Account screen, you need to log in your Google account. The login ID should be same as what you were using in your Android smartphone.
The Google Map will open up immediately.
After some time you will get to see the location of your phone on the map. The identification is quite accurate to make you find your phone easily.
When the device is not able to find, the map will show the last location of your device.
You can play sound if your device is nearby and it will start ringing.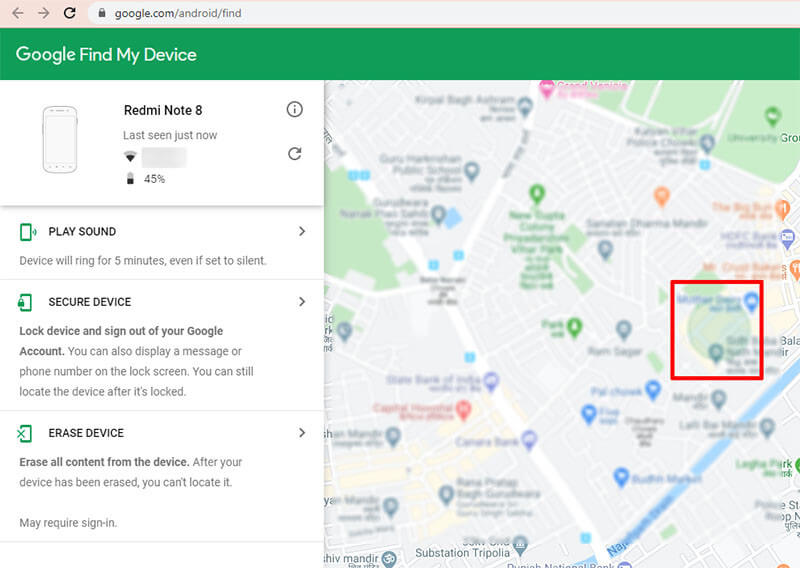 This means you can check out your location history on the Google map from iPhone and Android. With the help of this tool, one gets information related to their lost phone location data which was sent to Google last time. So this will make it easy for you to track your phone and get it back soon as the tool is connected to the web. You can find your phone without Google when the battery dies and the net is no more connected to the iPhone, the last location is reported which will help you. All these steps might help you to get your iPhone back to you easily.
Final Words
Losing your smartphones is something unacceptable and unavoidable incident for anyone. You start to worry about all the important data, images, and contacts. In such time one can try their best to find their phone with Google map as mentioned the steps above.
Thus today in the above article we hope we have shared detailed information with you about smartphone features where iPhone and Android come with "Find My Phone" which helps you to track your location with the help of Google Maps.