"Is the new game Jurassic World Alive worth playing? How is the Jurassic World different from Pokemon Go?"
This is something that a lot of people have asked us about Jurassic World Alive lately. Based on the legendary Jurassic Park movies, the game lets us collect different dinosaurs and even battle with other dinosaurs. If you have also gone through the Jurassic World Alive Reddit and Facebook pages, but are still not sure about the game – then don't worry. In this ultimate post, I'm going to tell you every important thing that you should know before playing Jurassic World Alive on Android or iPhone.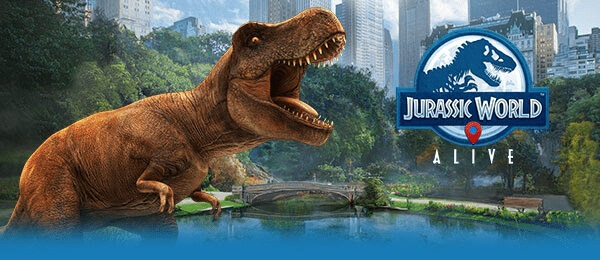 Part 1: What is Jurassic World Alive and when was it released?
Ideally, Jurassic World Alive is a popular augmented reality game that is pretty similar to Pokemon Go. The game is based on AR and lets us collect different species of dinosaurs that are scattered in the world. It has been developed by Ludia in association with Universal. The Jurassic World Alive release date was May 18th, 2018 when it was first introduced in Canada and Australia. Presently, the game is available in every major country in the world.
How to Play Jurassic World Alive?
To play Jurassic Park Alive, you first need to download in on your Android or iOS device. You can go to its Google Play or App Store page to do that. Just be sure that your devices should be running on Android 4.4+ or iOS 10+.
The game presently has more than a hundred different species of dinosaurs that are scattered in the world. Our aim is to preserve them by collecting their DNA samples. For this, we need to go out in the real world and use the Jurassic World AR app to spot different dinosaurs. Once you find a dinosaur, you have to use drones and other equipment to "collect" their DNA. After having sufficient data, the dinosaur is preserved in your collection.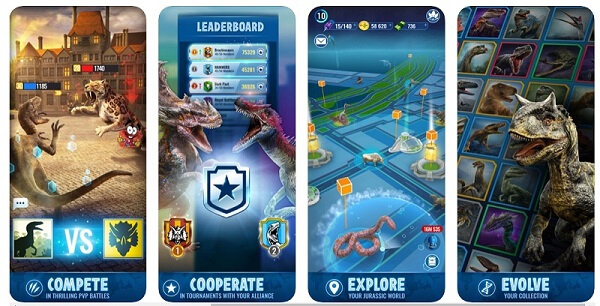 As you can see, Jurassic Park is pretty similar to Pokemon Go when it comes to collection or catching dinosaurs. After having enough dinosaurs, you can battle with different players in arenas and even develop new species of dinosaurs by altering the collected DNA samples.
Jurassic World Alive Pricing
Ideally, the Ludia Jurassic World game is available for free on leading devices. Though, there are plenty of in-app purchases that you can make to get more options. You can buy different options of the game coins by paying $4.99 to $99.99. If you want, you can become a VIP Jurassic World Alive player with a subscription cost of $9.99 a month.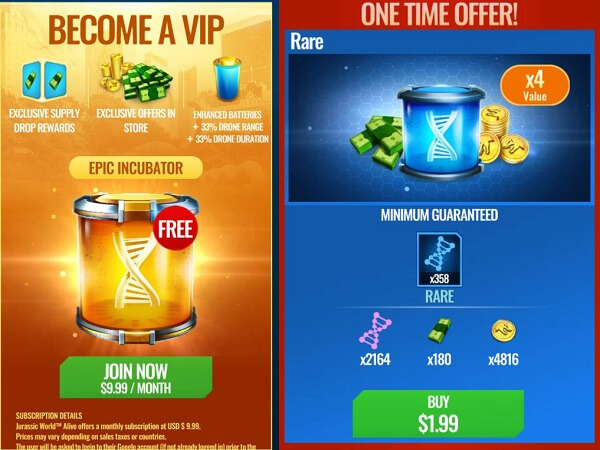 Part 2: Hacks to Catch More Dinosaurs Quickly in Jurassic World Alive
The more dinosaurs you would catch, the more experience points you will get in the game that will let you improve your level. To help you do that, I would recommend these smart tips to play Jurassic Park Alive like a pro.
Start by collecting different dinosaurs

There are different types of dinosaurs that you can collect in the game. Once you discover a dinosaur, tap on the more details option. This will let you know how difficult it is to catch the dinosaur and its type. You can start by collecting easy dinosaurs at first so that you won't waste your resources on epic and energy-consuming dinosaurs.

Make hybrid dinosaurs

One of the major reasons for collecting different kinds of dinosaurs is this. Once you have a diverse DNA pool of different dinosaurs, you can come up with some unique hybrid dinosaurs of your own. There is a dedicated section in the Jurassic World AR game for this that would need different DNA samples and incubators.

Keep an eye on the map

The Jurassic World Alive is more dynamic and keeps changing with time. Therefore, it is recommended to use the app time and time again. In this way, you can easily check if a new dinosaur has appeared nearby.

Collect freebies

Since Jurassic Park Alive is still a new game, it lures its players by giving them tons of freebies. All you got to do is launch the application multiple times a day to collect the free hampers. Sometimes, you would be asked to watch a video to collect coins as well.

Spoof your location on iPhone

Let's be honest – it is not possible to manually go everywhere to collect dinosaurs. Therefore, a smart Jurassic World Alive hack would be using a location spoofer. For instance, you can use dr.fone – Virtual Location (iOS) on your iPhone to change its location. Without the need to jailbreak the device, you can change its location to anywhere in the world. This will let you catch new dinosaurs anywhere you want from your couch.

Simulate your movement

Apart from spoofing your location, you can also use dr.fone – Virtual Location (iOS) to simulate your movement. In this way, you can easily move from one location to another in Jurassic World Alive without getting banned by the app. You can also use this hack to measure your steps to develop new dinosaurs as well.
Part 3: Tips to Battle like a Pro in Jurassic World Alive
While collecting dinosaurs is one of the major things in the Jurassic World Alive game, players can also battle in arenas. If you wish to win more battles in Jurassic Park World Alive, then consider following these steps:
Pick the right dinosaurs

Before you start any battle, make sure that you have the perfect combination of dinosaurs. While the application will pick dinosaurs on its own before a battle, you don't have to stick with the default choice. Feel free to modify the pick and select the most appropriate dinosaurs, keeping the range more diverse.

Practice friendly matches

Before you start with the arena matches, you can invite friends for practice matches. In this way, you can learn the major moves, the attacks of your dinosaurs, and also understand the battle tactics.

Other battle tactics

Besides that, you can consider following these expert battle tactics in Jurassic World Live:
Take some time before planning your move and adjust your target to make sure it won't be missed.
Feed your dinosaurs in advance to ensure they are charged before the battle.
If you think a dinosaur is getting defeated, then switch it with another one before it is lost.
Come up with various hybrid dinosaurs for the battle to take your enemy by surprise.
Try to come up with the best counter-attacks. For instance, if the other dinosaur has slow speed, then you can pick a fast-moving dinosaur like Velociraptor to double your attack.
To improve the battle points and hits, consider buying some equipment for your dinosaurs.
Lastly, consider the golden rule of battles in Jurassic World Alive – speed over strength, armored over speed, and strength over armored.
I'm sure that after reading this post, you would be able to know more about the Jurassic World Alive game. Although I have tried to include various tips and tricks regarding the game, you would only get its real experience by playing it. Feel free to give Jurassic World Alive battle a try and use tools like dr.fone – Virtual Location (iOS) to be a pro in no time.