Finally! I can bring Chuck and the other guys right into my home, back yard, or whichever real-world place I wish! Bu, how do I download the app? Where do I find some great mods?"
Android and iOS players rejoice as Angry Birds AR: Isle of Pigs is here to stay and can be downloaded in several different ways. We did all the hard work for you, and list the best available options to help you join Blues, Bomb, Chuck, and Red to save the stolen eggs from the nasty green pigs that won't take no for an answer! Besides downloading the mobile AR game from the Google Store and the App Store, we also show you how to use an Angry Birds AR: Isle of Pigs apk file, as well as how to get the Mod version.
Part 1. Get Angry Birds AR Isle of Pigs from App Store
An Angry Birds AR: Isle of Pigs download from the App Store is the best option for players using an iOS OS (operating system). According to ROVIO Entertainment Oyj, the game developer, the game is 151.5 MB, so you need to have at least that amount of free space available on your iPhone. To play the game, you need to have an iOS 11.00 or later. This means that Angry Birds Isle of Pigs is compatible with a plethora of portable devices, including iPhone 6, iPad Pro, and iPad Air 3rd generation and higher.
Angry Birds AR: Isle of Pigs Download Steps
Visit the App Store.
Search for the game.
Hit "Install".
Part 2. Get Angry Birds AR Isle of Pigs from Play Store
You complete the Angry Birds AR: Isle of Pigs download, you will need to have a Google ARCore compatible device. This is to ensure that the game will run smoothly on your android-powered phone or tablet, this being an AR application. Motion sensors, the camera, your CPU, and the design architecture are all put under the microscope to determine how your smartphone moves around the real world and whether it can deliver a good performance. Here is a list of all ARCore compatible devices. However, you will also know if your smartphone is compatible or not right after heading to the Google Store and trying to download the game.
If all checks out well, here is what to do:
Visit the Google Store.
Type in Angry Birds ER: Isle of Pigs in the search box.
Tap "Download".
Part 3. Get Angry Birds AR Isle of Pigs from APKPure
If you live in a region where a game or app is restricted, or if your Android device does not have access to the Google Play Store, or want early access to new features, then you need to install an APK file.
In short, an ARK file will allow your Android device to install a mobile app that you would otherwise not be able to download through the Google Store. Note, though, that it is critical that you use only reliable ARK sources to avoid getting scammed. APKPure is a trusted platform to download Angry Birds Isle of Pigs. Just make sure that you have at least 98.1MG free. It also enables you to upgrade Angry Birds, saving you Internet data. To download the game, follow these steps:
Visit APKPure.com.
Search for the game.
Click on "Download APK"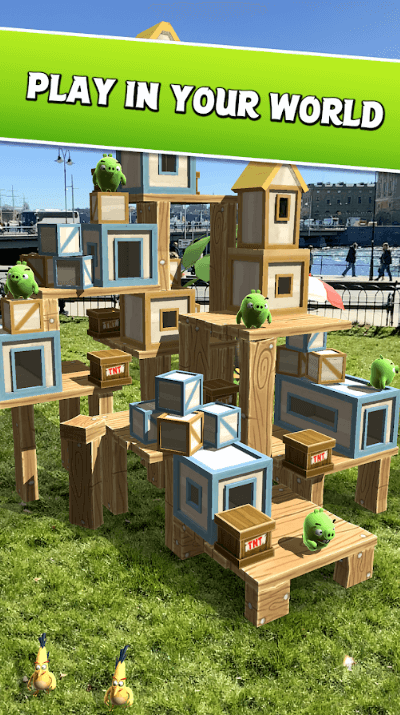 Part 4. Get Mod version of Angry Birds AR Isle of Pigs
A modification, or mod, in short, is an alteration of a video game down by fans or players of that game. Mods can change one or multiple aspects of a game, such as how it behaves or looks, and can be everything from small tweaks to a total revamp of the game. The purpose of that is to extend the interest of the game and perhaps even replay its value. Compared to the iOS-powered devices, Android smartphones and tablets are far more flexible and open if one wants to customize an Android device (even out-of-the-box ones) to their liking. Afar from that, though, fans wish for more than just simple tweaks to their operating system. They want to transform their device in a zillion crazy ways by installing mods that give, say, advanced control of the smartphone's Wi-Fi capabilities, or even help skyrocket the performance of their device beyond its defaults. Mods can also offer fresh quests, bug fixes, enhanced graphics; you name it.
So, how do you find MOD versions of Angry Birds? Go a simple Google search using the term "Angry Birds AR: Isle of Pigs Android mod" or similar, and you will be provided with a really long list of sites that offer MOD versions of the game. For instance, you will find platforms that will give you the chance to have unlimited money in the game or unlimited power-ups. That being said, many gamers admit feeling much less motivated and enthusiastic after using a mod version of a game. Probably because it feels like cheating in the game, in some instances, making what is an otherwise challenging task a walk in the park!
Note that MODS are usually APK files that you must install, following the same procedure as the one described above.
Part 5. Get Angry Birds AR Isle of Pigs to play on PC
The great thing about technology is that you can play a mobile game on your computer, without lacking any of the features or the thrill associated with playing on the go. Whether you have an iOS or Android smartphone or portable device, you can now enjoy the excitement of Angry Birds Isle of Pigs. In the following sub-sections, we give you all the details necessary. Choose the one that corresponds to the portable device you own and check it out!
Play Angry Birds AR Isle of Pigs with computer (for iOS)
With GPS emulators like dr.fone, you can teleport your location and explore the roundabouts of other regions as well. This program is also a great option if you don't want to have your exact location exposed at all times. Plus, it is super fun to play Angry Games ER: The Isle of Pigs in the streets of, say, Rome, Spain, or Paris! Below is a step-by-step guide to help you download the software, connect your iOS phone to your computer, and start playing your fav game.
Step 1: Get Started
Visit dr.fone.
Click the "Download" button on the top of the screen.
Install the software.
Step 2: Connect to your computer
Launch the program
Connect your iPhone to the PC.
Click Virtual Location > Get Started.
Step 3: Choose your GPS location
In the top right corner of the page, you will see the "Teleport mode" option. Click on it.
Enter the desired location.
Hit "Go" after the search box shows the area to where you want to teleport.
Select "Move Here".
You can now start playing Angry Birds without even walking!
Play Angry Birds AR Isle of Pigs on PC (for Android)
NoxPlayer is an Android emulator that comes loaded with features. You can use the program for Android debugging and testing, as well as, of course, Android development. What is the best thing about it? It enables you to play mobile games on your PC. This applies to Android users that want to enjoy stable, smooth gameplay from their desktop. Getting started is extremely easy. You only need to complete three simple steps that are highlighted below.
Step 1: Download the emulator
Head to the official bignox.com website.
Click on the purplish "Download" button somewhere at the top of the homepage.
Step 2: Install the program
Give the emulator a few seconds to download.
Click "Install".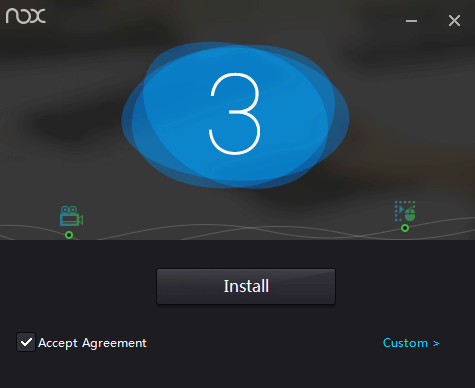 Step 3: Start playing
Click on the built-in Google Play (you will find it in the main Nox window).
Choose the Angry Birds AR: Isle of Pigs Android game.
Install.
Start playing.
Notes:
NoxPlayer also supports multiple instances. This means that you can also run several different instances simultaneously, which gives you the freedom to play multiple games. You may even use more than one gaming accounts by simply synchronizing the operation in all instances.
If you wish to enhance your gaming adventures, know that NoxPlayer provides keyboard control options. You can set the controls on your gamepad, mouse, and keyboard and get the real PC gaming experience. Incredibly so, all open keyboard mapping is done with nothing but a single click.
Consider utilizing the macro recorder feature to execute scripts of complex operations with a single click. This can literally boost your gaming endeavors.
NoxPlayer starts in tablet mode. If this does not appeal to you, you can emulate the Android phone feel. In this case, go to Settings and then click on Advanced >startup Setting > Phone.
Now you know every bit and piece there is about the various ways to download and play your favorite Angry Birds game. Choose the one that best suits your needs and requirements and let the fun begin!