"Is the Jurassic World Alive latest update released yet? What are the new features that I should know about the Jurassic World Alive update?"
If you have been playing the exciting game of Jurassic World Alive for a while now, then you can be having a similar query as well. A popular augmented reality based game, it lets us collect all kinds of dinosaurs the world over and even battle with others in its arena. Though, if you want to access all the new features of the game, then it is important to do Jurassic World Alive update first. In this post, I'm going to tell you about all the vital features of the Jurassic World Alive new update and how it can change your gameplay.
Part 1: A Brief History of the Available Jurassic World Alive Updates
The first version of Jurassic World Alive was released on 17th May 2018 with 100 different species of dinosaurs available in the world. After that, we have seen the following major JW Alive updates:
Version 1.2.6: Released on 22nd May 2018, it fixed some bugs, introduced new territories in the game, and came up with a battle arena leaderboard.
Version 1.2.29: Released on 8th June 2018, it fixed different bugs that players were facing and made the game available in Russian and Japanese as well.
Version 1.3: Released on 24th June 2018, it added several new creatures in the game. It also introduced new tournaments, strike events, social features, location reporting, etc. This JW Alive Update is considered the most important step in the game's history.
Version 1.4: Released on 18th September 2018, it introduced a whole new set of flying creatures in the game. It added other features like scent capture, exploration, and battle incubators.
Version 1.5: Released on 20th November 2018, it introduced Daily Missions and Alliances in the game. It also added new abilities in dinosaurs and better arena distribution features.
Version 1.7: Released on 26th April 2019, it introduced tons of new species, hybrid dinosaurs, geolocation, DNA resource caps, and other features.
Version 1.9: Released on 19th September 2019, the Jurassic World Alive Update 1.9 fixed tons of bugs. It introduced new Cenozoic creates and features like world exploration, new abilities, ability update, new hybrids, campaigns, and more.
After that, there were several other Jurassic World Alive updates, but these have been the most prominent ones in the past.
Part 2: What are the New Features in the Jurassic World Alive Update?
The new update of Jurassic World Alive was released on March 20th, 2020 and it was named Version 1.13. Here are the latest things in the Jurassic World Alive new update that you can experience.
It has introduced 6 new dinosaurs of Cenozoic and hybrid types.
It also changed the attributes of several creatures and they are now not immune to certain vulnerabilities.
The damage of several abilities that dinosaurs had is also improved
There are also new active and passive abilities in creatures like shield effect and superiority impact.
The promotion and demotion roles in leaders, co-leaders, veterans, and officers ranks are also changed.
With the new update of Jurassic World Alive, players will get more rewards and participation bonus in alliance championships.
Although the entry in tournaments is free, the new medal score has been balanced out.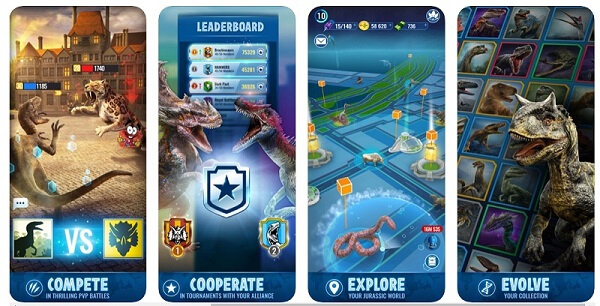 How to get the Jurassic World Alive Update?
To install the new JW Alive update, your devices must be running on Android 4.4+ or iOS 10+ versions. You can visit its Play Store or App Store page to install the latest update.
Play Store: https://play.google.com/store/apps/details?id=com.ludia.jw2&hl=en_IN
App Store: https://apps.apple.com/us/app/jurassic-world-alive/id1231085864
The new update will take almost 200 MB space on your phone. If you are reinstalling the app, then make sure you have at least 1.2 GB of free storage in it. Just tap on the "Update" button on its Play/App Store page and have a stable internet connection for the download to finish.
Part 3: What Influence will the New Update have on the Game?
Whenever a new update of Jurassic World Alive is released, it changes the way we play the game. Ideally, the Jurassic World Alive new update will bring out the following major changes in the game.
New Active Abilities

Players will now get two new active abilities in creatures - distracting shield and superiority impact. The shield will reduce your opponent's damage by 50% for their next 2 turns. The superiority impact ability will boost your attack by 50% and will reduce the opponent's speed by 50%.

Changes in Tournament

There are some drastic changes in the way we play tournaments in the JW Alive update. While the entry in tournaments is free, you would have to reach at least Arena #5 for this. The starting medals for each tournament level is also changed to make sure that expert players won't fight against new or intermediate players.

New attributes for creatures

Apart from adding new creatures in the game, the Jurassic World Alive update has also changed the present HP and attack level for existing creatures as well. Here's a complete list of all the creatures that have been affected by the update.
Part 4: What are the Features Players want Jurassic World Live to Update?
Although the last few Jurassic World Alive updates have been extremely promising, players are still missing some vital features. Besides fixing some general bugs, players want a revamped leader board that would also focus on local rankings and tournaments. The latest update of Jurassic World Alive only introduced 6 new dinosaurs, and players want to have more creatures.
Lastly, a lot of players are looking for ways to spoof their location since walking to different places sometimes is not possible. While there is no feature for that in Jurassic World Alive update, you can use a third-party tool to do that. For instance, with the help of dr.fone - Virtual Location (iOS), you can manually spoof your location to anywhere in the world. This will help you catch more dinosaurs from the comfort of your home!
I'm sure that after reading this detailed post, you would be able to know more about the features of the Jurassic World Alive new update. If you want, you can just update your game by visiting its Play Store or App Store page. Go ahead and try the new update of Jurassic World Alive and let us know about your favorite feature in the comments.