If you are a gaming freak and spend a long time playing them, then you can enhance your gaming experience by trying location-based games. Why sit for hours in front of your PC when you can enjoy gaming while roaming? Location-based games are pervasive, and the gameplay will progress depending on your GPS location. Nowadays, every smartphone comes equipped with a GPS feature, which helps in running the geo-based games smoothly. These kinds of games are much better when Augmented Reality is used to create a real-world feel. Playing AR games would be much more fun. Here, we are sharing some best geo-based games for your smartphone.
Part 1: 6 top geo-based games
There are too many location-bases games right now in the online market, but we will talk about the top 6 geo-based games.
1) Pokemon Go
How to play: The gameplay is quite easy to get familiar. Create your account and Avatar that you can customize in whatever way you want. Players have to travel physically to explore the map. You have to catch species that live in different areas of the map.
Review: Even after the release of many location-based games, Pokemon Go is still reigning at the top of our list. Niantic collaborated with the Pokemon Company to develop this AR mobile game for iOS and Android devices. The first version of the Pokemon Go was released on 6 July 2016. It gained popularity for coming up with AR and GPS based technology along with the increased physical activity. Although it was in controversy, this did not stop it to hit $3 billion in revenue in 2019.
Where to download: Android users can download it from the PlayStore, and iOS users need to use the App Store.
Price: The app is available free of cost to download, but some in the app, purchases are still there.
2) Landlord
How to play: Doesn't it sound pretty great to have your real estate empire? This is what the Landlord property trading game allows you to do. The game begins with $50,000 cash in your hand that can be used for investing them in purchasing buildings, landmarks and much more. Moreover, you have to collect rent from those who will check-in to a location in real-time using Foursquare and Facebook. The success in the game depends on how and which venue you invest on.
Review: Do you have an interest in the real estate business? If your response is yes, this game is specially made for you. Build your empire and become a real estate tycoon. It utilizes the power of AR technology and GPS to raise the gaming experience to the next level. Compete and challenge your friends by using your skills.
Where to download: Use the default marketplace on your Android and iOS device.
Price: No need to paying to play this game.
3) Ingress
How to play: The game consists of numerous portals spread in various parts of the world. Players travel to different places and hack them. Many things are common between this game and Pokemon Go.
Review: Before launching Pokemon Go, Niantic had already released its first augmented reality location-based game known as Ingress. It is designed for the Android and iOS device users. Today also, this game is quite famous for its gameplay.
Where to download: Official site or default marketplace on your Android or iOS platform.
Price: It cost nothing to download or play the game.
4) Geocaching
How to play: The gameplay involves finding and tracking geocaches at distinct places. Play with your friends and add more fun to the game apart from getting treasures.
Review: Do you remember those days when each one of us used to imagine a place where treasures are buried? Geocaching has made your dream come true by providing you with a beautiful treasure hunting experience. No doubt, this is the kind of game that we all are looking for. It is quite an old game that was released in 2000.
Where to download: App Store or Play Store.
Price: Although the app is free you can get a premium membership at $5.99/month.
5) CodeRunner
How to play: You act as a government agent of the fictional Department of privacy. There are some missions that you have to complete, including hacking and spying the agent enemies. Visit the mission targets to win the levels.
Review: CodeRunner is an innovative geo-based game. It contains adventure, challenges, and much more. Newbie hackers would love to play this game.
Where to download: Only available for iOS users, so they need to download from the iTunes App Store.
Price: free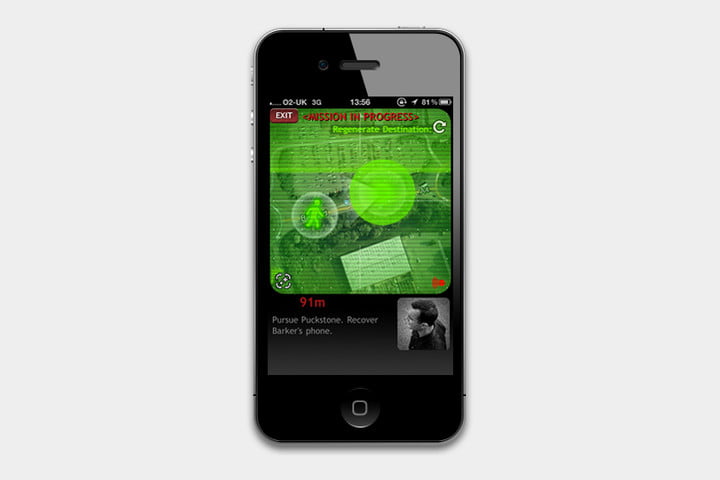 6) Zombies, Run!
How to play: Save yourself from Zombies in this game. Run as fast as you could from them. The game is highly addictive as you only have to run away and don't let Zombies get close to you.
Review: Apart from giving you a quality gaming experience, it will keep you fit. There are over one million players all over the world. With more than 200 missions, this game will be challenging and fun to play.
Where to download: Supports Android and iOS both so download it from the official default marketplace.
Price: Free excluding in-app purchases
Part 2: Tips to level up during these games
For a better experience and making a geo-based game addictive, you can spoof your location. This is one of the most reliable ways to level up while playing any location-based games. As you know that these types of game are using GPS, using a third-party tool can help in leveling up in the game. This is not a drawback of geo-based games but a smart way to play them. That's why we are introducing dr. fone - Virtual Location (iOS) that allows you to simulate GPS movement along the real roads or any path you draw. It supports all the AR games or applications. Moreover, it will help in teleporting to a new location of your choice.