More than 15 million people have downloaded it worldwide till November 2018. To play Ingress, you'll need to walk around your location or town to hack and attack different portals. These portals can be of any color like blue, grey, or green and may also be present in the form of some historic buildings or famous landmarks.
Of course, the game uses your device's GPS system to locate nearby portals according to your current location. There is no doubt that the game is pretty much interesting and fun when you move around your town for portals, but what if you are unable to go out of your home. Suppose you are ill or say it's raining outside and you can't go out for attacking portals, then what?
Well, it is when Ingress spoofing apps come handy. In case you want to play the ingress prime without moving out of home, you can do it with fake GPS Ingress 2020 with ease. In this article, we will learn how to spoof Ingress Prime or Ingress on Android as well as on iOS. Take a look!
Part 1: What is Ingress and Ingress Prime?
Ingress and Ingress Prime both are different versions of the same game. Actually, Ingress Prime is new, as well as an updated version of Ingress, which was released in 2013. Let's know more about Ingress and Ingress Prime in the following sections.
1.1 What is Ingress?
As mentioned above, Ingress is an augmented reality game that runs on Android and iOS. Initially, the Niantic developed it only for Android, but a few months later, it was made available for iOS as well. This game is free to play, and you can make in-progress purchases if you want to have more fun.
It mainly revolves around portals, which are the main part of the entire game. Also, there is Exotic Matter, which is again the core of the game. On the map of the game, you will see marked portals at specific areas near your location. You have to travel up to that portal to attack it or to hack it. XM seeps into the Portals, and you have to gather them through walking around the areas. It makes you more powerful in the game.
1.2 What is Ingress Prime?
Ingress Prime is nothing but a refined version of Ingress. After the success of the Ingress AR game, the company restyled it in 2018 with a new name Ingress Prime. The Niantic team has made every possible effort to make the game more smooth and finer than Ingress. The new version offers fancy graphics and has Apple's ARKit along with Google's ARCore. Ingress Prime is better than Ingress in many ways.
Part 2: Reasons Behind the Popularity of Ingress Prime
In the last two years, Ingress Prime has become very popular among AR game lovers around the world. Following are the reasons for its popularity:
People are curious about the new version of Ingress and want to learn how to play it on their devices.
Ingress Prime is a well-designed AR game with improved graphics and user experience. Further, the smooth design of the game and beautiful landscapes makes it more popular.
Another great thing about this game is that it is based on a science fiction that gives a thrilling experience to players.
If you are an Ingress Prime player, then you will want to explore more portals and want to become more powerful. But this is not possible in a limited area, for this you need Ingress location spoofing. It is because the Ingress fake location allows you to visit any city or country without physically moving there to hack or attack more portals.
With GPS spoofing apps like location spoofer, Dr.Fone, and more, you can discover various portals from your desired location. In the following section, we will let you know about how to spoof Ingress Prime.
Part 3: How to Spoof Ingress Prime GPS on iOS
When it comes to Ingress GPS spoofing on the iPhone, the best way to this is through a reliable tool that is Dr.Fone- Virtual Location (iOS). This tool is easy to install and is easy to use as well. It allows you to change your location in just a single click.
This tool is safe to use and doesn't breach any data of your device. You only need to visit the site and download it on your system. With this, you can spoof Ingress prime without root or with root.
Follow the following steps to spoof Ingress Prime on iPhone
First, download the program from the official site of Dr.Fone. Go to the Dr.Fone website and download it by a tap on the download button.
Once you downloaded it, install the tool on your PC.
Now, launch the program and select the "Virtual Location" option on the main screen.
After this, connect your iPhone or iPad with PC and click on the "Get Started" button.
Now, you will see three icons at the upper right from which you can select "one-stop mode". However, if you want multiple stops, you can select a "multi-stop" mode.
Once you have done, use the map and select the place where you want to go.
You will get the location distance, and you can customize your speed to reach that location on the map.
Part 4: How to Fake Ingress Prime on Android
To fake Ingress Prime GPS on Android, you need to download and install a GPS Spoofer app like fake GPS. There are many free fake location apps for Android that you can download from Google Play Store.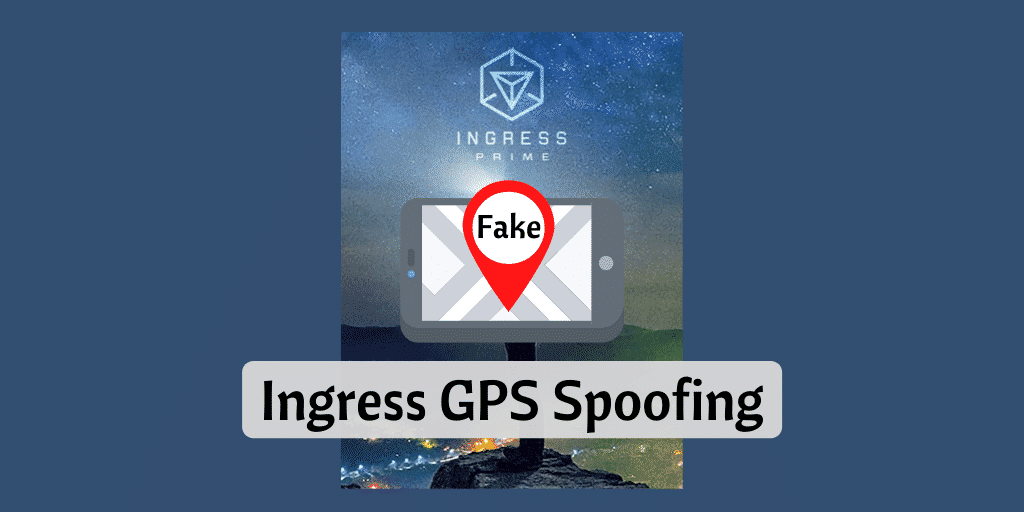 But to use the fake GS app, you need to enable "allow mock locations" feature on Android. Follow the following steps to enable it.
First, go to phone settings and then tap on Developer options. Make sure that the developer option is on.
Now, under the developer option, go to the "allow mock location" and toggle it on.
After this, tap on the mock location apps, and you will see all the fake GPS apps installed on your android device.
You can click on any of the fake location apps to spoof Ingress prime on Android.
Once selected, you will now be able to use the app to change location, whether that in the town next door or another country.
Note: To begin to unlock the developer option, you need to go to settings > build number and tap on it seven times without a break.
Conclusion
Now, after you read this article, you can do Ingress spoofing on Android as well as iPhone with ease. If you own an android, then you need to enable "allow mock locations" feature to make the spoofing app works for fake Ingress location. However, if you own an iPhone, you would need to download Dr.Fone- Virtual Location (iOS) app on your system to fake GPS Ingress on your device.
Dr.Fone- Virtual Location (iOS) is an extremely secure and safe location spoofing tool for all iOS devices. It can easily spoof Ingress Prime GPS and can help you change your location without actually moving to that area.