"Do I have to enter my phone number while signing up on Bumble and will the app display my number on the profile?"
One of the most popular dating and social apps of the present time, Bumble is already used extensively by millions of people. Though, a lot of people who join Bumble often get confused about things like adding their Bumble phone number. Some people would even like to know the Bumble customer service number to clear their doubts. Well, in this guide, I will let you know how the Bumble contact number link actually works in detail. Also, I will provide different solutions to cancel your Bumble subscription on iPhone or Android.
Part 1: Is There a Phone Number Option While Signing-up on Bumble?
Just like every other popular dating app, Bumble also provides different ways to sign-up. Once you launch the app, you will be given an option to link your Facebook profile to Bumble. If you don't want that, then tap on the other options field and choose to sign up by your phone number instead.
After entering your active phone number on Bumble, a one-time generated code will be sent to it. You would have to verify the code on Bumble to link your phone number to the app. Now, you can access the app freely and enter the required information to set up your Bumble profile via phone number.
Important Note:
Please note that your phone number would not be displayed on your Bumble profile. It will only be saved on Bumble's back end to help you log-in and recover your account. No one else can access your Bumble phone number by visiting your profile.
Part 2: How do I Contact Bumble Customer Support?
Apart from using Bumble, a lot of people also ask for the Bumble contact number. Well, as of now, the Bumble customer service phone number is not provided on its website or any other channel. Instead, Bumble would encourage you to get in touch via its dedicated contact page right here: https://bumble.com/tl/contact-us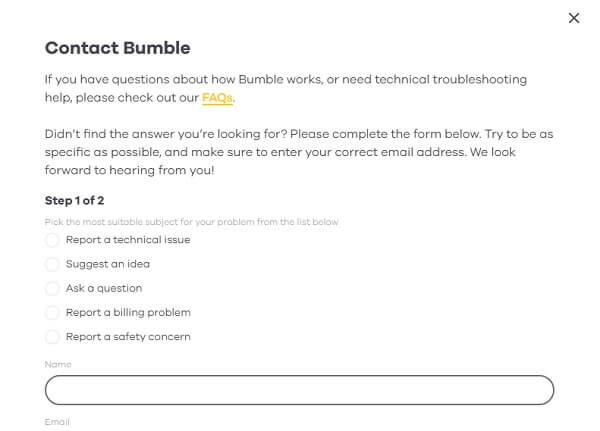 Here, you can generate a support ticket by listing your problem. Firstly, you need to select a category for the problem and then would have to enter your email id and describe the issue. You can also get a similar option via Bumble's App > Settings > Help page. Alternatively, you can also get in touch via their Instagram/Twitter page or write to them at feedback@team.bumble.com.
Part 3: Why does Bumble ask for Phone Number?
While signing-up, you can see that Bumble and other social apps ask for our phone number these days. It is recommended to link the Bumble phone number of your device due to the following reasons.
Security

If you have linked your phone number to Bumble, then it would make your account more secure. In order for anyone to access your Bumble account, they need to know your number and would have to enter a unique code that would be sent to it during sign-up.

Authenticity

By linking your contact number on Bumble, it will just make your profile more authentic and genuine. Other users won't hesitate to get in touch with you, knowing that the person is real.

No Duplicate Profiles

Most importantly, it will make sure that users won't have duplicate or fake profiles on Bumble. Since your number would be linked to a single account, you would be either redirected to it or asked to recover your account (if you want to).
Part 4: How can I Cancel my Bumble Subscription?
Although the standard Bumble account is available for free, the app also lets us enjoy its premium services by buying a paid subscription. Thankfully, you can also cancel your Bumble subscription anytime you want. You can cancel a Bumble subscription by deleting your account or via the Google Play/App Store settings.
Cancel subscription via Bumble Settings
If you want to cancel your Bumble subscription, then you would have to delete your account. For this, just open the app and go to its Settings by tapping on the gear icon from the top. Now, choose the option to delete your account, provide a valid reason, and confirm your choice.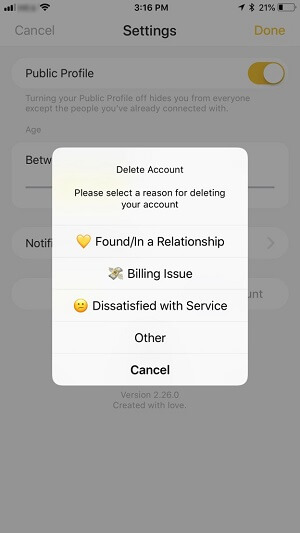 Cancel Bumble subscription via Google Play
Google Play also maintains a dedicated record of our app subscriptions so that we can manage everything in one place. You can tap on the hamburger icon on the top to access various options on Google Play. From here, just go to your Google Play subscriptions.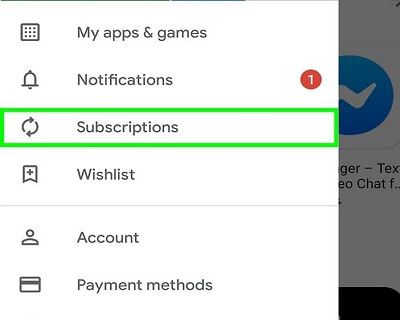 This will list various apps and services for which you are subscribed to. Select Bumble from here, choose to cancel the subscription, and confirm your choice.
Cancel Bumble subscription via App Store
Just like Android, iPhone users can also go to their App Store settings to manage their Bumble subscription. For this, just unlock the device and browse to its Settings > iTunes & App Store settings. Now, tap on your Apple ID and choose to view it from here.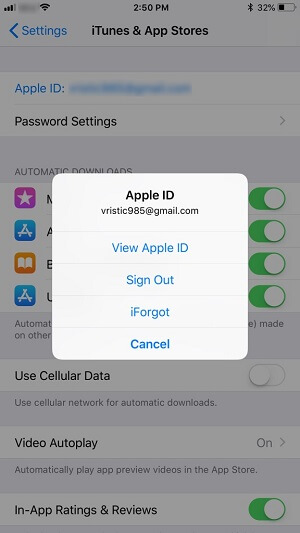 This will list various options related to your Apple ID. Just go to the "Subscriptions" field and select Bumble from here. Afterward, you can just choose to cancel your Bumble subscription.
Now when you know the importance of Bumble phone number feature, its subscription, and other details, you can certainly use this app like a pro. If you encounter any issue with it, then you can just get in touch with the Bumble customer support. I have already listed how to do that in this guide. Besides that, if you wish to cancel your Bumble subscription, then you can follow this quick tutorial as well. Go ahead and try these Bumble contact number hacks and let me know if you still have any doubts.