"What are terms like NSA or LTR that I have seen on so many profiles on Scruff? Can someone tell me about the Scruff gay slang terms and their meanings?"
If you are new to the world of dating, then you can also get confused between different terms and slangs that are used on these apps. When it comes to the LGBT community, there are so many tribes and terms that a lot of people don't know. To make things easier, Scruff has come up with a detailed dictionary of these slangs. Read on and get to know about every essential term in the Scruff gay slang dictionary to keep yourself updated.
Part 1: What is Scruff All About?
When we talk about MSM dating apps, Scruff is one of the most popular options. Launched in 2010, it is a commonly used app for gay, bisexual, and queer men. The app would help you get in touch with other men in your area via its radar. You can send a "woof" to them or drop them a message.
Besides that, it will also suggest different matches related to your preferences. You can also get to know about the nearby LGBT events or find travel partners using the app. This makes Scruff a popular social and dating platform that is currently used by more than 15+ million queer and gay men worldwide.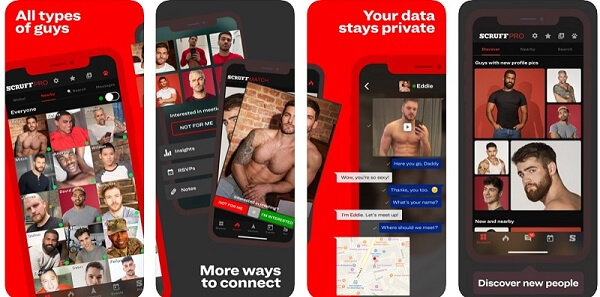 Part 2: The Launch of Scruff Gay Slang Dictionary
If you have been around in the LGBT dating scene, then you would realize that people use all kinds of slangs. Not only would people post different terms on their profiles, they will include slangs on personal messages as well. Since some slangs can be new and hard to understand, the app came up with a dedicated Scruff gay slang dictionary in 2016.
The best part is that the Scruff dictionary has been translated into 40+ languages. Therefore, the next time you come across a new slang, you can look it up on the Scruff gay slang dictionary and understand its urban meaning.
Part 3: 15 Popular Terms on the Scruff Gay Slang Dictionary
Since there are so many terms in the Scruff gay slang dictionary, anyone can get confused at first. To keep you updated, I have come up with some of the most popular and essential Scruff gay slangs that you need to know!
Top

A dominant individual in a homosexual relationship

Use: Gary is a top who is seeking a bottom.

Bottom

A more passive individual in a homosexual relationship

Use: He is a bottom who is looking for a bear.

Verse

An individual who can play top or bottom during the intercourse

Use: I'm a verse who is looking for another verse.

Bear

A tribe of gay men – used for a guy who is large and hairy

Use: You can find so many bears on Scruff.

Twink

Another tribe of gay men, who are comparatively shorter, younger, and have less hair

Use: I'm a twink bottom who is looking for a top bear.

Wolf

Someone who would fall between a twink and a bear

Use: You are such a wolf – bigger than a twink, but not exactly a bear.

Bear chaser

This would be used for a gay man who would like to date another bear or only dates bear.

Use: Tim has only dated bears in the past – he is such a bear chaser!

Bent

Another popular word for gay, which is opposite of "straight"

Use: I'm not straight, I'm bent and I'm proud of it!

Daddy

This has become a tribe in dating, which depicts a gay individual who is a bit older.

Use: I wish I would find a handsome and loving daddy to date.

Cruising

This is a popular term used by those who are not looking for a serious relationship. They are just cruising for something casual.

Use: What are you looking for? I'm here just cruising for something fun and casual!

Gaydar

A slang derived from the word "radar". It means an intuitive ability of a gay individual to identify another gay person without them coming out.

Use: Harry has such a strong gaydar. He can tell who is gay and who isn't in a second.

Queen

Derived from "drag queen", it is mostly used to depict a queer person with effeminate features.

Use: I wish you won't be such a queen while camping in the outdoors.

NSA

A popular gay Scruff slang, which is short for "no strings attached" and is used by people who are not looking for a serious relationship.

Use: I'm not here for a relationship, but looking for an NSA arrangement.

LTR

It simply stands for "long term relationship" and is used by those who are looking for a meaningful relationship.

Use: I'm done with meaningless hookups, I'm looking for an LTR now.

Down-low

A queer individual who would like to keep their sexuality or relationship secret

Use: I'm not out yet, so I want to keep our relationship down-low as of now.
Pro Tip: How to Get More Matches on Scruff
As you know, Scruff is a location-based dating app that would only list other profiles nearby your present whereabouts. If you want to unlock more profiles and get new matches, then just use dr.fone – Virtual Location (iOS) to spoof your iPhone location. Without the need to jailbreak your iPhone, you can change its location to anywhere in the world. You can even use its joystick or manually simulate your phone's movement. This will let you virtually change your iPhone location and unlock new profiles on Scruff as many times as you want! The changed location would also be reflected in other dating and gaming apps.
I'm sure that after going through this curated list of Scruff gay slang dictionary terms, you would be able to know more about the commonly used slangs in MSM dating. Feel free to use the app and check out the Scruff gay dictionary to know more terms like these. Though, if you want to meet more guys, then just use dr.fone – Virtual Location (iOS) and view new profiles on Scruff in your preferred location.