"Is Jack'd a safe platform to meet other men from the community? Also, can I access the Jack'd web version or do I need to install its app?"
If you are also new to the world of MSM dating and have recently got to know about Jack'd, then you might have similar doubts. One of the most popular dating apps for bisexual and homosexual men, Jack'd provides a more diverse and inclusive dating experience. Though, just like other popular dating apps, Jack'd also has its pros and cons. After using Jack'd for a while, I have finally decided to come up with this detailed review of the app to help you make up your mind.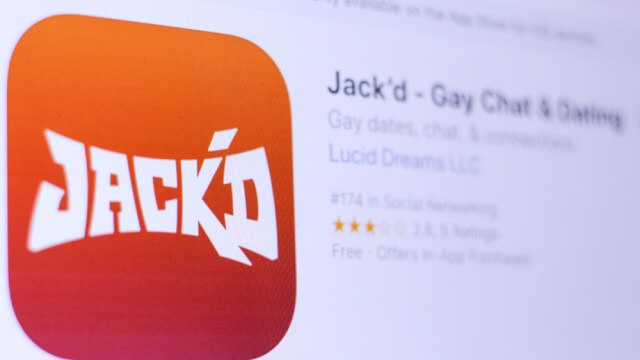 Part 1: What is Jack'd All About?
Developed by Online Buddies, Jack'd is a popular dating app for MSM users that has been around since 2010. It is also known as "Jacked" by its users and is available for leading Android and iOS devices.
Target users
Jack'd calls itself as a dating app made to keep in mind the social and personal needs of QPOC (Queer People of Color). Since racial discrimination is largely observed in other dating services these days, Jack'd dating app would like to create a more diverse environment. This puts queer people of color at the front, proving a platform for relationships and connections (by being less hookup-centric).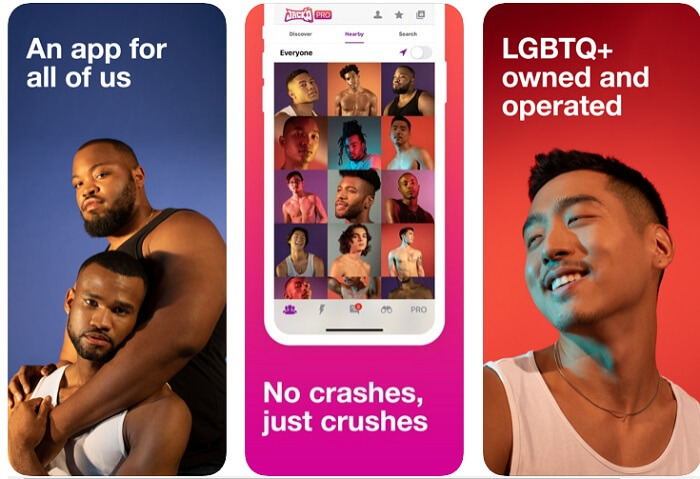 Available Platforms
Presently, you can install the Jacked gay dating app on leading Android and iOS devices. For this, your device must be running on Android 4.1+ or iOS 12.2+ versions. You can get Jack'd on your device from the following sources.
Download from the App Store: https://apps.apple.com/us/app/jackd-gay-chat-dating/id350426804
Download from the Play Store: https://play.google.com/store/apps/details?id=mobi.jackd.android&hl=en_IN
Overall user interface
When Jack'd was initially released in 2010, its overall interface was a bit clumpy. Though, presently it has a clean, lightweight, and easy-to-use interface. On its home, users can see other profiles that are nearby their location. You can also filter results, view online users, and browse users on other locations as well. There are also additional details about your own profile you can check from its settings.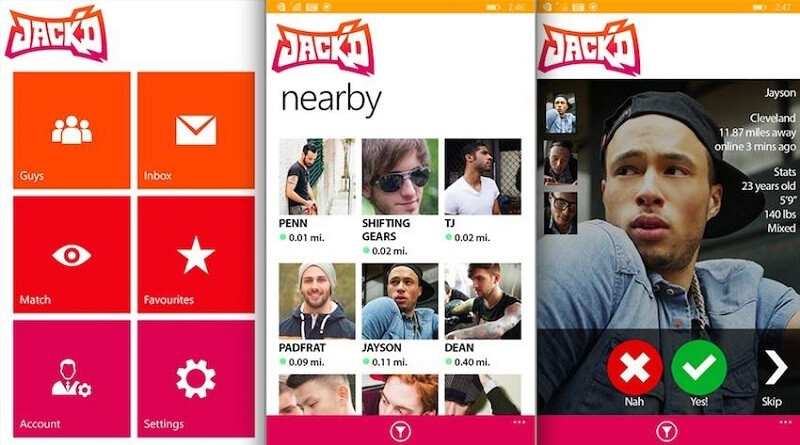 Your Jack'd online profile can be pretty detailed. Apart from your public photos, you can share information about your ethnicity, music preferences, physical attributes, and so on.
How to use the Jack'd gay dating app?
If you have already used other dating apps like Tinder or Grindr, then you won't face any issue with Jack'd as well. From its home, you can check up to 300 guys that are nearby your present location or can browse profiles globally. Afterward, you can mark "Yes" or "No" on the profile of any user. If it is a match, then you can just start talking to the other user via a private message window. The messenger lets us share media files like photos and videos apart from texts and stickers as well.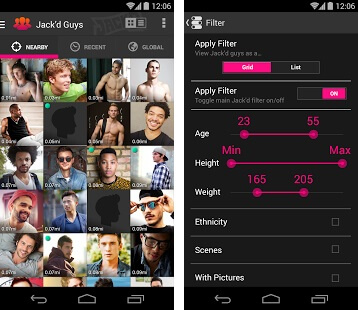 If you are finding it hard to navigate the Jack'd gay app, then you can use its inbuilt filters. This will let you pick other men of certain age, height, weight, ethnicity, and so on.
Pro tip: Change your location on iPhone
If you want to get profiles from other locations on your Jack'd radar, then you can consider using a tool like dr.fone – Virtual Location (iOS). Using it, you can easily spoof the present location of your iPhone and that too without jailbreaking it. Just enter the name or the coordinates of the target location to spoof your whereabouts. If you want, you can even simulate your movement between different spots at a preferred speed. This will let you browse other profiles on Jack'd in any location of your choice!
Part 2: Jack'd Premium Pricing and Other Services
Although the basic features of the Jack'd dating site are free, users can enjoy its premium options by making in-app purchases (from $3.99 to $54.99). Besides that, the app also offers a Jack'd premium subscription at the price of $9.99 per month. Here are some of the features that you can enjoy in the Jack'd gay app premium version:
You can view the profile of any user anonymously
The radar would list unlimited users on the screen
You can use all the available filters in the app
You can match with as many users as you want
It will offer detailed insights of your profile and other statistics
You will get to know who viewed your profile at any given time
Unlimited upload of photos on your profile
You can set your location to anywhere in the world and view new profiles
How is Jack'd Different from Other Gay Dating Apps?
After using Jack'd for a while, I would say that it is a mix of Tinder and Grindr. Just like Grindr, you can view other profiles nearby and at first, it even looks similar to it. Though, unlike Grindr, you can't message anyone without their consent. You would have to swipe "Yes" or "No" and can chat with them once it is a match.
Another thing that sets Jack'd different is that it is majorly used by QPOC (Queer People of Color). You can find a more diverse environment there. Also, unlike Grindr, which is tagged as a "hook up" app, Jack'd aim is to become a dating app for people who are looking for relationships.
Pricing comparison
I would say Grindr and Scruff are the two decent competitors of the Jack'd gay dating app. The good thing about Jack'd is that its monthly subscription for the premium plan only costs $9.99. This is lesser than Grindr that has a monthly premium plan for $19.99 and Scruff ($14.99 a month).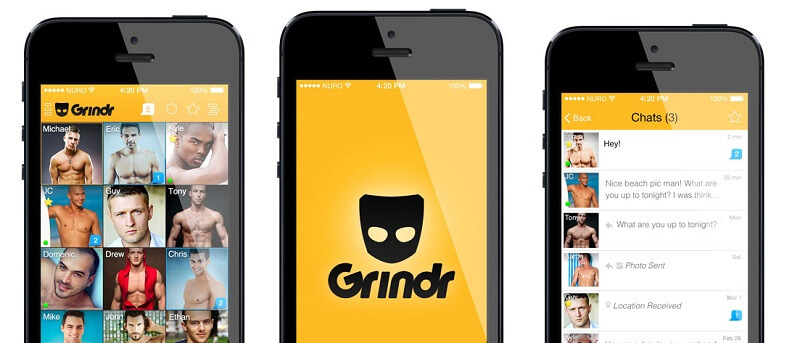 Is there a Jack'd web version?
Unfortunately, Jack'd is only available as a mobile app and you would not find its web version. There are some sites that claim to be Jack'd web version, but they are mostly phishing platforms. If you are looking for a website for gay dating, then you can try Adam4Adam or Planet Romeo instead.
Part 3: What Others Users Have to Say about Jack'd?
After reading my Jack'd Android/iOS app review, you would be able to know more about its services. Besides this, here's what other users of the Jack'd gay dating app has to say about it.
"I found Jack'd a whole lot better than other LGBT dating apps like Grindr. People are not looking for instant hookups and would like to have a connection first."
"Overall, I would say it is pretty decent, but a lot of people on Jack'd were so familiar. I already saw them on Tinder and Grindr. I don't get it why it markets as a gay app for people of color? Won't it divide the community further that is already misunderstood?"
"I have used Jack'd for over a year now and have its Pro version for the last few months. It is a pretty good app and is certainly worth your money with the tons of features that it provides. While there are many people in big cities, the app doesn't have a lot of users in small towns!"
Part 4: Make Sure You Protect Your Privacy while using Jack'd
If you are planning to use Jack'd, then I would recommend taking care of your private information. Earlier in 2019, the platform made tons of private photos of its users public. The leak exposed a lot of intimate and private pictures of its users online without their approval. The platform was even fined $240K for the security breach and further tightened its policies. Although, Jack'd has become more secure now, but it is recommended to not upload any private picture on the platform presently.
I'm sure that after reading this ultimate review of the Jack'd dating app, you would be able to know more about the platform. The Jack'd gay dating app is available on Google Play Store and iOS App Store for free. Go ahead and give it a try to have a real experience of its interface and check how this dating app actually works. If you want to explore more profiles on Jack'd, then you can always use dr.fone – Virtual Location (iOS) to spoof your iPhone location without jailbreaking it.