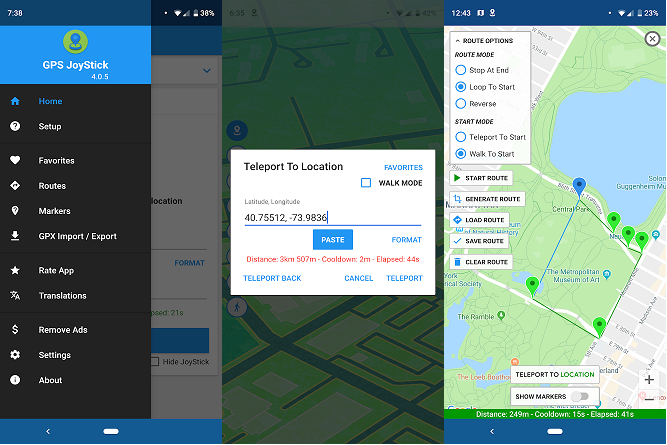 Fake GPS Location - GPS JoyStick
Changes GPS location instantly and easily
Select any location in the world using joystick or map
Enter latitude/longitude directly to teleport anywhere
Change your location in any direction you want
Create a route by selecting points on a map to auto walk
4.5/5
Pros
No Root required
Freely available
Easy and Flexible Use
Cons
In-app Ads
Can be detected by other apps
Features
Change GPS location on Android: Enter any latitude/longitude you want to go, then you can change Android GPS location to there.
JoyStick Support: With the JoyStick, it is easy to change your locatioan, as well as directly pause and continue the movement along the route.
Flexible Route Mode: Route mode provide various ways to set your routes and save them for your favorite.
Favorite List Support: Provide you with a favorite list of locations, routes and groups of points of interest.
GPX files Support: You can just import and export GPX files for your interests.
Compatibility
Android models to work with

Android 4.0.4 and later versions
Mobile apps to change GPS

Pokemon Go / The Walking Dead / Ghostbusters / Zombie Run /Tinder / Bumble / Grindr / Life360
Pricing
Free
Paid
Pricing
$0.00
$0.99 per item
Supported Features
Ad removal
No
Yes
Mock location
Yes
Yes
Save locations
Yes
Yes
Search by name
No
Yes
Search by coordinates
Yes
Yes
Play with JoyStick
Yes
Yes
GPX Import/Export
Yes
Yes
How to Use the Program
1
Choose "SET LOCATION" the upper left.
2
Search for your desired location to teleport.
3
Click "Teleport" to teleport to the location.
1
Choose "ROUTE OPTIONS" on the upper left
2
Select "GENERATE ROUTE" to create a route or "LOAD ROUTE" to choose from your list.
User Experience & Reliability
Freely available: The application is for free use and while it contains ads. If you want to remove ads, you need to pay.
Functional: GPS JoyStick works well with lots of functions like Favorites, Markers and GPX Import /Export.
Risks of getting banned: Customers meet the risks for mistake when using it on location-based games like Pokemon Go.
Customer support: You can send them feedback through email to get help.
Did the program help you? Rate it to let others know.