Part 1: What is fake GPS joystick?
Many web applications use GPS in your device to function. The best examples are Facebook, Pokemon Go game, Uber, and so on. They can't offer any service to you without using GPS. Sometimes, the user feels insecure about sharing his or her location, and the app doesn't work correctly. If a user is playing a location-based game, he may like to deceive the game by mocking his GPS. Some people indeed consider it as a breach of privacy. Therefore, using a fake GPS joystick is always a great idea. It utilizes a virtual joystick to change the location to whatever place you want. Pokemon Go has played an important role in popularizing the fake GPS joystick application. They are perfect for location spoofing and trick the location-based games. Some of the features found in these kinds of applications include the following:
Change your location in a second by pointing out with the joystick.
Offering full user customization feature with settings option.
You get the chance to display distance and cool down time info.
There is an option to hide the joystick to let you play the game without interruption
Create a route by pointing on a map for walking automatically.
Part 2: 1 click to fake GPS Joystick
Situation 1: Fake GPS joystick on AR Games
The uses of augmented reality in the location-based games have given them a lot of popularity. Pokemon Go, Ingress, Harry Potter, these are the favorite games of many users. There are plenty of fake GPS joystick apks on PlayStore on Android or App Store on an iOS device. You are required to try one of the reliable fake GPS joysticks on your device, which is compatible with the location-based app that you want to use. If you want to catch more Pokémon while sitting at the comfort of your home, fake GPS joystick will make it possible for you. Same applies for Harry Potter, Ingress or any other AR games.
Situation 2: Fake GPS joystick on social Apps
Social networking applications or dating apps use your locations for suggesting you friends, family members, and the strangers you would like to connect with. Examples of this application include Grindr Xtra, SnapChat, Tinder, Facebook, and many more. The countries where restrictions have been put to use these applications, a fake GPS joystick application will help in using it without any hassle. By spoofing location, one can connect with any person in the world.
For the Android users, follow these steps to fake GPS Joystick on Pokemon Go or any AR games or social media apps:
Step 1: Install the app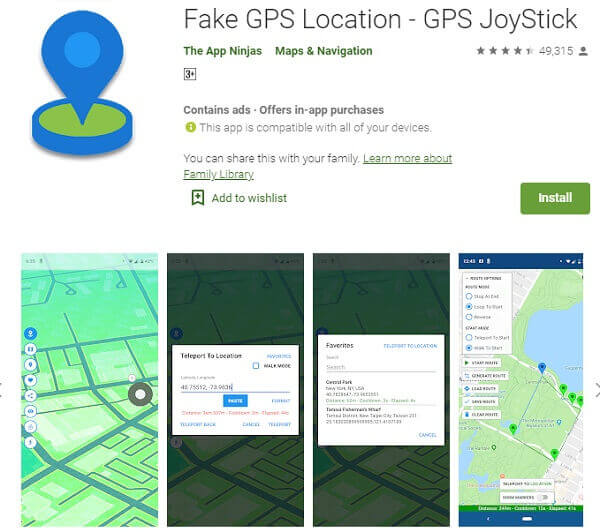 Open PlayStore, and install the GPS Joystick app on your android phone or tab. Run it and open settings by pressing on the hamburger icon. Now, you can set various speed limits for jogging, running, etc.
Step 2: Update location
Open the home interface of the fake GPS joystick and modify your location. Enter the coordinates for spoofing your location to any place you want. An alternate way is to change the location from a map and enter the name of your favorite destination for the spoofing location.
Step 3: Set everything
After enabling the location spoofer, a joystick will be displayed on the screen. The icons given at the bottom let you decide the speed. Tapping on the map icon will let you choose any location or fix a route.
Step 4: Teleport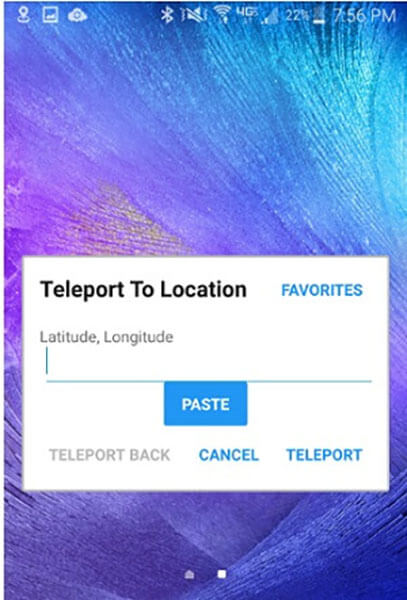 The users can alter their location quickly with the "Teleport" option from the map. Beside one can tap on the icon located in the third place from the top of the joystick. Now, type the coordinates of the place where you point to shift.
For the iOS users, dr. fone virtual location is the right application for spoofing the location. The guide to a fake location with this software is as follows:
Step 1: Run the app
Install the dr.fone application and run it for using its fake GPS joystick iOS tool. Click on the "Virtual Location" feature and connect your iPhone to the computer. Once everything seems ok, click on "Get Started".
Step 2: Teleport to a location
Your current location will be displayed on the map after your device gets recognized. For spoofing location, click on the icon of "Teleport Mode" located at the third position on the top-right. Search for any location by typing its name. Besides, you can provide coordinates to change your location.
Step 3: Adjust location
Move the pin at the place you want. You can zoom in or zoom out if any problem is occurring. Once you point to the right location, click on "Move here" button.
Step 4: Simulate device movement
The app offers the chance to simulate device movement. Click on the one-stop or multi-stop icon given at the top-right corner. This way, you can point out at more than one place to create a route. At last, select the number of times you want to cover the route and choose a speed for walk or jog. However, for using a GPS joystick for spawning your location, you can click on the bottom left corner of the screen.
Part 3: Risk of Using Fake GPS Apps with joystick
You may feel extraordinary and happier for using a fake GPS app with a joystick, but you must also know the risk that comes with it. Here, we are sharing some risks that you will encounter while using a fake GPS joystick application.
We are not sure if the application will work properly in your device. It may affect the default setting of your device or both android or iPhone.
The number of malicious sites has increased, and we need to protect ourselves from them. For your safety, the site can be banned based on your location. Mocking your location can provide them with access to the data of your device. Think before opening any site while using a fake GPS app with a joystick.
Your android or iOS device may misbehave even if you uninstall the fake GPS app from your iPhone or Android smartphone.
It is not permitted to do this so your account on a location-based app or game can get banned for spoofing your location.
Conclusion
Covering everything related to using Fake GPS Joystick was not easy, but we have added almost everything to help you in using a Fake GPS Joystick app. Moreover, we have seen craze the AR games and social apps so we can understand how badly they need a guide to spoof location in the location most conveniently. Regardless of which device you own, the methods given here works for any device you want.