"Is it possible to change my Play Store location? There are some games that I want to play, but they are not available in my country as of now!"
Well, if you are also going through something similar and would like to change Play Store country, then you are not the only one. Don't worry – the problem might be faced by many, but it has various easy solutions too. From a third-party VPN to manually updating your country, you can easily change your Play Store location. In this way, you can unlock various location-based features pretty easily. Read on and learn different ways to change location in Play Store in this informative post.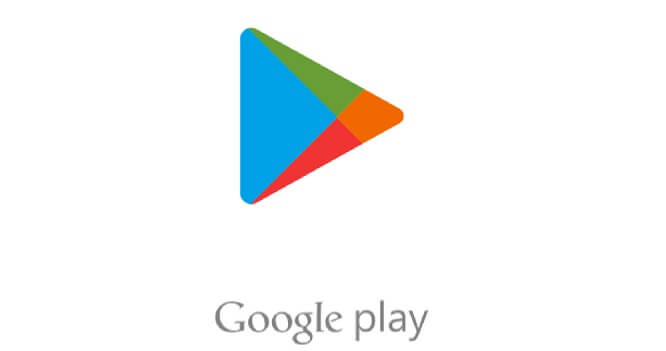 Part 1: Why do we need to Change our Country in Google Play Store?
You might already know that the services of Google Play Store would majorly depend on our present location. For instance, there could be some streaming or gaming apps that you want to use, but they might not be available in your country. Besides that, there are location-based content in apps, offers, and various features that are sometimes available only for specific countries.
Not just that – the premium features of many apps may vary among different locations. Therefore, by changing your location in Google Play Store, you can easily access the apps of your choice and enjoy their features without any constraint. Besides that, you could have moved to a different country and would now like to change the same in Google Play Store.
Part 2: Hot VPN Apps to Change Country in Google Play Store
If you wish to change the Play Store country frequently (and not permanently), then you should try a VPN app. There are plenty of free and paid VPN applications for Android out there that you can use. A Virtual Private Network would mask the present IP address of your device and will change its country to the selected region. Now, when you would go to the Play Store, you can access the features available in the new country. Here's how you can change your Play Store country by using a secure VPN app.
Firstly, just go to the Play Store and install a reliable VPN app on your device. There are several trusted VPN providers that you can try like Nord, Express, Tunnel Bear, Hola, Turbo, etc.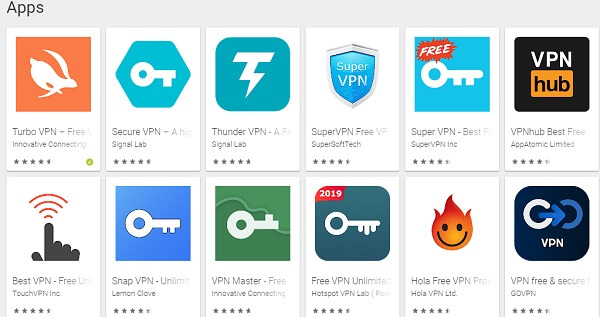 While getting a VPN app, check its free/paid features, and what location servers it supports. Let's say we have installed the Express VPN app as it is pretty secure and has numerous locations worldwide.
Now, just launch the Express VPN app and from its home, turn on the VPN feature and select your location. If you want, you can go to the list of its servers and handpick a location as well.
There are also various advanced settings in Express VPN like split tunneling or dynamic protocols that you can try. Afterward, you can launch the Play Store and access the changed location features in it.
Part 3: Reset your Google Play Account to Change its Country
As you know, Google Play Store is ideally linked to the default Google account of a device. Therefore, if you wish to change Google Play region permanently, then you can reset your account as well. For instance, you can create a new Google account that is based on another country and link it to the Play Store instead. Though, this would only be a one-time solution and resetting your Google account every now and then won't be feasible.
All you need to do is unlock your Android device and go to its Settings by tapping on the gear icon from its home or the control center.
Afterward, just browse to its Settings > Account & Sync Settings and select your connected Google account. In some versions, it is just listed under Settings > Accounts too.
Now, just remove the linked Google account from here and wait as it would automatically be removed from Play Store as well.
That's it! Once your previous account is removed, add a new Google account here instead. Just be sure that this Google account should have another country listed to change the Play Store region automatically.
Part 4: Manually Reset your Country in your Google Play Store Settings
Lastly, you can also go to your Google Play Store settings and manually change your location as well. Though, you should know that Google only allows us to change our Play Store location once a year. Therefore, if you have already changed your Play Store location once, then you have to wait for a year at least to reset it. If you are ready to take this risk, then follow these steps to change Play Store country.
To start with, you can unlock your device and launch the Play Store app on it. Now, tap on the hamburger icon from the top to go to its Settings > Account.
Once the Account settings are launched, go to the "Preferences" tab and visit the Country and Profiles section.
Tap on your current country to get an option to change your Google Play region. Simply enter the name of another country, select it, and save the newly made changes in your Google Play profile.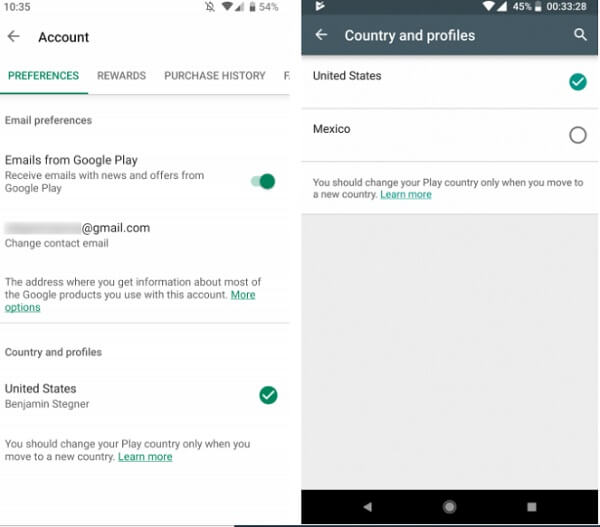 There you go! Now when you know different ways to change Play Store account settings and country, you can easily meet your requirements. You can take the assistance of a VPN app to change Play store location, reset your account, or change the Play Store country manually. Since the manual resetting of the Play Store location would not be an ideal solution, I would recommend using a VPN or any other third-party solution. Go ahead and feel free to follow these techniques to change location in Play Store and let us know if you have any queries in the comments below.