The GPS capability of your mobile phone is essential for the functioning of different location-based apps and weather forecasts and mapping purposes. But sometimes tracking our location can seem too inconvenient and oppressive. In all these moments, we want to put the location on our map, but we want it to be fake. Many apps can't function if we don't put our location in it. Thus, to fool these apps, we need the best app to fake location.
The location mock app can also be used to share counterfeit locations on WhatsApp and Google map if we want to fool someone who is irritating us. Thus, the next time you want to get rid of the location catching tricks, try to install apps that can fake your live location.
Part 1: Why do we need fake location apps?
GPS location spoofing app is one of the best methods if you want to get away from your Operating System (OS). The best fake location app will make your phone believe that you are in a specific location, although you are not. The location faker app puts your location out of sight and gives you an altogether virtual location. In addition to this, you can also have a little enjoyment, and you can even trick your friends as well as family members.
In this article, we will know about the top 10 fake location apps in 2020 that you can try.
Part 2: 5 best fake location app on Android
Using a fake location app may put your friends and family puzzled about your location, but sometimes it can give you peace of mind. Fake GPS location app can also help you watch different programs and entertainment shows that are not allowed in your location. In addition to it, the fake GPS apps can also be used to prank your friends who want you to attend every party and event. This can be one of the best ways for the introverts to avoid any social gathering as the fake GPS location can make people believe that you are in another location.
1.Fake Location App By Hola
Hola is the best fake location apps on Android. The app can be used for free, and you can use this app easily to fake your location or hide your current location. You can also use the hola app to chit-chat with different people from different locations. To make this application work, you have to go to your phone's menu, and in the "Location" settings option, choose only GPS or only device. You can then select your location by manual searching the place to set up.
Pros: You don't have to pay any amount to use the app
Cons: The app sometimes doesn't work after your phone is updated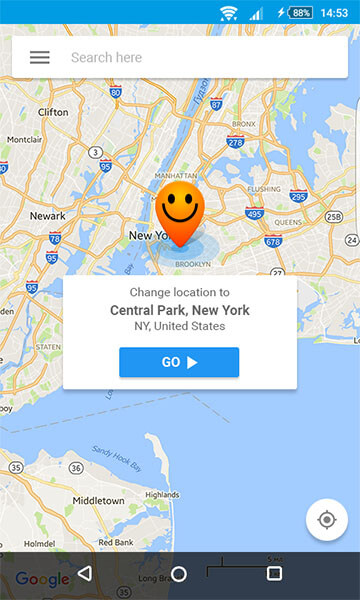 2.Fake GPS App by Lexa
This location spoofing app is highly rated on Google. This app functions on any Android device irrespective of the root of the invention. People whose devices don't have root entry have to get the mock location activated from the developer's side. This free fake location app enables you to teleport your phone to any place of your choice.
Pros: can work on all kinds of android devices.
Cons: sometimes it can't search for specific places. So, you may not be able to fake for exact locations.
3.Fake GPS Go Location Spoofer App
It is the best location spoofing app that is easy to use. You don't need to be a technical expert in using this app. This app enables you with two options:
- You can search location through the name of the place
- You can choose the area with the help of GPS coordinates.
Once you get your desired virtual or fake location, just press play and start lying about your fake location, don't you feel, this location spoofing app can save you in critical situations, especially if you are an introvert. You don't want to attend those late-night parties?
Pros: very easy and simple to use app
Cons: the paid version of the app doesn't work on Android 10. So, go on and use this app freely.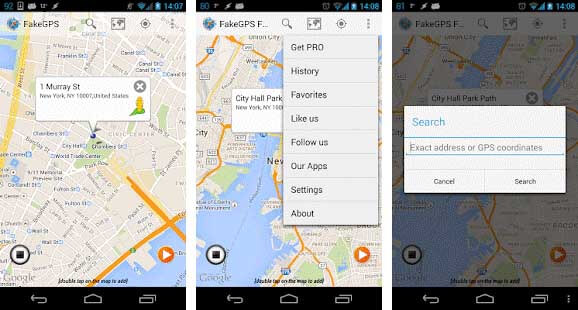 4.Location Spoofer:
Location spoofer is another excellent app to spoof location. The best part about this location spoofer app is that the app is quite lightweight, and it will take up just 1MB storage space of your device. This app works well with Android, as well as other devices. The function of the Location Spoofer is analogous to all other fake location apps. The only disadvantage of this app is that the free category of the app has very few features, and you will be fed up with the apps popping up every single moment. If you have money and need, you can spend a few extra bucks to get the pro genre of the app.
Pros: the app takes up very little space in your device
Cons: the free category has very few features.
Fake GPS Run:
You can utilize this app to fake GPS locations at any location in the world. This app is very effortless to use, and the exciting algorithm is quite advanced to generate a false location. The only thing that needs to be kept in mind before using this app is that you need to configure the app to avail of the spoofed GPS coordinates.
Pros: the app is very effortless to use.
Cons: sometimes the app gives some glitches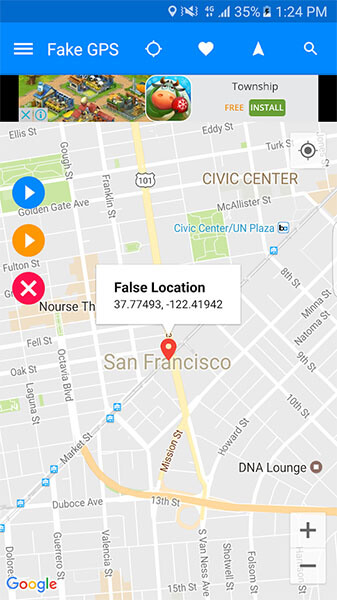 How to use fake location app on Android
If you want to use the fake GPS app, you can follow these 5 steps to use it on Android:
Step 1: Install any of the above listed fake GPS location app on your Android device.
Step 2: Open the app and tap on the ENABLE MOCK LOCATION button.
Step 3: Tap on "Developers settings" and then go to "select mock location app". From the menu now, choose the fake GPS app.
Note: Please make sure you have enabled Developer options before this. To enable it, tap on the build number 7 times. And build number can be found in the "Settings" > "About Device".
Step 4: Now, return to the app and then set the location your want to fake. Use the play button on the map to enable the fake GPS settings.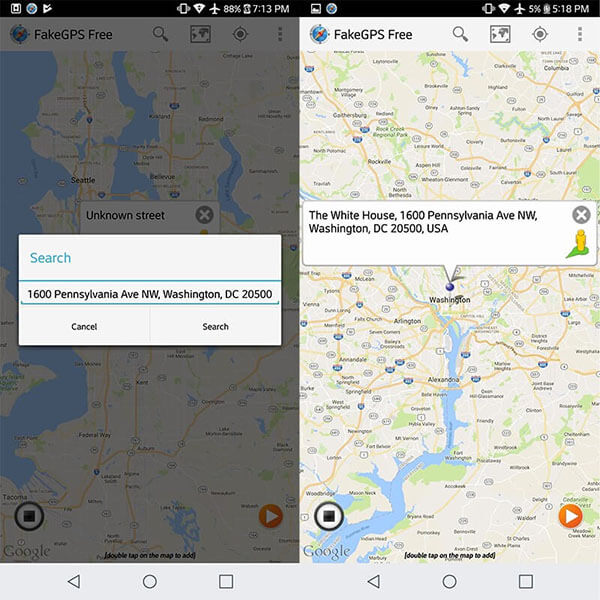 Now we will help you know about the top 5 Fake GPS apps that you can use on iOS device.
Part 3: 5 Best fake location app on iOS
We are providing you with a list of counterfeit location apps that you can use on your iOS devices. Not many apps can be used to fake GPS locations on iOS. We are providing you a list of apps that can be used:
1.VPNa:
VPNa stands for the Virtual Phone Navigation app. It is one of the best GPS spoofing apps, as it is straightforward to use, and even beginners can use this app without any complication. The VPNa can save any location. You can also keep your live location secret and replace it with a virtual location.
Pros: The app is very easy to use and even beginners can use the app very well
Cons: sometimes the app doesn't keep alive and you are reverted back to the original location.
2.Fake GPS Location – for iPhone:
The best part about this fake GPS app is that you can use this app without any ad availability. You can also change the location of your photos by using this app. It is especially useful for apps like Instagram that gives you an option to show your location when you put up your pictures.
Pros: the app is greatly useful for looking at the GPS location history.
Cons: the app takes up more storage.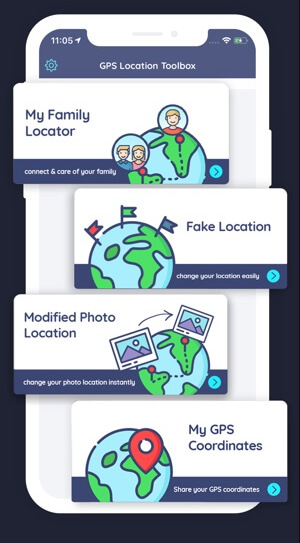 3.Fake GPS Location for iPhone and iPad by iCubemedia:
If you are afraid that someone might know that you are sending them to the wrong location, use this app. The best part about this app is that nobody will be able to understand even if you have sent a fake location. This fake GPS app also has a simulation of movement features. It means you can build a route that will show that you are walking or running or driving. All these features with the app will make anyone believe about your live location.
Pros: Easy to use; you can start and stop spoofing in one click.
Cons: Customer support is not so responsive.
4.Fake GPS Location Changer:
Another app that we would introduce for iPhones or iPads will be Fake GPS Location Changer. This allows several ways to share location and you can look at the history of shared locations. with this, you get to change the location with ease – simple long press on the map.
Pros: you can use this app without paying a single penny
Cons: Doesn't work for location-based apps, you can only use it to deceive your friends/family.
5.Fake GPS Location by Hanja Devi:
With the use of this app, you can look for your fake location, insert a picture to make it more authentic and even share your location. During the installation of this app, you will be provided with complete guidance.
Pros: Professional to use and works efficiently
Cons: free only for a limited period of time.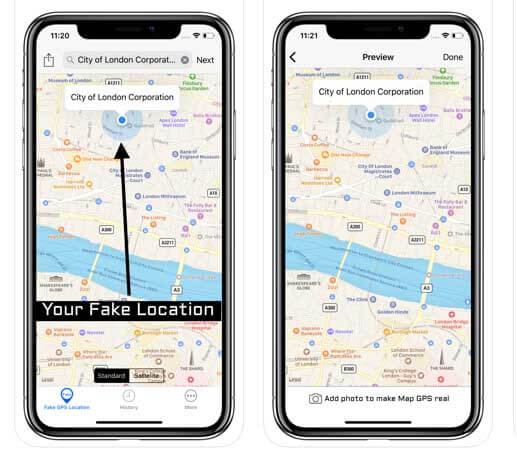 You might have not know but there are many GPS faker apps that can't be used on iOS> but don't panic. We have a solution for that as well. You can use dr. fone – virtual location (iOS) as an alternative. With this location changer tool, you can teleport your iPhone GPS to any place in the world you want. Apart from this, it has simulation facility as well. You can show the movement simulation between 2 spots and multiple in hassle free way. All in all, it can be a great option as the best fake location tool for iOS device.
The Bottom Line
There are certain situations in your life when you don't want to move from your location, but you have to fake that you are on your way. In all these situations, different fake GPS app can help you. Even if you don't face any case, you can use this app to fool and joke with your friends. Most of these apps provide free versions, but if you want certain additional features, you can even pay an additional amount. Use these fantastic apps and get a virtual location in your device.