"I don't want Google Chrome to know my location while I browse the net to protect my privacy. Can someone tell me how can I fake location on Chrome?"
Google Chrome is one of the most widely used browsers in the world for computers and smartphones alike. While it does provide a smooth browsing experience, the browser is also blamed to invade our privacy in the background. It uses some of the most advanced ways to track our whereabouts, which a lot of users don't like. The good thing is that you can fake GPS on Chrome and protect yourself easily. In this guide, I will tell you how to implement Chrome fake location for both computers and mobiles alike.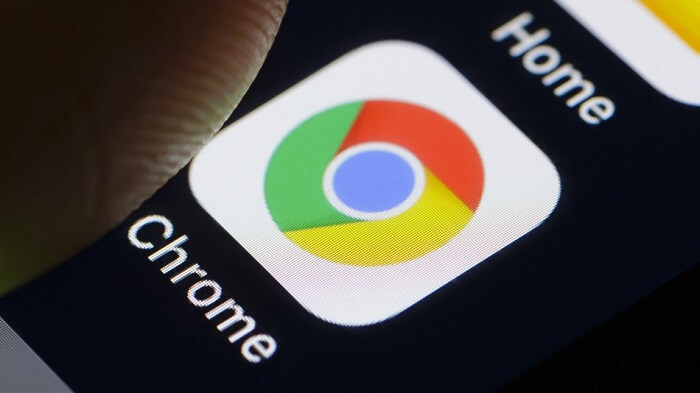 Part 1: How Does Chrome Track Our Location?
Before we get into the details and learn how to fake location for Chrome, it is important to know how it tracks our current whereabouts. Ideally, there are several ways Google Chrome would track your location.
The most common way is accessing the GPS, WiFi, and IP address details on your mobile/computer. For instance, if Google Chrome has access to your phone's location services, it can easily know where you are.
Your IP address also contains details about your location (state and country). Chrome can just pick up the IP address, do a reverse look-up, and know your present area.
Lastly, it also uses BSSID (Basic Service Set Identifier), which is a unique code that defines your network access point. Google has an extensive database of BSSIDs that it can look-up to know where you are.
To protect your privacy, you can use a Chrome fake GPS solution. For instance, a VPN would add another layer of a virtual network that would protect your original IP address. Similarly, there are dedicated fake GPS chrome apps that can spoof your location to somewhere else.
Part 2: How to Change Chrome Location Manually on your PC?
As you can see, Chrome uses different techniques to determine our location. Therefore, you should implement a handful of tricks to fake location on Chrome. If you don't want to use any third-party application, then you can use this trick to fake GPS location on Chrome.
Step 1. Firstly, launch Google Chrome on your system and open any website that would access your location (like Google Maps).
Step 2. Now, you can press Ctrl+ Shift+ I (on Windows) to get the Chrome Developer console on the screen. Mac users can press the Cmd + Option + I key combinations instead.
Step 3. Once the developer console will open, you can see different codes on the split screen. From here, click on the three-dot icon and select the "Sensors" option.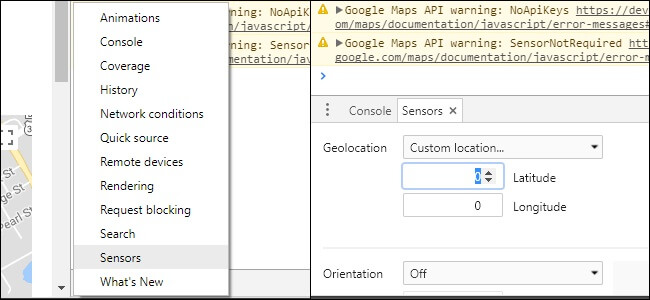 Step 4. Under the Geolocation sensor, you can view a dropdown menu with various options listed. If you want, you can choose a custom location from here as well.
Step 5. To fake GPS on Chrome for a custom location, you need to enter its coordinates (longitude and latitude) that you can look up on Google beforehand.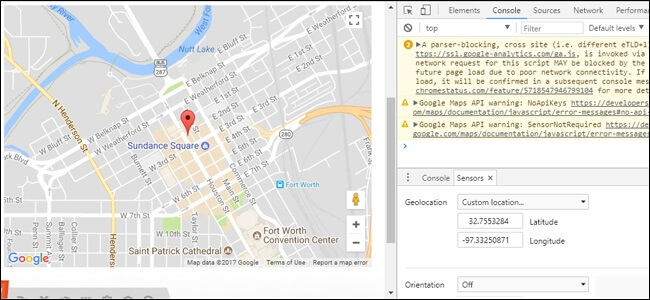 Part 3: How to Fake Chrome Location with a VPN?
A Virtual Private Network is another reliable option to fake location on Chrome by protecting your original IP address (and adding another layer of network instead). You can either download a VPN software or install a VPN extension to your Chrome as well. Since an extension would be a simpler way to change GPS location on Chrome, let's consider it here.
Step 1. To install a Chrome VPN extension, you need to visit the Chrome Web Store and look for a reliable extension. For instance, the Hola fake GPS Chrome extension is pretty popular (and is available for free) that you can try.
Step 2. Just look up for Hola on the Chrome web store and click on the "Add to Chrome" button once the extension page will open. Complete the installation and restart your browser afterward.
Step 3. After installing Hola, you can view its option at the top-right corner of the browser. Whenever you wish to change your location, just click on it, and select a country from the list to turn it on.
Part 4: How to Set a Fake Chrome Location on Android and iOS?
Just like your computer, you can also fake GPS for Chrome on your Android or iOS device as well. If you are concerned about your privacy, then you can just stop Chrome from accessing the device's location services. Besides that, there are also third-party apps to spoof GPS on Chrome or change your IP address using VPNs as well.
Disable Location Services

If you simply wish to protect your privacy, then you can disable the location services on your device. You can find the services on your phone's Control Center or its Settings. If you want, you can disable Google Chrome from accessing its location too. For example, iPhone users can go to their Settings > Privacy > Location Services and from the list of the apps that can access its GPS, disable the Google Chrome permission.

Use a VPN App

If you want, you can just install a reliable VPN application on your device as well. While it will not spoof your location, it will protect your current IP address. Simply install a VPN application, get an active account, and use it before launching Chrome. You can set any other location from the VPN app to protect your privacy.

Fake GPS Using Dedicated Apps

There are also several third-party applications out there that you can use to spoof your location. While iPhone users need to jailbreak their device first, Android users can simply enable the Developer Options on their phone for this. Let's consider an example of how to fake GPS on Chrome using one of these apps for Android.
Step 1. Firstly, unlock the Developer Options on your Android by visiting its Settings > About Phone and tapping the "Build Number" field 7 times straight.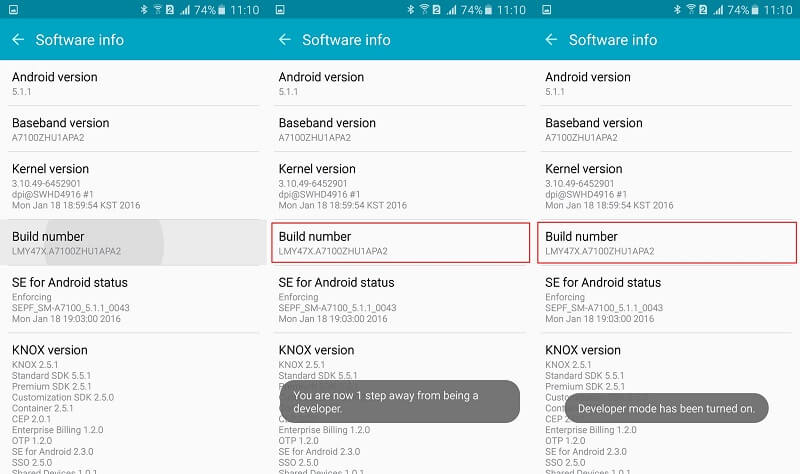 Step 2. After that, you can again go to its Settings > Developer Options and enable the feature to mock location on the device.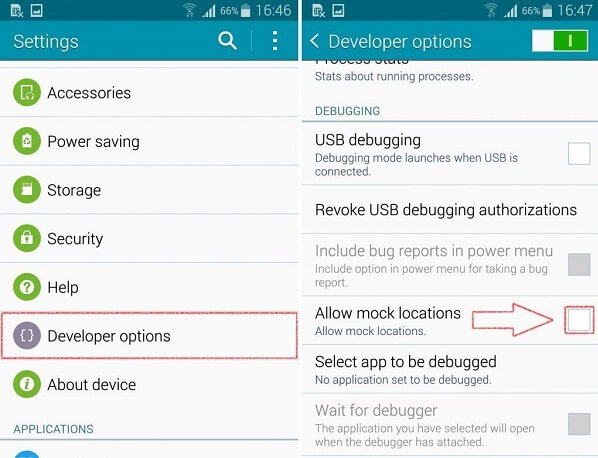 Step 3. Great! Once it is done, you can go to the Play Store, look for any reliable fake GPS app, and install it on your device.
Step 4. When the app is installed, you can again go to its Developer Options and select the installed app as the mock location application.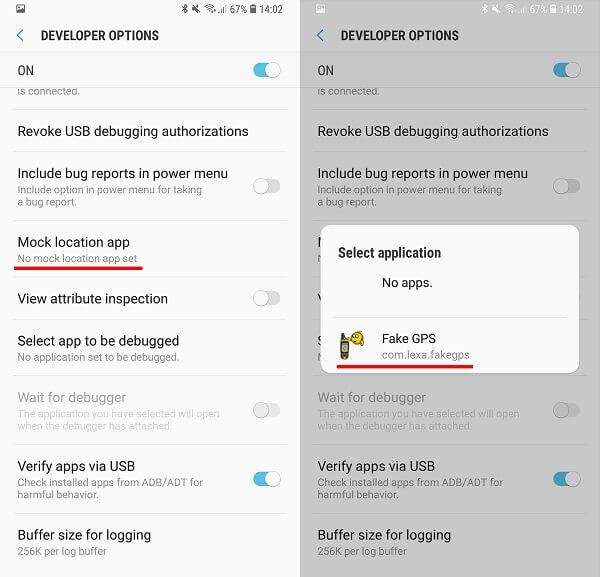 Step 5. Now, just launch the Fake GPS application and manually change your location to anywhere in the world. This will spoof your location on the device and apps like Google Chrome.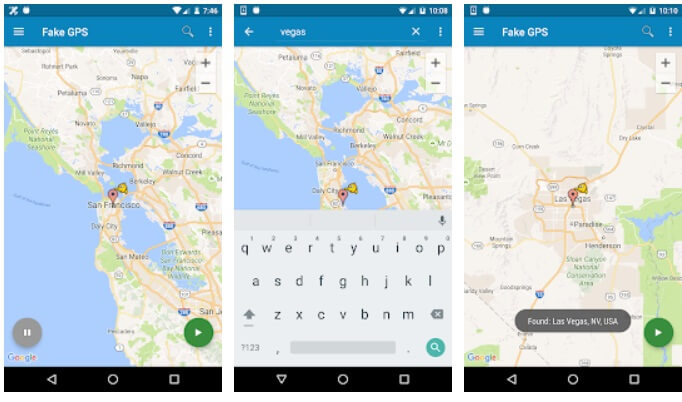 Bonus Tip: What if I want to Fake Location on Some Social Apps
The above-listed solutions to fake location on Chrome are not that reliable and have low success rates. A VPN would not be able to spoof your location and there are no fake GPS apps for non-jailbroken iOS devices. To get better results and spoof your location for social apps, you can try dr.fone – Virtual Location (iOS). It provides smart and user-friendly solutions to change your iPhone location without the need to jailbreak it.
You can just pinpoint anywhere in the map to automatically spoof its GPS. Besides that, you can also simulate your movement between different spots. This will help you with games like Pokemon Go and even dating apps like Tinder. Here's how you can use dr.fone – Virtual Location (iOS) to change your iPhone location.
Step 1: Launch the Virtual Location tool
Firstly, go to the official website of dr.fone and install the Virtual Location application on your system. Launch it and select the "Virtual Location" option from its home to open the module.
Also, using a working lightning cable, connect your iPhone to the computer and click on the "Get Started" button.
Step 2: Search for a new location
Once your phone gets detected, you can see your present location on the map that you can further calibrate by clicking on the "Center On" button.
Now, to change your location, go to the top-right corner of the screen and click on the "Teleport Mode" (the third option here). This will display a search bar where you can type the name of the target location.
Step 3: Spoof your iPhone location
After entering the desired location, just click on the "Go" button and the map would change to your new location. You can now move the pin and further zoom the interface to drop the pin wherever you want. In the end, just click on the "Move Here" button to spoof your location.
That's it! Your iPhone location will now be changed that you can even check from the Maps app on your device.
There you go! I'm sure that after reading this guide, you would be able to fake GPS for Chrome like a pro. To make things easier for you, I have listed dedicated solutions to fake location on Chrome on both PC as well as mobile phones. You can try either of these tricks and even use a smart application like dr.fone – Virtual Location (iOS). It can help you spoof your location and even simulate your movement from your PC without jailbreaking your iOS device.