Being a Snapchat user, it is not a surprise to realize that the app uses the GPS feature in your phone. It simply takes help of this in order to tell the location of yours. With the app, you get a variety of Geofilters and even stickers as based on the location.
However, you may feel this irritating sometimes. For example, you actually need to be at a certain place if you want the filters regarding that place. And it is not always possible to be at a specific place all the time. Here is what Snapchat GPS spoofing comes in handy. With the help of a fake GPS app for Snapchat, you not only hide the location but actually can spoof it. As a result, you will be able to have fun with the wanted badges and filters. In this article, we will make sure that you get properly well-versed with faking location on Snapchat map. Let us move further to know more.
Part 1: Brief introduction to Snapchat
Snapchat offers a SnapMap feature where you get privilege of having fun with the location based filters. More than this, your friends on Snapchat are also enabled to get your location if turned on. With the Snapchat location, you also can see where your friends are. After quitting the app, the SnapMap will let people see your last known location and it lasts for a couple of hours. Now, let us help you know how you can take advantage of a Snapchat spoof app to trick the app for your location.
Part 2: How to set fake Snapchat location on Android
In order to carry out Snapchat fake location process on your Android device, you can take help of an app that is expert in such thing. There are several of them available on Play Store so you don't need to worry about the availability. We will be using Fake GPS Go Location Spoofer Free for this process. It doesn't require rooting if your device is running on Android 6 and above. Let us know how you can fake Snapchat location without jailbreak.
Prerequisite for using Android spoofer app:
It is essential to enable Developer Options in order to use this app. If you haven't done it, make sure to do it now. Simply head to "Settings" > "About Phone" > look for the build number and tap on it 7 times. The Developer Options will be enabled. Now follow the steps below:
Step 1: First things first, move to the Google Play Store on your Android device. Now, search for the app and go for the installation by tapping the "INSTALL" option.
Step 2: When installation gets over, make sure to open it on our device.
Step 3: Upon launching, you will notice the "ENABLE MOCK LOCATIONS" on the screen. Just tap on it and you will get jumped to the Developer Options screen.
Note: It will come only if you enable Developer options following the steps mentioned above.
Step 4: Here, you have to click on the "Select mock location app" and there in the menu, choose "FakeGPS Free" app.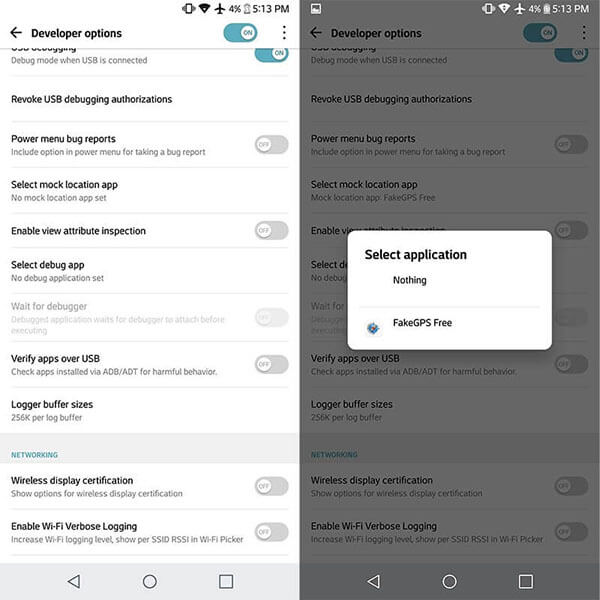 Step 5: After enabling the mock location, you can again launch the app.
Step 6: Choose the location that you want. Hit on the Play button given on the screen. This will show the location you have spoofed.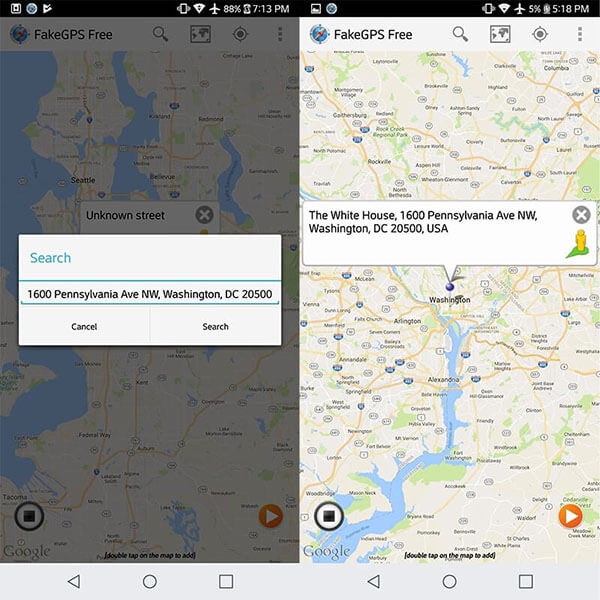 This was how to fake GPS location for Snapchat on Android.
Part 3: How to set fake Snapchat location on iPhone
If you want to do Snapchat GPS spoofing on your iPhone, no other way than dr.fone – Virtual Location (iOS) tool can help you on this. This tool is created to help users, as mentioned, mocking their iOS location with just one click. The process is simple and you don't need to be a tech-savvy to get your task done using this tool. The program helps you teleport anywhere you want in this planet. Also, you can show people the fake movements between 2 or multiple spots. Let us know how you can fake GPS location on Snapchat using dr.fone – Virtual Location (iOS)
Teleport iPhone GPS location to anywhere in the world in 1 click!
Change GPS location to anywhere globally.
Select a place to teleport by name or coordinates.
GPS automatic movement in 2 control modes.
Enhanced map view to show your location or movement.
Step 1: Launch the Program
In order to start faking Snapchat location through this method, all you need is to download it on your PC firstly and then install it. Once you are done with the installation procedure, make sure to launch it. On the main interface of the program, click on the "Virtual Location" option.
Step 2: Get the Device Connected
As this program is made for iOS device, get one and use the lightening cable to connect it with your PC. After doing this, hit on the "Get Started" button at the bottom.
Step 3: Check your Location
You will see a map screen now. Here, you can look for your actual location. If it is not showing, you can go to the Center On icon given at the lower right side of the screen.
Step 4: Activate Teleport Mode
It's time to change the location. You simply need to click on the third icon from the three icons given at the top right side of the screen. This will enable the teleport mode with which you can set your location to any place you want. In the field, type the name of the place that you want to spoof. Hit on "Go" after that.
Step 5: Start Snapchat spoofing
Now, the program will understand where you want to go virtually. And you need to hit on the "Move Here" option given on the pop-up. Your location will be changed successfully and any of your device's location-based app will show this new location.