While there are plenty of options out there, finding the best fake GPS app to fit your requirements might be a tedious job.
To make things easier for you, I have listed the 6 best fake location apps for Android and iOS devices that you can use without much effort.
The 3 Best Location Spoofing Solutions for iOS
Unlike Android devices, we can't simply install a fake GPS app on our iPhone. Therefore, you either need to try a desktop spoofing solution or jailbreak your phone to use a GPS spoofing app.
1. Dr.Fone - Virtual Location (iOS) [No Jailbreak Needed]
If you don't wish to jailbreak your iPhone to spoof its location, then you can go with Dr.Fone - Virtual Location. The application is a part of the Dr.Fone toolkit and supports every major iOS device out there. Using it, you can spoof your location to anywhere you want and even simulate the movement of your device.
It provides a user-friendly solution that lets us change our location to anywhere in the world.
You can look for a location by proving its address, the name of a landmark, or its exact coordinates.
The map-like interface would further let you move the pin and drop it to the exact location of your choice.
Besides that, you can also simulate your iPhone movement at a preferred speed between multiple spots.
To move your device realistically, it also provides a GPS joystick option that you can easily use.
Pros
Supports almost every gaming and dating app
GPS joystick available
No jailbreak needed
Cons
Only the trial version is for free
2. Location Faker [Jailbreak Needed]
If your iPhone is jailbroken or you are willing to jailbreak it, then you can also use this location spoofing app. You can simply download it from Cydia and later tweak your phone's GPS.
The fake GPS location app would let you change your device location to any place of your choice.
You can look for a place by its address or by entering its coordinates.
It would also maintain a record of your last spoofed locations and you can mark certain places as your favorites.
Pros
Cons
Jailbreak needed
Installing it can be tough
Only works on iOS 9-12 as of now
3. Location Spoofer [Jailbreak Needed]
If you are looking for a basic fake GPS app, then you can also try this Cydia tweak. As the name suggests, the application can spoof the present location of your iPhone anywhere you want.
Since you can't get this fake location app from the App Store, you have to jailbreak your device to use this Cydia tweak.
Later, you can look for any place to spoof your location and drop the pin on the map.
You can also mark certain locations as favorites so that you can access them in less time.
You can try its basic version for free or pay $1.99 (one time) for an ad-free experience.
Pros
Lightweight and easy to use
Cons
Jailbreak needed
Does not support the latest iOS versions
Can't simulate movement between different spots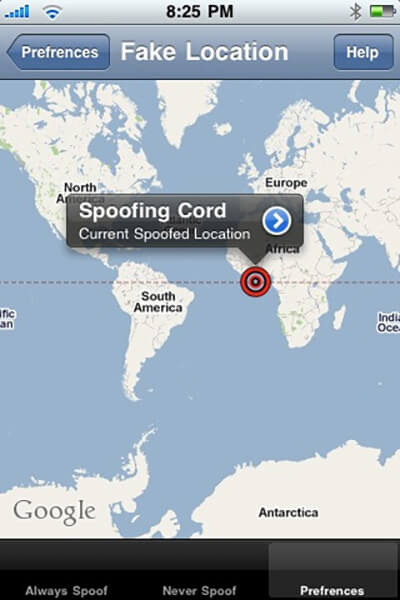 The Top 3 Fake GPS Apps for Android Devices
Although you can find tons of location spoofing solutions on the Play Store, I would recommend giving the following apps a try.
1. VPNa Fake GPS Location
Ideally, this is not a VPN, but a fake GPS app for Android devices. You can try its free or paid version to change your phone's location pretty easily.
One of the best fake GPS apps, it lets us look for any place by its address or coordinates.
You can move the pin to anywhere in the world and drop it to spoof your location.
Users can mark any location as their favorite and access the recently spoofed locations as well.
Pros
Maintains a record of the past location history
Free to use
Cons
The free version has in-app ads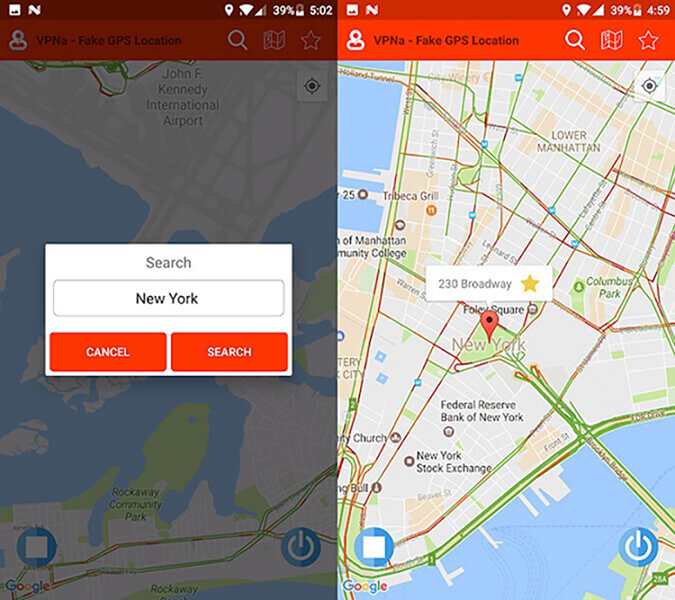 2. Fake GPS App by Lexa
This is one of the most popular fake GPS location apps, which is already used by millions of people. It provides a basic user-friendly solution to spoof our Android's location for free.
On the app, you can find a map-like interface that you can move around or zoom in/out to find the target spot.
You can also look for a place by entering the keywords of a city, country, etc.
The application supports almost every Android app and can easily spoof your location.
Pros
Freely available
User friendly
Cons
Can be detected by some apps (like Pokemon Go)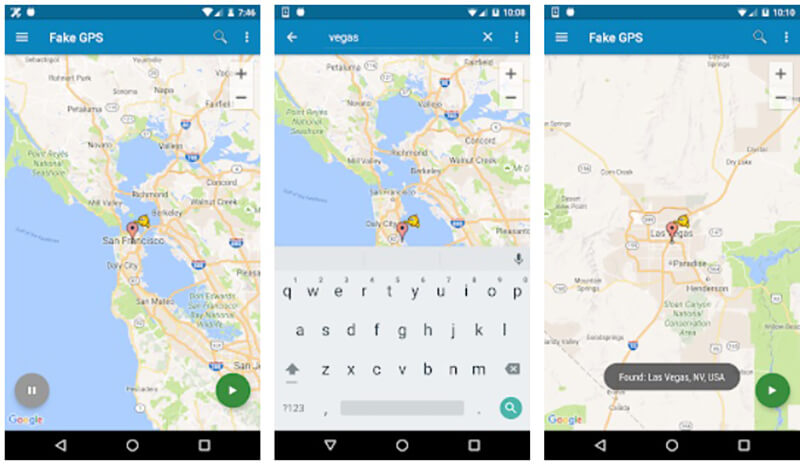 3. GPS Joystick by The App Ninjas
Lastly, you can also take the assistance of GPS Joystick, which is developed by The App Ninjas. Apart from being a fake location APK, it can also be used to simulate your phone's movement.
You can directly spoof your location to any place by entering its coordinates.
It also features a GPS joystick that you can use to simulate your movement.
You can set up different speed options to walk, jog, or run so that you can move realistically.
It is considered as one of the best fake GPS apps to spoof location on Pokemon Go.
Pros
GPS joystick included
Free to use
Cons
Can be a bit complicated for beginners
Mostly used for Pokemon Go only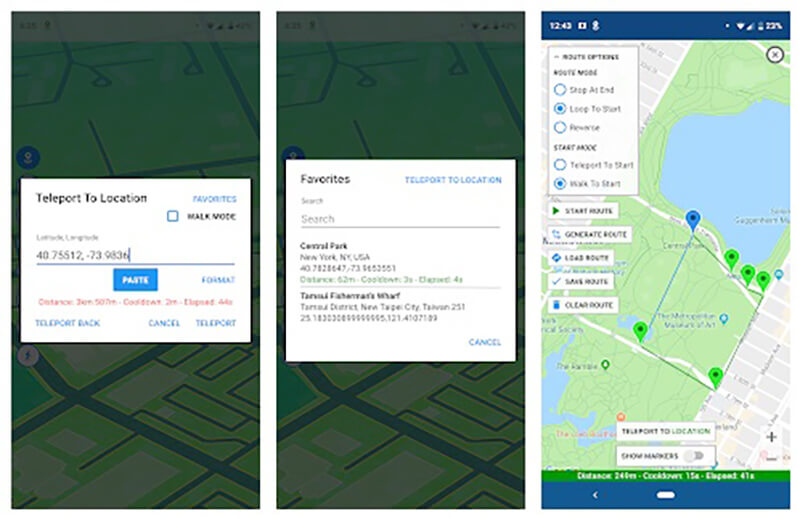 The final words:
There you go! Now when you know about 6 different GPS spoofing apps, you can easily pick a preferred option. I have listed some of the best fake GPS apps for both iOS and Android devices. Furthermore, I have included ways to spoof your iPhone location without jailbreaking it as well. You can explore these solutions if you want and pick the best fake GPS app to meet your requirements.