How many times have you been tired of location sharing and then thought about find my friends location spoofer? Or what is the count for the times the thought of free location spoofer has come your way?
When the GPS functionality plays a major role with growing digitization and is a blessing; it can be irritating to many as well. For example, there are users who are more of private persons and never want their whereabouts to get shared with even their friends. Also, when the teenagers are suck to be tracked by their parents every single time, they seek for spoofing help.
Through we are not encouraging spoofing for kids and believe in proper parental control when needed; however, there are times when children need their space as well. Whatever be the reason, in this article, we will list everything related to location spoofer and its different ways. Let us explore!
Part 1: Best GPS Spoofer Ways with Tutorials
Way 1: Bluestacks
The first way we have on the list of best GPS spoofer is Bluestacks. It is an Android emulator with the help of which you can get your location faked on desktop. Bluestacks comes with an inbuilt Mock Location functionality and hence it can act as one GPS spoofer for PC. The thing that can make it beneficial method is that there will be no need for installation of any other app or software like in your iOS or Android device methods. Let us know how to work with this bluestacks location spoofer.
Step 1: To begin with, open Blustacks on your PC. Once done, launch the Google Play Store.
Step 2: Now, choose the desired app like Snaphat, Facebook, Grindr, Tinder etc. in which you want your location shown false. Tap "Install" to get the desired app installed.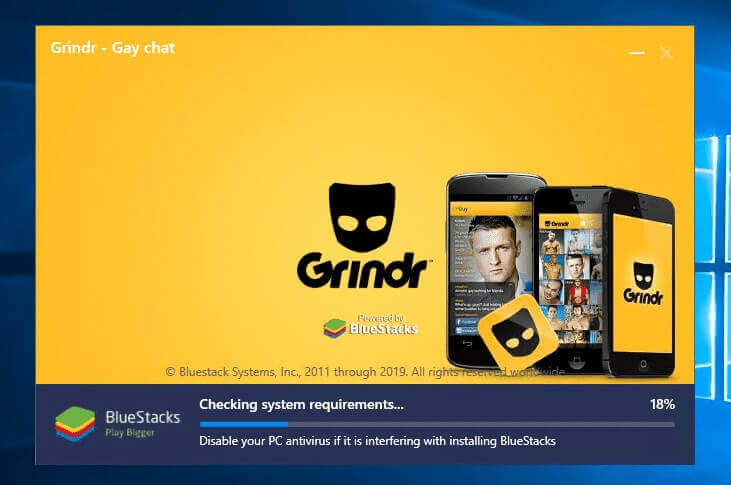 Step 3: A location icon can be seen at the bottom right corner of the screen. Tap on it followed by turning on the switch next to "Mock Location".
Step 4: You can now set the location that you want. Use the pointer and drag it on the desired location on the map. Apart from pointer, you can take help of search box as well. Tap on "SET" afterwards.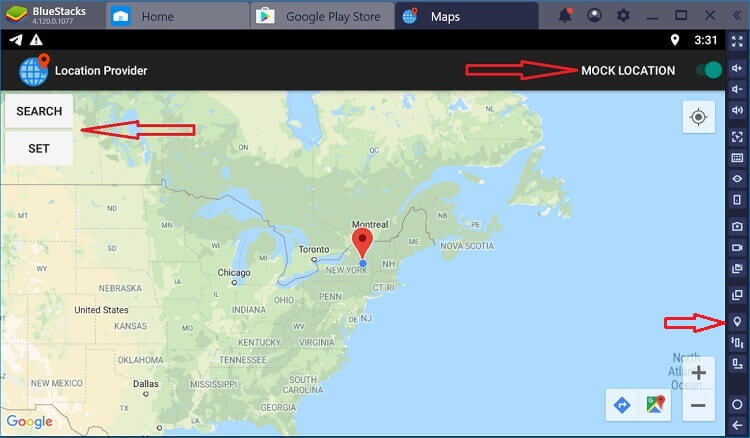 Step 5: You are all set to fake it now. Launch the app and it will show the location that you have just set.
Way 2: External device
Making use of an external device to fake GPS location is the second way on the list. Well, yes. There are external location spoofer devices also available with the help of which you can fake GPS location without a hitch. For your convenience, we have a step by step tutorial demonstrated below with an external device named as Gfaker Device Plus. External location spoofer devices are generally works on plug and play bases. Most devices works smoothly over both Android and iOS devices. Enough of talking, let's now understand the tutorial on how to make use of this location spoofer device.
Step 1: First, you need to plug Gfaker Device Plus into your smartphone, be it Android or iOS.
Step 2: Then, you need to start searching for a location with which you wish to fake your current location.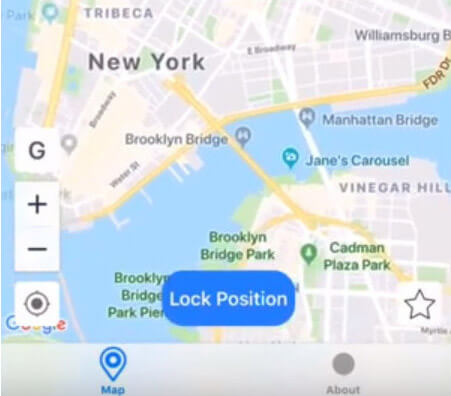 Step 3: Lastly, you need to opt for the desired mode and settings (like method, speed, plan, arrival etc.) followed by hitting the "Start" button. That's it, you're done.
Way 3: App
Next on the list of best GPS location spoofer is the App way. Yeah the apps are really popular these days that can easily help you to fake GPS location and that too for free. You can either go and search on to Google Play Store (if you're on Android) or Apple App Store (if you're having iOS) for the fake GPS location spoofer free apps. But the sad part is, there are hardly any apps that can work on iOS devices. But worry not, for your convenience, we have listed the best possible way you can pull off with fake GPS location spoofer thing. Let's explore them.
Part 2: Android: Fake GPS Location
Step 1: Open Google Play Store and search for Fake GPS Location by Lexa. Now, tap on "Install" button and wait for the installation to get completed.
Step 2: Now, you need to set this app as mock location. For this, the Developer Options should be turned on. If it is not, here is how you can do it.
Tap on "Settings" in your Android phone. Now, look for the "build number" of your phone. This can be found in "About Phone" section. When you find it, tap on it 6-7 times and you will notice the Developer Options will be turned on.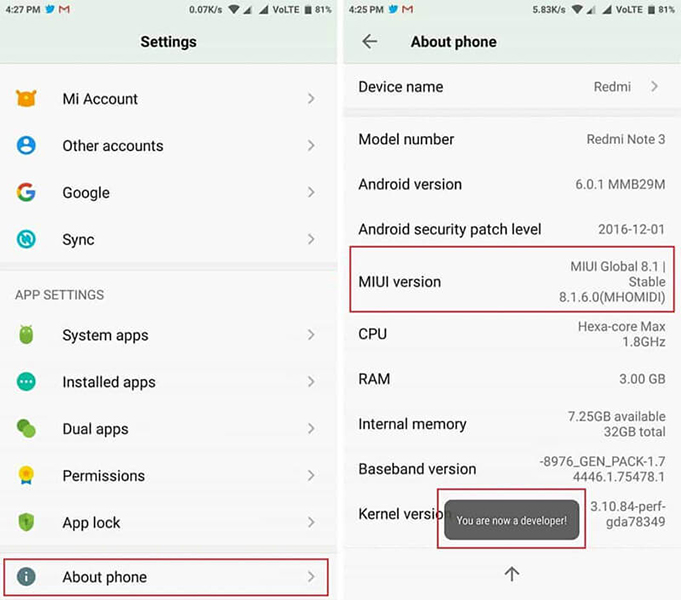 Step 3: Now, simply open "Settings" again and head to the "Developer Options" menu. Now, tap on "Set mock location app". Choose "Fake GPS Location" from the list now.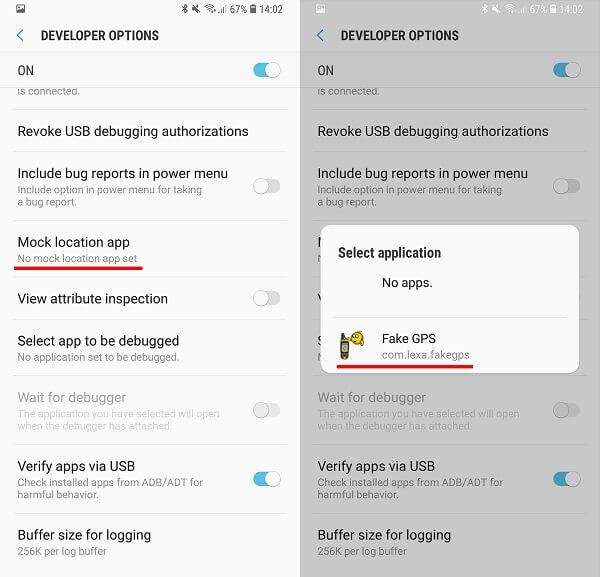 Step 4: All essentials have been done now. You can now launch the app on your device and then set the location that you want to spoof. Tap on the "Play" button given at the bottom of the screen. You are good to go now!
Part 3: iOS: Dr.Fone – Virtual Location
Well, as we discussed above that there are hardly any apps that can help you with location spoofer activity when it comes to iOS devices without jailbreaking them. But quite astonishingly, we have this Dr.Fone – Virtual Location, the ultimate fake GPS location spoofer tool which can effectively and efficiently help you to serve your purpose.
1 click to teleport iPhone GPS location to anywhere in the world!
• Teleport to anywhere you want.
• Simulate movement along a route.
• Support up to 5 devices location management.
• Use joystick for more flexible GPS control.
Moreover, you simply not just can teleport/fake location with a random one from anywhere in the world, but also can make customized routes with its Two spot or Multi spot modes. Furthermore, you can even define the speed at which you want your GPS location to travelling from one of your selected points to the other. Without further ado, let's get to understand how this mighty fake GPS location spoofer tool can help you spoof location on iOS device without jailbreaking.
Step 1: Open the Tool
When you download the program and install it, open Dr.Fone on your PC. Once done, click on "Virtual Location (iOS)" option from the main screen.
Step 2: Connect iPhone
Plug your iDevice to the PC and then hit on "Get Started" button on the screen.
Step 3: See your Location
A map screen will appear now where you need to check your actual location. If it's not showing, click on the center on icon which can be found at lower right corner.
Step 4: Choose Location to Spoof
Now, select the Teleport Mode by clicking on the third icon at the top right corner. When this is done, type the name of the location where you want to spoof. For example, Rome.
Step 5: Spoof it
Now, leave everything on the software. It will know what location you want to spoof and offers a pop-up box. Here, click on "Move Here" and you are good to go.
Part 4: Is there Any Risk in Spoofing
Well as a responsible being, you must understand that spoofing location may involve several risks and may even land you in big trouble. Some of the risks involved are mentioned below.
#1. If you're making use of location spoofer tool to cheat in location based Apps like Pokemon Go, you must understand you run a great risk of getting caught. Or even worse, your account may get banned for faking your location.
#2. Though location spoofing of your own device is not illegal, but you may land up in big trouble if any of your family members are trying to locate you but they won't be able to as you've spoofed your location.
#3. Using a location spoofer to fake location may disrupt the normal functioning of other location based apps that might have been configured with your current and actual Geological location.
Conclusion
Now you see – spoofing is not that tough. Whether you want to prank your friends or simply don't wish to disclose where you are, you have many fake GPS location spoofers with you. We shared different ways that can help you serve your purpose. Be it find my friends location spoofer or GPS spoofer on Windows 10 through Blustacks, you now know every bit of these methods. Unless you have a genuine reason, please go for either of the methods mentioned. However, spoofing just for the sake of wrong means is never appreciated. Hence, please be careful and use fake GPS spoofer as per your needs.