Did you come across the term 'spoofing' lately? Well! It has become a trendy thing these days. You must be aware that nearly all apps or websites wants your location. The reasons can be many. However, this can be challenging for many people, especially those who aren't comfortable sharing it with others. In such case, a location faking app or we can say a location spoofer app or tool is a must have. And while talking about this, many of you must have heard about VPNa fake GPS location apk. If yes this article is just for you.
We will be sharing everything about VPNa app that you should know. So, without any further ado, let us discuss in a detailed way about VPNa fake GPS location apk.
Part 1: About VPNa fake GPS apk
VPNa fake GPS location apk is an Android app that helps users fake their geolocation and making the location based apps assume that they are on different place. You can teleport anywhere in the world through this. Whether it is a dating app, AR gaming app or social media site, you can use VPNa app to fake location and have fun in a hassle free way.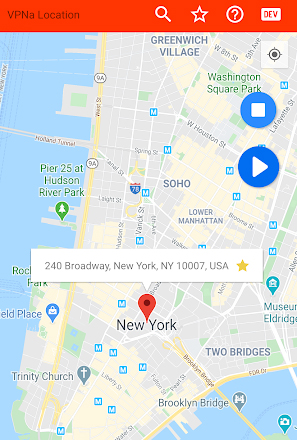 Part 2: Pros and Cons of VPNa fake GPS apk
A review is never complete without listing the positive and negative aspects. So here, in this section, we will be telling you the pros and cons of VPNa app.
Pros:
The best part about this app is that it doesn't require you to root your device.
It is quite easy to use.
The app is free to use and along with that, it performs pretty quick.
It can help in spoofing with GPS coordinates as well
You can also get the feature of saving the location in order to use it later when needed.
Cons:
Reportedly, it can raise issues if your Google Play service is not of the 12.6.88 version.
The newest version of the app has been troublesome for many users like after some time, it gets reset to the actual location.
Ads can annoy you.
Part 3: How to use VPNa to fake GPS
To fake GPS through VPNa, here are the steps that need to be followed.
Step 1: Download VPNa fake GPS location on your Android device using Google Play Store. Tap the "Install" button to get it installed.
Step 2: Now, you need to turn on the Developer Options on your device. For this, go to the "Settings" on your phone and then move the "About Phone" section. Tap on the "build number" several times until you see "You are now a Developer" message.
Step 3: Now head to the Developer Options menu and tap on "Select mock location app". Choose "VPNa" from the list now.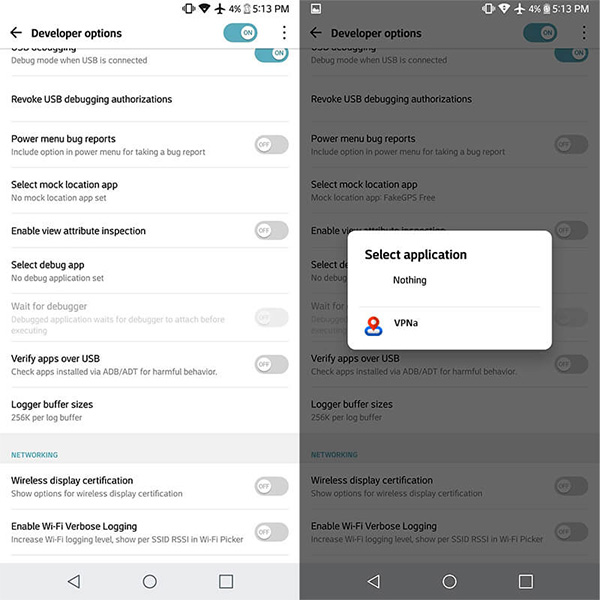 Step 4: Launch the app now and then you can set the location of your choice with the help of the search bar. Tap on the Power button now and your selected location will be set.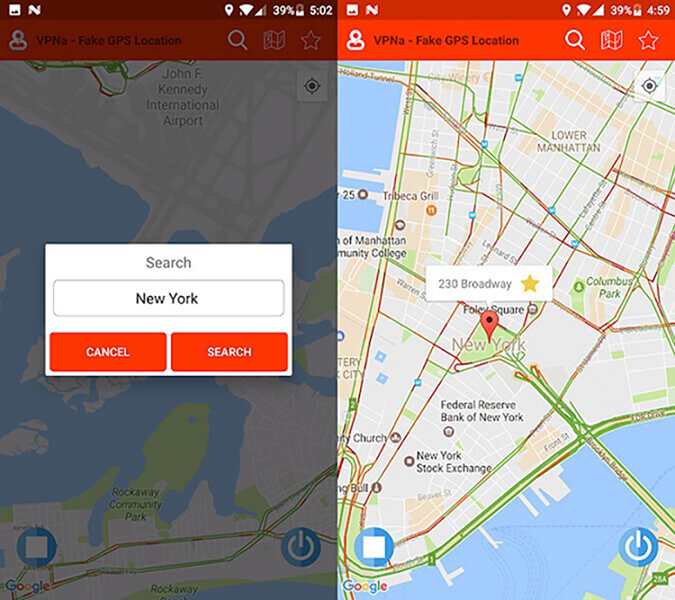 Part 4: Alternatives to VPNa fake GPS location
Considering the cons of VPNa fake GPS location, you must be wondering about any alternative to the app. Here are some of the apps that you can make use of if VPNa fake GPS location fails to work for you or if you don't like it.
Fake GPS Go Location Spoofer Free
Fake GPS by ByteRev
Fake GPS Location by Lexa
Mock Locations
Fake GPS Location by Hola
Part 5: VPNa Not for iOS? Here is the Solution
You must have understood that VPNa fake GPS apk is only for Android. But what if you are an iOS user? Well, when you are an iPhone user, you must be well aware of Find My Friends app. The app allows you to share location and you can know the whereabouts of your friends as well. Though useful, many of you might not want every activity of your to be tracked, right? And therefore, we would like to introduce you dr.fone – Virtual Location (iOS). This tool is designed to spoof location on iOS devices. You can teleport your location to anywhere. Apart from that, you can do simulation of your movements within 2 spots as well as multiple spots with ease. It is completely safe to use and you can even set the medium of speed of movement among walking, cycling and car speed. Let us know how this tool works.
5.1 Teleport Anywhere
Step 1: Launch the Software
A very obvious step to begin the process is downloading the tool on your PC. Use the official website for this only and don't fall prey for any false website. Once downloaded, proceed for the installation. When you install it successfully, open it. On the main interface, look for the "Virtual Location (iOS) tab. Click on it and move to the next step.
Step 2: Connect iPhone
Now, you are required to get the lightening cable of your iPhone and use it to plug your device with the PC. Upon successful connection, hit on "Get Started" button given on the screen.
Step 3: Get Location
When the map screen will appear, you can see your actual location on it. In case you are not able to do it, a "Center On" icon will be present at the right side of the screen. Click on it and your correct location will be shown.
Step 4: Choose Mode
In order to teleport at the wanted place, you first need to activate the Teleport Mode. And for this, all you need is to click on the third icon placed at the upper right corner of the screen.
Step 5: Select Place to Spoof
Once the Teleport Mode is turned on, you just need to enter the place in the search bar like shown in the image. The software will learn and show you a pop-up showing the distance of the selected place. Click on "Move Here" and that is it! You can now open any location-based app on your iPhone and it will show the same location that you have chosen.
5.2 Simulation between 2 Places
The beginning steps are same i.e. launch the tool and choose "Virtual Location (iOS)". Connect device and click on "Get Started" option.
Step 1: Choose Mode
For this process, you are required to select the "One-Stop Mode" which can be done by clicking on the first icon at the upper right side of the screen.
Step 2: Select Spot
Now, you can choose a place as you did in the above part. When you choose one, a pop-up box will appear showing the distance of the place you selected.
Before you proceed, notice the slider at the bottom. Using this, you can decide on what type of travelling speed you want to show. Drag the slider as per your choice and then click on "Move Here" option from the pop-up.
Step 3: Decide the number of movement
Now, you will again notice a pop-up on the screen. Here you need to enter a number that will signify the movement you want. For example, if you want the movement between two spots two times, enter the digit 2 and same goes for other numbers. Once done, click on "March" and you are done. Your position will be seen moving as per the speed you chose in the previous step.
5.3 Simulation Along a Route
Step 1: Choose Mode
We hope that by now, you are well aware that you have to follow the same steps until you reach to the choosing mode step. Assuming you've done that, here you need to select "Multi-Stop Mode" and you can do this by clicking the second icon.
Step 2: Choose Spots
Unlike the above part, here you can select multiple spots to fake the whole journey. However, please make sure that the spots you choose should look authentic otherwise anyone can get an inkling of you faking location and you can get in trouble.
Step 3: Start Moving
All things same now! Choose the travelling speed and click "Move Here". Enter the number to tell the software about the times of your movement and click "March". Now, the location will be shown as you have wanted.
Conclusion
Faking location can be a need as well as want and it varies for people to people. Using VPNa to fake GPS can be a good choice if your purpose is to prank your friends with fake location. Also, if you are an iPhone user, dr.fone is there to help you solving the purpose. However, we know faking location can be fun, but doing it more than necessary can do harm to you. Therefore, we recommend you doing it in controlled way. Now that you know about VPNa fake GPS and its alternatives, you know what to do next.