Are you looking for the best way to track your friends, family, or partner? Or are you tired of being tracked and in dire need of a mechanism to relieve you from being tracked by others? If this is your perennial problem, then this article will solve your concerns. In this article, you shall receive a thorough guide on how to track friends on Mac. Also, we will show you how to avoid being tracked by others.
How to track iPhone location by using Find My Friends widget on Mac
Find My Friends Mac is a useful application that is available as a widget on Mac and can be accessed within the Notification Center of Mac. It allows users to view the current location of friends and family members. However, it will only provide the location details for those members who have chosen to share the location with you.
Just like any program, Find My Friends has some basic system requirements. Users should be operating with the Mac OS X 10.1 or later versions and one or two friends you want to share location details must be available. These friends should also have the Find My Friends application on their iOS device. Alternatively, they can share their location via the messages app available on the iPhone or iPad. Maps on Mac can also allow them to share their location details.
How to use the Find My Friend App
Before tracking the iPhone, location using Find My Friend App, it is mandatory to activate the widget first. Again, make sure that the target family members or friends are using the Find My Friend app via iOS devices or are actively sharing their location. This action will ensure their names pop-up in the list. The following steps illustrate how it works.
Step 1. Navigate to the top right corner of the Mac menu and hit the "Notification Center" icon. Now click "Today" from the subsequent options.
Step 2. Next, click the "Edit" button at the bottom-right of the Notification Center.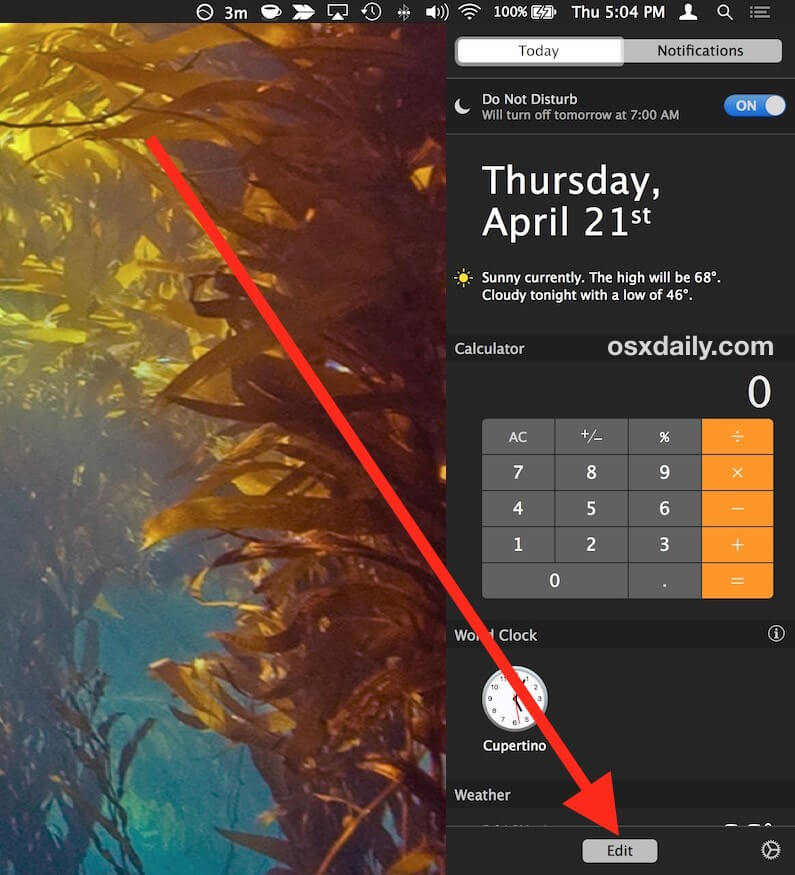 Step 3. A list of applications shall be displayed on the right window pane. Hover your cursor until you locate the "Find My Friend" application. Click the green "+" beside the widget name to proceed.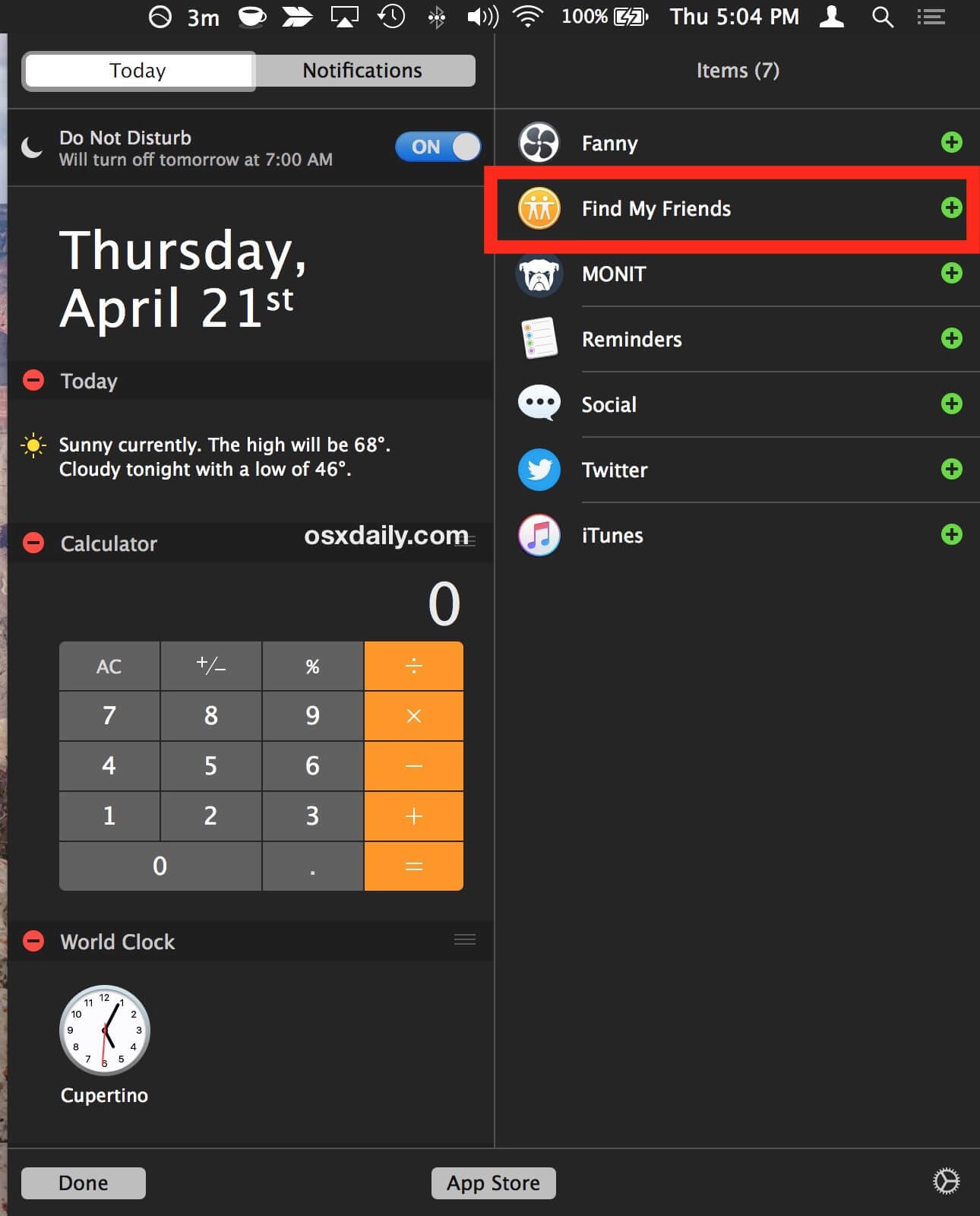 Step 4. From the subsequent pop-up notification window, select "Allow" to give a license to Find My Friend app to use your current location. Now click "Done" to finalize.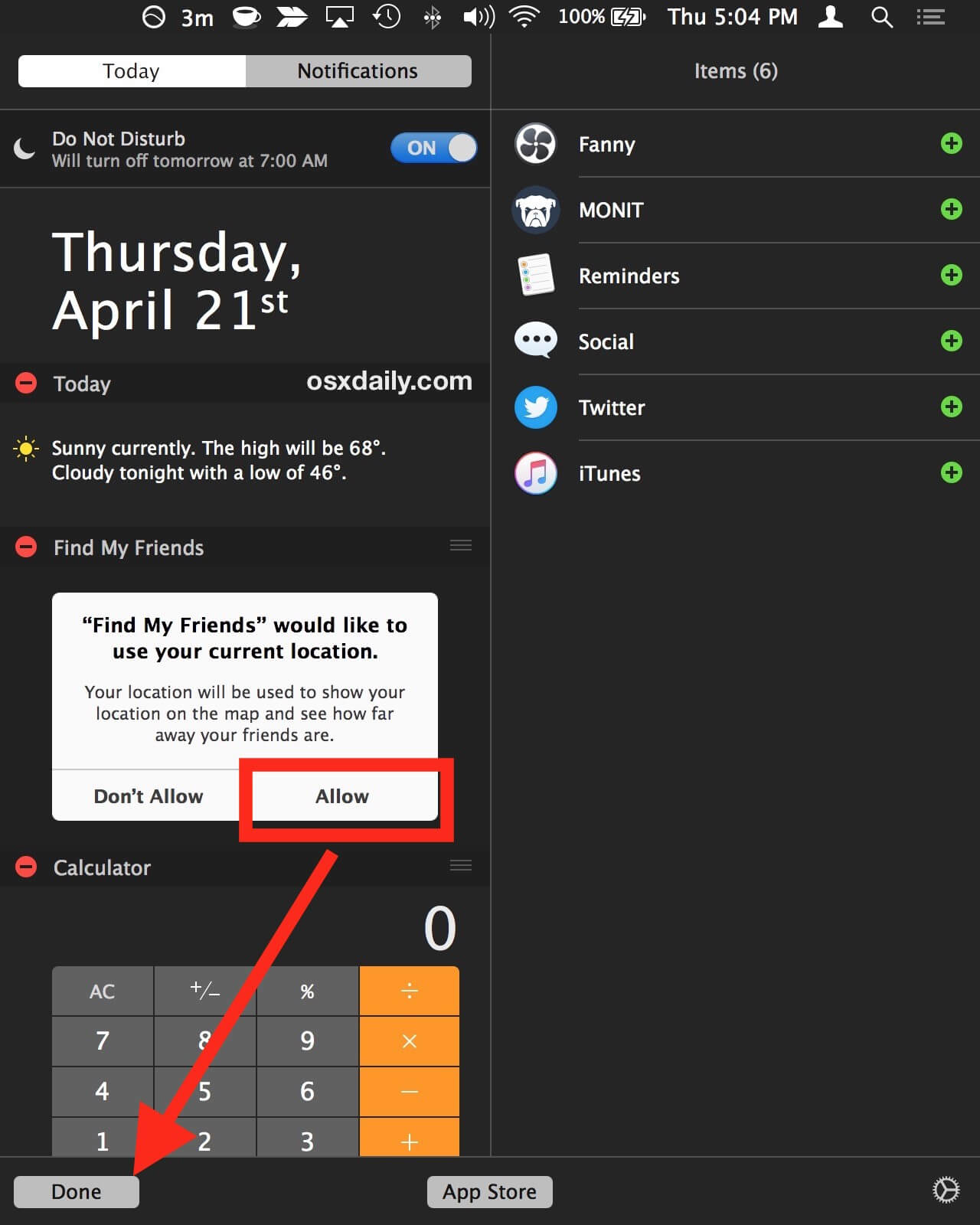 Step 5. The program will take a moment and then display the list of friends and family members who are sharing their location details with you on the Find My Friends widget. If you want to access the location of any of the friends on the list, simply click on the target friend and you will be directed to a map showing the current location of the chosen friend.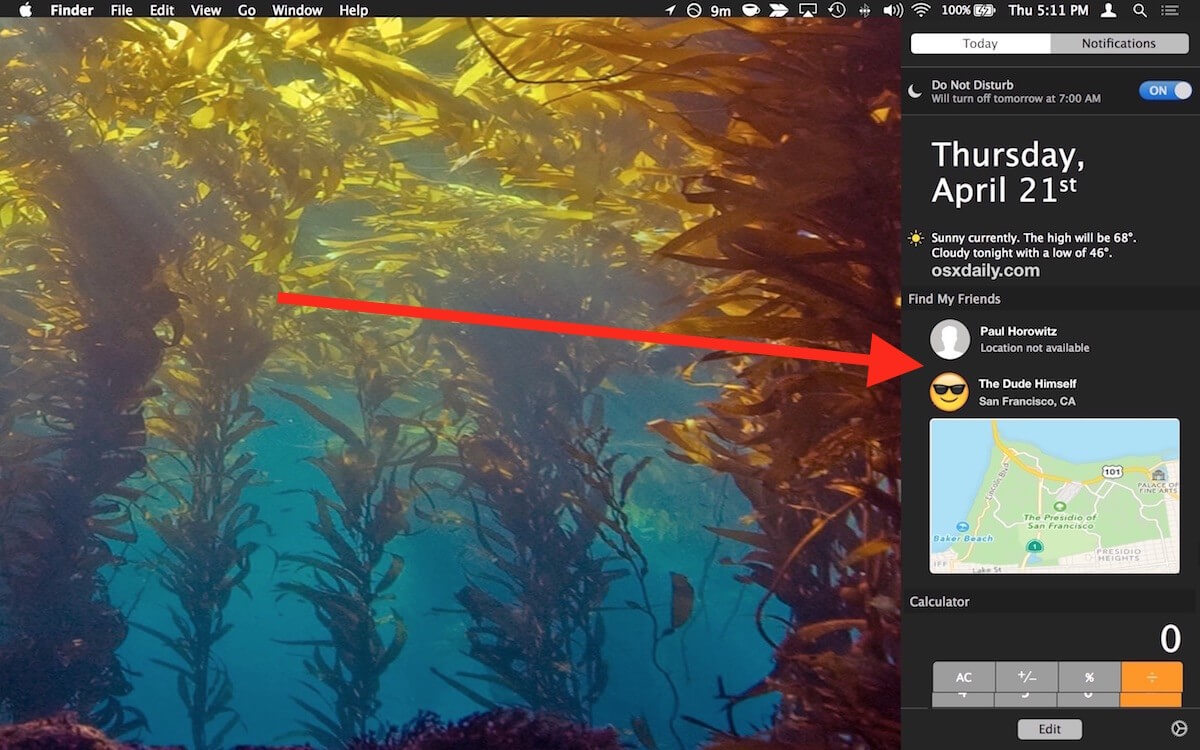 How to Enable Find My Friends Mac
Step 1. Open your Mac PC and click the "Apple" menu> "System Preferences" >Apple ID. In most cases, you will see the Apple ID option. However, if this option is not available, just click "Login" and use your Apple ID to log in. For those without an Apple ID, simply click "Create Apple ID" and follow the on-screen instructions.
Step 2. Locate and click "iCloud" in the sidebar.
Step 3. From the options displayed, select the "Find My Mac" option. If you are prompted to allow the Find My Mac to use the location of your Mac, just click "Allow". If you see the "Details" button next to the "Find My Mac", check that the Location Services and Find are turned on.
How Can I Avoid Being Tracked by Others?
There is no doubt that tracking has played a significant role in the contemporary world. However, it never goes faultless. Privacy, a very crucial factor, has directly been impacted by tracking. Without privacy, you cannot carry on your activities without fear of intrusion or eavesdropping. It is a clear indication that there comes a time you need to hide your location so that others cannot accurately track you. It could be you are running away from enemies, or you are just avoiding distractions. Whichever way, you need a way to avoid being tracked by others.
What then is the best solution? There are plenty of excellent applications that can help you block people from tracking you even with their state-of-the-art technology. The best such tool is dr.fone- Virtual Location tool. This is a powerful iOS location changer tool that enables users to hide their actual location and keep privacy. With this amazing iOS location changer program, you can perform the following:
Teleport the GPS of your iPhone with just a single click. This sets up a virtual GPS to mock location-based applications on your iPhone.
Alter the GPS so that all location-based apps are fooled.
Create dynamic GPS mocking by setting the speed to mock the GPS location. You can set a defined route by choosing two or more point and move along by mimicking walking speed, cycling speed, or driving speed.
How to change GPS Location on iPhone
This program offers up to three modes of changing your GPS location. These options include teleporting your location, simulate movements between two spots, and lastly simulate movement along a specified route.
Step 1. Download, install and launch dr. fone on your computer to open the primary interface.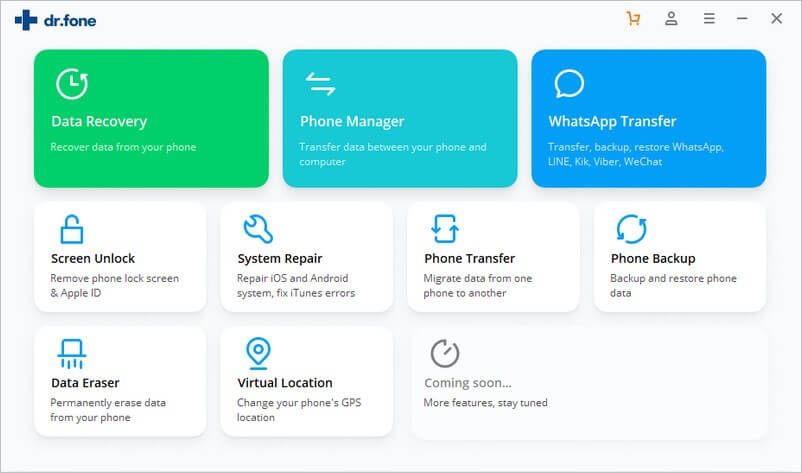 Step 2. Use a suitable media to connect your iPhone device with the computer. Click the "Virtual Location" tab and select "Get Started".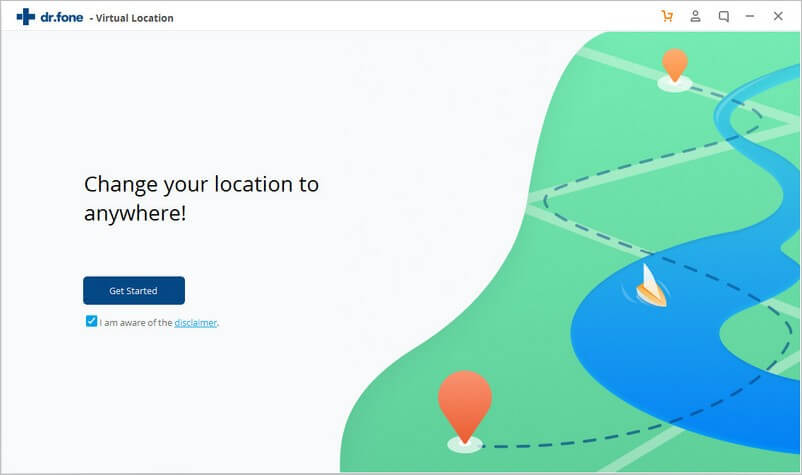 Step 3. Select the desired mode to change your GPS location by clicking one of the three icons in the upper right of the window. Let's choose "Teleport mode" in our case by clicking the third icon.
Step 4. In the upper left field, enter a place you want to be displayed as your current location and click "Go".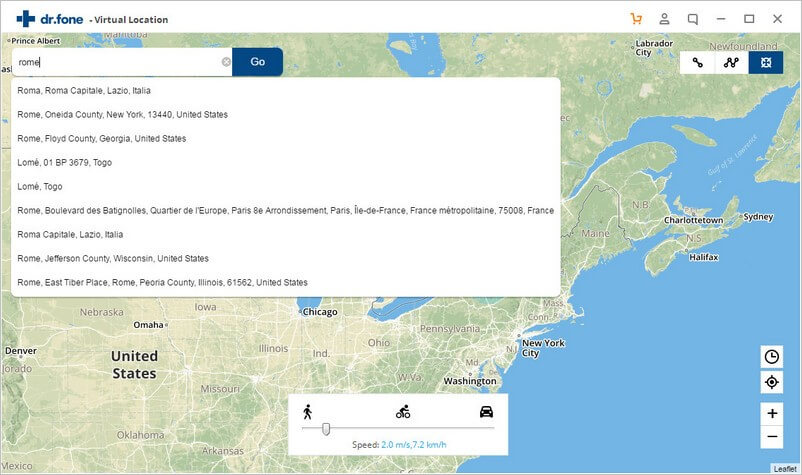 Step 5. Now click "Move Here" on the pop-up to effect this location on your device.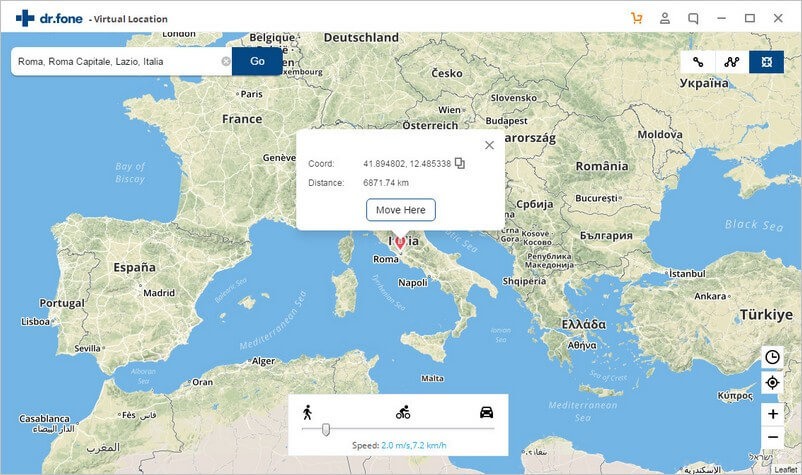 And that is how to change GPS Location on iPhone