Hi,
My wife and son can see my iPhone on "Find My Friends" and also my location, but I cannot see them at all. It says that "Location is not available" for both. I have tried to reinstall the app, restarted in DFU mode, and even done a clean wipe of my device, but the situation is still the same. Why is this happening?
Matt.
Socialization is an important part of daily life for all living beings. It is great to reach out and be available to your friends and family. The iPhone has a nifty app called "Find My Friends" which allows you to find out where your friends are and what activities they are undertaking. It allows you to join them and socialize, ending up having a great time.
So what happens when you get the notification, "Find My Friends Location Not available"? If you wanted to meet up over a weekend, you may end up feeling lost and alone.
Here are a few ways in which you can remedy the situation, allowing you to link up and find your friends on your iPhone. Then you can go out and have loads of fun once more.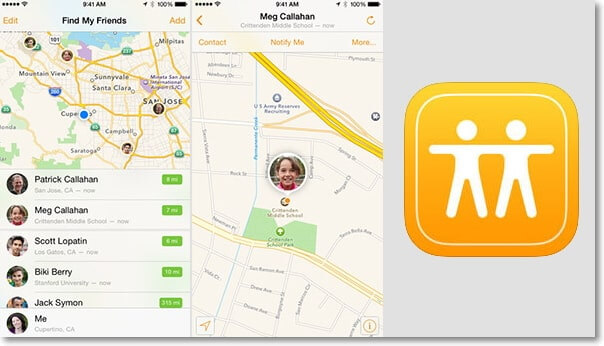 Part 1: Possible reasons for find my friends location not available
The Find My Friends app may have issues related to the version you are using among many other reasons. Here are some of the most common reasons why you cannot locate your friends when using the app:
Forcing the app to close – When using iOS 7 or later, force closing the Find My Friends app can lead to failure to recognize the Geofencing location of your friends. The Geofence alerts will not be sent by your phone, and you will not be able to see your friends. You should only force the app to close if it becomes unresponsive. Restarting the app may fix the issue.
Incorrect device date – if your friends have the wrong date on their devices, they will not be visible.
No connection – if your friend is not connected to a Wi-Fi or mobile data service, they will be unavailable on Find My Friends.
Hidden Location – if your friend has hidden their location, they will be unavailable on the app. This also happens when they turn off "Share my location".
Unsupported location – the friend you are trying to find may be located in a geographical location that is not supported by Apple.
The phone is signed out – if your friends have signed out of Find My Friends, then their location cannot be seen.
Large location circle – when your friend is indoors and using an unknown Wi-Fi base station, the circle may be too large and give erroneous information.
NOTE – Find My Friends location is only available for about 2 hours. The friend may have logged off and the location was removed from iCloud.
Part 2: How to fix iPhone find my friends not available in one click
When you cannot find the location of your friend on "Find My Friend" you could be having a critical error with your iOS version. The only way to fix this problem with one click is to use Dr. Fone – iOS System Repair.
Dr. Fone – iOS System Repair is a great tool that makes it very easy for you to fix a number of iOS issues such as White Screen, Apple Logo Stuck, Black Screen, Recovery Mode, DFU Mode, and others.
This wonderful software from Wondershare does not lead to data loss and is completely safe.
NOTE: When you use Dr. Fone – iOS System repair, your device will be updated to the latest iOS version. Should you be having a jailbroken device, it will be updated to the non-jail broken state. Any unlocked iOS device will be locked once more.
There are two modes for fixing the iOS system, standard and advanced. The advanced mode will erase all data on the device.
A step-by-step guide to fix Find My Friends Location not Available using Dr. Fone – iOS System repair.
Method 1 – Use Standard Mode
Step 1) Launch Dr. Fone
After downloading Dr. Fone on your computer, launch the software and then go to the "System Repair" Module on the main window.
Start Download