Though geocaching.com is an open-source project and is free-to-use for all the users, whereas the free part is like a trailer to a big movie.
People always ask for what is special in the premium membership and why we should go for it? When we are okay with the free version. The geocaching was started with 75 geocaches as a hobby and you won't believe today it is a big community with over 3 million geocaches placed across the globe. And these caches have been logged for 100 million times each year since 2000.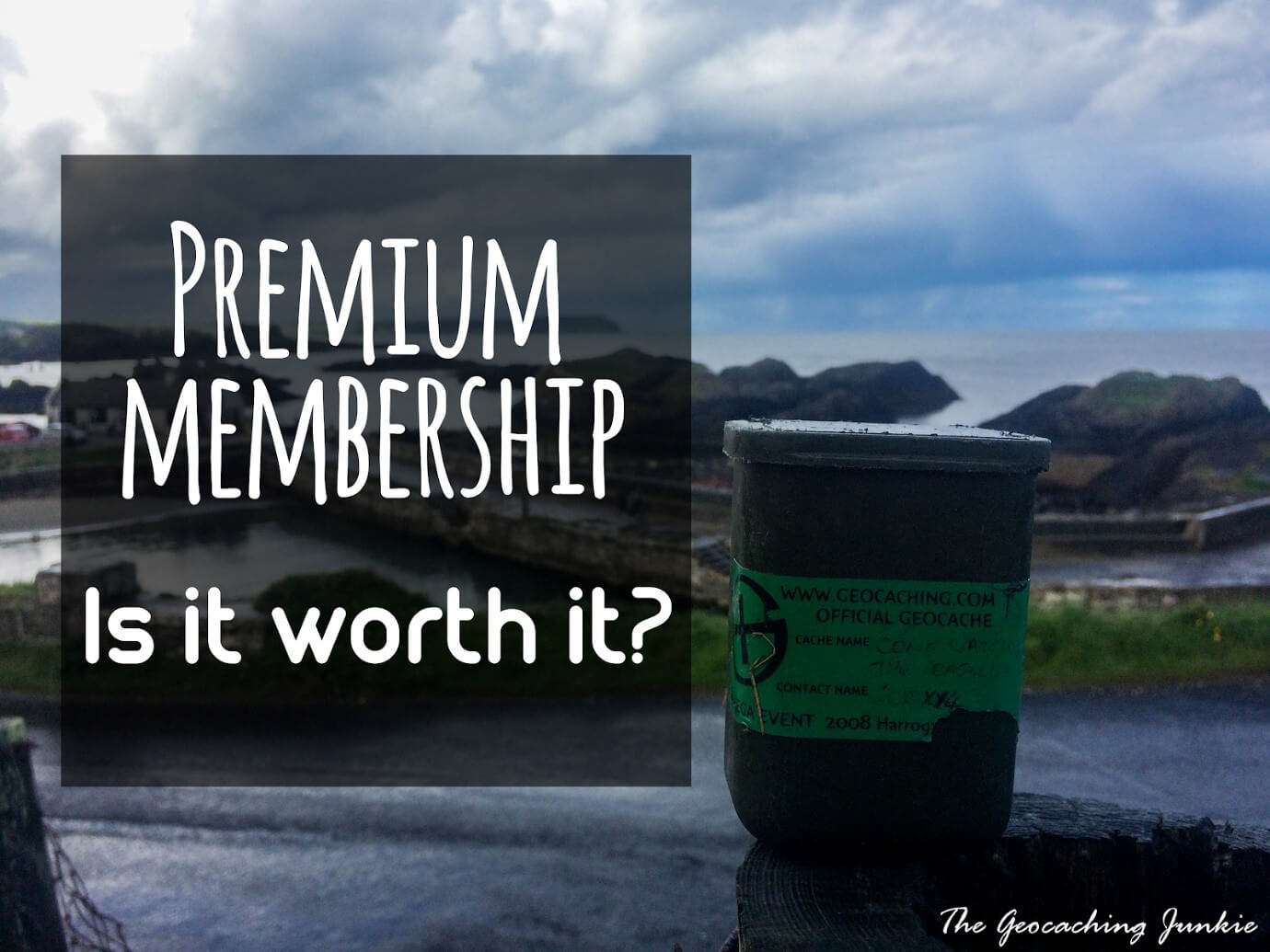 The millions of moments have been captured with the emotions of adventure, joy, exploration, and discovery, which is being shared with family and friends.
If you're a real adventurer and want to explore then see how much you're missing with the free only version. It's not only about getting more, but it is also actually about being a part of great adventurers and explorers.
Let's dive deep into the context and find what you will get in the premium membership.
Here you go,
Differences between the two type of memberships
There are certain features that can only be accessed by switching to geocaching premium. Alike, other service providers, geocaching also provides two types of memberships: Basic Membership and Premium Membership. While Basic Geocaching membership is free, Premium Geocaching Membership has to be purchased separately from geocaching.com.
Premium Only Cache: Owners can restrict the visibility of a cache to premium members only. Hence, as a basic member, you won't be able to get the details of the cache location.
Pocket Query: This feature allows the users to view the previously posted queries on the servers. The subtitle linked with the list of the imported queries provides the cache associated with them. The pocket query feature is also available for the premium members only.
Create Lists and Maps for Offline Use: Lists associated with the cache and maps can be downloaded in the device for offline use. These maps can be used even in places where there is no network connection. This feature is only for the premium members.
For basic members, if you're searching for a cache, the result will not contain any detailed information and location coordinates. So mapping of the location isn't possible. The distance and coordinates listed are just an estimation and not exact as in the case of a premium member.
Assigning favorite Points: Points can be assigned to the favorite cache. Everything from waypoint, logbook, description, details, map, inventory, etc. can be marked for the favorite cache. These assigned cache points are restricted to premium members only.
Personal Note uploading option: Both basic members and premium members can write their personal note about the cache. But, only premium members get an option to upload their personal notes to geocaching official servers or on the cache page.
Garmin Support: Garmin support option is exclusively available for the premium members i.e., they can access their GPS device from their computers and perform a large number of actions like updating their maps, registering their device, etc.
Benefits of Geocaching premium membership
Pocket queries
It is really hard to imagine geocaching without pocket queries if you get used to it. It is because PQs are searches that are customized which you can download to your handy smartphone or GPSr and use it on offline mode.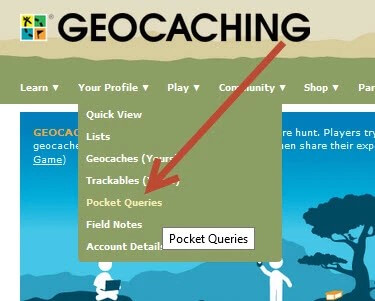 Due to their capabilities of searching specific caches, they are considered an invaluable tool. It fits well when it's about planning a day of geocaching or a whole vacation. PQs are not just a GPS. You can also learn how to create pocket queries here.
New cache notifications
Have you ever wondered how people get to know when a new cache is live or published? Yes, instants notification is the right answer. You usually get an email whenever a new cache is published. They are super easy to set up and give you a better view of FTF. However, you always have to set up a new cache type each time.
Bookmark lists
Another benefit that a hunter always seeks is the list of caches on which he/she is qualified. The bookmark list is the key to keep the list of your FTFs of that challenge caches that you've qualified for but didn't find yet, the puzzle that you've solved but still didn't find it, and list of all caches on your cache series and many more.
You can always keep lists private or share them with others by making it public. Moreover, you can create public lists that others might seem useful.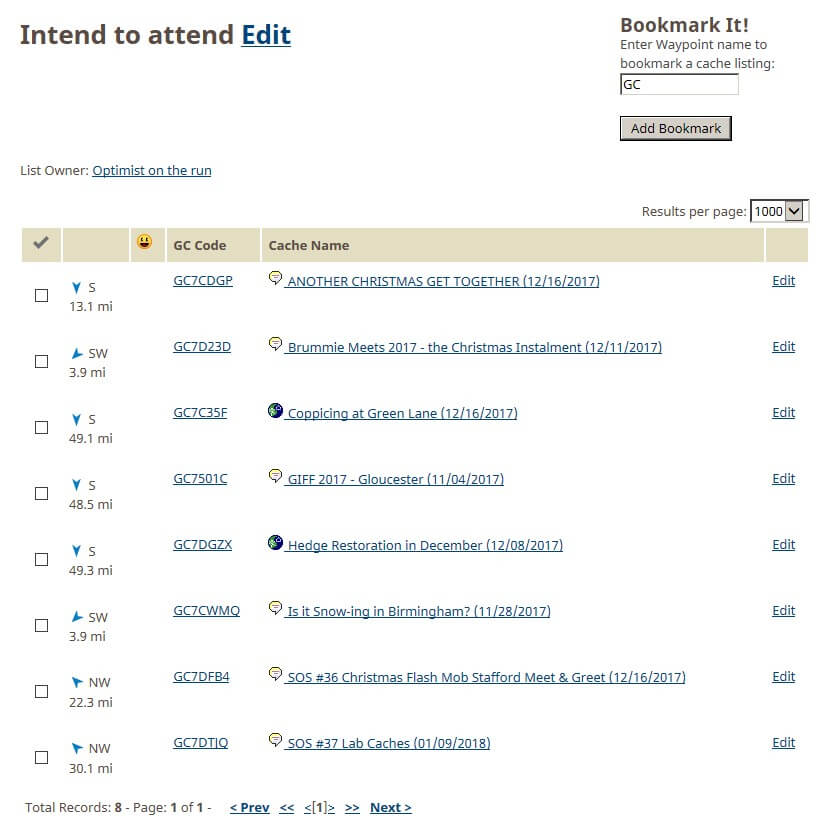 For instance, caches that you can recommend in your town. It can be useful for Geotourists.
Advanced Filtering
As you know that with the basic features you can only filter the searches to challenge the cache type. But, when you upgrade yourself to a premium member you can filter your searches by the container size, difficulty, terrain rating, by caches hidden by a specific person, or caches that you own and many more.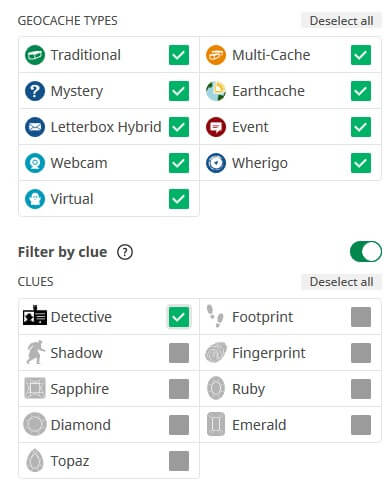 Also, there are various filters that you can use and have the profit of its usefulness.
Sort search results
Here you go with another handy tool that gives you the privilege to sort your searches by favorite points, difficulty, date last found, container size, terrain, and date placed on it.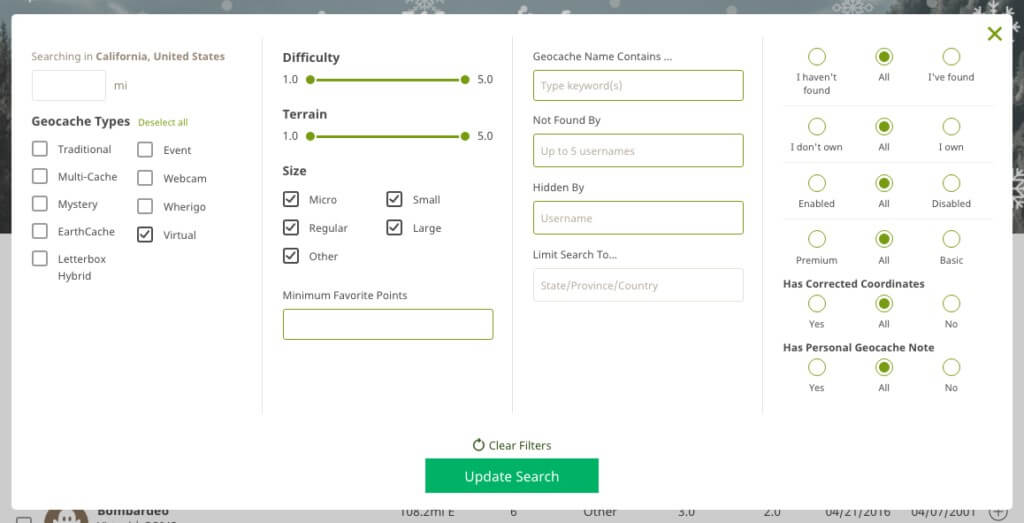 You would find it useful when you're visiting some places with limited time and want to find the caches that have been favorited the most, which are more likely and worth finding.
Favorite points
The blue ribbons that you reward to a memorable cache are called favorite points. You can always 'favorite' the caches for many reasons. Typically others do it when a cache is really cool or creative or for any beautiful & unexpected location.
Now from here, you can understand that being able to see how many favorite points a cache has got is how important. Because it reflects how your target cache stands comparatively to other caches. It is good if you consider the percentage of favorite points and not just the number.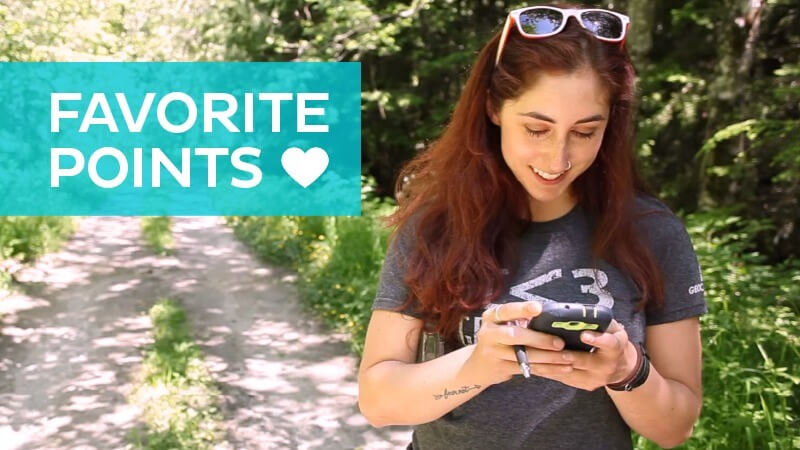 For instance, a cache can have only 8 points but could have 100% favorite points. It is because it is only being discovered 5 times. On the other hand, another cache can have 250 favorite points with 2,000 finds, which makes its favorite percentage only 12%.
You should also know that percentage is calculated on the number of premium member visits, not on the number of both basic and premium members. It makes the concept of
Some more benefits
Über Statistics
The uber statistics with geocaching premium helps you to view graphs and other dynamic 'info-graphic' related to geocaching history. Moreover, you can use the statistics to mark your progress and milestone. Also, you can view others profiles to compare your game to your friends and family.
Paperless Geocaching
Paperless geocaching is actually done by using compatible GPS devices. In which you can view recent logs, complete geocache descriptions, and any hints which are mostly provided on the geocache details page and directly on your GPS device.
Access to the Geocaching Live API
With a premium membership, you can always enjoy full access to the Geocaching.com database o using the Geocaching Live API.
Moreover, you also get access to all Groundspeak websites and gain access to all premium features which weren't having in the free mode
Audit Logs
With it, you can see the list of the users who have viewed your Premium Member Only geocaches.
Full access to the Geocaching app
Do you know? The geocaching app is the most celebrated benefit of premium membership. With it, you can find easy geocaches, trackable log, messaging support to other players, and attend events.
The premium member gets access to the best features. Some of them are listed below.
You can approach any type of Geocache according to terrain, difficulty rating, premium-only caches.
You can create and download the lists and maps for offline use.
Get access to the trail maps for the most wanted off-road adventure.
Advanced filters are always there for you to search geocaches.
Sort the geocaches according to name, favorite points, and distance
Award the favorite points to your loved caches.
Conclusion:
If you're someone, who's willing to spend $29.99/year and that doesn't seem like costing a fortune, geocaching premium is the wise choice for you. Enjoy all the premium features and go "happy-geocaching"! Explore more places, share your experiences with the other community members as personal notes and mark your favorite points.
On the other hand, if you're someone who's not a "regular geocaching enthusiast" and consider it just like any other recreational activity for weekends, you should opt for the basic membership. Firstly, it'll save you a few bucks. Secondly, with fewer features, there are more chances that you'll try harder which will help you to explore more places.