"What is a geocaching travel bug and how can I track its movement?"
If you are new to geocaching, then you might have a similar query about the geocaching bug as well. Popularly known as a travel bug dog tag (due to their shape and appearance), it is simply an add-on object in geocaches. They are moved around by geocache participants, letting us track their movements the world over. There can be different kinds of geocaching travel bugs for sale out there. To help you, I have come up with a list of some creative and unique geocaching travel bugs that you can attach to your cache.
Part 1: What is a Travel Bug and How to Track them?
As stated above, a geocaching bug is a trackable tag that looks like a dog tag, which is attached to any item in the geocache. Once you have attached the travel bug dog tag to an item, it becomes a "hitchhiker". This means, geocaching participants are encouraged not to hold on to this item, but to pass it from cache to cache or person to person.
The main aim of a groundspeak travel bug is to travel to maximum places so that the owner can track its progress from the official geocaching website. Each travel bug has a unique ID inscribed on it. Whenever a user would find the item with the geocaching bug, they have to go to the website to report its location.
Now, if you want to track the whereabouts of your geocaching travel bug, you can just go to the geocaching website page (right here) and enter its unique tracking ID. The website will automatically display its present location with a log of its past location details for you to track its movement.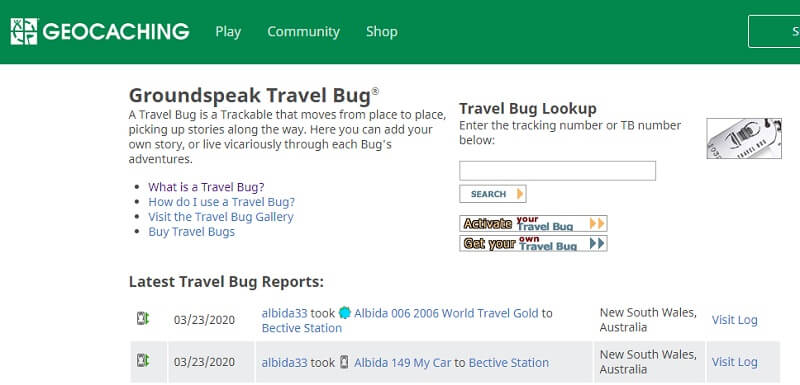 Part 2: Unique and Thoughtful Geocaching Travel Bug Ideas
Now when you know the main purpose of a groundspeak travel bug, you can get one for your next cache. Here are some unique ideas for a geocaching bug that you can get.
1.Micro Geocaching Bug
These are some of the most commonly found travel bug dog tags that you can attach to any object. Since they are pretty compact, you can easily place it in the geocache containers. It is relatively easier for the other participant to move the tag and place it in different geocaches. If you have a micro geocache bug, then chances are that it will travel the most. Though, since they are so small, some users complain of losing them accidentally as well.
Glow in the dark travel bug
This geocaching travel bug is available on the official geocaching website for just $5.99. It is made up of nickel and glows in the dark so that the participants can easily find it. Thus, the chances of losing the geocaching bug would be less.
Get it here: https://shop.geocaching.com/default/trackable-items/travel-bugs/green-geocaching-qr-travel-bug.html
This cool geocaching bug looks like an alien spaceship and is made of high-quality nickel. Apart from having a glow-in-the-dark surface on one side, it has the other side painted with alien emblems. It comes with a free metal chain as well.
Get it here: https://www.amazon.com/Alien-Spaceship-Geocoin-Copy-Tag/dp/B00AJQUFH8?ref_=fsclp_pl_dp_6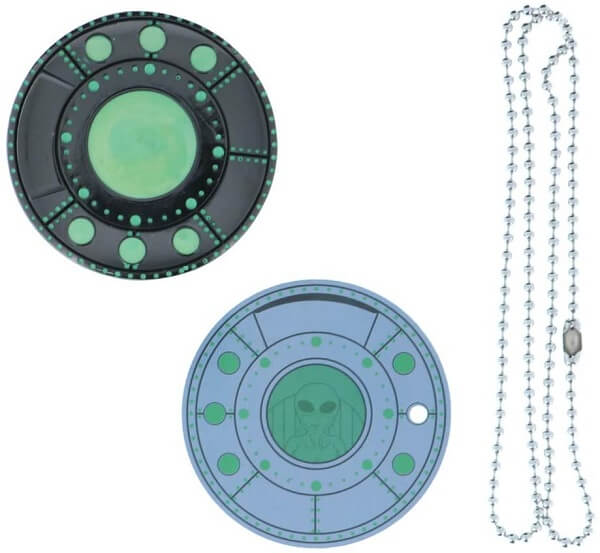 2.Morphing Geocaching Travel Bugs
As the name suggests, morphing geocaching bugs are ideally tags that would change their appearance. You can get any standard travel bug dog tag and attach a morphing sticker on it if you like. When the other user would move it, the picture on the tag would change. Besides that, some morphing geocache travel bugs for sale also include clay and other objects that let us mold them into different shapes.
Apart from that, you can make any standard geocaching bug into a morphing type as well. Consider this travel bug dog tag as an example. It has a "morph me" sticker on it which encourages the other participant to change the item attached to it. Simply remove the item that is attached to its chain and add something else to it instead before passing it.
3.Audio Geocaching Travel Bugs
Yes, you have read it right. There are tons of geocaching bugs out there that can produce a sound. You can keep it as a surprise for the other participant or have a button in the tag to play the sound. This will certainly be a pleasant experience for the other participant and they will remember your groundspeak travel bug for sure.
Fake camera with light and sound geocaching bug
Consider this geocaching travel bug as an example. It has a cool fake camera object that is attached to the travel bug dog tag. Although the camera is fake, when we press the button, it produces a flash and a sound instead. The other participant would certainly enjoy this geocaching bug!
Get it here: https://www.amazon.co.uk/Geocaching-Pendant-Digital-Spielzeug-Fotoapparat/dp/B017Z700QO
4.Geocaching Travel Bugs with Storage
Lastly, if your budget allows, then you can make your geocaching bug a bit unique by adding a USB drive to it. You can just get a pen drive and attach it to the travel bug dog tag using a chain. If you want, you can get some cute objects that have inbuilt USB storage as well.
In this way, when the other participant would discover your geocaching bug, they can include some pictures in the pen drive. This will enhance the experience of every participant as they can see the stories of others and include their own pictures too.
There you go! Now when you know about some popular geocaching travel bugs for sale out there, you can easily get these cool tags for yourself. Go ahead and let your geocaching bug travel the world now. Include them with your favorite geocaching items and don't forget to track their progress from the geocaching website. Have an amazing experience of using some cool geocaching travel bugs and share your two cents with us as well!