In the world where anything and everything can be digitalized, location services or GPS play important role. There are lots of location based apps that are made today and whose purpose is to track your visits. Many of the AR based gaming apps also takes help of location services.
On one hand where these apps can be useful as you can share your locations hassle-free, many users don't feel comfortable with this idea of being tracked too frequent. Also, there are many people who want private lives and having such apps or features may bother them. Therefore, in this article we will help you learn how to turn off location on iPhone 7/iPhone 8 or any other iPhone models. Stay tuned and explore the ways.
Part 1: How to turn off location services/GPS from settings
To get rid of the idea that the location can be tracked or shared with others, one of the fastest ways is to turn off location services on iPhone through the Settings of your device. By doing this, you will be deprived of the accurate reading by Apple maps. However, you wanted this, right? So, here are the steps to do this.
Step 1: Begin with launching the "Settings" on your iPhone.
Step 2: Head to the "Privacy" option.
Step 3: Once you enter the menu, you will notice "Location Services" at the top.
Step 4: Toggle off the switch and confirm the action by tapping on "Turn Off".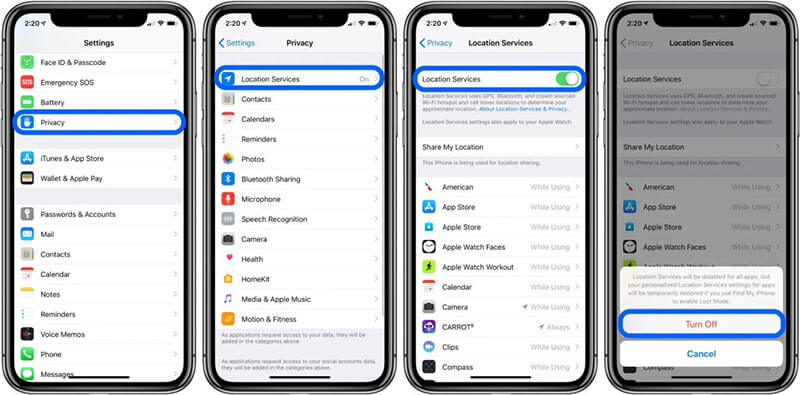 Part 2: How to turn off location for apps on iPhone
If you wish to limit the location access by the specific apps, this method and feature can really come in handy. iPhone offers disabling the location services from specific apps. You also get the privilege to set a specific app to use the location only when you use the app. Let us see how you can do it.
Step 1: Go to the "Settings" and look for the "Privacy" option.
Step 2: Choose "Location Services" option.
Step 3: On the next screen, you will be able to see the list of apps. Go to the app for which you wish to disable location.
Step 4: You will get three options i.e. "Never", "While Using the App" and "Always". You can choose the suitable one for each app.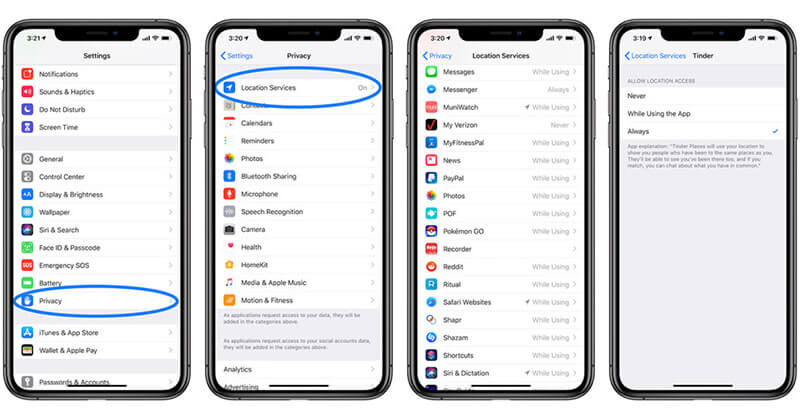 Part 3: How to stop location sharing on iPhone
Here is the deal - Apple offers "Find My" (formerly Find My iPhone) app that can help you sharing your locations in your list who all are using this app. The app can be handy when you are alone at night somewhere and tracking thing can surely help you as well as your family member in terms of safety. While, you can stop sharing it too if you think you are not comfortable. Here is how:
Step 1: Open "Settings" and go to your Apple ID (your name) at the top.
Step 2: Scroll down for "Find My" option.
Step 3: Now, simply switch off the toggle button next to "Share My Location". You are good to go now!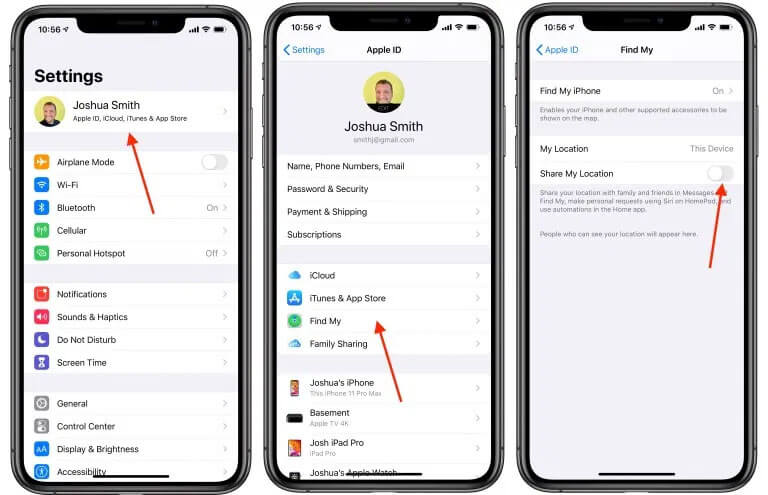 Part 4: How to change GPS location for more effective privacy keeping
One of the best solutions when you are a private person like me is doing some tweaks with the GPS location. Putting simply, by taking help of a reliable tool like dr.fone - Virtual Location (iOS), you can easily get your location changed and trick your friends and people for your location. If taken the other way round, it can be a great way to show off as well. Like you can teleport anywhere in the world and your friends will be shown the spoofed location. How interesting! All this can be done in just one click. Here is how you can make use of this tool.
Step 1: Launch the Tool
At the outset, make sure to download the software on your PC and install it. Once you have installed, open the program. On entering the main screen, you will need to click on the "Virtual Location (iOS)" option.
Step 2: Connect Device
Make sure to use the original lightening cable and connect the iPhone to the computer. Upon successful connection, hit on the "Get Started" button.
Step 3: Activate Teleport Mode
You need to look for the actual location on the map showing on the screen. You can simply hit on "Center On" icon given at the lower right part if the accurate location is not shown.

Look at the third icon at the top right of the screen. Click on it and it will enable the "Teleport" mode. Once done, you can enter the place where you want to teleport. Click on "Go" after that.

Step 4: Spoof Location Now

Click on the "Move Here" option from the pop-up that now comes as the program will understand the place you have entered.

Your location will be changed now to the place that you wanted. You can check your iPhone and it will display the changed location.
Final Words
All of us, sooner or later need to know how to turn off location on iPhone. Many of us do not like being tracked by location-based apps. And many times, apps like Find My where our friends can track us is not comfortable to us. In such cases turning off location on iPhone comes in handy. We have shared you some useful tips that can help you for the same. If you are still confused, simply go for changing GPS by dr.fone - Virtual Location (iOS). it is fun as well as an interesting method to get rid of location sharing stuff. We hope we could majorly help you through this article. Please share your feedbacks with the comment below.