Plenty of Fish or POF is a Canadian dating website that is also popular in different countries including the USA, Canada, UK, Australia, etc. Over the years, POF has gained the reputation of being one of the top dating platforms by helping millions of people find dates online. However, like any other dating website, POF often runs into several glitches, making it strenuous for the users to access its services and find dates. If you are also struggling with the "POF not working" issue, the following guide is for you.
We have enlisted most common issues with POF's online portal and effective ways to fix them so that you can enjoy connecting with people without any hassle.
POF Problems and Solutions
Part 1: POF messages not sending
It becomes really frustrating when you have typed up a really nice message for someone and it does not get delivered. There are several reasons why one may face the "POF messages not sending" issue. Some of these reasons include:
POF is strictly against the use of offensive language and if your message contains any of the flagged words, it will not be sent to the other person. Unfortunately, POF has an excellent filter that automatically detects all the banned words in your message. Words like "sexy", "bedroom", and "cocky" are completely banned and you cannot include them in your messages while using POF.
You are "copying and pasting" the same message to everyone. POF considers such messages spam, which may even lead to permanent account termination.
The recipient uses a "mail setting" that restricts you from contacting them through POF. In this case, your messages will automatically get deleted.
Your profile may have been flagged by some users and it is currently under review. If that's the case, you'll lose access to all the features of POF while your profile is being reviewed.
Here's how you can fix the issue:
Make sure to double-check your messages and remove any flagged words. Keep in mind that even a simple word like "bedroom" is off the charts and it'll contaminate your entire message.
Try to write unique messages for every person. POF wants its users to connect with interesting people and if you send the same message to everyone, you won't achieve any success on POF.
Apart from writing the perfect message, make sure to optimize your profile with correct information. Sometimes POF blocks messages because the sender's profile doesn't contain any useful information that can help the recipient to know him/her better.
Part 2: POF messages not showing in sent box
There are several instances when the messages are delivered to the other end, but they do not appear in the sent box. This usually happens when POF detects inappropriate activities with your POF account and as a result, the messages get deleted. Here's what you can do to overcome the "POF messages not showing in sent box" situation.
Make sure that you have added appropriate content to the message otherwise POF is most likely to block your profile.
Even if you have added something inappropriate to your profile, remove it before sending messages to others. If any user reports your profile, your messages will automatically be deleted from the sent box. Your profile should contain relevant information that can help others to know your personality. Here's an example of the perfect profile.

If the message is 30-days old and the recipient hasn't responded yet, it'll automatically disappear from your sent box.
Part 3: POF cannot connect to the network
More often POF users are prompted with a message "POF Cannot Connect to the Network. Please Check Your Wi-Fi or Cellular Data Capability". Network issues usually arise when something is restricting POF from connecting to the Internet. Either the POF website is down or your data service provider is under maintenance.
Either way, here's what you can do when POF cannot connect to the Network.
Check if other apps are connecting to the network or not. If none of the apps or web services work on your phone, contact your network service provider.
If some of the features are working on POF while others are displaying the error, it is most likely that your app is outdated. Go to Play Store and upgrade the app to its latest version.
It might be possible that POF is actually down. In this case, you won't be able to access the POF app or website at all. All you can do is wait until the site goes live again.
You can also try to turn off Wi-Fi and wait for a few seconds. Then turn it on. Same with the cellular data if you are working with it. Do so in the "Settings" or simply from the notification panel/control center (iOS)

Many times, doing the same with Airplane Mode really works. However, it is the opposite i.e. you need to enable it and wait for a few seconds. Now turn it off.
Part 4: POF not loading
If POF's not loading on your browser, there may be an issue with your network or the browser itself. Here's what you can do to tackle the "POF not loading" issue and enjoy an uninterrupted session of finding dates online.
Perform a hard refresh on the website by simultaneously pressing "Ctrl + F5" on your keyboard. Whether you are using Google Chrome or Firefox, a hard refresh will make the website take its normal course again.
You can also use the alternate URL (https://plentyoffish.com) to access the platform.
Clear your browser's cache and cookies so you have access to the most recent version of the website. Follow these steps to clear cache files on your browser.
Step 1: Open the browser and tap the Menu button in the top right corner.
Step 2: Tap "More Tools" and select "Clear Browsing Data".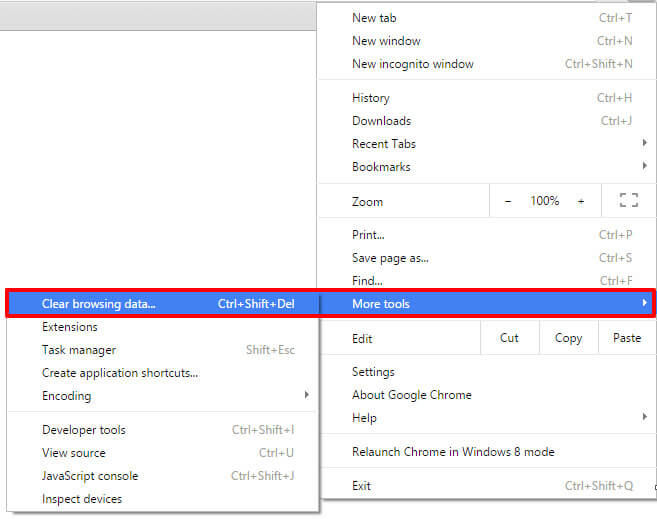 Step 3: Check the boxes and select information that you want to clear and tap the "Clear Browsing Data" button.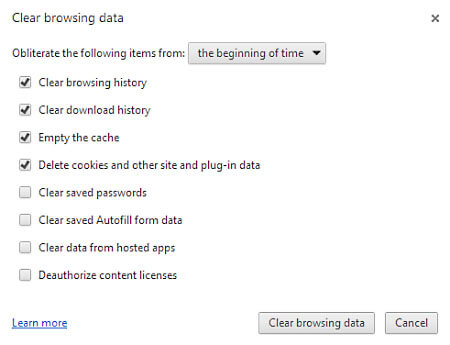 Step 4:Restart your browser and open the POF website again. You won't face the "POF Not Loading" error anymore.
Part 5: POF not allowing me to register
There may be several reasons why you are not able to create a new account on POF. By learning the reasons, you will know what you should and shouldn't do. In other words, the reasons itself contain the solutions. Here is the list:
You have provided an invalid e-mail address. Re-check the address and make it correct.
You are under-age to create account on any dating platform.
You haven't provided enough words on your profile. POF has a minimum character requirement for the "User's Bio" and fulfill this requirement before you can create a new account.
Finally, if you have violated any POF policies in the past, you may no longer be allowed to sign up again. When a user violates the "Terms of Services", his/her IP addresses gets flagged, restricting them from creating new profiles.
Part 6: POF not logging in
If you are facing "POF not logging-in", you may want to re-check your user name and password. More often people enter the wrong credentials and cannot access their POF account. However, in case you have forgotten your username and password, here's what you can do to retrieve your account.
Step 1: Go to the official Plenty of Fish (POF) website and tap the "Forgot Password" button.
Step 2: You'll be prompted to a new window. Enter the e-mail address you used to create your account in the first place.

Step 3: You'll receive a password recovery e-mail containing a link. Tap the link and add the new password. That's it; you can now use the new password to gain access to your POF account.
Final Words
POF is a great place to meet new people and find dates online. In addition to helping you connect like-minded people, POF also delivers a seamless browsing experience, thanks to its user-friendly interface. However, this experience can get hampered by unexpected POF not Working situations. The above-mentioned tricks will help you solve POF issues so that you can go back to meeting new people without any issues.