Part 1: Introduction
Pokémon Go is entirely an AR-based game for iOS and Android smartphone that has been developed together by the Niantic, the Pokemon Company, and Nintendo. The game is highly addictive and gives the feeling of real-world experience to the players. The users can't play this game without enabling GPS function on their device. It has been praised with many awards and nominated plenty of times. Moreover, it has encouraged physical activity among adults, but there is a limited number of species that users can catch. Players can deceive the game with the Pokemon Go spoofing iOS application and can catch an endless number of Pokémon. The game will not be able to access your exact location. Some spoof applications have stopped working in 2019, but the ones we are going to discuss here are doing in 2020.
Part 2: Best 5 Pokemon Go Spoofing iOS apps
The best Pokemon Go spoofing iOS 2020 that we have gathered after research are as follows:
1) Dr. Fone Virtual Location (iOS)
URL: https://drfone.wondershare.com/ios-virtual-location.html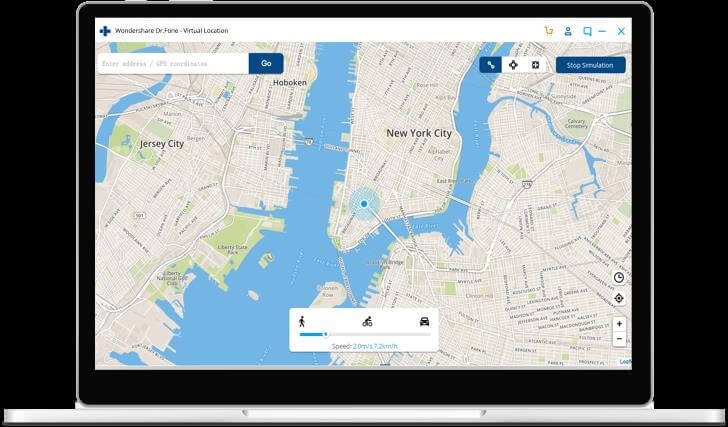 Dr. Fone Virtual Location (iOS) is considered as one of a kind Pokémon go spoofing ios application on the desktop. The Pokemon Go lovers can use this application to spoof their location easily. It is safe, secure, and you can mock your exact location at a single click. Use the application properly for Pokemon Go iPhone spoof. The only thing you have to do is connect your iPhone to the PC. It offers an unlimited number of locations to mock, and this can be done by adding the name of typing coordinates.
Features:
Ideal location changer; for the iOS13, iOS12/12.3, and so on.
Allow you to share spoof location on WhatsApp/ Snapchat etc.
Teleport to anywhere in the world.
Can simulate between two spots and multiple spots with ease
Pros:
Spoof location without jailbreaking your iPhone
An easy to use application with a user-friendly interface
Compatible with every primary iOS device
Cons:
Only free trial version can be downloaded
2) Relocate
URL: https://yalujailbreak.net/relocate-gps-location-spoofer/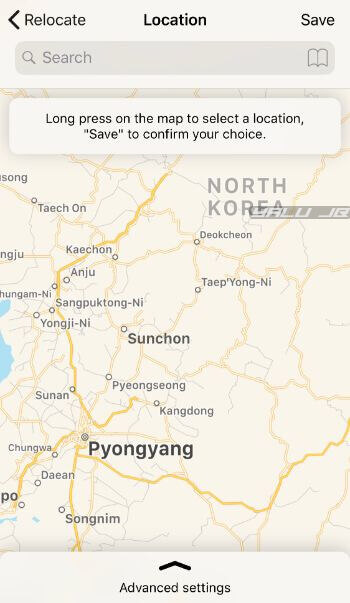 Relocate has been designed for the latest iOS models. It does more than what its name says. The app will not relocate; instead, it allows you to shift your location to some other place via a fake GPS interface. This acts as a trick to affect Pokemon Go application. It also helps in altitude spoofing. One can enter any gyms, catch new and a lot of Pokemons, and do many other things. This is a perfect spoofer pokemon go iOS that we should give a try.
Feature:
Spoofing works with a single tap
Seek for a particular location using the search bar
Alter the location by pinning on the map
Stop or start location spoofing whenever you wish
Pros:
Free and easy to use
Support all the devices on all devices even iOS 12
Cons:
Jailbreak of the device is required
Pokemon Go can identify it
3) iTools
URL: https://www.thinkskysoft.com/itool-virtual-location/
iTools is a great tool to manage iPhone/iPad/iPod. It lets you do multiple things, including the transfer of videos, music and a lot more. Apart from it, this also works as a Pokemon Go spoofing iOS 2020 application. The software is supporting Windows 10, Windows 8.1, Windows 7, Vista, and XP models. It can be used for faking the GPS location on any iPad/iPhone. It doesn't ask you to jailbreak your iOS device.
Features:
Available for Mac and Windows users.
It's a multi-purpose tool for iOS device management.
Drop a pin anywhere to simulate, this will remain the same even after disconnecting the device from the PC.
Works on latest iOS devices too
Pros:
Reliable and simple to use iOS spoofer
Can't be detected by the Pokemon Go app
Offering endless data restore and backup option
Premium users can use the app freely
Cons:
The free version only allows to spoof location three times only
Plans are starting from $5/month
4) Pokemon Go++
URL: http://www.cydiaimpactor.com/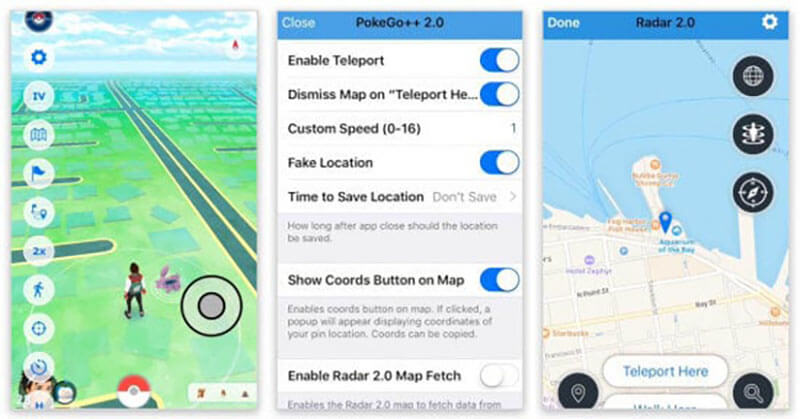 If you own a jailbroken iPhone, it's great because this is an improved version of the game for those kinds of devices. The application is containing numerous features that let you spoof location and even teleport or walk fast in the game. It is equipped with some hacks but can also function for spoofing Pokemon Go iPhone. You can download this app from a third-party source only like TuTu or Cydia.
Features:
Spoof location on iOS devices whenever and wherever you want.
Set a personalized speed for your avatar to up to 8 times.
Turn to teleport on or off.
Supports joystick for smooth movements
Pros:
Plethora of features
Spoof location manually
Cons:
Specially made for Pokemon Go only
Works only with jailbroken devices
Your Pokemon account can be blocked
5) iPokeGo
URL: https://apps.apple.com/us/app/ipokego-for-pokemon-go/id1138277066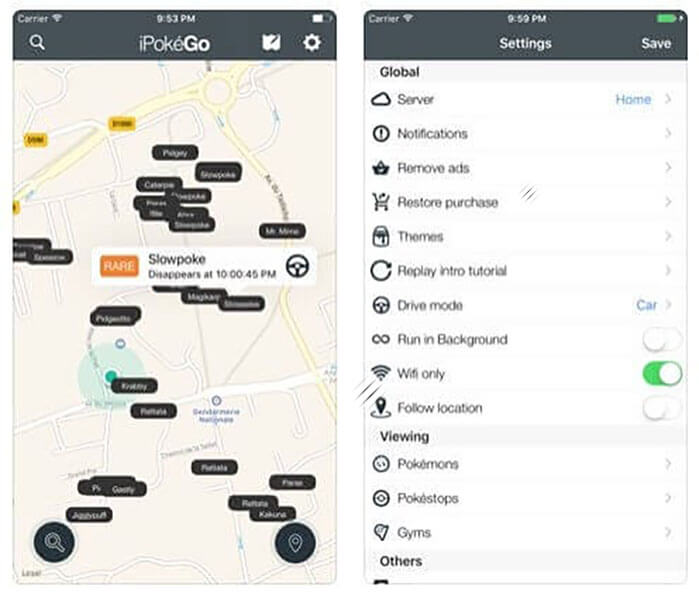 iPokeGo provide you with a set of tools to facilitate you in playing Pokemon Go. The app is specifically made for the Pokemon Go players. It has a lot of inbuilt free as well as paid features. The application permits the users to tweak the radar position. If Niantic detects this anyhow, then your account will be banned. Keep this in your mind before using it. Change themes, update location manually, and do much more with this Pokemon Go spoofing iOS app.
Features:
The radar features make it easier to spoof location manually.
Delivering several features that display a list of Pokemons and also one can hide them.
Offers; support for the Pokémon Go-Map and Pogom server.
Create a group of your favorite Pokemon list.
Pros:
No jailbreak requirement
Simple and loaded with an intuitive interface
Cons:
Mostly, there are paid features
Can lead to a ban on your Pokemon Go account
Conclusion
Out of the every Pokemon Go spoofing iOS application we talked, Dr. Fone Virtual location spoofer for iOS is the perfect tool that Pokemon Go player needs. Others are also good, but none can compete with it. The Pokémon Go security can't detect it, and this is the plus point why you must use that app. We hope that you enjoyed reading this article. For any queries, make sure to drop a comment below. Also, let us know your views on this post.