Nowadays, people enjoy playing location-based augmented reality (AR) games. And, Pokemon Go is one of the most popular location-based games that are played all around the world. Fake GPS iOS apps make it easy to boost your experience with these AR games.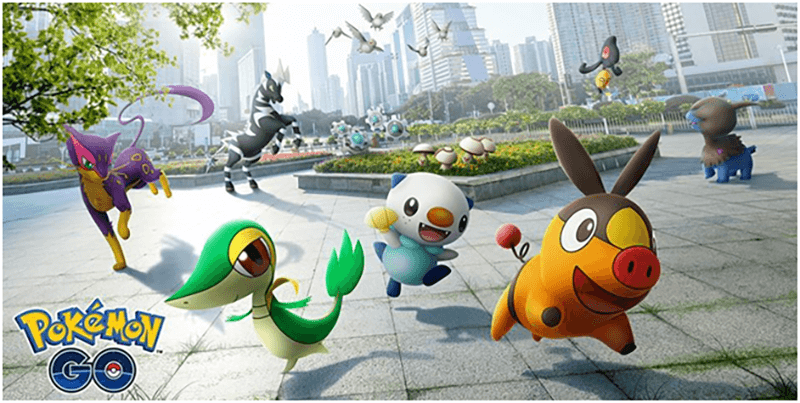 Part 1: Why do we Play Pokemon Go with Fake GPS iOS?
Pokémon Go features an AR+ mode that is highly advanced when we talk about gaming apps. This mode lends the game a unique ability to sense user motion. Accordingly, the app integrates this information into the "handling" phase of the game that further forms the basis of the app's experience.
So, we can say that Pokemon GO is entirely based on location tracking. The app uses the GPS of your iPhone to check out your exact location. Accordingly, you can catch less or more Pokemon. There are some locations where you can find more Pokemon, while in some location, Pokemon exist in r relatively less amount.
So, you may want to switch to a location with many Pokemon catching opportunities. With fake GPS Pokemon GO iOS, you can play from any location you want, without physically moving even a single step.
1.1: Reasons to use Fake GPS iOS apps
Well, the simplest reason is you want to switch to a location where you can catch more Pokemon and level up in the game. As you level up, you get to hatch more eggs and earn more rewards added to your collection.
Using a fake GPS for iOS Pokemon GO app, you can access Pokemon in urban areas. You won't usually find them in rural or suburb areas. So, location spoofing is a great option to play Pokemon Go more enjoyably and safely.
Part 2: How can we play Pokemon Go with Fake GPS iOS?
Fortunately, there are many ways to play Pokemon GO using a fake GPS on iOS devices. However, it is important that you choose a reliable app or tool to avoid getting banned from using the gaming app.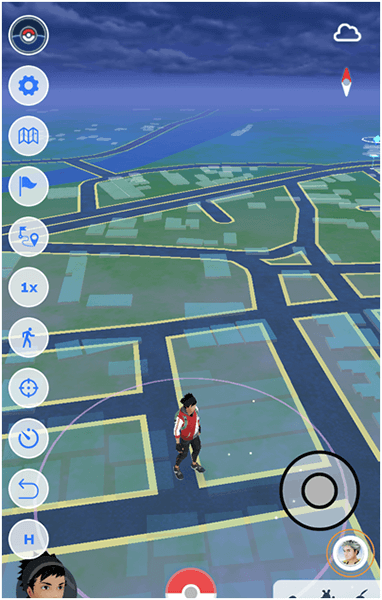 So, let's take a look the most reliable and safest ways for fake GPS Pokemon GO 2020 iOS.
2.1 By Fake GPS apps
Using a fake GPS app, you can change your current location to get a spoofed location easily using the app. Here are the most recommended apps for iOS fake GPS for Pokemon GO:
If you are using an iOS device, you can use Dr.Fone –Virtual Location (iOS) app to spoof your location. This app teleports your iPhone GPS to any location, and can stimulate the GPS movement along real routes. Spoofing is one of the most frequently used Pokemon GO Adventure Sync cheats.
Check out the steps to use the Dr.Fone – Virtual Location (iOS) app to play Pokemon Go Adventure Sync safely.
Step 1: Download the app, launch it, and open the "Virtual Location" feature.
Step 2: Connect your iOS device to your window PC and click on the "Get Started".
Step 3: Search for the desired location and tap the teleport option.
You can use the search bar to search the location directly.
Step 4: Drop the pin to the desired location, and tap the "Move Here" button.
Step 5: The interface will also show your fake location.
To halt the hack, tap the Stop Simulation button.
So, download the Dr.Fone – Virtual Location (iOS) app now as a safe fake GPS for iOS Pokemon GO app.
iSpoofer is a good app when it comes to faking your GPS location. For using the app to play Pokemon Go, you have to follow these steps:
Step 1: Download and install the iSpoofer app on your iOS phone.
Step 2: Next, launch the app on your smartphone.
Step 3: Connect your iPhone with your PC and tap Trust button to authenticate the connection.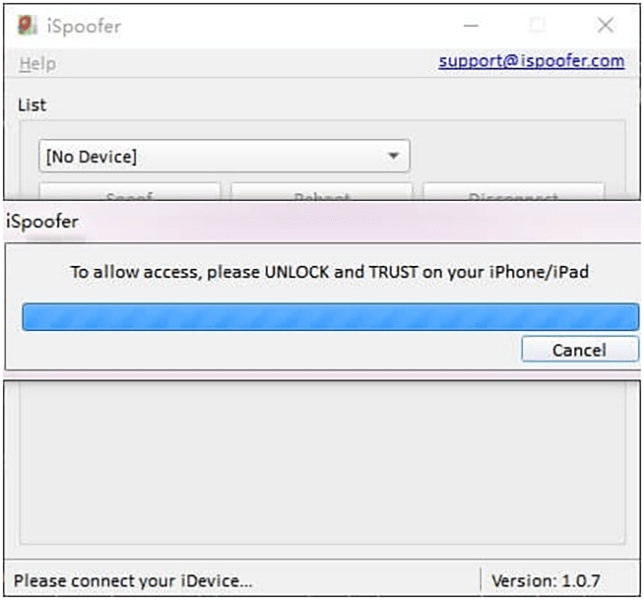 Step 4: The iSpoofer app downloads a code-like file to simulate the fake GPS location. You will see a map on which you have to adjust the pin at your desired location.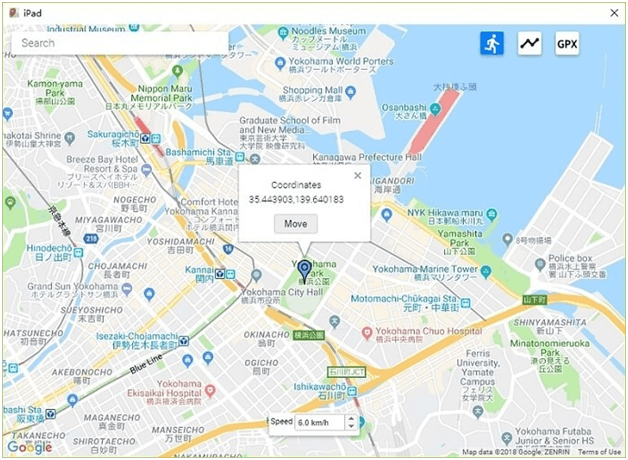 Step 5: Next, click/ tap 'Move' button.
Step 6: A new fake location is set on your iPhone.
You can now start playing Pokemon Go with more fun.
LocationHandle is a jailbreak tweak that lets you fake GPS Pokemon iOS by spoofing your location. Using this jailbreak tweak is fairly easy. Here is the entire process to do so:
As you launch the tweak on your iPhone device, you will see a map-like interface on your screen. Type in the search box, the desired location and the app will set your device's GPS accordingly.
You can easily add some locations to a special "favorites" list, so that you don't have to type the frequently spoofed location again and again.
To check if the location spoofing is working or not open the Apple Maps app and tap on the blue-colored Current Location button to see your faked location.
Now, start paying Pokemon fake GPS iOS.
2.2 Use a VPN for Pokemon GO fake GPS for iOS
Using a safe VPN, you can play Pokemon GO from anywhere. VPNs server as reliable alternatives to play the Pokémon GO game. It is because VPN helps fake your virtual location and encrypt your data, keeping you safe.
Some of the most recommended Pokemon GO fake GPS for iOS VPNs are:
NordVPN

NordVPN has a network of more than 5,700 speed-optimized servers located in 59 countries. NordVPN lets you access Pokémon Go anywhere all over the world. The tool offers AES-256 encryption, an automatic kill switch, DNS/IPv6 data leak protection, and much more, to allow you peace of mind. You can confidently use NordVPN to fake GPS for iOS Pokemon GO.

ExpressVPN

ExpressVPN offers the fastest VPN speeds, making it popular among Pokemon Go players. It is highly rated for incredibly fast speed and ease of use. Express VPN boasts an extensive library of servers in more than 160 locations worldwide. The tool provides rock-solid security on LTE/4G, 3G, public wi-fi, and virtually all mobile data carriers.

CyberGhost

This one of the most reliable and user-friendly VPNs has a simple interface that makes it great for new and seasoned users. The VPN equips Pokemon Go players military-grade security and privacy tools installed on more than 60,000 servers across the world.
Part 3: Cautions and Risks of Using Fake GPS Pokemon GO iOS
There are many risks associated with using fake GPS Pokemon GO iOS. The biggest risk is that if Niantic developers come to know that you are using a fake GPS app, they may ban you permanently or temporarily from using the game.
According to Reddit users, when catching Pokemon using a location spoofer, the captured Pokemon may end up ruining gyms, thus leveling you down in the game.
But, it does not mean that you cannot use a fake GPS Pokemon GO 2018 iOS. The whole idea is that you have to choose a reliable app from a genuine provider. For instance, Dr.Fone – (Virtual Location) iOS is one of the most recommended apps for Pokemon GO players.
Conclusion
Spoofing is unofficially allowed up to some extent. But, in order to avoid getting banned from playing Pokemon Go, it is important that you don't use iOS fake GPS Pokemon GO quite frequently. Use it wisely and carefully to enjoy the game safely and up to a great extent.