There will be no surprise in admitting that Pokemon Go, despite of being launched years back, still continues to dominate the gaming world. Where it takes you to travel places to catch Pokemon creatures, there are always variety of provisions to gain points in many ways as well. The only thing that concerns players and which is indeed a fun-disturbance factor is the need to exploring places to acquire rare Pokemons. This can be hectic for many as well as many parents aren't comfortable with their kids wandering places that they are not aware of.
Here comes Pokemon Go location spoofing into light. Baffled? No more need! Location spoofing basically will allow you to catch your favorite Pokemons without having you to move places. Yes, you read right! So, for all those not-so-active fellows out there or if pandemic isn't allowing you to go places, learn how spoofing in Pokemon Go can be executed in different ways. Read this article carefully and follow the essentials to know the best fake GPS for Pokemon Go. Let us begin!
Why do we need to Spoof GPS?
While researching, we found many queries related to spoofing Pokemon Go on reddit and why one would ever want it. So before moving further, we would like you to have some knowledge on the same. Read the following list of points to understand when the need for utilizing the spoofing apps for Pokemon Go comes.
As we all know, the game follows the AR concept and therefore you have to visit different places to catch Pokemons. So, there are times when you are done visiting places like parks, restaurants etc. and end up tiring to go there repeatedly. As a result, you are no longer in mood to visit the sameplaces, and hence you can try to fake Pokemon Go.
When you are a lazy person and not willing to move an inch, spoofing can be helpful. By faking the GPS, you will let Pokemong Go or any other AR game assume that you are at a particulat place and this way you can enjoy your game without moving and any obstacle in your fun.
Another reason might be this giant episode of disease we all are suffering from. Yes, due to Covid, many of you will not take chance to go outside and catch the widespread disease. After all, losing health just to have fun with gaming won't make any sense, right? Therefore, fake GPS location in Pokemon Go and play it as you want.
The best way to spoof GPS on iPhone
1. Dr.fone-Virtual Location (iOS)
For iPhone, the most recommended way that we would like to introduce you is dr.fone – Virtual Location (iOS). This tool is designed by Wondershare – the most reliable software company that believes in helping people in the best possible way. No matter if you are not tech-savvy, dr.fone Virtual Location will not require any special skills from you. You just need to follow the simple steps mentioned below. Before that, let's put some light on the amazing features that this tool has to offer.
Features of dr.fone – Virtual Location (iOS)
With the help of this tool, one can hassle-free teleport anywhere they want
It gives the facility to simulate the movement between two places and even the whole route can be decided by you
Helps in mocking location in just a click
Trusted and safe to use
Joystick control to simulate easily
Here are the steps to fake GPS location in Pokemon Go for an iOS device using dr.fone.
Step 1: Launch the Program
In order to begin Pokemon Go spoofing on PC, you need to download dr.fone – Virtual Location (iOS) on your PC. Now, install it and then open to start. Once the program is launched properly, click on "Virtual Location" tab given on the main screen.
Step 2: Get the Device Connected
Get your iOS device and use the original Apple cable to get it connected with the PC. Once done, click on "Get Started" button given on the screen.
Step 3: Turn on Teleport Mode
As the program provides three different modes for spoofing, you need to select the Teleport Mode. And for this, you need to choose the third icon at the top right. Now, in the search box, enter the place name where you want to spoof like in the image below.
Step 4: Start Spoofing
Once you enter the place, the program will understand it and will show you the related info of the place. Click "Move Here" and proceed.
Now the location will be changed and you will be able to see the same location in your iPhone when you open any location-based app or game.
2. iTools Location Spoofer
Another way that can help you spoofing in Pokemon Go in iPhone is iTools. It is a yet another helpful tool that serves the purpose. Apart from faking location, it can also help in backup and restore of your data as well as provides option to mirror your iOS screen on PC. However, the downside with this tool is it is a bit expensive. Also, you are required to download iTunes on your PC to work with this. Let us know how to work with this in step by step tutorial.
Step 1: Start iTools
Assuming that you've downloaded and installed the iTools for Pokemon Go on your PC, you need to launch it now. When in main interface, click on the "Toolbox" menu. Here, you will see many tabs. Needless to say, choose "Virtual Location" option.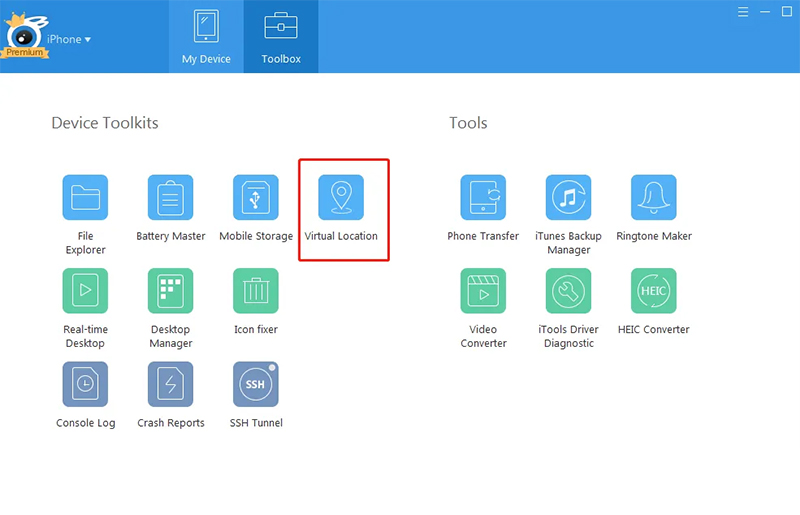 Step 2: Enter the Desired Location
Now, you need to enter the GPS coordinates of the location you wish to spoof. When done, click on the "Go" option.
Step 3: Fake it
Now, from the pop-up, click on "Move here" and you are good to go!
The best way to spoof GPS on Android
Let us now move further to the important part i.e. how spoofing is actually done. Well, there are loads of spoofing apps for Pokemon Go when it comes to Android devices. You can hunt many of them from Google Play store with ease. However, the question is the usefulness and the authenticity of the app. Therefore, we have selected with great care, the best spoofing app for Pokemon Go for you. Let's explore!
The app that we would recommend you if you are an Android user is Fake GPS Go by Lexa. This is one of the most popular apps for geo spoofing and gets your task done for rooted and non-rooted devices. Let us know the required steps for spoofing in Pokemon Go using this Android app.
Step 1: To begin with, head to the Google Play Store and search for the Fake GPS Location app. Install it now to proceed.
Step 2: Once done with installation, here is the most important step that needs to be performed. You need to set the installed app as mock location app. Without this step, you cannot spoof successfully. Here is how you can do this.
Enable Developer Options firstly. For this you need to go to the "Settings" and head to the "About Device" section.
Here, look for the "build number" of your device and tap on it 7 times. You will notice a "You are now a developer" message which means the Developer Options is not enabled.

Now that the Developer Options is on, go to its menu and look for the "Mock Location App" option. Tap on it and then select "Fake GPS Location" as shown in the image below.
Step 3: You can now open the installed app on your device. Take help of the search bar and then type the location you want. You can enter the coordinates. Once you are done with this, click on the Play button shown on the bottom left of the screen.
This is how to fake GPS location on Pokemon Go in an Android device. You can now go ahead with playing and collecting the Pokemons and have fun.
Please note that nearly all spoofing apps for Android requires root in your device. However, the good news is that a plenty of developers are working on this to eliminate the root requirement for the ease of the users. Hence, in future if you will want to fake GPS for Pokemon Go without root, you will be able to do so.
Conclusion
So, we introduced some of the useful spoofing apps for Pokemon Go and the tools for iOS to help you spoofing. We hope that now you are well-versed with the topic completely and know how to carry out Pokemon Go location spoofing with ease. Let us know which method worked for you. Also, do not forget to share this post with someone in need as we always believe in the saying 'Sharing is caring'! Thank you readers!