Being one of the most popular AR-based games in the global market, Pokemon Go players are always looking for small hacks that'll help them collect more and more Pokemon with fewer efforts. One such hack is to use Pokemon Go GPS Joystick. Over the past few years, GPS Joystick has become the most preferred hack to cheat Niantic's system and collect a wide variety of Pokemon in the game.
However, it's quite unfortunate that there is very limited information on how to use Pokemon Go Joystick on Android with no root. No doubt, you can root your Android smartphone to use some exclusive GPS Joystick tools, but not everyone is ready to void their phone's warranty just for a game. So, in this article, we're going to share the best way to use GPS Joystick on Android, even if you don't want to root your device.
Part 1: What is Pokemon Go Joystick Android?
For people who don't know, GPS Joystick is a dedicated method to fake your location in Pokemon Go and virtually control your movement using a Joystick. The idea is to change your smartphone's GPS location to a place where you can find comparatively more Pokemon and control your movement on the map while sitting in the comfort of your house. The Joystick will allow you to move in different directions and collect hidden/exclusive Pokemon.
The reason why Pokemon Go GPS Joystick Android is the most preferred hack for many players is that it lets them collect Pokemon without going out. You can be sitting on your couch, binge-watching Netflix, and still can collect Pokemon, thanks to a Pokemon GO GPS Joystick tool. Secondly, many players use Joystick to collect special characters that are only available in a specific region.
Since it's not a practical solution to travel all the way to Europe and look for a Pokemon Go character, you can simply set a fake GPS location on your smartphone and catch the desired Pokemon easily.
Part 2: How to use Pokemon Joystick Android?
To be honest, Google Play Store is stacked with different types of GPS Joystick apps for Android. Unfortunately, the majority of them don't work. But, after testing several apps and scrutinizing a lot, we've cherry-picked the most reliable Pokemon Go Joystick Android APK that you can use to fake your GPS location on a non-rooted Android device and virtually control your movement in the game.
We recommend using Fake GPS Location - GPS Joystick app on your Android device. It's a dedicated tool that has many features that'll make the entire GPS Joystick process a hassle-free task. For instance, you can find a GPS location using its GPS coordinates. This means that if you know specific coordinates to an exclusive Pokemon, you can simply use the app to change your GPS location and virtually catch it.
So, if you're ready to fake your GPS movement in Pokemon Go on a non-rooted device, install "Fake GPS Location - GPS Joystick" and follow these steps.
Step 1 - Once you have installed the application on your smartphone, go to "Settings" and scroll down to click the "Developer Options" button.
Step 2 - Now, locate and click the "Set Mock Location App" option. Choose "GPS Joystick" to set it as your default mock location app for your device.
Step 3 - Launch the GPS Joystick app and click the "Set Location" button. Now, paste the GPS coordinates that you want to use as your current location and click "Start". Alternatively, you can also tap the "Click Here to Open the Map" option to manually set a specific location on the map. And, if you want to set a specific path for your movement, you can also select the "Set Route" option. In this case, you'll have to choose the starting and ending point of your route and the app will automatically fake your GPS movement.
Step 4 - You'll be promoted to a map that'll be pointing to the selected location. Simply, click the "Start" button to fake your GPS location on the map.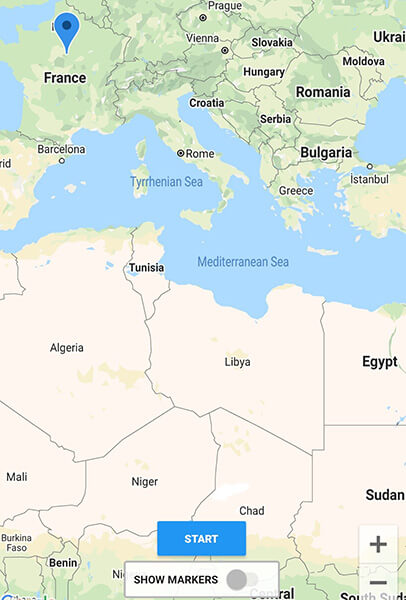 That's how you can use the "GPS Joystick" app on Android to fake your location.
Part 3: What to pay attention to While Using GPS joystick?
At the end of the day, using a GPS Joystick is a hack that'll allow you to cheat your way in the game. This means you need to be extra cautious while faking your GPS location otherwise, you are most likely to get your Pokemon GO account banned. Niantic is strictly against GPS spoofing and if you overuse it, you will get caught for sure.
So, here are a few guidelines that you must remember to safely use Pokemon GO GPS Joystick Android without getting caught at all.
Don't jump between far locations too frequently. Try to be as natural as possible while faking your GPS location.
Set a slower speed while looking for a Pokemon. This will give you enough time to catch the Pokemon and you won't get caught either.
Don't change locations all the time.
If you get Soft Ban in Pokemon GO, don't use GPS Joystick for a few days after the ban is lifted.
Bonus: For iOS GPS Simulation Dr.Fone – Virtual Location
Like Android, it's also possible to fake GPS location and use a GPS Joystick to fake your movement in iOS as well. In this case, you can use Dr.Fone - Virtual Location to get the job done. It's a professional Geo-spoofing app for iOS that'll allow you to mock your GPS location on an iDevice and collect different types of Pokemon in the game. The tool works with all iOS versions, including the latest iOS 14, which means you won't have to deal with any compatibility issues.
Here are a few features of Dr.Fone - Virtual Location.
Dedicated keyboard-control to control your movement and speed on the map
Automatic movement to move in a specific direction automatically
Use the slider to control your movement speed
One-click to change your GPS location
So, if you want to change your GPS location on an iPhone or iPad, install Dr.Fone - Virtual Location and catch all your favorite Pokemon easily.
Conclusion
That's everything you need to know about using a Pokemon Go GPS Joystick Android. If you've been looking for an easy way to catch all those exclusive or regional Pokemon, using a GPS Joystick is the answer. However, make sure to be cautious while using a Joystick to fake your location as overusing it can also get your account banned.