In a world where somethings are just more valuable than currency itself, collectibles have a special place. It's the exact same thing in the case of new Shiny Pokemon Go. Though regular Pokemons are great and the more the better, but a Shiny will always have a special place and better bragging rights. It's the same as getting a high-end car, the ultimate purpose remains the same. No matter how shiny or expensive, the car is, it will still cover the same distance, but you still get to boast about owning the expensive version.
Avid Pokemon Go fans will most certainly have a shiny Pokemon Go list. Make sure to catch them all and keep reading to find out how to.
Part 1: What is the Shiny Pokemon Go
Firstly. Are they real? Yes, you bet! They exist, so go catch em' now!
The shiny Pokemons are monsters that are re-colored and shine when they are sent to war. They don't really have any advantages in particular apart from their distinct physical features that differentiate them from the remaining Pokemons, but owning one of these will let other players know how much of a hardcore Pokemon gamer you really are, since they're not very readily available and appear only with high usage of the game. Unlike other Pokemons which appear similarly for everyone, the appearance of Shiny Pokemons is variable for different players, though their appearance is purely random.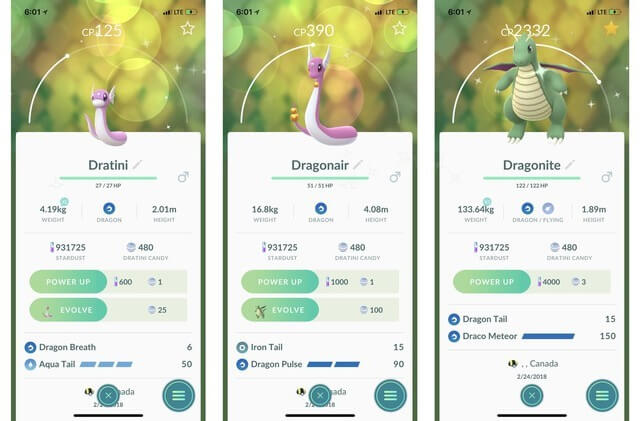 Tips about the Shiny Pokemon Go
1. How to spot a shiny Pokemon Go?
There's only one color variant per Pokémon. Some variants are vastly different from their original avataars, like Shiny Gyarados is red instead of blue. Others are more subtle, like Shiny Bulbasaur or Squirtle, which are the same color but slightly differents shades. Some Shiny Pokemon have added accessories such as flower crowns, party hats, sunglasses, Santa Hat, Witch Hat, Fragment Cap, Summer Hat, Detective Hat, Straw Hat, Mimikyu, Snow Beanie and more!
But beware, you might miss out on catching a shiny by thinking it's just your regular Pokémon. They doappear on Nearby or Sightings, but their normal could totally deceive you. Only when you have tapped on it and head to the catch screen will you know that it is as a matter of fact, a shiny.
There are some ways to get a Shiny, but at the end of it, its all just a matter of chance. Nevertheless, here are some ways to try and get your hands on these Shiny monsters:
Trading: If you play often, you already know that if you aren't finding some Pokemons, trade with a friend who has a few extra of them. Similarly, find someone who is willing to trade off their extra shinies for something they want which you might have. Win-Win situation.
Hatching eggs: You won't get to know if the egg is a normal egg or one that has a shiny, they all look the same. You'll only find out once it has hatched, since appearance of shinies is random, the more eggs you hatch, the more your chances of finding a shiny go up, so keep hatching eggs.
Finding shinies in the wild: A lot of gamers have said they found some of their shinies in the wild. You'll find such answers on gamer communities by the dozens. So take your chance and stay at it, till that random number gives you a shiny or a couple of them.
Community days, raids and more: As it is the raid were frequent, now with lockdowns around the globe, Pokemon go has announced community days in April 2020. Take that opportunity as your lucky stroke and come out with more shinies than one. Even the game itself plants more shinies on these special events. In the core games, every single Pokémon has a shiny variant, but in Pokémon Go, shiny Pokémon are often released during Community Day or other special events
Pokemon Go accessories: This is for the more serios gamers. Accessories like pokemon go plus for instance, make catching lots of pokemon faster with a few adjustments being made. Since you're catching more Pokemons, your chances of catching even what can be termed as the Pokemon Go rarest shiny goes up.
Part 2: The new added shiny Pokemon Go in 2020
If you're one of those people who keeps a list of shiny Pokemon in PokemonGo with you at all times to keep a tab to flaunt to your friends, your list must have become stagnant from the past few days given the lockdown imposed to curtail the spread of the Corona Virus and being stuck to just one location. Forget being able to catch any Pokemons, the chances of being able to catch a new shiny Pokemon is certainly bleaker now given that normally the encounter rate for Shiny Pokemons is one in 8,192 wild Pokémon run-ins as it is.
Here's an entire list of new Shiny Pokemon Go added as of March 2020:
https://www.imore.com/pokemon-go-shiny
Part 3: Tip of how to gain the shiny Pokemon Go on iPhone
Now the only problem that you might face is that of operating from a single location. How many Pokemons could you possibly catch in just one location, let aside the hope of being able to catch a new shiny Pokemon? But what if your closet was a door like Narnia, taking you to a new location, kind of teleporting you. Newer places, a different location; so more Pokemons correct? Blink and you are in the wild, bam! New shiny Pokemon Go. A gym that is otherwise 1 kilometre away, Not any more! More New Shiny Pokemons!
All the pokestops where you would have to walk around, now available to you right where you are. This, dr.fone - Virtual Location app, by far, is the ultimate Pokemon Go shiny hack you could ask for. An app that lets you Change your virtual location to make you teleport into a different location (only virtually though! just to spoof your phone into thinking its elsewhere) and keep your streak of catching Pokemons on. This app sets up virtual GPS location so every other location-based app on your phone believes you are actually there!
How do you use this Pokemon Go shiny hack?
In 5 easy steps, get the power to Teleport and become a Pokemon Go super hero to catch all the Shinies you ever wanted.
Step 1: Download dr.fone - Virtual Location (iOS) on your dektop/laptop, install and then launch the program.
Step 2: Click "Virtual Location" from all the options, connect your iPhone to your computer and Click "Get Started". (This app currently is available only for the iPhone, and since the app store disallows such apps, the phone needs to be connected to the system to enable its uses)
Step 3: Check your actual location on your map. If it doesn't show accurately, click the "Center On" icon on the bottom right side to display the correct location.
Step 4: Click on the 3rd icon on the top right to activate the "teleport mode", enter the place you want to teleport to on to the search bar on the top left and click "Go".
Step 5: On clicking go to a selected location, the system will understand where you want to be seen in and will give you an option to confirm your movement there. It will give a popup box, click on "Move Here" to be teleported to your select location.
Final Verdict
Make full use of the app to catch all the shinies by sitting in the comfort of your home. What's your latest Shiny Pokemon count till now?