Tinder has opened a new world to us. We can now forget about what people think and control our date life. No need to look your best all the time, and get a date while wearing a stained T-shirt. And, you can do that, because your tinder profile is doing the hard work for you and presenting as attractive as you like. But, things can get out of hand. You can become a compulsive user of this app. If that happens, and if you are wondering whether or not you should cancel your tinder subscription, well, that's your choice. This decision you have to take yourself. And, if you do decide to cancel your tinder subscription, we can show you the hassle-free ways to do that.
To Cancel Tinder Subscription or not?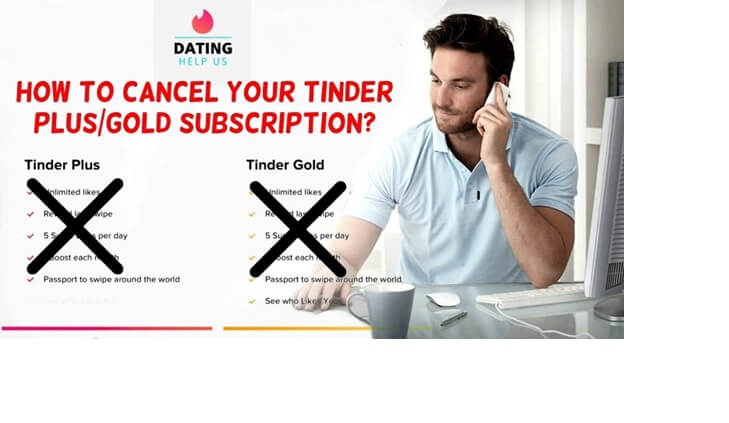 Yes, this is the ultimate question, isn't it? Ever hear of the expression, "It's good until it's not?" Such a weird thing to say, isn't it? I mean, what good is good, and if there is more that is better. Well, probably not. For example, we all know what tinder can do. It freed us from all kinds of social bullshit. Now, we don't need to take the peer pressure of dating and make ourselves vulnerable in front of strangers. Now, we can accept or reject any person we like, without anyone's annoying guidance or approval. What more, we can do that without hurting anyone's feelings.
So, the tinder is excellent. But, here's the kicker, it's not all sunny in the tinder world. Many people can't express themselves in text or the picture. For them, the world of tinder is not great at all. If you can't make your profile swipe worthy, no amount of premium service can change that. And, it can create a more negative impact on your psychology. Even for the successful tinder profile, there is a catch.
There are countless examples of people neglecting the outer world. Many people turned it into a game. Some of the users swipe right to like a bunch of people and then get some matches. After that, they chat with them and go on to have a couple of dates. But, ultimately, they end up rejecting them. Because, tinder can give you the impression of "there is plenty of fish, so why settle now?" And, the pattern continues. So, the main focus of tinder-finding someone to love becomes a lost project. If you are becoming a compulsive user of the app, and it is interfering with your personal life, then you should unsubscribe from the paid version. At least, when you cancel your subscription, you will have a limited number of swipes, and that can suddenly change the whole scenario.
If you want to cancel your premium tinder subscription, you better gather some knowledge about it. Let's check out various ways of canceling tinder subscription:
Cancel Tinder Subscription from iPhone or iPad
You may think why so much fuss about it? You can uninstall the app from the phone, and be done with it. Here's the deal: you are not alone, I used to think like that. But, unfortunately, it does not work like that. Deleting or uninstalling does not help you with canceling tinder subscription.
Therefore, I want to take you through the steps along with the images and show how easy it is to cancel a tinder subscription from your iPhone, just a few simple clicks and you are done with it.
Open your iPhone and go to your phone settings

Now, that was not difficult, right? If we are past that select iTunes & App Store

Tap the Apple ID email link

Select "View Apple ID."

If required, then log in to your ID

Scroll to Subscriptions and select manage

Select Tinder

Tap Cancel Subscription or Slide the auto-renewal to "off."
Cancel Tinder Subscription from Android
So, you are an android user and want to cancel tinder membership from your Samsung or other Smartphone; you have to do that differently from an apple user. If you could not cancel your tinder subscription, you just follow these steps:
First find the Google Play Store and launch it

From the left-hand menu, select "Account."

Go to Subscriptions

Select "Tinder" from your Subscriptions

Tap "Cancel Subscription."

Confirm your intent to cancel.

If you used the direct credit card payment option, you have to cancel your subscription differently. This way, you don't have to use the play store. You can use the tinder app for unsubscribing from premium.

First open your tinder app on your android device

Tap your profile

You will find the Manage Payment Account pretty easily. Now select it.

You need to tap Cancel Subscription, that's it. Congratulations, you just canceled your tinder subscription.
Cancel Tinder Subscription from Desktop /Tinder Online
Now, if you were more adventurous, and got your tinder subscription through Tinder.com, then you have to cancel your subscription using different methods than apple or android. Fear not, the ways are pretty simple here too. You just need to use the correct pathway to solve your problem.
First open your browser and go to Tinder Online (Tinder.com)

Here, you will find many things. Don't bother about those. Go to the top left of the screen and tap "My Profile."

Here, you will see the "Manage Account" or "Manage Payment Account."

Now comes the big moment, what we have been waiting for all these times. Now, to cancel your tinder premium subscription, select "cancel the subscription," or you can disable the "Auto-renewal." That will be enough for cancellation.
Conclusion
All the above methods are used to describe how one can unsubscribe from the Tinder premium. Tinder has two premium options, tinder plus and tinder gold. As tinder suggests, one can cancel subscriptions from both in the same way. The method differs according to the user's device. Hence the cancellation has four ways. One for iPhone, one for Desktop, and two for android. I hope this detailed tutorial solves all your problems related to the cancellation of tinder accounts and subscriptions.