Tinder has become the de-facto platform for online dating today with the largest user base in the world. While there are millions of free users, there are millions that pay for Tinder Plus and Tinder Gold as well, and Tinder is the highest-grossing app on both Apple's App Store and Google's Play Store. With such an enormous user base, one would think it would be easy to get matches, right? Well, not quite. It is the very size and variety of people on Tinder that makes it difficult to stand out and get matches on Tinder. Are you finding it difficult to get Tinder matches? Are you missing the "It's a match!" message lately?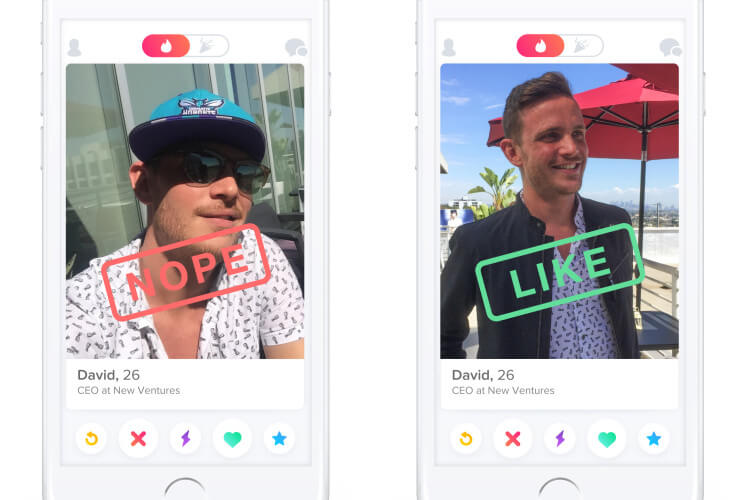 Reasons for No Tinder Matches or Less Tinder Matches
There can be several reasons why you are not getting Tinder matches or not getting enough Tinder matches. Most of the reasons are something you can do about, which is what this piece will help you with. While Tinder is a social app, it is an online dating platform, you still need to approach it with professionalism as you would any other thing that means something to you. You need to look at Tinder as your online persona and make sure you come across as presentable and approach-worthy to get more Tinder matches. So, how do you go about sprucing up your online persona to get more Tinder matches?
There is no formula you can use to get more Tinder matches, let's get that out of the way. There is no software to get you more Tinder matches, there is no algorithm to fool, there is just no way you can get more Tinder matches for you by throwing money. The only way you can get more Tinder matches is by working on your profile and making it worth anyone's time.
Your Tinder Profile: Photos
The way Tinder is designed, your photo is what will catch the eye of the potential match first. So, what kind of photo do you have on your profile? How to even select the right kind of photo to get more Tinder matches?
You should have a recent photograph of you where your face is visible.
The reason we call a photograph a photograph is that while an image can be generated using a variety of means and may or may not be the truth, a photo is taken and is an irrefutable truth. Use photos of yourself and not an Animoji or Memoji. Furthermore, your photo should be of high resolution, not a blurry mess. Remember, your photo is what is shown to potential matches.
Make sure you have a pleasing gait and do not come across as something you are not. An intimidating gait is not going to help you in getting more Tinder matches. You should always be yourself anyway and should come across as you in your photos. Do not use photos that would not show you in a good light. That said, a little goofiness doesn't hurt. It might be what helps you get more Tinder matches. You may want to have multiple photos showing you in different settings to paint a better picture. It is better to have a spectrum of photos.
Avoid using group photos. You know yourself, the potential match does not. How will the potential match figure out which one of the four faces is yours? Save them the trouble and put up photos that only show you. Group photos are a strict no-no.
Having photos that show only you does not equate to using selfies alone. If you do not already have photos of you clicked by friends and family, have them clicked organically the next time you are out and about with them and put them up on your profile to get more Tinder matches.
Do not use mirror selfies or trial room selfies or restroom selfies, ever.
Avoid studio photos, they are almost always boring. Use photos that depict you naturally.
You may find filters fun to use, but on Tinder, using filters may brand you as insecure and off-putting. Your potential matches want to see how you look, not how you look with faux bunny ears.
You should not pose smoking, gesturing rudely, and never use photos of you with guns. This can scare your potential matches away faster than you can swipe right on them.
If you have pets have one or two photos of you and your pet together. This is the group photo that you can use. No one will mistake you for your pet. It shows trustworthiness when an animal is comfortable around and with you, and this is something everyone likes to see in people and will help you get more Tinder matches.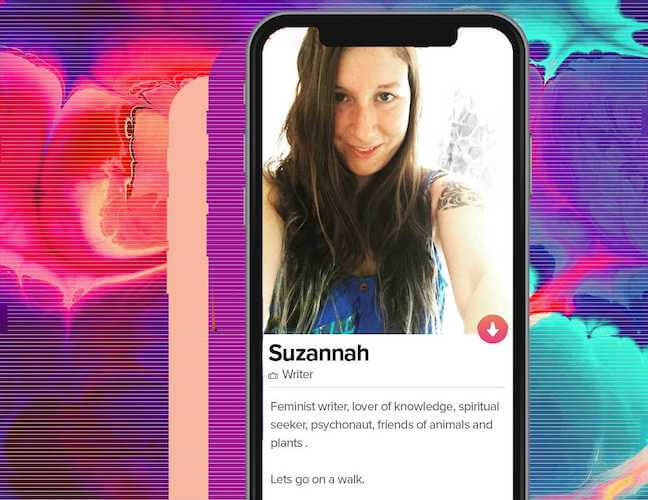 Your Tinder Profile: Description
While people love to (sometimes mindlessly) swipe left or right based on split-second liking or disliking of what they see on screen, some people choose to take the time to go through what the person has written about themselves, and then feel a connect, or not. Your photos may be a visual depiction of you and often tell people of things such as your thoughts on personal hygiene and the kind of places you like to hang out at, but what you write in your profile is a window into you as a person, and it is people we make meaningful connections with.
One must always respect the platform they are using and abide by its rules. Tinder is not Twitter, using hashtags on Tinder is borderline offensive and is not going to help you get more Tinder matches.
Similarly, using abbreviated words as if it were an SMS is also not the way to go on Tinder. Use full sentences, prefer not writing Shakespearean sentences, just plain, simple, short sentences that describe you in adequate detail.
You do not have to put everything about you here. Leave some mystery to be unraveled. Write enough about you to give an overview of yourself. No need to list out your entire life here.
Ensure that your profile reads in a balanced way, that is, if you are a balanced person. If you are more career-oriented and are a workaholic, do not hide it. Say it so. But, do not say you are a workaholic to come across as impressive. Impressive is when you are who you are, not when you come across as someone you are not.
Being honest about yourself on Tinder will help you get more Tinder matches. What you write in your profile should be the truth. Write about why you are on Tinder, which makes you unique in this world, what you want to do, what would you like to do in life, and such. No one likes to be fooled, and you risk getting reported as a spammer and scammer if more matches feel this way about you once they get to know that the real you vary vastly from what you wrote about you. If you are reported as a scammer and spammer enough number of times, you may be shadow-banned or be rewarded with a permanent ban from the platform. This is not how you suppose you will get more Tinder matches, do you?
Your profile should be filled with positivity. No one is interested in your intense dislike towards a brand, but they will be interested in the kind of music you like to hear and listen to. No one wants to know what you hate, what you do not like, but they will find you more approachable when you tell them what you like, and what you are interested in.
It is how you present yourself that matters. Perspective matters, and can make or break things for you in your pursuit of getting more Tinder matches. Saying something like you are a work in progress may or may not work with everybody. It needs a special kind of understanding and maturity for people to relate with such a statement and understand why you might have said it. Generally, such a statement might make potential matches think of you as unsettled, unstable, and no one wants a project on their hands today. People would rather find someone with whom they can go and enjoy life. There are fewer people in the world who'd be willing to have a partner to sit beside and brood over the meaning of life. If this is the side you are on, stick with it - this is your truth.
Avoid using cliché quotes and statements. Be original and you will be taken more seriously, and that increases the chances of you getting more Tinder matches.
Speaking of yourself in the third person is repulsive to most people. Use a conversational tone and stick to first-person only to bolster your chances of getting more Tinder matches.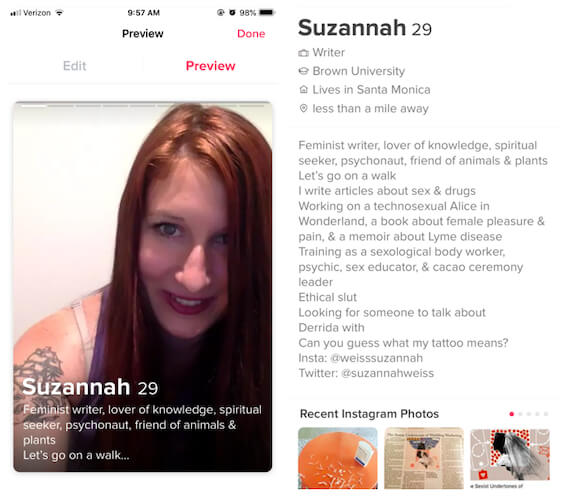 Your Tinder Account and Location
Tinder is the largest online dating community in the world and yet, you might be living in an area where there are not many users of the app. By default, and for free, Tinder shows you matches within a radius in your area. You can increase this a little, but cannot change your area. What do you do? You have two options here.
Getting More Tinder Matches: Tinder Passport
To get matches outside your area and from around the world, you can consider purchasing a Tinder Plus or Tinder Gold subscription. This gives you access to Tinder Passport, a unique feature that lets you select your location and get more Tinder matches from around the world. Be careful with this feature though, as Tinder does not like it if you change your location too frequently and you will land yourself a shadow-ban or a permanent ban if you abuse this feature.
Getting More Tinder Matches: Location-spoofing Software
In case you do not wish to pay Tinder a fee every month to use their Passport feature, there are location-spoofing software you can use on your devices for the same effect. There are not many apps on iOS that can successfully allow you to spoof your location. One app, dr.fone - virtual location - stands out for its ease of use and low price. For $9.99, you get an easy to use software that is powerful to boot. Such software would allow you to do many things that Tinder Passport won't be able to do. dr.fone - virtual location allows you to teleport your iPhone to any place in the world virtually with a single click and works with all apps and AR games that are location-based. One price, all apps. What's more, you can even simulate GPS movement along routes anywhere in the world. A joystick feature provides flexible GPS control.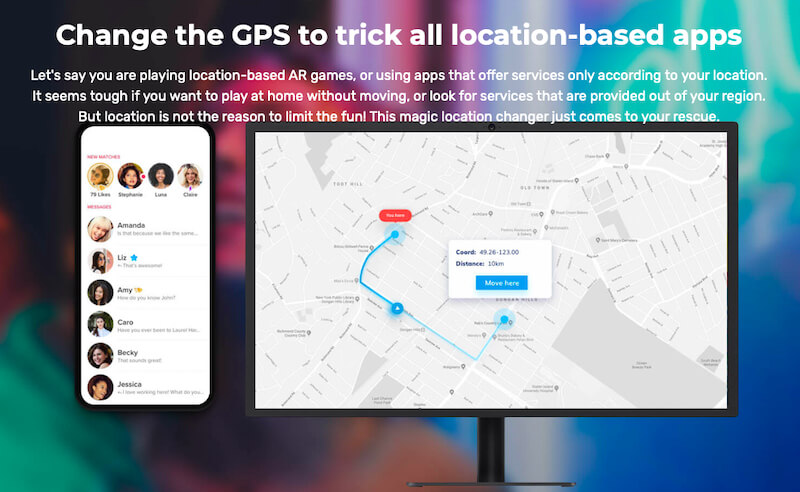 Using dr.fone - virtual location is easy, set up is done via connecting your iPhone to your Mac, and selecting a location on the Mac passes the location to the iPhone. How do you use this for getting more Tinder matches for free? Use this software to set your location and then open Tinder and you will see that Tinder now thinks you are in the location you selected since the iPhone's GPS chip is feeding the app with the location you set for it on the Mac. Isn't that easy? Why pay exorbitantly for Tinder Gold when you can get a location-spoofing app such as dr.fone - virtual location for iOS for a lower price and use it for all apps and services on your iPhone!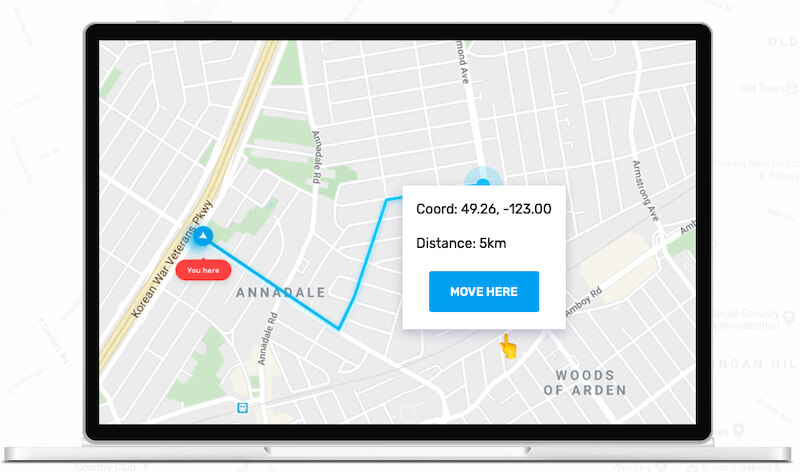 When Nothing Seems to Work, Remember This
Sometimes, even though you have a great set of photographs, even though your profile reads well, even though you are a great person that anyone would be lucky to get matched with on Tinder, you just don't get enough matches. At this point, it is wise to remember that not everyone is for everyone. You and your profile may look good objectively, but people connect subjectively. People you have swiped right on may just not get that vibe with you, no matter the quality of your photos and profile. Stay at it, you will get more Tinder matches and find the one for you.