Harry Potter Wizards Unite for Android is an awesome reality game that is making waves in the gaming world. Little wonder, it has recorded over 5 million installs already on the Google play store. Below are some vital tips and guides to have a fun-filled gaming experience. Shall we begin?
Harry Potter: Wizards Unite is the highest-rated mobile game Niantic has released since the release of Pokemon GO. It is worthy to note that both mobile games are licensed making use of some of the top-notch properties in the world, and they (Wizard Unite and Pokemon GO) are giving fans world-wide the gaming excitement they have always wanted.
The game, Harry Porter Wizard Unite for android has so many similarities to Pokemon GO in that it has a way of transporting players into an entirely new reality where the setting looks like the world of wizards. This game gives players the ability to interact with famous monsters, places, and characters, all in a move to unveil mystery enshrouded within gameplay. Wizards Unite for android is fully packed with several mind-blowing features. You might be wondering: What are these features? They include getting settled into one of the houses in Hogwarts, the ability to acquire a special kind of wand, and possess an in-game avatar of themselves putting on the renowned robes as seen in the actual movies.
How Harry Potter Wizards Unite work for android?
Are you a newbie to playing Harry Potter Wizards Unite? You will be exposed to the best way to go about the gameplay, what is required of you and what to acquire, and tips to becoming the stand-out magician at the Ministry of Magic.
In Wizards Unite for android, an incredible disaster has ignited an assortment of enchanted antiquities and objects taken from the enchantment world to the Muggle world. The mission is to aid the Ministry of Magic to repossess those items.
To accomplish such a great feat, you have a map pointing to the location of the missing items. This map is dependent on your current location and reveals your magic avatar, which is your character. This map enables you to know your way around. You will be required to move towards areas that pointed out on the map to acquire the objects.
Here is the deal: By tapping on them, the focus will be placed on the object: once alignment has been achieved, you can place a spell to recover the item and take them back to the wizarding world where it truly belongs. You will be shown the "threat meter," this is an indicator that shows the level of difficulty, and it also does the job of a guide.
Besides, you are required to slide your finger on the screen tracing the line shown to be able to cast the spell. Remember that the potency of the spell will rely upon your capacity to follow the figures that show up on the screen. The more the speed and accuracy of the development, the higher the success. Any portions and spells you may have utilized have a role to play. When in the act of casting spells, magical energy depletes, which serve as the character's life indicator.
Now, be cautious because the elements of the matches differ. A few ingredients and characters only need you to cast the spell accurately, however on other occasions, you should shield yourself and be quick with your finger to get an opportunity to cast your spells.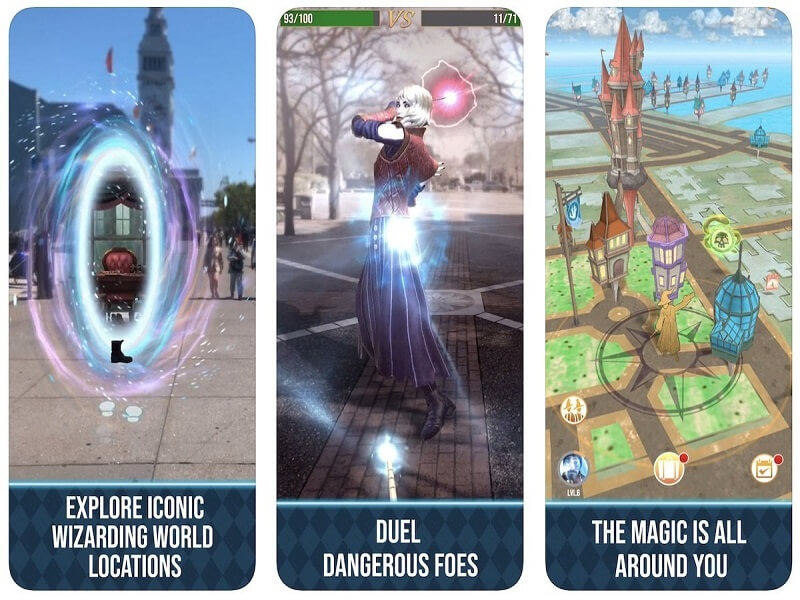 Here is the deal: By being able to complete the lost foundable record, which is quite like the game's accomplishment book, you will pick up experience that makes you level up and pave the way for fresh challenges.
When you come into the world of Wizards Unite android version, you will discover a wide range of stuff found on the guide. You will likewise see that there are stable structures to move around you. They are Greenhouses, Fortresses, and Inns, the Greenhouses, and the Fortresses. These virtual structures located on the map are significant in your mission. It will amaze you to know that more than 5 million android users are playing the Harry Potter Wizard Unite.
What do I need for wizards unite android?
To run Harry Potter Wizards Unite on an Android device, you need a smartphone running on Android 5.0 or higher. As for the hardware, the following is required:
At least 2GB of RAM.
Screen resolution 720x1280.
2GB available storage space.
Internet connection.
Access to Google Play services.
A camera for the Enhanced reality option.
Location, GPS, Compass service, and Gyroscope should be activated.
Rooted smartphones are not perfect.
These are the basic requirements, not the perfect requirements. If indeed, you want this game to play without any hitch, you will wish to your smartphone to possess higher features than the minimum requirements stated above - the more impressive your device, the better the game is likely to run. Remember that the more you play, the more the storage space that will be required. Likewise, Enhanced Reality gameplay poses more work for the RAM and processor of your smartphone, although you can always deactivate this mode. You can see from all indication that the Harry Potter Wizards Unite android requirements are not too demanding.
How to download Harry Potter Wizards Unite for android?
Players who have heard about how enjoyable this game is and are ready to try out the adventure can have it downloaded on their smartphones. For the android Harry Potter Wizards Unite, kindly visit the Google play store and search for "Harry Potter."
Want to know the best part? The games require less than 100 megabytes, and once you have put in the required information, you can start exploring gaming immediately. Awesome right?
Tips for play Harry Potter Wizards Unite
For someone new to this game, you may be looking for some little tip that will make your gaming experience a lovely one. There is absolutely nothing wrong with seeking one or two tips for Harry Potter Wizards Unite on android. Here is the good news. Do you want to hear it? I have put together some tips that should help give you the extra push you need while trying to resolve mysteries.
There is a need to finish the daily task to acquire items, XP, and Gold.
Acquire spell energy by paying a frequent visit to Inns.
A variety of potion ingredients shows up at various times, depending on the Moon phase, Day, and Weather.
Casting powerful spells gives you more XP.
To be able to find more Oddities, you have to play during night time.
Regularly upgrade your skills.
Try as much as possible to sign in daily.
Be wise when spending your Gold.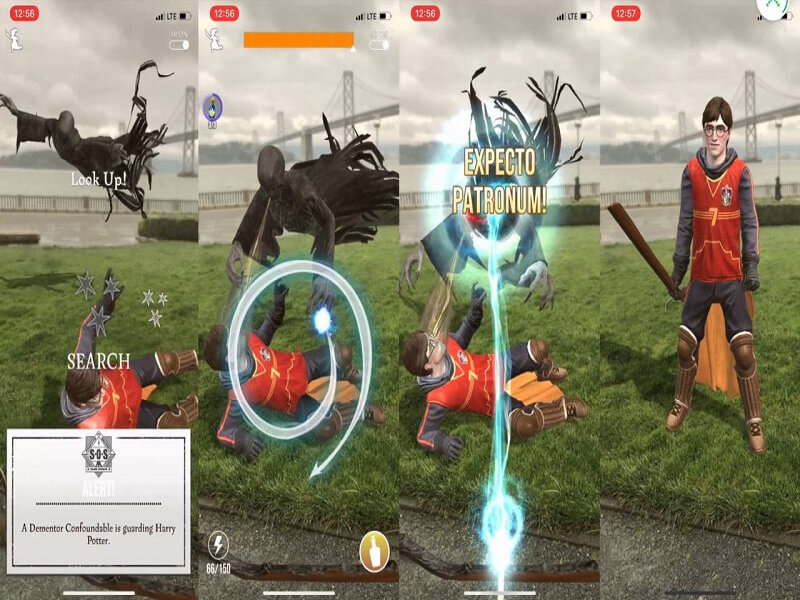 Conclusion
To round it all up, Harry Porter Wizard Unite is a beautiful game filled with several challenges and quests that will keep you engaged for a considerable amount of time. Embedded in this game are hundreds of quests, challenges, and an intriguing storyline. Visit the Google play store, download the application, and enjoy an unforgettable gaming experience!