The 21st century population is fascinated a lot by video games. Video games have been ruling the era with its creativity and also the types that are available in it. People from different age groups play certain video games and one of them is the Harry Potter Wizards Unite. This game is trending quite a bit off late. The Wizards Unite available is an Augmented Reality game which is based on the super-hit book Harry Potter. Well, who wouldn't possibly like to use their magic wands and cast an enchantment isn't it? So, here we are to give more details on this and the Harry Potter Wizards Unite availability.
Part 1: Why Harry Potter Wizards Unite released in limited countries?
The release of the Harry Potter Wizards Unite by the Niantic's lab initially was made available only to two countries. The US and the UK were the only two countries where the Harry Potter Wizards Unite availability was made. But, the growing trend and the love for Harry Potter made the Niantic's lab to launch the Wizards Unite available in the other countries as well. Now, the game is available to download in more than 140 countries. North America, Europe, Asia, South America, Africa are some of the countries have now gotten rid of the Harry Potter Wizards Unite says not available in your country state finally.
Part 2: How to download Harry Potter Wizards Unite not released in your country
Usually most of the players who are trying to download the game for the first time may happen to come across the message, "Harry Potter Wizards Unite says not available in your country". While most of the people get disappointed, one must understand that the game was only released in a couple of countries like the United Kingdom and America. The game is now slowly getting launched in countries like North America, Europe, Asia, South America, Africa, Australia, and New Zealand. One must remember that the game has been recently launched and it might take a week or two to get released globally.
If you are struggling to get Harry Potter in your device, you can use a VPN service to achieve the task.
Step by step Guide on how to Download and setup harry Potter Wizard No Available
Go to the Play Store or App Store if you have iPhone. Search for a VPN like Express VPN and tap on Install to get it.
Now launch it and sign in on it to get the desired plan.
Tap the Power button to start VPN. Now, select a server location from the list.

It will get connected to the selected location. It will simply mask the IP address of your location. It will secure your connection and encrypt your network traffic and routes thereby switching your country. This way you can access the app, browse websites or games that have restrictions in some locations.

Now, go to Play Store/App Store again and search for Harry Potter Wizards Unite.
Install it and fill in the credentials as prompted for the game to start downloading.
Once downloaded, sign up and then start playing the game.
Now that you have downloaded the game, you must also know how to complete the sign details as well. Mentioned below are the steps to be followed to sign-up for Harry Potter Wizards Unite availability.
Create your account using Google or Facebook .

Use the same email id as created using Google or Facebook sign in to the game and click Next
Select the notifications option according to your choice.

Grant access to Niantic to send correspondences over e-mail regarding the updates and other necessary information
Click Next and hit Confirm to start off the game Wizards Unite available.
Part 3: How to play Harry Potter Wizards Unite not released in your country
3.1 Use Google Earth to get familiar with the environment in the destination country
So, you've changed your location to some other country to play Harry Potter Wizards Unite. But are you familiar with the spoof country location? Not really, right? Well, for this purpose, you can always look up to Google Earth. This tool will certainly help you to get familiar with environment of the spoofed country location. How? Follow down the steps mentioned herein and get to know yourself.
Step 1: Lauch your browser and head to Google Earth webpage (https://www.google.com/intl/en_in/earth/) and hit on "Launch Earth".
Step 2: You'll be redirected to a new tab and Google Earth will boot up on your screen. Now, on the left navigation panel, hit on the "Search" icon and then punch in the desired location over it. Hit "Enter" afterwards.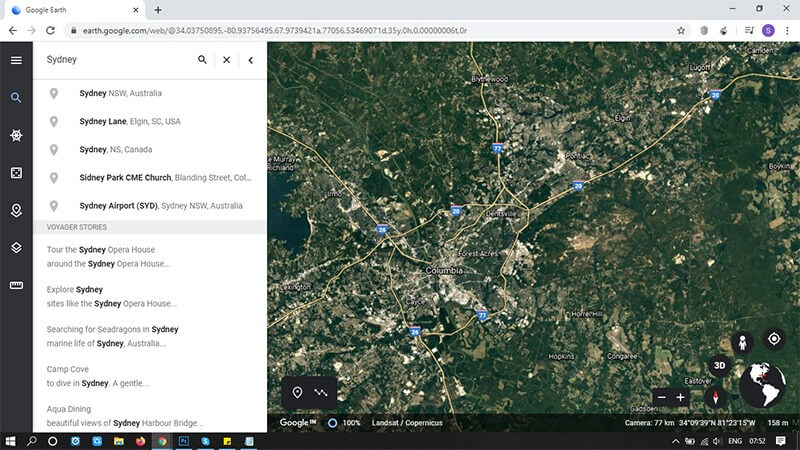 Step 3: Google Earth will then exhibit the entered location over. Here, you'll notice a rectangular box on the right, displaying the name of the location and an overview about that location.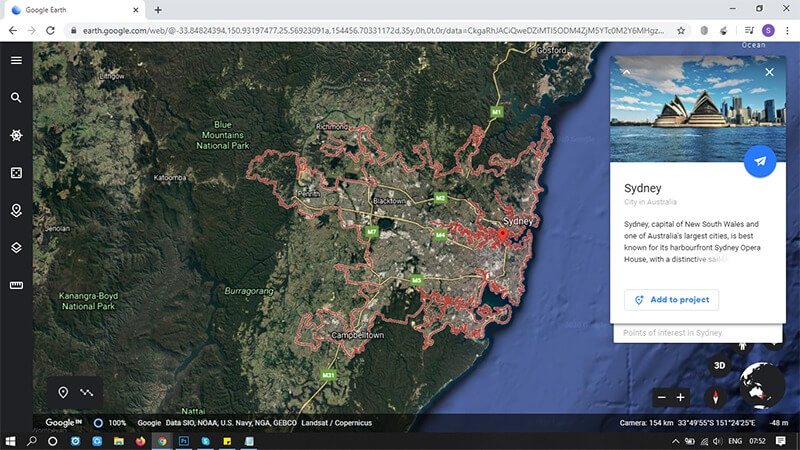 Step 4: Simply hit on that box and it will redirect you to a new tab where you can access all related information to it. This way you can easily get familiar with the environment of the respective location.
3.2 Use a GPS Simulator to Play the Game in destination country
Using a GPS simulator in a form of GPS spoofing is a very trending technique to play a game in another company if it's not available in your own country. This section will talk about how you can access any game in any country using GPS spoofing.
For iPhone:
If you are an iPhone user, no other tool than dr.fone – Virtual Location (iOS) can help you better on this. You can download this tool to make the Harry Potter Wizards Unite availability in your country. The tool simply helps you setting up the fake location and show the simulation of the movement between multiple spots. The virtual GPS setup believes that the user is currently in that location and allows you to access the game Harry Potter Wizards Unite easily. Let us know how you can do this.
Step 1: Download Tool
Start downloading dr.fone on your PC from the website and launch it. Click on "Virtual Location" from main screen.
Step 2: Connect your iPhone
Connect your iphone to your laptop or computer and click on "Get Started".
Step 3: Teleport mode
A new window comes up displaying your current location. In cases of no location display, try putting on the 'centre on' icon for accurate location.
Click on the square inside a concentric circle icon and put the 'teleport mode' on.

On the search, put any country and click 'Go'

A pop-up window appears in the middle of the screen, in which click on the option of 'Move here'
The location will be changed now and you can access Harry Potter on your device.
To show the movement and play the game, you can simply use this tool to simulate movement. For this, launch the tool and connect device.
Step 1: One Stop Mode
Click on the first icon from the upper right corner. This will enable the one-stop mode. Choose two spots from where you want to show movements.
Set the travelling speed as walking. Tap on "Move here" when the pop-up comes.
Step 2: Start simulation
On the next screen, click on "March" option from the pop-up and you are good to go!
For Android:
If you are an Android user, you can simply take help from an Android spoofer app. Unlike iPhone, there are lots of apps for Android devices that you can find from its dedicated Store that is Google Play Store. To list some, GPS Joystick, Fake GPS Spoofer Go etc. can help you. What you need is to enable the developer options on your Android phone to use such app. You can simply fake your location and make people or apps believe about your visibility on that place.
The Bottom Line
Well, for all those who have the Harry Potter Wizards Unite availability make sure to play as much as you can? For those, who are keen on downloading we are certain that the above guide would certainly come handy to you. Downloading a sophisticated game like this certainly requires a little bit of expertise and the knowledge of tweaks in the gaming space. So, are you all ready to swing your wands and cast a spell like Hermione and Potter? Try the Harry Potter Wizards Unite game today!