The world of mobile development is growing every now and then. However, there is always a need of associated guidance while using both – Android and iOS devices. Adding to the guidance list, herein are the associated details for changing and viewing the location settings of Android device. If you desire to change Google location settings, then you should first know how to use the right settings to do it.
Part 1: Turn on or off location services
Suppose, you wish to know the exact location where you are posted, the process is very simple. Just head to "Settings" client, verify the current location settings and then enable/disable the settings, if you require it.
Here is a step by step process for the same!
Step1: Go to location settings in Android. Follow the path "Security" then "Security and Location", under the "Privacy" subheading tap on "Location".
Step 2: Now, you can toggle off "Use Location". For switching on, toggle it on.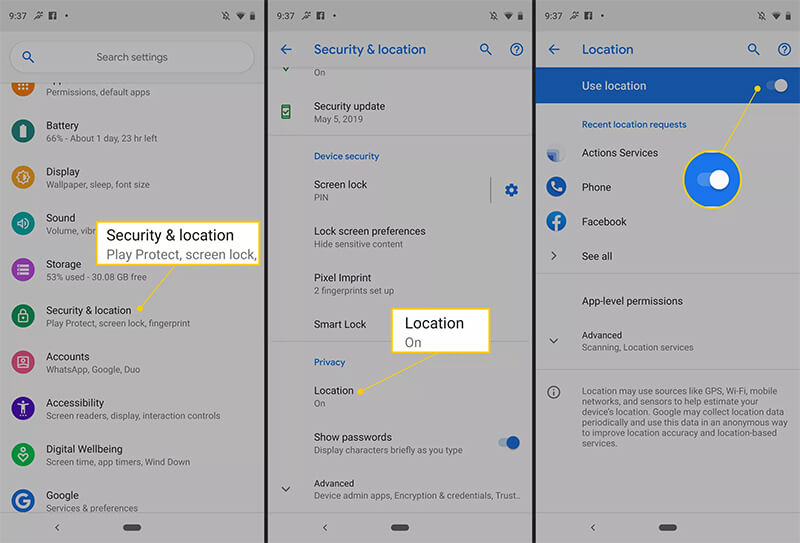 Part 2: Set up Android location accuracy
For setting up Android location accuracy, it is a very uncomplicated process. Just go to your smartphone and select Google location settings.
Step 1: In the "Settings" section, tap on "Location". Next, tap over "Mode" and opt for the desired location accuracy settings available.
Step 2: We opted for High Accuracy mode here. As soon as you do it, you can observe the results in location based services.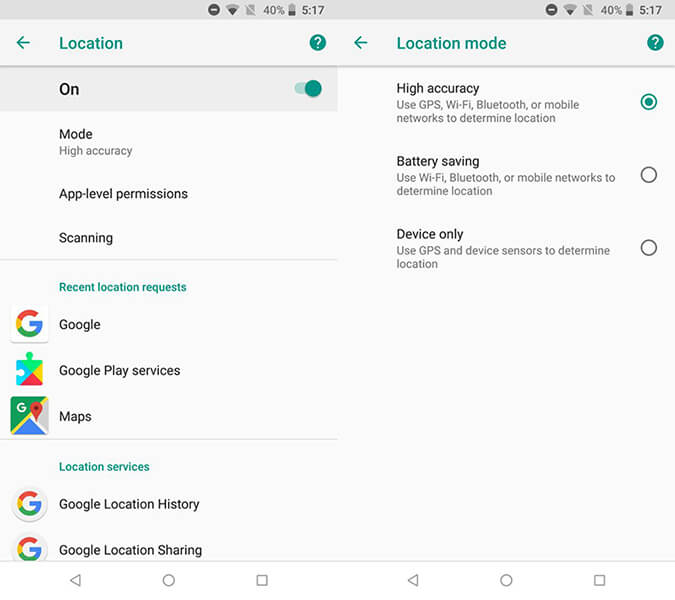 Part 3: Manage Android location history
Depending upon your requirement, you may need Android location history. Suppose, you need updates about your traffic during your earlier commute, then you use Gmail location settings. But, how to do it?
Step 1: First, you need to launch the Google Maps app from your app drawer. And then hit on "3 horizontal bars/More" button on the top left. Now, you need to hit on "Your Timeline" option.
Step 2: You're then required to hit on "Calendar" icon over the right top followed by swiping left or right to toggle between months. Then, opt for a desired date to view and manage your Android Location history.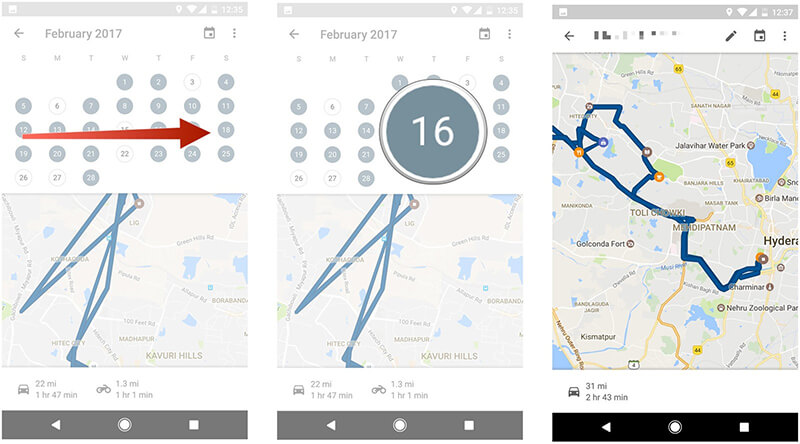 Part 4: Set up location sharing of Android
Now, comes a very important aspect of sharing your location of Android with your friends, contacts. There are two aspects to this.
# If the receiver has a Google account, follow these instructions. Add the receiver's Gmail address to your Google contacts.
Step 1: Sign in to the "Google Maps" on your phone. Next, tap "3 horizontal bars/More", in which you will find "Location Sharing/Share Location" and click on "Get Started".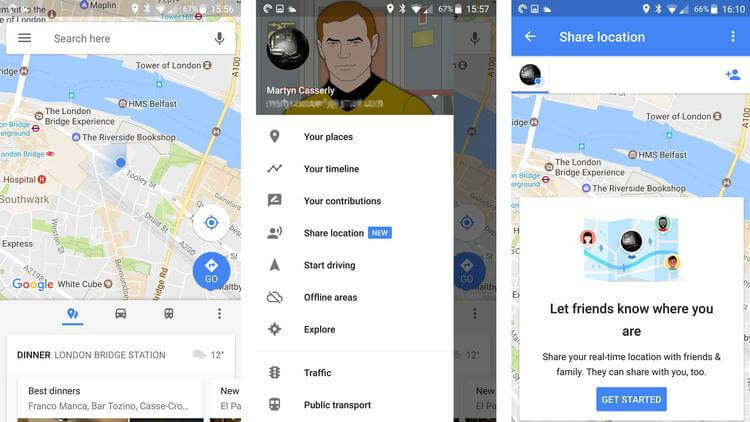 Step 2: You can select the length of time, for which you want to share Google location.
Step 3: For particular people, select people and when prompted for contacts. Select the receiver and tap share.
# For the receivers, which don't have Google account, go to Google Maps directly, on your phone.
Step 4: The last step is Tap "More": It should be copied to clipboard. Receivers who have this link can see your location, as long as three days.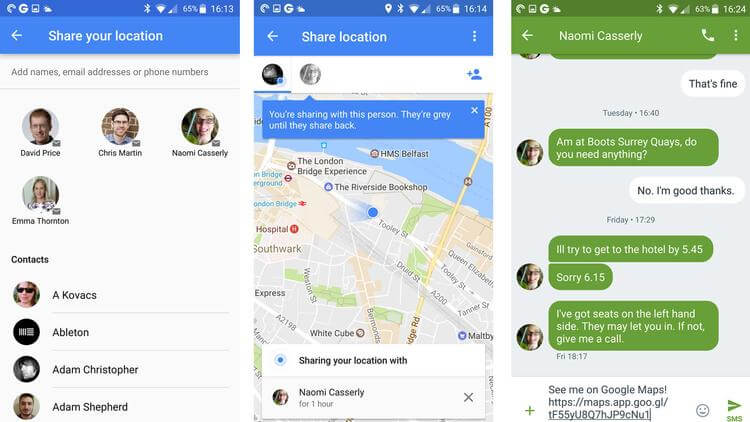 Part 5: Turn on and use emergency location service
Suppose, there is fire, accident or any calamity. How to inform the Fire Service or the required authorities of your location, from your Android phone. The answer is ELS or Emergency Location Service. It is an additional service, which sends details of the location directly from your Android handset to the emergency services like Fire ambulance service when the call is placed.
It uses WIFI signals, GPS, cell and smartphone signals to inform the rescue services of the victim's location. There are many advantages to using ELS. It doesn't need any special download or hardware and is activated only when you contact Emergency services. The location is detected on the phone and sent to the required authorities. For using it, contact Emergency Services. The location will be sent to the emergency services directly.
Part 6: Change Gmail location settings on Android
Google has provided so many facilities for making customizations. You can change Google/Gmail location settings.
Change Search Google location settings on Android
Step 1: Launch the Google search app on your android device and then hit on the "More" button on the bottom right.
Step 2: Next, you need to opt for the "Language and Region" option followed by tapping over the "Search Region" setting.
Step 3: Finally, change the search google location setting of your android device and you're done.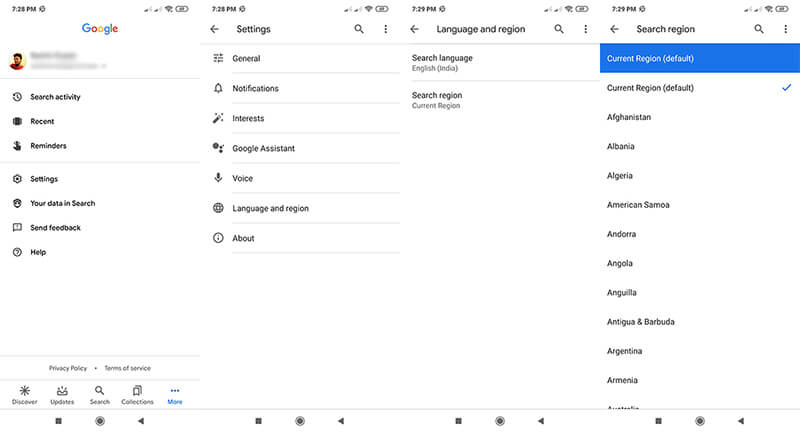 Change Gmail settings on Android
Step 1: Open your Gmail app and you find "Menu".
Step 2: Depending upon your choice, you can change "General Settings" or "Account" settings. For changing General settings, there are many categories, which you can change.
Default notification action – You can delete or archive the default action, which is at the bottom of the notification in your Gmail.
Conversation View – If you switch on this, then all the messages in email thread come in the same group.
Swipe actions – If you switch on this setting, you can swipe left or right on the message in the message list, for deleting the message.
Sender's image – If this setting is on, then you need to select the sender's photo for selecting the message.
Default reply action – You can reply to everybody in the conversation or only to the last person.
Autofit messages – If you activate this setting, then the sizes of the messages are adjusted, to make it easier to read.
Account Settings
Inbox type – You can select between Priority Inbox and Default Inbox.
Inbox categories – You can choose your categories.
Notification settings – You can select the notification settings.
Inbox sound and vibrate – Go for sound and vibration settings.
Signature – The user can create a Gmail signature.
Smart Reply – If you activate this setting, then the suggested replies come at the bottom of the emails.
Manage labels – For different labels, you need to select sync and notification settings.
Downloading attachments – If your phone is on Wi-Fi, then attachments are automatically downloaded. If you switch off WIFI, then there is a manual download of attachments.
Images – Once this setting is activated, then you will see images inside your message.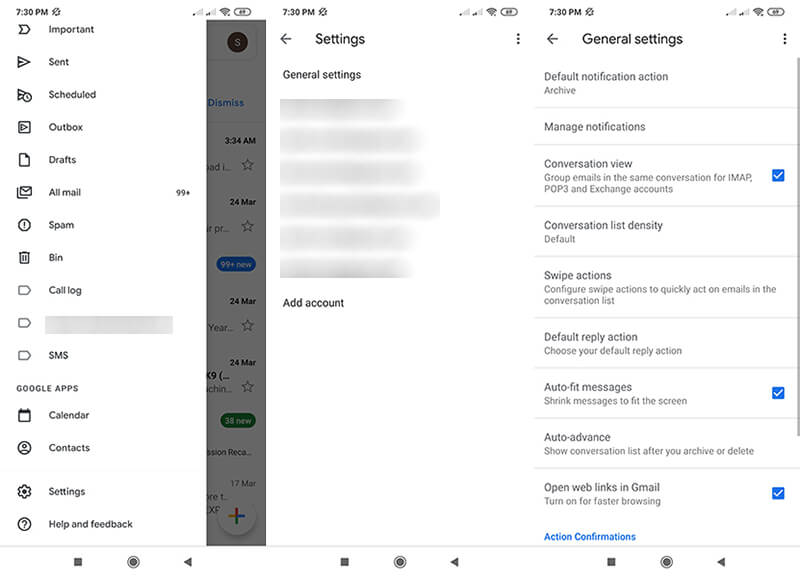 Part 7: Change Play Store location settings on Android
This is a magnificent feature that has been added on Android for customizing Android 9 location settings. It is very easy to implement.
Step 1: Just open the "Play store" on your Android device, hit on the "3 horizontal bars/More" icon and choose "Account".
Step 2: You will observe a Country and Profiles menu. Press the Country menu and choose your new country.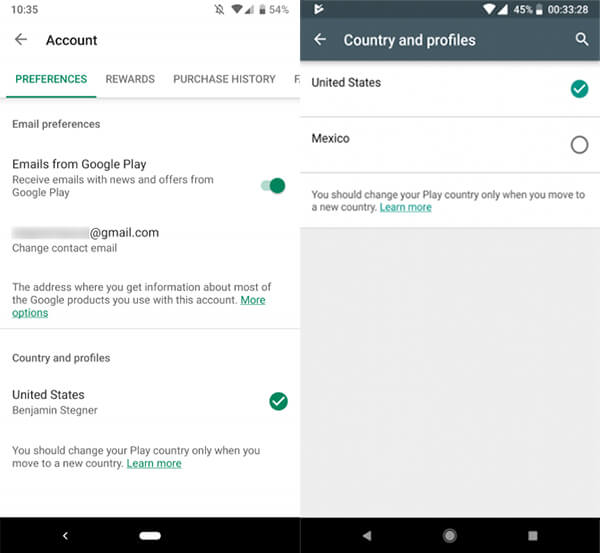 Final Words
The above-detailed manual will help the new users and those who wish to learn about various customizations to learn the location settings including mock location settings. Follow this detailed perspective to get your device location settings, formulated. Follow any of these 7 most popular tactics which are popularly used for viewing and changing the Android Location Settings. Follow this user comprehensive self-help that will help you manoeuvre your device, without any external assistance.