"My GPS location is not accurate on Android and I can't seem to share it with my contacts. Can someone tell me to get high accuracy for GPS on Android?"
This is one of the many queries that we get these days from users who are not able to have a high accuracy of GPS on their phone. Since GPS is one of the most vital components in our smartphones, it is important to get its high accuracy. This will help you navigate your way correctly to a place or share your location with others. Don't worry – there are certain tips that you can implement to get high accuracy for location on Android that I have included in this guide.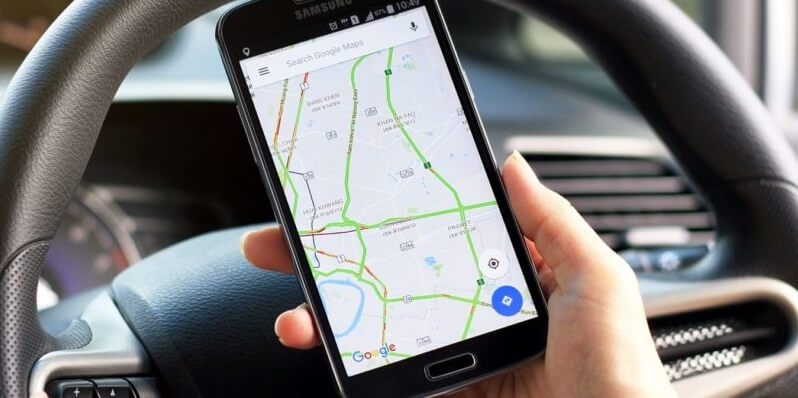 Part 1: What affects Android's GPS Accuracy?
GPS, which stands for Global Positioning System, is a worldwide navigation system that is present on every leading smart device. It helps us know our present location, navigate our way to a certain place, and even share our location with others. Though, the accuracy of the location services on your device can be dependent on the following factors.
The GPS services that are installed on your Android device
The way your device is connected to the net (WiFi or cellular data) also affects its positioning.
Your current location and connectivity to a network also affect its GPS.
Sometimes, the navigation app that you are using on your device can also alter its GPS accuracy.
Other settings in your phone (like Power Saving or Safe Mode) can also affect its location services at times.
A physical factor like a damaged device or a thick case can also be one of the reasons for this problem.
Any other firmware-related issue on your Android can tamper with its accuracy.
Part 2: How to Get High Accuracy for GPS on Android?
As you can see, there are so many factors that can affect the GPS location accuracy on an Android. Without much ado, let's discuss them one by one so that you can get accurate location on your Android device.
Fix 1: Enable the WiFi and Cellular Data
Needless to say, your Android phone's GPS accuracy won't improve unless it is connected to an active network. For this, you can go to its Control Center and turn on the WiFi or Cellular Data services. You can also go to its settings and toggle on the WiFi and the Cellular Data options. Just be sure that your device is connected to an active WiFi network. Also, if you are out of our home network zone, then just enable the data roaming option for cellular data.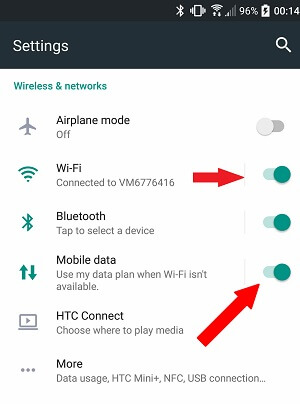 Fix 2: Turn on the Location Services
Once your phone is connected to an active network, make sure that the GPS services on it are enabled. If the GPS is not accurate on your Android, then just reset the services by tapping on its option from the Control Center. Furthermore, you can also go to its Settings > Location or Settings > Security & Locations > Privacy to turn on the location services on your phone. Here, you can also see the apps that are allowed to access the GPS services on your Android.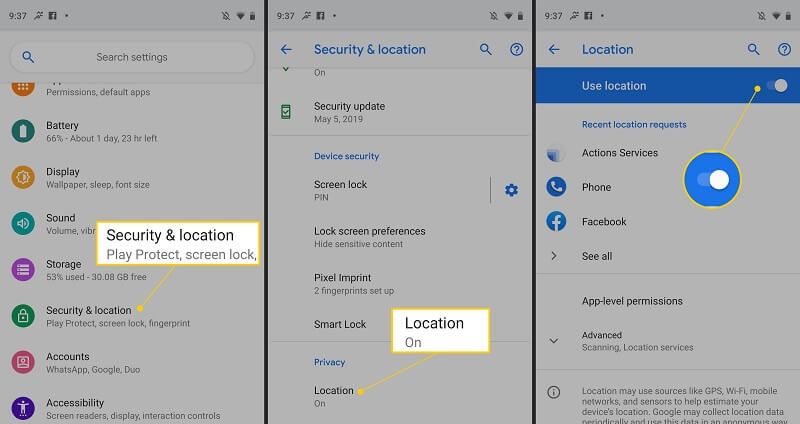 Fix 3: Enable High Accuracy for Location Services
You might not know, but Android devices have a feature to customize the accuracy of the location services. To set Android location default to high accuracy, just go to your devices Location Settings. From here, you can view a feature for accuracy mode for GPS. Just tap on it and from the provided options and make sure that "High Accuracy" is selected.

Fix 4: Make Sure that the Airplane Mode is off
Another mistake that a lot of users make is turning their phones in the Airplane mode and forgetting it afterward. Well, if the Airplane Mode is enabled on your device, then its network and GPS settings won't work. You can go to the Control Center and just tap on the Airplane Mode icon to switch it. Alternatively, you can also visit its Settings to manually turn off the Airplane Mode to get high accuracy for location in Android.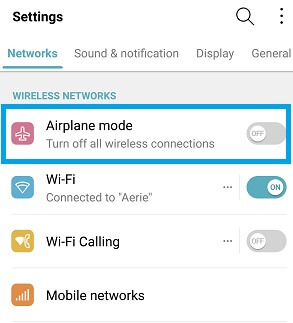 Fix 5: Move to Open Spaces
If you are not getting enough network coverage, then it can also make its location not accurate on Android. For instance, if you are in an elevator or underground, then the network coverage might be low. To get accurate location on Android, consider moving to an open environment. On the top of the display, you can see a panel, depicting the level of network coverage. If you are getting three or four bars, then it means you are in a good coverage zone.
Fix 6: Exit the Power Saver or Battery Saver Mode
These days, a lot of Android devices come with an inbuilt power saver (or battery saver) mode. If it is enabled, it might improve the battery of your device, but would affect its network and GPS accuracy. Therefore, to get high accuracy for GPS on Android, just go to its Settings > Battery and tap on the Power Saver mode. From here, you can just make sure that the Power Saver (or the Battery Saver) mode on your phone is disabled.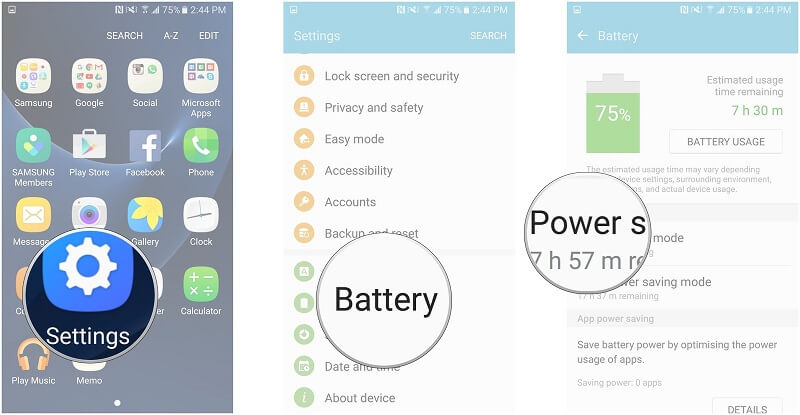 Fix 7: Reboot your Device in Normal Mode (not Safe Mode)
While troubleshooting an issue, you could have turned on your device in the Safe Mode. Although Safe Mode can help you with numerous issues, it would also disable the non-essential components in your device and will tamper with the location services too. To exit the safe mode, you just need to restart your phone normally. That is, long-press the Power button and when you get the power options, just choose to turn off your device. Afterward, wait for a while and long-press the Power button again to switch it on.
Fix 8: Take your Phone out of its Case
If you are using a heavy case for your Android device, then I would recommend taking it off. Sometimes, a heavy case (particularly leather) can tamper with the location accuracy of your phone. Just switch off your Android phone, remove its cover, and turn it on to check if the GPS is not accurate on Android.
Fix 9: Update the Maps App
There are all kinds of maps and navigation apps that are available on Play Store. Though, if your phone is running on an old or outdated version of the app, then it can make its GPS not accurate on Android. The easiest way to get high accuracy for GPS on your phone is by visiting its page of the app on the Play Store. From here, just tap on the "Update" button and stay connected to the internet as the app would automatically be upgraded.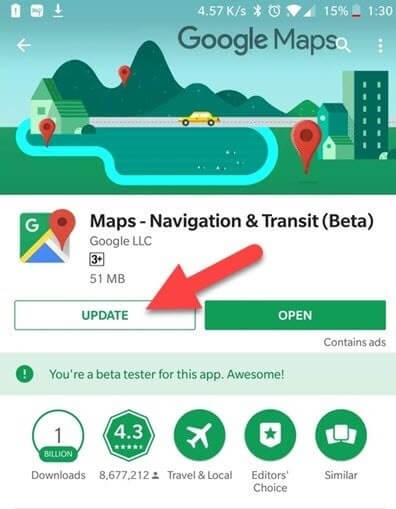 Fix 10: Improve Accuracy for Google Maps
If you use Google Maps, then you can also follow this in-app drill to get high accuracy for GPS on Android. Just launch the Google Maps app on your Android and make sure that the GPS services are enabled on it. Now, tilt your phone three times in an inverted-8 shape. You will get an illustration on the screen to help you calibrate the blue dot, which will automatically improve Android's location high accuracy.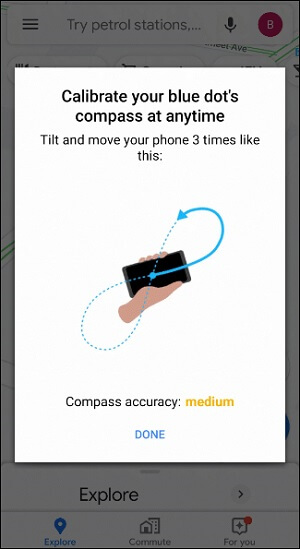 There you go! I'm sure that after reading this guide, you would be able to get high accuracy for GPS on Android. Since there could be different reasons for the GPS not being accurate on Android, I have listed every possible way to fix this problem. Chances are that you might have to try a handful of these solutions to finally improve GPS location accuracy for Android. Go ahead and try these solutions and let me know if I have missed something in the comments.