"Which is the best gay dating app out there? I have got to know about Grindr and Scruff, but I'm not sure which one should I go for!"
If you are new to dating in the LGBT community, then you might also get confused (and overwhelmed) with the wide range of apps out there. Since apps like Tinder or Bumble don't cater to the needs of LGBT folks, the use of dedicated apps like Grindr and Scruff has increased. Although both these apps are pretty similar, users often like to know is Scruff better than Grindr and vice-versa. In this ultimate Scruff vs Grindr post, I will cover the same and would let you know the difference between Grindr and Scruff too.
Part 1: Scruff vs Grindr: The First Glance
Both Grindr and Scruff are LGBT oriented apps that are meant for gay, bisexual, and transgender individuals. While both of these apps would look similar at first glance, you would realize their difference after a while.
Grindr: The most popular gay dating app
With over 27 million users, Grindr is the most popular dating app for queer individuals, which has been released in 2009. The app provides a location-based service to see profiles of other users nearby. You can leave a "tap" on their profiles or directly message them. There are various filters in the app that you can use to narrow down the profiles displayed on your grid. Presently, it is available in 190+ countries the world over and in 10+ languages.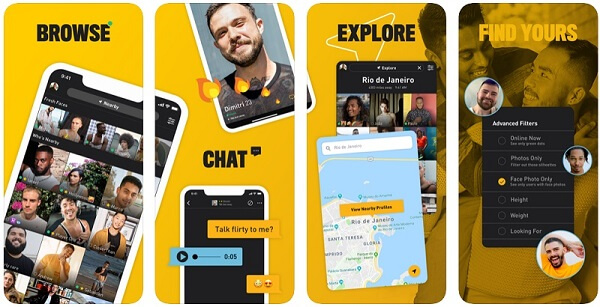 Scruff: A more refined version of Grindr
Although Scruff is pretty similar to Grindr, it provides a more refined experience with selected users. The app was made available in 2010, shortly after the release of Grindr. Presently, it has over 15 million users in 180 countries and is available in 10 different languages. Just like Grindr, you can view the nearby profiles and send a "woof" to get noticed or directly drop a message. Though, it also lists unique matches according to your preferences and offers a wide range of filters too.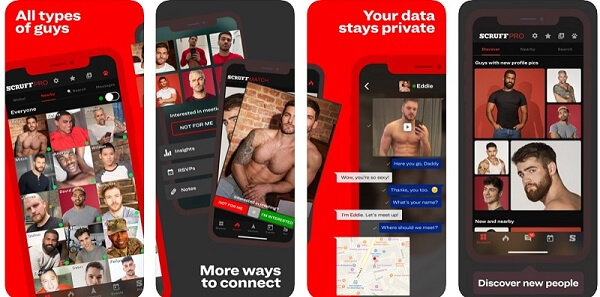 Part 2: Grindr and Scruff App Downloads and Ratings
Now when you know about the basic Scruff vs Grindr difference, let's explore and get into the technical specifications of these apps.
Grind Download and Ratings
Presently, Grindr is available for leading Android and iOS devices. You can install it if your device runs on Android 4.4+ or iOS 10.0+.
Play Store Download (Rating 3.5): https://play.google.com/store/apps/details?id=com.grindrapp.android&hl=en_IN
App Store Download (Rating 3.9): https://apps.apple.com/us/app/grindr-gay-chat/id319881193
Scruff Download and Ratings
Although Scruff requires slightly more advanced specifications, it also has better ratings on the App Stores due to its sleek interface. You can install it on devices running on Android 4.4+ or iOS 12.2+.
Play Store Download (Rating 4.0): https://play.google.com/store/apps/details?id=com.appspot.scruffapp&hl=en_IN
App Store Download (Rating 4.6): https://apps.apple.com/us/app/scruff-gay-dating-chat/id380015247
Part 3: Target Audience and Major Features
Both Scruff and Grindr cater to queer individuals who are looking for an MSM relationship. Although, the target audience of Grindr is vaster as it is used by gay, bisexual, curious, transgender, and other individuals of the community. On the other hand, Scruff has a more filtered target audience. It is majorly used by mature gay individuals with a small portion of transgender members.
What can you do on Grindr?
To decide whether Scruff or Grindr is right for you, let's quickly discuss the major features of Grindr first.
The app will display a list of all the nearby profiles that would be based on your present location.
As your present whereabouts would be changed, the app's grid will refresh and present new profiles.
On every profile, you can see how far the user is (if they have enabled the distance sharing feature).
You can directly chat with any individual by sending them a personal message. It supports the sharing of voice notes, photos, mini videos, and location (apart from text and stickers).
Users can save other profiles by marking them as "favorites" or block any individual.
Also, users can post multiple photos on their profiles, fill extensive details about them, and filter profiles on the basis of various parameters like age, weight, height, preferences, tribes, etc.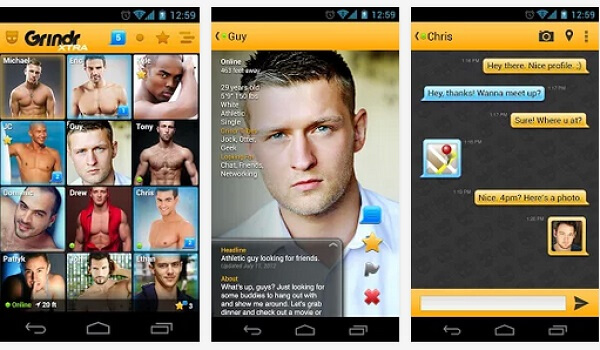 What can you do on Scruff?
When we compare Scruff or Grindr app, we can clearly see that Scruff provides far more features than Grindr.
You can see a range of profiles nearby and can directly contact them or send them a "woof" to get noticed (similar to the "tap" feature of Grindr).
In personal messages, you can send photos, videos, location, and so on.
Users can also upload their private photos on their profiles and unlock it for selected individuals.
The Scruff Match will present a deck of curated profiles filtered for your preferences that you can swipe left or right.
If a user is not sure, they can opt for the "Ask Later" feature and save the profile on their deck.
There are also additional features like Scruff Venture (gay travel community), Scruff Events (to discover local LGBT events), Hosting, and so on.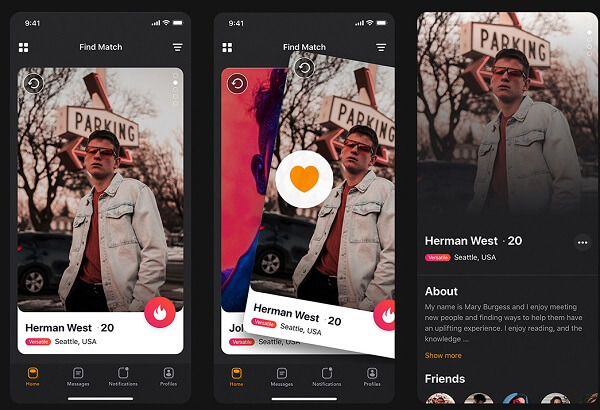 Part 4: Pros, Cons, and Difference Between Grindr and Scruff
Just like every other dating app, Scruff and Grind also have their limitations and advantages. To continue our comparison between Scruff and Grindr, let's quickly have a look at their pros and cons.
Grindr Pros
One of the most popular gay dating apps with tons of users
You can see who is online and their distance
Features to browse profiles in other locations
Grindr Cons
The interface takes a lot of time to load
The app has been under various security issues (including a data leak scandal)
Most of the good features are paid
Scruff Pros
Selected but responsive crowd (more than just a hookup app)
The app will suggest users on the basis of common interests
Dedicated spaces for travel connections, events, etc.
Scruff Cons
You might not find a lot of users in small cities and towns
Fewer filters than Grindr
Difference between Grindr and Scruff
Grindr has a wider user base with individuals of all kinds from the community, while Scruff is mostly used by a certain "tribe" of people.
Scruff has extensive features like curated matches, which is still not present in Grindr.
You can also create local events in Scruff and find travel buddies (unlike Grindr).
Although, the private messaging in Grindr is a bit better with more features to communicate.
You can also take a backup of your Grindr chats on your Google Drive, which you can't do with Scruff.
The premium plan of Scruff is a whole cheaper than Grindr.
The overall user interface of Scruff is slightly better and more responsive than Grindr.
Part 5: Pricing and Premium Plans
Our Scruff vs Grindr comparison would be incomplete without discussing the premium pricing and plans of both the apps. By getting the monthly subscription of these apps, you can unlock their premium features.
Grindr Unlimited ($29.99 a month)
No in-app ads
Your grid will display up to 600 profiles (100 for free users)
Unlimited favorites and blocks
You can see who viewed your profile
Change your location to other places
Access to unlimited filters
Use Grindr invisibly
Unsend your pictures
Send auto-deleted pictures (that can't be saved)
Scruff Pro ($19.99 a month)
It will disable all the in-app ads and surveys
Will give access to create different private albums
Users can manually change their location to any other city
You can favorite up to 25,000 profiles
Users can enable stealth mode to browse the app anonymously
You can see up to 1000 guys in your location grid
The app will suggest 4x more profiles in Scruff Match
Get in-depth profile insights and other features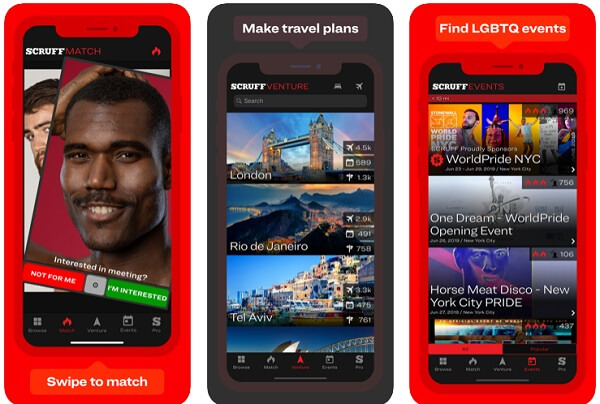 Part 6: How to See Profiles on Grindr or Scruff in Other Locations?
As you can see, the standard version of Grindr and Scruff only displays our nearby profiles. If you wish to unlock more profiles in any other place, then you can try dr.fone – Virtual Location (iOS).
Without the need to jailbreak your iPhone, it will let you change your location to anywhere in the world. You can search for a location by its coordinates or its name and just drop the pin to any spot. Afterward, you can view the nearby profiles on Grindr or Scruff in that location without paying for their premium versions. Besides that, the app can also be used to simulate your movement between multiple spots and even has a joystick feature as well.
After reading this extensive Scruff vs Grindr comparison, you would be able to pick the right app for your dating needs. If you are looking for something specific with a better user interface, then I would prefer Scruff. Though, if you want to meet more people and be an active part of the community, then Grindr will certainly help you. Feel free to try these apps or take the assistance of a tool like dr.fone – Virtual Location (iOS) to unlock new profiles on dating apps anywhere in the world!