Introduction
It is the newest trend to fake your location on your regular aps or in the gaming ones. While the reasons for doing it may vary, all of you out there want bang on results. When popular location demanding games are concerned, it will level you up and give you an advantage over other players if you can spoof your presence. The same applies for the Mobile Legends game as well. You can fake gps for mobile legends game and it is not impossible like you previously thought. So what are you waiting for? Get on the cruise!
How can I fake location on Mobile Legends?
The Mobile legends game is well known and you'll come across the fans wherever you go. Kudos to the makers who have put in sincere efforts to create a beautiful virtual world. This multiplayer game has everything that an action enthusiast wants. There are physical stunts and weapon power too. Over 100 million players adore this game for the right reasons. Based on your location, the teams are divided and then compete against each other for the win. Well, that's where this whole episode of location comes into picture. This mobile gaming app is available for iOS and Android users. When you want to be a part of a certain team, you can fake gps in mobile legends to get there.
You don't have to risk anything and the process can happen lucidly if you follow the guide on this article.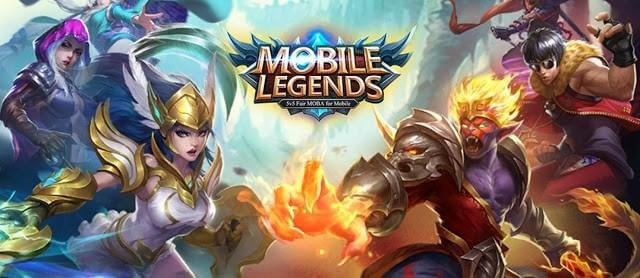 Part 1: Why Users Choose to Fake Location in Mobile Legends?
If you are new to this game, then let us first get you started with how it functions. It has a local street board that is specific to different areas. Based on where your presence is detected, you will be introduced to your team members or paid together into groups. Each local area has their own benefit features and you can unlock several advantages if you are in different teams. If you plan on playing the game with your friends then fake location mobile legends is a very good option. That way, all of you have to decide on one place and spoof yourself there even if you are on the other side of the world. In the fake location, you can accept new quests, face new challenges and foes, make your place in different local boards and the benefits just flow in.
Part 2: The Risks of Faking GPS Location on Mobile Legends in 2020
You have to pay a price for all the good things you get in life. That stays true in this scenario too. If the game creators put in so much effort to design the virtual world, they will also keep an eye on manipulations and cheating. When you start playing, the initial 10 seconds are spent on detecting your location and making appropriate matches with people from the same locality. Then there is a 10 minutes game where the team has to do everything to win. These battles are designed and delivered based on where you stay and the region detected through the GPS.
Mobile legends fake location did create havoc in the creator's room. Though there haven't been frequent reports, some accounts were banned for unstated reasons. This can happen when you use a software or application to fake GPS
for mobile legends ios or in Android.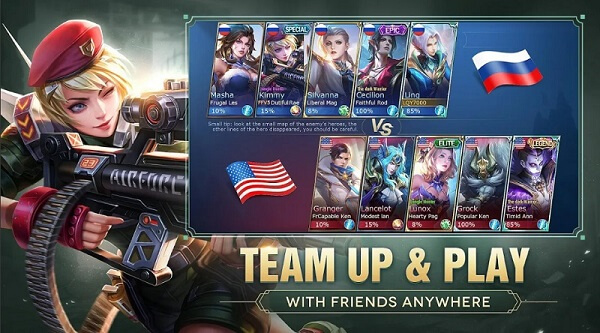 This happens when your spoofing software gives you away or doesn't stay inconspicuous like it should. In other words, you can call it non-reliable and incompitent.
When you use a trusted spoofing software, it will make sure that even if you make a drastic change in your place of stay, the game won't notice it. The account won't be removed and you can continue to enjoy the benefits of the game.
Part 3: A Stable and Safe Way to Fake GPS on Mobile Legends: Dr.Fone-Virtual Location
It is one thing to fake your location on Android and an entirely different thing to do the same on Apple devices. Fake gps location mobile legends might not be an easy task when iOS is concerned. You know how the makers take a keen interest in making the phones non-jailbreak. That is a problem you can find a solution for. In case you are looking for a good way to fake location mobile legends iOS, then dr.fone - Virtual location is the apt application.
It is trust-worthy, safe, keeps you secure and also offers a bunch of benefits that you cannot avoid. The app allows you to simulate your movement from Point A to Point B and it doesn't matter where in the globe these points are lying. Also, its teleport mode helps to transfer you from one place to another quickly.
This works for all non-jailbreak iOS phones and you do not have to struggle with anything to get the job done. You will need a computer to get started and fake gps ios mobile legends can be done like this
Step 1 - Initially you will have to download the application from their official website onto your computer. When you have the executive file downloaded, go for the installation. You will be guided through the process and it should be done in no time.
Step 2 - Once the download is done, open the application and you will see something like the picture below on the screen. Now, connect your iPhone to the computer using a lightning cable.
When the terms and conditions page displays, click on "Agree" and go for "Get started".
The page will be something like this
Step 3 - Now that you are on the application, a map will appear on the screen where you can see your current location. Use "Center on" to get a better view and it will recenter to display the apt location. If you already have a new location in mind then that is okay, otherwise think or look for the location that you want to be in.
Step 4 - On the top right corner of the page you will find a few icons. The 3rd one among them is the "Teleport Mode". Click on this one and a white dialogue box will appear.
Once you know where you want to be teleported (your fake location), enter the same in this one. You can directly mention the name or type in the coordinates. Both will work perfectly.
Step 5 - After you type the location, click on "Go" and the location you mentioned will be displayed on the map. The pin on the map is you. Move this pin to wherever you want and leave it there so that it will register your new location. Now you will find a "Move Here" option on the button of the page. To initiate your movement, click this one after entering your desired location.
And that's how you do it, folks! Not only fake gps in mobile legends, this new location will be displayed on your other social media, dating and gaming apps too. That's a full on celebration!!
Part 4: Popular Apps to Fake GPS Location on Mobile Legends
Now that we have the iPhone covered, let's look into the location spoofing demands of other phones. Be it Android or other jailbreakable phones, you have software and applications that will help you get the same results like in the case of Dr. Fone- Virtual Location. A few of them are mentioned here for you.
Location Faker
If you succeeded in Jailbreaking your phone, then this Location faker is the right app for you. You can follow the assistance of Cydia to follow the installation process. Once you have the application installed, launch it and type in the location that you want to move to. You can also enter coordinates and you'll still be transported there. As soon as your location changes, you can access any app that you want and your new location will be displayed. This works for Mobile Legends as well. You can fake fake gps location mobile legends within no time and hail all the features. However, you should jailbreak your phone first and see to it that this app is compatible with your phone or not.
Fake GPS by Lexa
This is a brilliant solution to faking GPS on your ANdroid phones and works perfectly for Android version 5.0 and above. YOu don't have to jailbreak your phone and undergo any complex processes. You need to get to the developer's options through the mobile settings and permit this one as a mock location app. This is something you can easily do from About phone > Software info (tap 7 times) > Developer's Options. Then you can change your location to anywhere in the world and the same will reflect on your game. Lexa is a well-known developer and gets majority positive reviews from its users. That is proof that this application won't disappoint you.
Fake GPS by Hola
Say "Adios" to all your location spoofing troubles and "Hola" to the newer tricks that make your work easier. Hola has been in the market for a while and its location spoofing app has been in demand since some time now. If you have a phone that has Android 5.0 or above, this app works perfectly on it There is nothing much to learn. You simply have to download and install this application. Once you launch it, you can enter the name of the place you want to be in or the coordinates. The location will be changed immediately. Just like the previously mentioned app, you will have to allow and give permission for this app in the Developer's Options. Once that is done, you are good to go!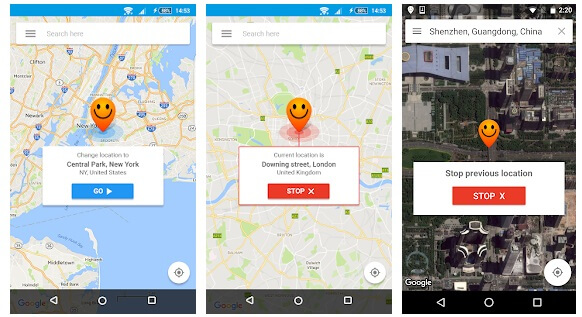 Just like some man out there stated - Where there is a will, there is a way. If you intend to fake gps for mobile legends, it can be done through apps like Dr. Fone- Virtual Location, that keeps your identity safe and gets the work done before you can blink. Moreover, there are several alternatives for your Android phones and once you get the hang of them, it is easy to handle the apps too. Be it a gaming app, social media, dating apps or others, spoofing your location is no big deal these days. However, use this technique wisely and stay safe.