Though, if we change our location on apps like Pokemon Go or Tinder, then we can enjoy a lot of additional features and benefits.
The good news is that with the help of a trusted fake location app, you can easily do the same. To help you, I'm going to list a detailed tutorial on how to use a fake GPS app on Android and iPhone right here.
Part 1: What are the reasons for using a GPS spoofing app?
In recent times, the popularity of fake GPS location apps has been increased due to the following benefits.
Most importantly, you can change your location while accessing any app and protect your privacy.
It can also help in AR and location-based games like Pokemon Go, Ghostbusters, and other apps.
You can also change your location on dating apps like Tinder or Bumble to get more matches in other cities.
It can also be used to send a spoofed location to your friends on social apps like WhatsApp or Snapchat.
There could be any other reason to change your device's location temporarily on an app as well.
Part 2: How to Spoof your iPhone Location without Jailbreaking?
Since there isn't any working fake GPS app on the App Store, most of the iPhone users think they need to jailbreak their device to spoof its location. Though, if you use a trusted desktop application, then you can easily spoof the location of your iPhone and that too without jailbreaking it.
One of these solutions is Dr.Fone - Virtual Location (iOS) that supports almost every iOS device and doesn't need jailbreak access. You can directly spoof the location of your device or simulate its movement between different spots. In this way, you can spoof your location on gaming, dating, social, and other apps pretty easily.
Step 1: Connect your iPhone and launch the application
To start with, you can just connect your iPhone to the system using a lightning cable and launch the application. Go to the "Virtual Location" feature from the home of Dr.Fone toolkit, agree to its terms, and click on the "Get Started" button.
Step 2: Search for the target location
You can now view the current location of your iOS device displayed on the screen. To use this fake location app, you can click on the "Teleport Mode" from the top-right corner on the screen. Now, go to the search option and enter the name, address, or the coordinates of the target place.
Step 3: Spoof your iPhone location
As you would enter the details, the interface of the map will also be changed. If you want, you move the pin around on the map and further zoom in/out to find the desired location to spoof. In the end, you can just click on the "Move Here" button to successfully change your iPhone location.
Besides that, you can also go to the One-stop or Multi-stop mode of the application to simulate the movement of your device between different spots at a preferred speed. It will further activate a GPS joystick that you can use to move realistically on the map.
Part 3: How to Use a Location Spoofing App on Android?
Comparatively, it is easier to use a fake location APK on an Android instead of an iPhone. This is because you can readily find various GPS spoofing apps on the Play Store that you can use for free. Some of the commonly used location spoofing apps would be the following:
Lexa Fake GPS App
Fake GPS App by Hola
GPS Joystick by The App Ninjas
GPS Emulator
VPNa Fake GPS Location
Most of these apps are freely available and work in the same way. In this guide, I have considered the example of the Fake GPS App by Lexa as it supports most of the Android phones. To use any of these best fake location apps, you first need to make some changes on your phone in the following way:
Step 1: Enable Developer Options and the Mock Location Feature
To successfully use any location spoofing app, you need to make some changes to your phone. For instance, go to its Settings > About Phone and unlock Developer Options by tapping on the Build Number seven times.
After that, you can simply go to its Settings > Developer Options and enable the feature to set Mock Location on the device.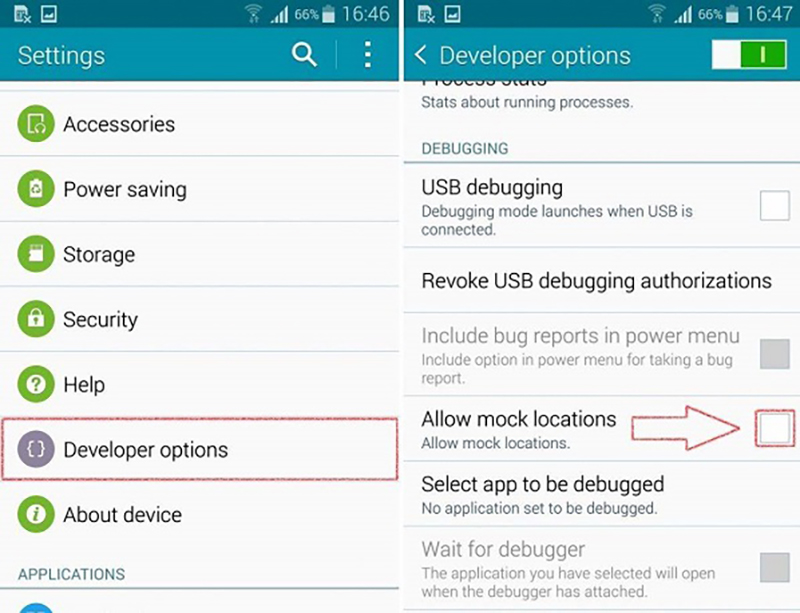 Step 2: Install and Allow a Fake GPS App
Now, you can just go to the Play Store and install any trusted fake location APK on your device. Once you have installed the fake GPS location app, you can again to go its Developer Options and set it as a default app to mock location on your device.
Step 3: Spoof your Android's Location
That's it! Now all you need to do is launch the GPS spoofing app and look for any location of your choice from its search bar. Adjust the pin on the map and drop it anywhere you like. Tap on the Start button now and mock the location on your Android phone for free.
You can later go to any other app on your device to check if its location has been spoofed or not.
The final words:
There you go! I'm sure that after following this guide, you would be able to use the best fake GPS app for Android and iOS devices alike. To make things easier for you, I have listed detailed tutorials to use a reliable GPS spoofing app on Android and iOS phones without any issue. Before you pick any fake GPS location app, just check that it would support your device model and the app on which you wish to spoof your location. Also, try to go with a solution that would not need jailbreak/root access as it can harm your device in the long run.