"I want to fake GPS on WeChat, but I can't seem to get it work. Even after spoofing my location, WeChat detects my actual location instead of the fake one!"
This is a query posted by a concerned user about WeChat fake location who was not able to get it right after consecutive attempts. Since WeChat is used by millions of people out there, chances are that you might also encounter a similar problem with WeChat fake location in 2019 or 2020. Although it might seem complicated at first, the good news is that you can easily fix the fake location WeChat not working problem. In this guide, I'm going to tell you how to set up WeChat fake location in different tried-and-tested ways.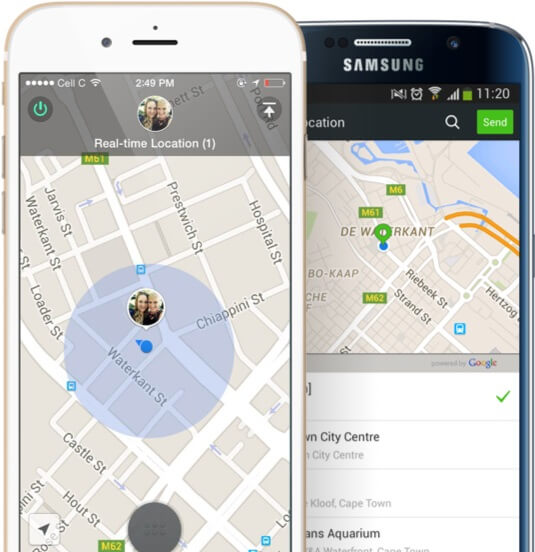 Part 1: Why Should You Fake GPS on WeChat?
Before we get into the details and learn how to spoof location on WeChat, it is important to discuss its need. Ideally, you can wish to fake GPS on WeChat due to either of the following reasons:
You might wish to protect your privacy and not let the app detect your actual location.
A lot of people wish to fake GPS on WeChat to put up a prank on their friends or to just joke around.
By changing your location, you can explore more people nearby and can be discovered by a whole new set of users.
The "Shake" feature of WeChat might let you get connected to someone new at the spoofed location.
You can also change your location to unlock some geo-based features and offerings of the app.
Part 2: How can I Set a Fake Location on WeChat?
You might already know that there could be different ways to set WeChat fake location on an Android or iOS device. There are all kinds of applications and third-party tools that you can try to do WeChat spoof location. Here are the three most popular and trusted ways to fake GPS for WeChat in 2020.
2.1 Use the Native Feature of WeChat to Change your Region
If you are concerned about your security, then using the inbuilt feature of WeChat would be your best bet. To help us prevent our privacy, the application lets us change our location to the country of our choice. For this, you don't need to install any other app or use a third-party tool. The drawback is that this might not be a permanent solution as WeChat would easily identify that you have manually changed your location.
Step 1. To change your present location on WeChat, launch the application and go to the "Me" tab to visit your profile.
Step 2. Tap on your profile, and from all the provided options, just visit the "Region" category.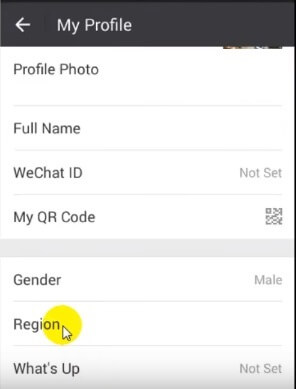 Step 3. This will provide a list of all the supported countries and regions on the screen. Simply enter the location on the search bar and select it to change your present location.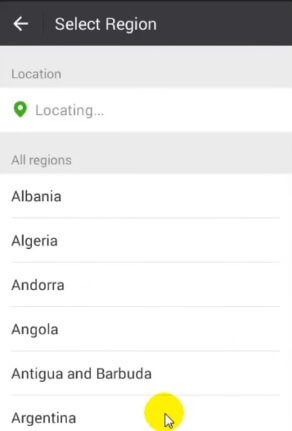 Limitations
This would be a temporary solution as WeChat would quickly detect the flaw
Might not work every time
You can't pinpoint to a particular location
2.2 Try a Location Spoofer App to Fake GPS on WeChat
If you have an Android device, then you can take the assistance of a readily available app to change your location. For this, you need to first unlock the Developer Options on your Android though. While these apps are easily available, not all of them might work and fulfill your requirements. Nevertheless, you can try these steps to do WeChat fake location on an Android.
Step 1. To start with, just unlock your Android phone and go to its Settings > About Phone and tap the "Build Number" feature 7 times straight to unlock Developer Options.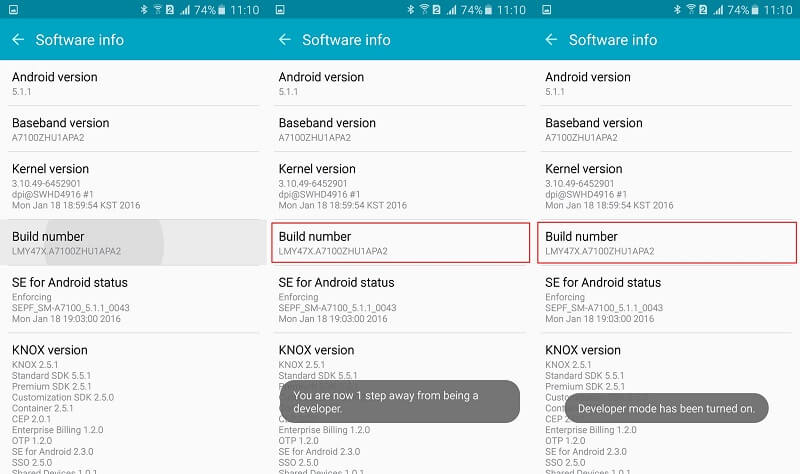 Step 2. Once that is enabled, go to its Settings > Developer Options and turn on the feature to "Allow Mock Locations" on the device.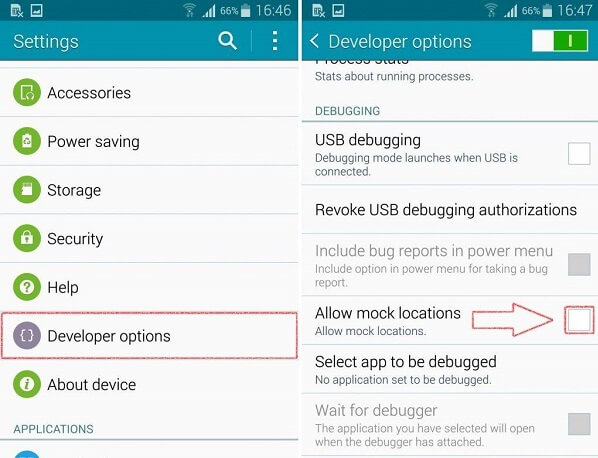 Step 3. Great! Now you can just go to the Play Store and install a reliable fake location GPS app on the phone.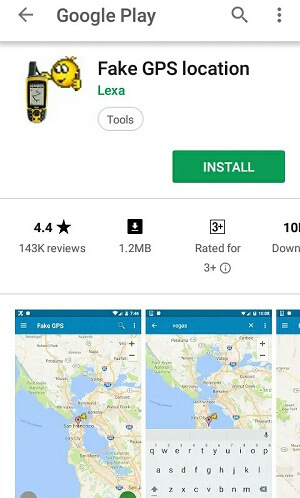 Step 4. After successfully installing the app, go back to your phone's Settings > Developer Options and select the installed app as the default mock location application.
Step 5. That's it! You can now launch the fake location app and use its interface to change the present location of your device before launching WeChat.
Limitations
Not that reliable or stable
WeChat can easily detect it and block your account
Would consume extra network bandwidth
2.3 Spoof Location on iPhone Easily with dr.fone – Virtual Location (iOS)
Since iPhone users often find it hard to fake GPS on WeChat, I would recommend using dr.fone – Virtual Location (iOS). This is a user-friendly desktop application that you can run on your system to fake GPS for WeChat or any other app installed on the device. There are different modes that the application supports. For instance, you can directly spoof your location to anywhere in the world or even simulate your movement from one place to another.
Teleport iPhone GPS location to anywhere in the world in 1 click!
Change GPS location to anywhere globally.
Select a place to teleport by name or coordinates.
GPS automatic movement in 2 control modes.
Enhanced map view to show your location or movement.
The dr.fone application is extremely easy to use and does not require a jailbroken device. That is, you can use dr.fone – Virtual Location (iOS) in minutes without harming your iPhone. All you got to do is install dr.fone – Virtual Location (iOS) on your computer and follow these steps:
Step 1: Launch the Virtual Location tool
Firstly, just launch the dr.fone toolkit on your computer and from its home, open the "Virtual Location" application.
Using a working lightning cable, connect your iPhone to the system and trust the computer if you are connecting it for the first time. Now, to proceed, just click on the "Get Started" button on the interface.
Step 2: Search for any target location to spoof
Once your device gets detected by the application, you can view its present location on the screen. You can click on the "Center On" button from the bottom to view your present location.
Now, to directly spoof your location, just click on the "Teleport Mode" which is the third option listed on the upper-right corner. This will provide a search bar, so that you can type and enter the name of the location you wish to change.
Step 3: Spoof your Location
Once you enter the name of the target location, the interface of the map will change. You can now move the pin accordingly and even zoom in or out the map to drop the pin to the target location.
In the end, just click on the "Move Here" button and your location would be changed. You can even open the Maps app on your iPhone to see the spoofed location. Just launch WeChat now and take the benefit of the spoofed location like a pro.
Part 3: How to Fix Fake GPS for WeChat not Working Issue?
Sometimes, even after doing everything the right way, fake GPS on WeChat might not work. In this case, I would recommend the following suggestions to troubleshoot the fake location on WeChat not working issue.
Fix 1: Restart your Device
Chances are there could be a minor issue with your device, which is causing the issue. If you want, you can just toggle off and on the GPS feature to reset its location. Alternatively, you can also long-press the Power button to restart your device once.
Fix 2: Upgrade or Downgrade the App
Sometimes, users complain that their fake location for WeChat is not working for a particular version of the app. In this case, you can choose to either upgrade or downgrade the app. You can downgrade it by installing its APK from a third-party source. If you want, you can just uninstall the app once and later go to the App or Play Store to install it again.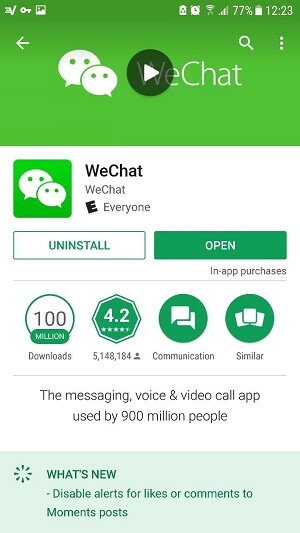 Fix 3: Use a reliable location spoofer
As you can see, there are so many ways to fake GPS on WeChat, but not all of them might fulfill your requirements. If you are an iPhone user, then I would recommend using dr.fone – Virtual Location (iOS) to do WeChat spoof location. On the other hand, Android users can try the Baidu-Location-SDK which is another powerful way to spoof your device's location.
The ball is in your court now! Now when you know three different ways to fake GPS on WeChat, you can easily unlock its location-based features. Out of all the discussed solutions, I would recommend trying dr.fone – Virtual Location (iOS). It is an extremely reliable and smart way to do WeChat fake location that will certainly come handy to you. Feel free to give it a try and let us know about your experience of using a WeChat location spoofer in the comments below.