If you are aware of the iSpoofer pogo combination, you already know how spectacular the duo is. When you want to play a fun game of Pokemon Go, you can always use a good boost in the form of iSpoofer for Pogo. iSpoofer will help you add a joystick to the game and also has a free teleport. Even more impressive are the other features like - IV checking, auto walking and GPS tracking, enhanced throw, fast Pokemon catch trick and a live feed. To top it all, you also get a map to keep an eye on all that is around you.
The main thing that will make your eyeballs fall out is that iSpoofer pogo download doesn't demand the use of a computer! The Apple users can take a breath of relief too. iSpoofer for pogo iOS version works brilliantly on the non-jailbreak iPhones as well.
Let us know more about this spoofing app that makes your gaming experience worthwhile.
Part 1 - Must knows before using iSpoofer for pogo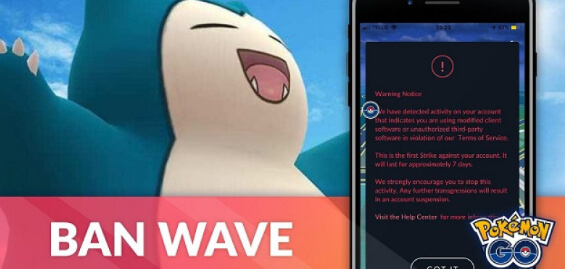 When there is spoofing software on loose, the Pokemon Go makers have to be careful too. In order to make sure that their game is not being manipulated, Pogo has started to ban suspicious accounts. This began during January of 2020. iSpoofer pogo iOS users have reported several such bans and it has been a topic of interesting view sharing.
It could have been the multiple accounts and associated Log in's or the community day tagging that gave away the presence of a spoofer. There is no actual cause that you can point to. Among the various opinions rises one more that says that the version of iSpoofer pogo download is responsible.
When the makers are smart, you have to be smarter. That is why several new versions are being tested to finally settle on the one that lasts.

iSpoofer for Pogo download is still possible and it is putting in more efforts to draw users. The new iSpoofer pro plan takes the features to a next level and all you have to do is pay $5 per a month! That's a reasonably low price for the alluring service they provide you.
To begin with, you can be somewhere else without moving from your couch! Ta-da! Teleporting! Along with it, other features like auto walking, brilliant overhead throws and it also shows maps where you can see gyms with empty spots. You can control the movement of the character with a handy joystick.
I would call it a superb deal for the price!
Part 2. How to Download and install iSpoofer for Pogo on PC
iSpoofer pogo for iPhone is capable enough to show miracles without the aid of a computer. But that doesn't mean pogo iSpoofer cannot work on PCs. The iSpoofer pogo download and iSpoofer for pogo installation can be done on computers and laptops as well. Let us know more about that aspect.
To get started, for the iSpoofer pogo direct download, you will have to visit the official website of iSpoofer and there you will be welcomed with a screen like this one: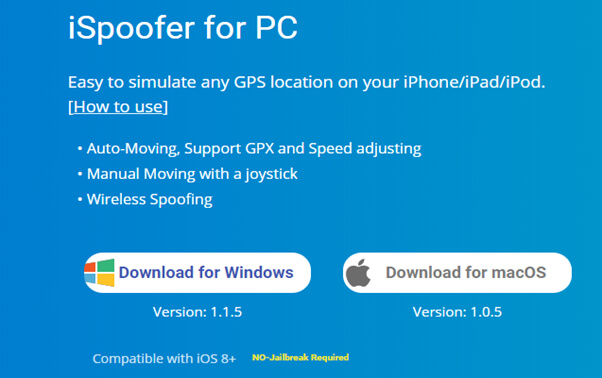 Depending upon your device type, you can either click on DOwnload for windows or Download for MacOS.
As soon as the download begins, you will see that the iSpoofer_Setup_1.1.5.exe file is being downloaded. Once that is done, open the file, click on Next and initiate the installation process. You will be prompted to take the steps so you don't have to worry about the process.
However, make sure you have enough space on the PC as 137 MB of free space is required.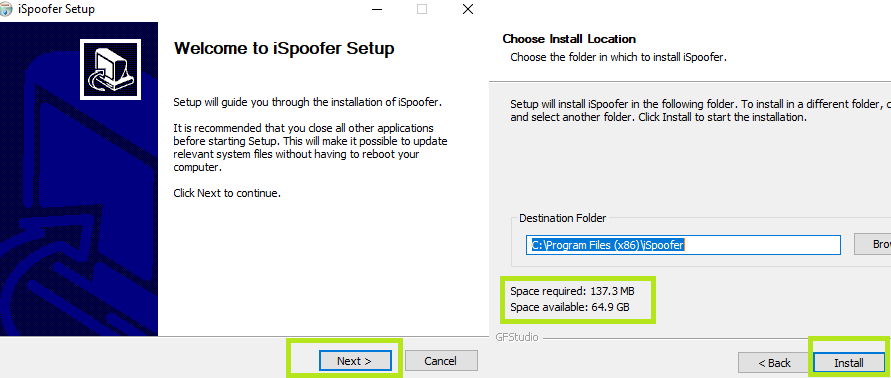 In case your iSpoofer for pogo not installing, it could be because of the lack of space on your PC or your executive file is broken. Add unwanted files to the recycle bin, download exe again and you won't have a problem.
Part 3. How to Download and install iSpoofer for Pogo on iPhone
It is a very tricky job to install iSpoofer pogo for iOS. Well, this statement can be backed with several options. FIrstly, the entire iOS system is non-jailbreak. You cannot tamper with it and that reflects in the brand's reputation too. On top of it, Pokemon Go also has its own ways of detecting the spoofers. Doesn't that explain the bans? While these statements make the scenario negative and pessimistic, let me tell you that though things are difficult, if you find the right key, any door can open. So, at that note, here's how iSpoofer pogo iPhone download is possible.
The iSpoofer pogo app is an uncertain dream for iPhone users. However, by following this procedure, it is possible to get the results.
The two helping aids in the process will be your certificates and impactors.
1. Start off by clicking install on your browser. This is usually Safari in the case of Apple users.
2. Your device will tell you that download.iSpoofer.com is attempting to download files for Pogo iOS. Give your nod or in other words, permit the installation.
3. The immediate result will be that the iSpoofer icon will find its place on your home screen.
4. Then you will have to go to your settings to make certain changes. Navigate to settings and select General. There go for the Device Management.
5. There you will have to find the installed Enterprise app Certificate. The iPhone asks you permission to let any outside app in, warning you of malware or bugs. In that case, you have to only allow those files that are trustworthy. iSpoofer comes under the trusted list. So, smile and confidently trust it.
6. Now that you trusted the app and your device also noted your decision, your iSpoofer iOS Pogo download is successful and it is ready to launch into action.
7. Now you can run the iSpoofer app for Pokemon Go.
Now you can enjoy the benefits of the spoofer while resting in the comfort of your house. But if the time comes when iSpoofer for pogo not working, then you don't have to worry. The simple trick is to uninstall the application, reinstall and repeat all the steps again. Thanks to the Apple Certificates, this technique works most of the time.
Most of the users panic when they see the untrusted Developer or Untrusted merchant message on the screen. This doesn't imply that the executive file has malware or that the app is not functional. It is a precautionary step that Apple takes to inform the users that the download is taking place only after the agreement from the person making the download. Since it is not an application made by Apple manufacturers, it is simply telling you that there is a slightest tinge of doubt attached to the incoming guest. Follow all the steps correctly and you will be able to create the iSpoofer Pogo link.
Part 4. Any safer alternative to spoof Pokemon Go
Nobody wants to take the hard path. Because the results aren't certain and you have to put in a lot of effort. With fears like iSpoofer Pogo not working, difficulties in the iSpoofer pogo iOS download and the subsequent iSpoofer for pogo installation, it prompts people to look for other alternatives.
Every master scheme has a well thought out Plan A and if that fails, the Plan B comes into picture. If I did the honors of introducing you to Plan A, let me launch Plan B too. A safer alternative to iSpoofer is Dr.Fone-Virtual Location. If you heard about it already, you'll know about the useful features and if not, you can know them now.
Teleport iPhone GPS location to anywhere in the world in 1 click!
• Use Pokemon Go joystick for more flexible GPS control.
• Simulate movement along a route (set by 2 spots).
• Simulate movement along a route (set by multiple spots).
• Find and catch Pokemons with ease
This is a magical iOS location changer that you need to try out at least once. It can manipulate your presence in a particular place and the same will be shown on the GPS location too. Not only for gaming but for privacy reasons, this is a brilliant approach. You can also use it for dating apps or social media to mask your real place of stay.
This virtual GPS manipulator lets you teleport at a speed of 60 mph and that will enable your character to choose and travel down the routes alone. You can select your routes and manage your speed as well. While you are at it, if you need a break then you can simply keep the route on hold, get your work done or take a nap and get back into action.
To make things better, it also has the ability to display the time. If you are on a particular route, it will tell you the approximate duration needed to complete the route. This will be stored in the memory so that the next time, you can have your character walk down the same route again. This is a brilliant way to catch more pokemons.
Now that you know the benefits, here's a guide to tell you how to download, install and run the application. You need to get your PCs ready for this.
1. Open your computer and visit the official website of Dr.Fone-Virtual Location. It is easy to find on any search engine.
2. You will have the "Download Now" option and you need to click on that. The screen appears something like this.
3. Once the executive file is downloaded, you can open it, follow the steps and complete the installation process.
4. As soon as that is done, you can launch the Dr.Fone-Virtual Location program on your PC.
5. Now get your iPhone and connect it to the PC using a lightning charger. Once the device is detected, go for the "Get started" option.
6. Now you can go to the top right corner of the screen that allows you to destine your movement between two points. You can opt or any location and choose to "Move here".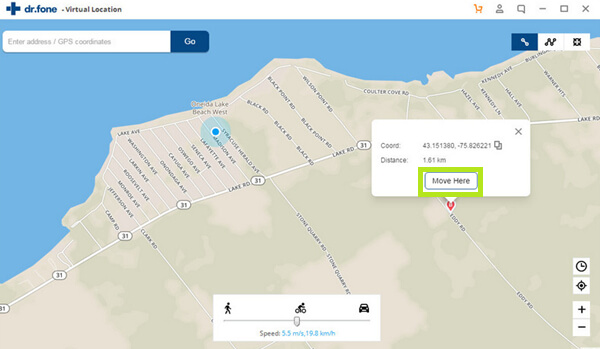 7. You can even decide the number of times you want to move, enter the count and click on "March" button.
8. This is how you create the illusion on Pokemon Go that you are walking down a route. On the bottom of the screen you will see a slider that lets you control the speed of walking.
9. If you intend to control your movement on more than one route, then go for option present in the toolbox on the top right corner - "multiple stop-route".
10. Find the location of choice and select move here. Once that is decided use the "March" option to go there.
By the way, you also can know more fake GPS apps through 8 Best Pokemon Go Spoofers for GPS Spoofing on iOS+
And that's how easily you can do it. In case, you are not satisfied with iSpoofer for Pogo, you can go for this one. However, it is also true to resist the iSpoofer pogo pair and do try out both of these ways to make your gaming experience adventurous.