Bryan, a social network research specialist wants to explore the features built-in at Grindr platform. He was quite busy in tapping various controls during his research on this app. At one point in time, he was worried about his privacy while accessing the stuff at this platform. That when users think about fake GPS Grindr.
Many users of Grindr have similar issues when they maintain an account on this application. They had stepped into Grindr due to their inquisitiveness. But at the same time, they want to safeguard their privacy by spoofing the location.
How do you permit Grindr to change location in Grindr on your device to get rid of issues while accessing your favourite match in the app?
Let's read this article and find the answers!
Part 1: What is Grindr, and its privacy risks
Launched in 2009, Grindr is a world-famous dating app for bisexual men and gay. The app aims to provide men who belong to the LGBT community a safe, secure, and reliable platform. Users can easily check profiles of other users in their neighborhood, ask for a suitable date, and exchange messages.
You can check out profiles in different locations, get more visitors on your profile, and date people from different locations.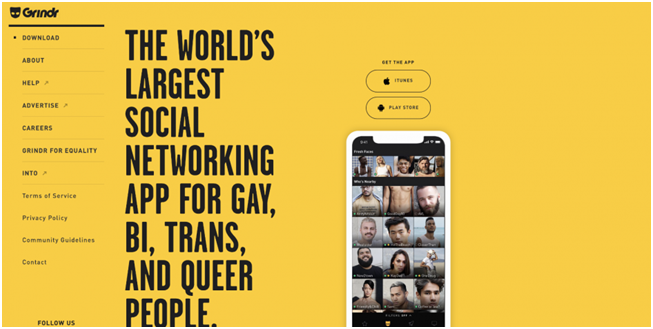 Sometimes, you might want to change or fake the location on the dating app. That's why you may ask, "How can I fake location for Grindr?" "Can I use Grindr without location sharing?"
Though the app is reliable and safe for the LGBT community, many people with bad intentions may compromise the privacy and wellbeing of genuine users of the platform. Some potential privacy risks are:
Malicious users can uncover your location.
The app constantly tracks your location using GPS and Wi-Fi to match you to other app users in neighborhood. Like many other apps, Grindr also comes with several vulnerabilities. For instance, the app shows the distance between you and your matches with a great detail.
Though the app now allows users if Grindr turn off location services or disable their location sharing, cybersecurity researchers can still find location of Grindr users as well as their personal data. Thus, there information still can be uncovered by third-parties.
Users in anti-gay countries could be in danger.
Privacy risks are higher on areas with anti-gay regulations. Unfortunately, as of now, homosexuality is illegal in about 69 countries, including some using the death penalty for the same.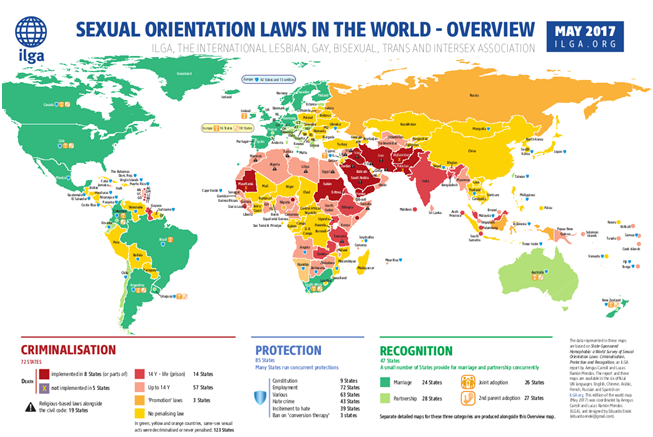 Some of these countries include Egypt, Singapore, Sri Lanka, North Korea, Iraq, Russia, Lebanon, etc. Other countries that have illegalized and or criminalized the LGBT community include Nigeria, Qatar, Saudi Arabia, Barbados, Malaysia, Saint Lucia, Kenya, you name it. That's why users from these countries can have extreme consequences. That's why Grindr GPS spoof apps and techniques are becoming popular these days.
Users'health information can be revealed.
In April 2018, it was revealed that Grindr was sharing HIV status of users, along with their email IDs and location data, with other companies. Though the company initially defended the practice, they claimed that users consent to data-sharing while signing up for the app.
As a result, many gay men were shunned by their families while some were taken into custody, due to the lack of safety on the app. That's why users should think seriously when sharing their information and using the app.
Though there are many ways to tackle the privacy issues, using Grindr turn off location services can be one of the safest ideas. Though hiding your distance on the app can help, you can ensure extra safety by installing a fake-location app and spoof your actual location. There are many such apps that let you fool other apps into believing you are using it from another location.
Sadly, because of a recent Grindr update, not all location spoofers work any longer on smartphones. In order to safely and easily spoof your location, it works to download an Android emulator on your computer. Use the app on your computer to help trick Grindr location accuracy and hide your original whereabouts.
Part 2: Turn on/off Grindr location services
It is a good practice to use Grindr turn off location services to get rid of unnecessary privacy issues. You can be an active member if you make changes in the location services settings on your phone. Follow the below steps to turn off the location services for the Grindr app.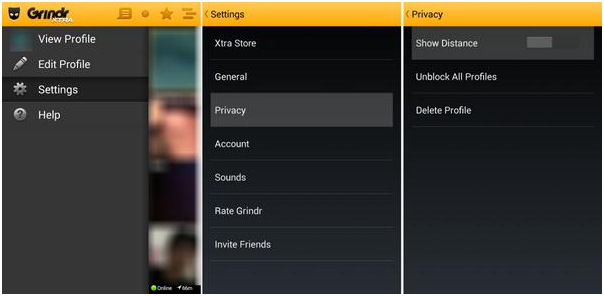 The below settings will prevent the Grindr app to access the location details if the phone. In your iOS device try out the below-discussed procedure.
Step 1: Open the "Settings" option in your device
Step 2: Tap the "Privacy" label in the expanded list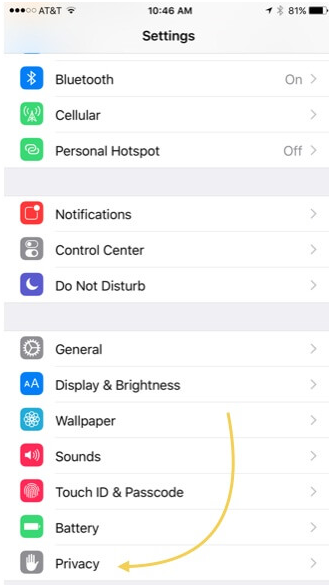 Step 3: You must scroll down and choose the Grindr app from the list and change "while using" option to "Never" to protect the location details of your phone from other Grindr app members.

Part 3: 4 ways to change location on Grindr
There are multiple methods to change Grindr location effectively. You can choose the perfect method which suits your needs without any compromises. Many professionals and experts suggest social media users protect their location data to avoid unwanted cyber issues in future.
As you all know that Precaution is better than cure with a similar note it is a safe practice to safeguard your location details at the cyberspace. There are many supporting apps available in the digital market to fake the location of your device efficiently.
It's enough if you make a few clicks to Grindr GPS spoof for your location quickly. There is no need for any technical skills to implement the below-discussed procedure. Just follow the steps for successful location spoofing in your gadgets.
3.1 Change location on Grindr using iOS GPS spoofer
If you own an iOS device and looking for apps to fake GPS Location on Grindr application, then dr.fone from Wondershare is a perfect choice. This app is exclusively designed to establish a virtual location in your device through a few clicks.
You have to spare less than a minute to change Grindr location optimally. The dr.fone is a sophisticated tool, which satisfies your needs by spoofing your location to explore a lot in your favourite social media application.
How do you change Grindr location using dr.fone app?
Step 1: Install the app
Make a quick download of dr.fone at its official website depending on the type of iOS. Install it by following the wizard and press the app icon to explore its built-in features.
Spoofing Grindr location in 1 click!
• Teleport to anywhere in the world.
• Simulate movement along a route (set by 2 or multiple spots).
• Use fake GPS joystick for more flexible GPS control.
Video about how to change Grindr location:
Know more about Dr.Fone-Virtual Location? Please click Dr.Fone - Virtual Location: Grindr Fake GPS Location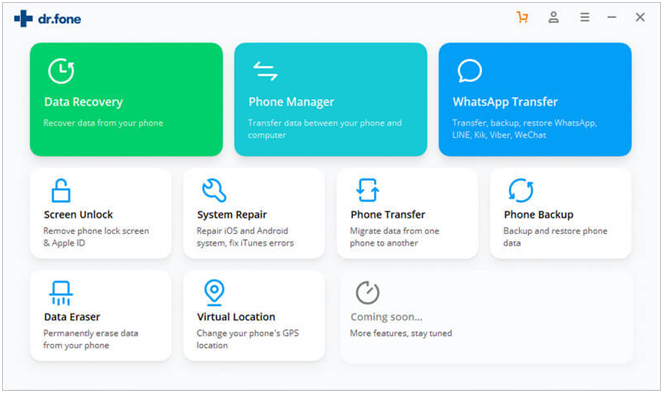 Step 2: Map view
Tap the "Virtual location" option and hit the "Get Started" button. Next, in the map view, you have to press the "Teleport" icon which is displayed at the top right side of the screen. Hit the third image in the horizontal list.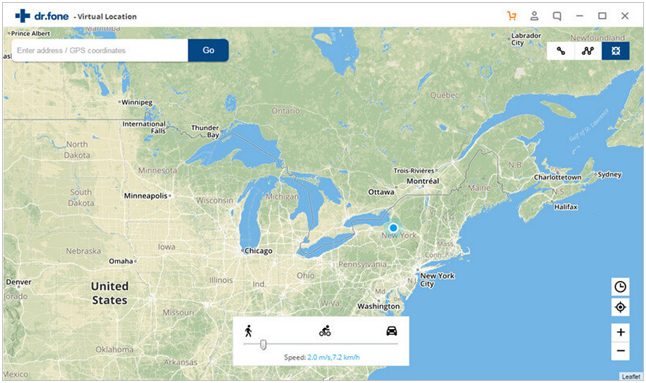 Step 3: Enter your favourite place
You can now enter your favourite spot in the world by entering the address in the text box and press the "Go" button. Your device's current location shifts towards the specified place and you must confirm it by hitting the "Move here" option.
Step 4: Verify the new location
Now, open your device's Map app and view your favourite spot as the current location. This verifies that your location is shifted successfully without any issues. So you can now use Grindr without location sharing to anyone.
3.2 Change location on Grindr using Android GPS spoofer
When you explore play store you will end up with a huge collection of Android GPS spoofer apps. This application for Grindr change location Android fakes your device location in an effective method. Install this app if you are an active member of any social media platform.
How do you make use of the Android GPS spoofer apps?
Install Android's location spoofing app like "Fake GPS location" for explanation purpose.
Step 1: Go to the "play store" to download the app and install it
Step 2: Follow the wizard "settings-Software information-Build number-Developer option-Mock location app" then select the option installed third-party software.
Step 3: To avoid confusion, choose "phone only" option in the "Location methods" page. This is done to restrict the location access via GPS.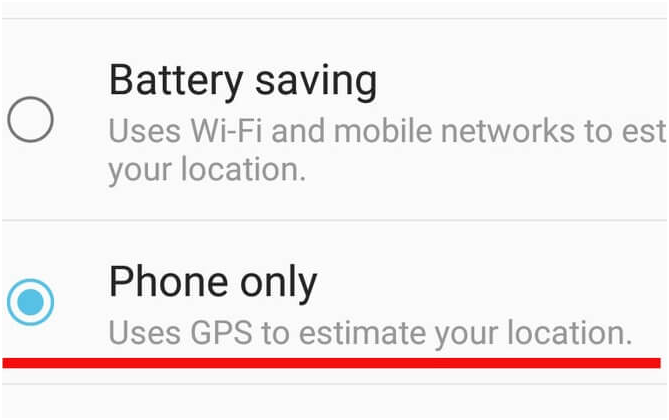 Step 4: Now, open the spoofer app and hit the green button at the bottom right side of the screen. You will be driven to a new location automatically. To check your new location you must open the Google maps in your Android device.By the way, you need to know something while using spoof Locations on Android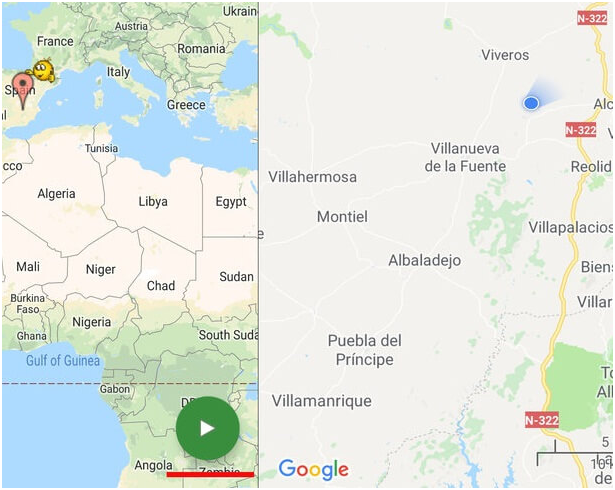 3.3 Explore matches in other locations with Grindr XTRA
One of the unique features of GrindrXtra is that you are allowed to explore profiles in other location. Some of the added features using the subscription as follows.
No interruptions due to advertisement
Quickly send recent profiles
Additional filters and mark the profiles easily
Save your favourite chats
You can check out more than 600 profiles
How do you turn on the explore mode to other locations in Grindr app with the add on feature GrindrXtra
Step 1: In your iOS device, open the app and hit the "Nearby" option at the top of the screen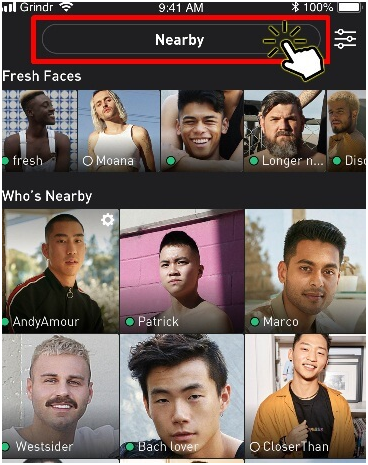 Step 2: Enter your favourite location in the text box and you will be able to view a list of profiles residing in that location.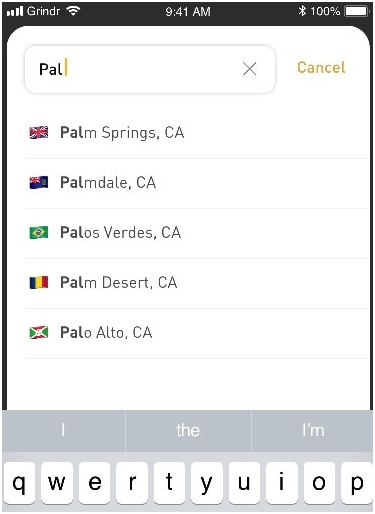 Step 3: Choose your favourite match
Using the above steps, you can explore profiles beyond boundaries easily and facilitate yourself Grindr change location Android.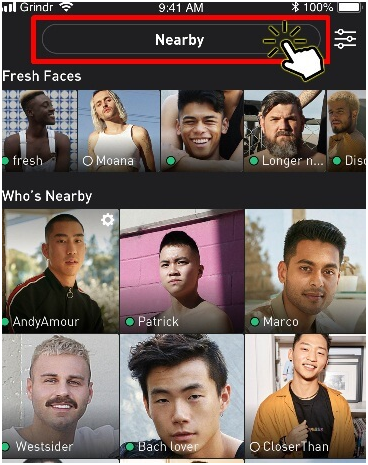 3.4 Change location on Grindr with a VPN
VPN is a common technique to fake your device's location. There are a huge collection of VPN apps to spoof your location by connecting to your desired servers
Step 1: install the Express VPN app in your gadget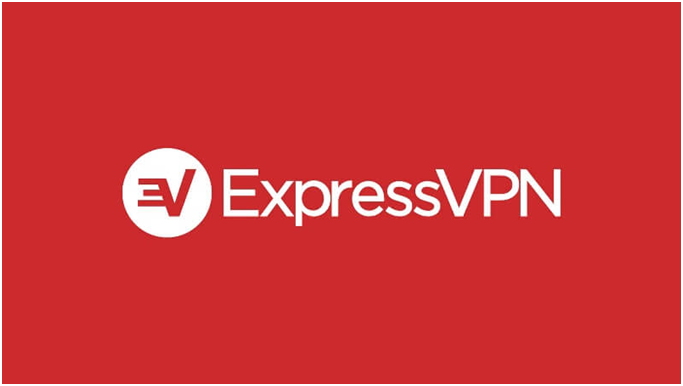 Step 2: Tap the browse button and enter the desired location. Choose the location and press "Connect" button.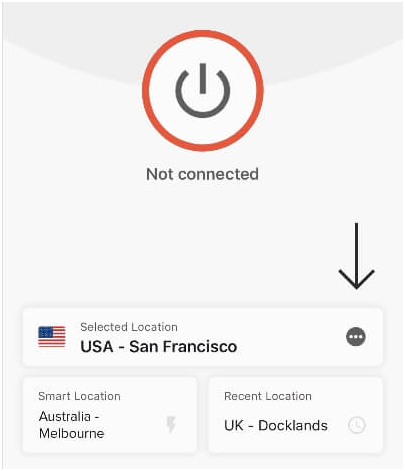 Before the recent update, Bluestacks Grindr location was also an option to fake your location on the app. But due to the recent update, you cannot use this software program to spoof Grindr GPS location.
Part 4: Is Grindr location wrong? How to fix it?
Do you want to fix an accurate location in the Grindr app then follow the below methods:
Method 1: You must force stop the Grindr app then correct the location services in your device's setting option and then reinstall Grindr
Method 2: Install dr.fone app, make use of the "Virtual location" option feature to fix the wrong location of your device.
Method 3: If you own an Android gadget then utilize Google map to fix incorrect location service in your device. In case of an iPhone, make use of Apple Map.
Method 4: For an Android gadget, you can try out Scruff tool to reset your device's location at an accurate spot.
Conclusion
Finally, you had a better understanding of how to spoof device location and methods to fix when it displays a wrong location. You can change Grindr location easily using the third party application effortlessly.
The GrindrXtra features seem to be exciting for the newbie in the Grindr app. It is the perfect time to protect your privacy when you surf through profiles for dating across boundaries.
It is highly recommended to spoof your device location when you are active in the Grindr app. Take precautionary steps when you meet strangers in this online platform.
With the convenient methods discussed above, you can easily spoof location on Grindr and use the app safely. Good luck, using Grindr!