iTools location spoofer
Perfect iPhone/iPad GPS Location Spoofer
Efficiently migrate photos/music/videos between iOS devices and Mac/PC.
Compatible with all major Windows Operating System.
Supports all iPhone/iPad devices running on iOS 12 or earlier.
Offers iOS to PC Screen Mirroring.
4.0/5
Pros
Efficiently backups and restores iPhone and iPad devices.
Smoothly fakes GPS location of your iPhone/iPad.
Cons
Reportedly, the program is not compatible with antivirus program.
The pricing is quite expensive.
Functionalities (for instance WiFi sync) require iTunes to be pre installed over your PC.
No Support for Android devices.
Features
Fake iPhone/iPad GPS Location With this tool you can easily spoof GPS Location over iPhone/iPad running on iOS version 12 or below.
Backup & Restore Data It enables you to backup almost all your iPhone/iPad data and restore it backup easily whenever you require.
iOS Screen Mirroring Provides the privilege to mirror your iPhone/iPad screen over your desktop be it Windows or Mac computer.
Customize Ringtones Offers functionality to create ringtones from your favorite songs that you can set instead of default tones.
Compatibility
Computer system for install
Windows XP
Windows Vista
Windows 7
Windows 8
Windows 10
iOS model to work with (ios 12 and below)
iPhone 4
iPhone 5
iPhone 6
iPhone 7
iPhone 8
iPhone X/XS/XR
iPhone 11
iPad mini/2/7/10
iPad Air
iPod touch
Mobile apps to change GPS
Pricing
Platinum License
Premium License
Price
$69.95
$129.95
$30.95
$34.95
Licensed PCs
15
30
1
5
Auto renewal by default
(Cancel anytime)
Yes
Yes
Yes
Yes
How to Use the Program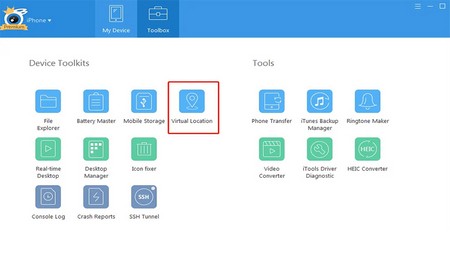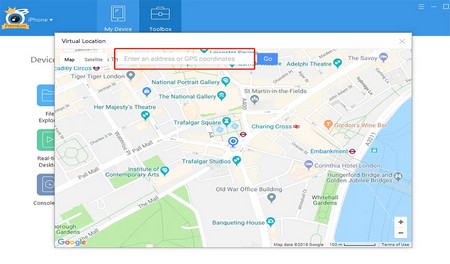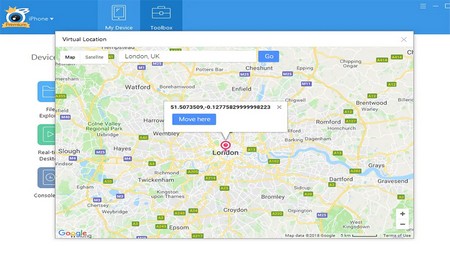 1
Opt for "Virtual Location" under Toolbox.
2
Enter the "GPS coordinates" and tap "Go".
3
Hit the "Move here" button on the location with a marker.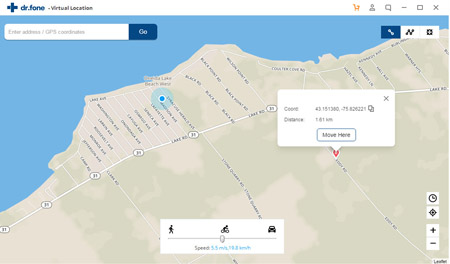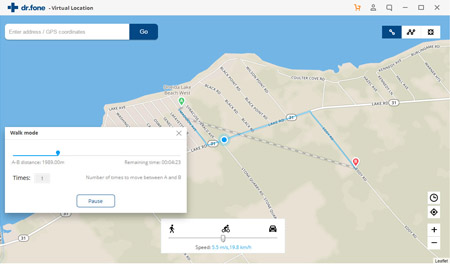 1
In 1-stop mode, select your destination.
2
Confirm your path and click "March".
3
Pause at any point at your convenience.
1
Opt for "Virtual Location" under Toolbox.
2
enter the "GPS coordinates" and tap "Go".
3
Hit the "Move here" button on the location with a marker.
User Experience & Reliability
Upon testing the program, the GPS location spoofing worked quickly and quite easily. Moreover, there was not much hassle experienced for performing the basic features like transferring data between iPhone to Windows computer.
But, the problem occurred while launching the iTools software over your PC for the first time. When you do so, it requires download of Apple drivers to facilitate smooth detection and working with iOS devices. Now, here's the issue, it often fails to download and install the drivers with unknown errors.
A yet another annoying problem that may even encourage you to avoid this software is that upon installing iTools on your PC. In case, you have an antivirus like bitdefender safeguarding your PC, it may detect the iTools software as suspicious.
Did the program help you? Rate it to let others know.