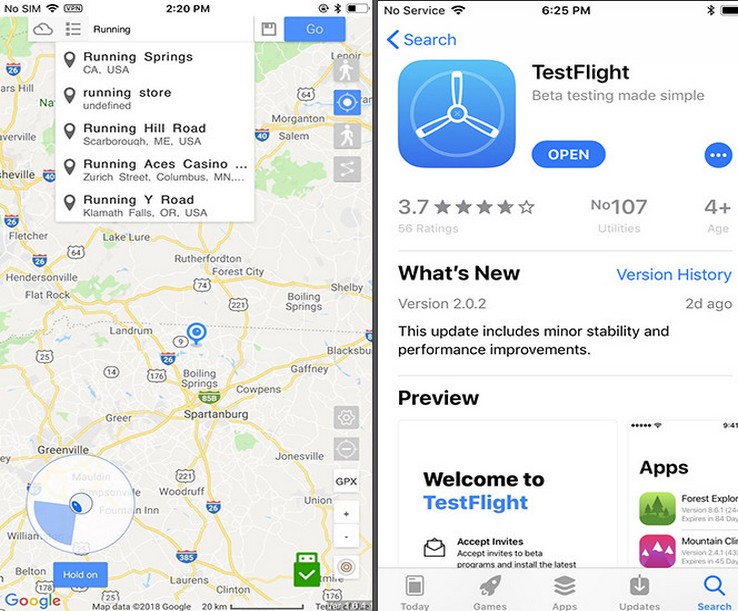 iTools Mobile
Plug and Play GPS location Spoofing
Mini & Portable Design
No need to jailbreak iOS device
Advanced GPX Files Support
360 degree Joystick Controls
4.0/5
Pros
Smoothly works with iPhone/iPad to simulate GPS location running on iOS version 12 below.
Absolutely no precondition to jailbreak your device, be it iPhone or iPad or iPod.
Cons
The iTools mobile cost is quite expensive.
Doesn't fully support the latest iOS firmware version, i.e. iOS 13.
No Support for Android devices.
Features
Fake iPhone/iPad GPS Location without Jailbreak: Supports GPS Location spoofing over all iPhone/iPad devices running on iOS 12 or earlier with absolutely no need to jailbreak your iOS device.
Activate GPX files: Provides the privilege to import and implement the GPX files to the map.
Plug and Play GPS location Spoofing: Simply plug and play this dongle into your iOS device to simulate GPS location. That implies, you just don't need to connect your device to any big computer or software.
Speed Adjustment, Automatic Movement and Joystick Controls: With the 360 degree Joystick controls you can manually move your location over the map. Also, enables you to customize the movement speed for automatic movements.
Compatibility
iOS models to work with(ios 9 to ios 12)
iPad Air/iPod touch/iPad mini/2/7/10/iPhone X/XS/XR and before
Mobile apps to change GPS
Tinder/Life360/Pokemon Go/Jurassic World Aliver
Pricing
iTools Mobile
iTools Mobile + Go
Price
$59.00
$65.00
Supported Devices
One at a time
One at a time
Subscription Type
Lifetime (One-off payment)
Lifetime (One-off payment)
How to Use the Program
1
Choose Teleport mode from the upper right.
2
Search for your desired location to teleport.
3
Click "Move Here" to teleport to the location.
1
In 1-stop mode, select your destination.
2
Confirm your path and click "March".
3
Pause at any point at your convenience.
1
In Multi-stop mode, select any places to pass by.
2
Set the times to go back and forth.
3
Pause or march on at any point you like.
User Experience & Reliability
When the iTools Mobile is forged to our testing standards, the process seems to be a bit complicated as compared to other spoofing hardware devices available in the market. But, the GPS location spooing worked reliably well. The only problem that you may face is that, since the latest iOS 13 version is not supported, the users willing to buy this tool, need to downgrade their iOS firmware to iOS 12 if their device is running over iOS 13.
Did the program help you? Rate it to let others know.