Over the years, Tinder has become the world's most popular dating app to meet new people. Every day, millions of people find dates by right-swiping on their Tinder accounts. Of course, swiping becomes more fun when you have a free Tinder Gold subscription.
For people who don't know, "Tinder Gold" is an upgraded version of the regular Tinder app. In addition to all the features you'd get in the basic app, Tinder Gold will provide you with a couple of exclusive features such as unlimited likes, 5 super likes per day, unlimited swipes, and zero Ads.
If you use Tinder regularly, you already know that these features are worth fighting for. Unfortunately, the price tag of $30 USD/month makes it quite difficult for many Tinder users to purchase the Tinder Gold subscription.
In case you don't want to pay for the subscription, today's guide is for you. We have scribbled down a list of four hacks you can use to get Tinder Gold for free. So, if you want to step-up your swiping game on Tinder, continue reading.
Part 1: Do not forget the free trial period
Before you dive into the complicated ways to get Tinder Gold for free, make sure to utilize the free trial period. Every new user gets a 3-day trial period, where he can access all the Tinder Gold features for free.
Free Trial period is also beneficial for people who aren't sure whether they want a Tinder gold subscription or not. Despite having quite impressive features, Tinder gold isn't a necessity for many people.
There are users who don't use Tinder frequently and may not want to commit to Tinder gold at all. If that's the case, it's better to install the Tinder gold app, use the free trial period, and decide whether you want it or not.
To get the free trial period, simply open your Tinder account and tap on the "Upgrade to Gold" button. Now, choose the right plan method and enter your bank details.
The day before your trial period will get expire, make sure to cancel the subscription. In this way, you can enjoy the free trial period without paying even a single penny. It is also important to understand that you can only get a single trial period for your account.
It means if you want to use free Tinder Gold 2020 for an unlimited time period, make sure to choose another method from the list.
Part 2: Search for a Tinder Gold promo code
The Internet is stacked with promo codes for different apps and websites. While many people use Promo Codes on e-commerce sites only, you can also get them to install Tinder Gold for free.
Although, you may have to put in some efforts to get a working promo code, considering many platforms provide fake codes as well. Try to look for the latest promo codes so that you don't have to go through too much hassle.
Here's how you can use a working Tinder Gold promo code.
Step 1: Open the Tinder app.
Step 2: Tap on your "Profile" icon and select the promo code.
Step 3: Paste the promo code here and tap the submit button.
Step 4: If it's a valid promo code, you'll immediately get the free Tinder gold access.
Promo codes may not get you permanent access to free Tinder gold subscriptions as they are mainly discount codes. No doubt, you'll get a limited time period (maybe one month) for free, but you'll still have to purchase the subscription later on.
Part 3: Use a subscription ID generator (worth trying but no 100% guarantee)
Another way to get Tinder gold for free is to use an online subscription ID generator. There are several online platforms that'll automatically generate a subscription ID for your account.
In return, you'll have to perform a specific task such as complete a survey or download a couple of apps on your device. If you're a frequent Tinder user, this trade-off is completely worth it.
Game-Keyz is an online ID generator that you can use to get your free subscription ID for Tinder gold. Follow these steps to generate a working subscription ID through Game-Keyz.
Step 1: Open a browser and enter https://game-keyz.info/tinder/.
Step 2: Enter your e-mail ID that's linked with your Tinder account and choose Tinder Gold from the option.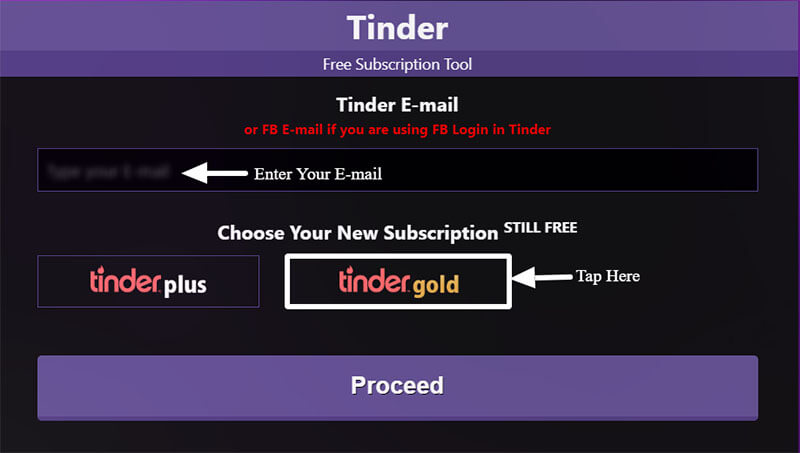 Step 3: Tap the proceed button and the tool will automatically start generating a working ID for your Tinder account.
Step 4: You can only use this ID once you download a couple of apps on your smartphone. Tap the "upgrade-Tinder" button and you'll be prompted a new window with links to 3-4 apps. Install these apps and open them for 30-40 seconds. Once you've done the task, your Tinder account will automatically be upgraded to TIndero Gold.
It is also worth noting that online ID generators are a gamble and most of them don't always work.
Part 4: Install a Tinder Mod APK
If you're looking for a permanent solution to use a free Tinder Gold account, installing a Tinder Mod APK will help. These are basically a modded version of the Tinder app where you'll get access to all the Tinder Gold features without paying any subscription fee whatsoever.
Follow these steps to install a Tinder Mod APK on your device.
Step 1: Download any Tinder Mod APK from Google.
Step 2: Click on the downloaded file and tap the install button.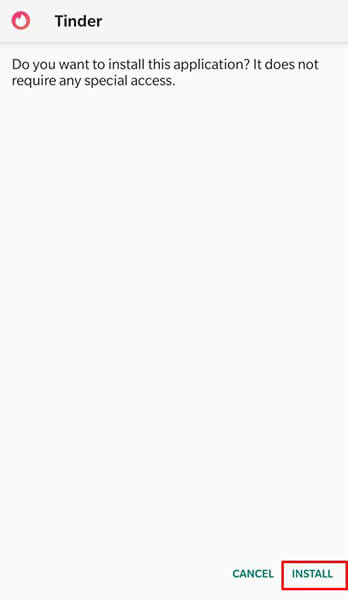 Step 3: Enable the "Install from Unknown Resources" to move ahead with the installation process.
Step 4: Let the installation process complete and tap the "open" button to open the app.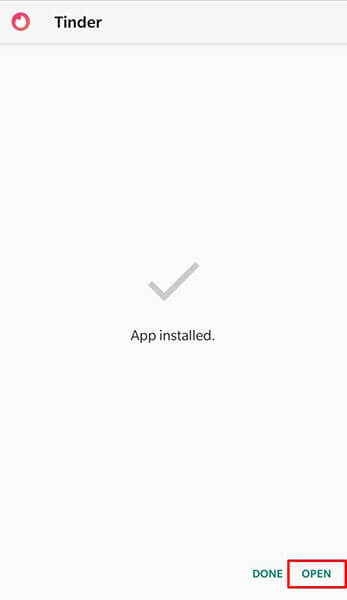 Step 5: Log in with your Facebook account credentials and enter your details such as name and date of birth. That's it enjoy unlimited swiping for free.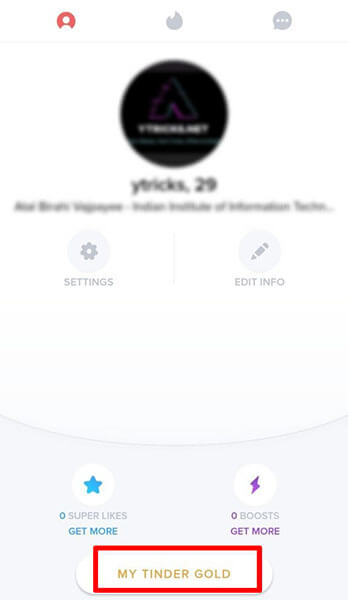 Final Verdict
Tinder Gold is an extremely useful feature for people who frequently use Tinder to find a date. In case, you often run out of swipes on Tinder, upgrading to Tinder Gold will help. The above-mentioned tips will help you get Tinder Gold app for free and you'll be able to access the premium features without paying any subscription charges.