The world is a big place and you might find it difficult to spot your loved one. But dating apps like Tinder have made it easy to approach your love interest. 'Swipe and Like' became the new cool. When you make a profile over sites like tinder, it is always good to do something unconventional. One such option is the combination of tinder and Spotify. You can add Spotify to tinder and display your music taste to others on the app. The Spotify anthem will also serve as a means to display your love for specific artists. When 'likes' match, so will people. Here's how you can transform your tinder profile for good.
1. What can Spotify do on Tinder?
The first impression is the best. And in dating sites like Tinder, your first impression is the only impression until you meet them. Your pictures are the only things the other gender will see. But if you can add a good bio and decorate your profile the right way, you will seem more realistic. That is what Spotify will do for you. Fake profiles are all over tinder. You never know when you are eyeing the wrong guy or girl.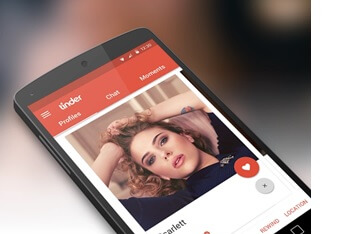 Music connects people. If you know something about the other person, it becomes easier for you to maintain a conversation. You can steer things towards other topics that entertain both of you.
Tinder-Spotify has come together very recently. Tinder introduced Spotify's new artists to their site. When you add music to your profile, the other person will know your music choices. In case, both of you have similar preferences, you will get a right swipe.
Sometimes, they can even understand what kind of a person you are by assessing the music you listen to. Pop, melodies, jazz, classics or metal – your likes can create a picture of you in their head. Since they didn't see you before, the picture that forms in their imagination will be the only thing to drive them towards the 'right' swipe.
People tend to ignore profiles that aren't 'open' and 'frank'. Give it a thought. Will you go for the profile that has bio and tunes or the one with a single picture and nothing else? Music can be a subconscious assurance that the profile is real and genuine.
2. Why connect Spotify on Tinder?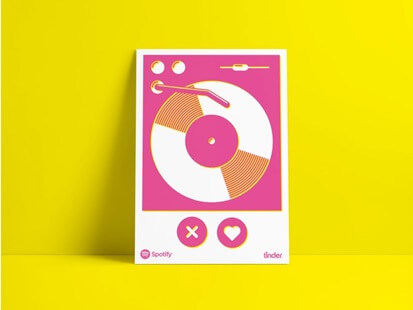 2.1 Start a conversation
Most of the youth these days have a problem in striking a conversation with the ones they like. This applies to tinder as well. Even after getting a match, people hesitate to send the first message. This can be because they don't know what to say or don't have the confidence to start. You can share the songs from Spotify on personal messages and express what you feel. This is also a cooler alternative to the usual 'Hi', 'Hello' and 'How do you do?'
Music can speak volumes for you. It will express what you feel about your significant other. Play 'What makes you beautiful' to express how heavenly he or she looks. Play 'A thousand years' to tell how serious you are to find a match on the dating site.
2.2 Tinder top Spotify artists
Based on your preferences on Spotify, your tinder playlist will be updated. Suggestions will appear based on the areas where you showed interest. The songs of artists you like will play more often. This will give you an idea of the people whose profiles you are viewing. When someone sees your profile, they will know the kind of artists you like to listen to.
There are love stories that shaped up because both of them liked Shakira. Well, we all know that 'Hips don't lie' and feelings just pop up naturally. People cannot hide their music choices. They cannot lie about them. Even if they do, how long will they endure the screaming of the metal when what they really like is soft melodies?
2.3 Setting the ideal date
You must have imagined a cozy time by the beach or a candlelight dinner. Or is it a good dance at the club and a glass of beer? Whatever be the choice, you can easily set the mood for your date because of Tinder and Spotify's cool association. When you know what he or she likes, you can play that soft symphony by the beach or the violin tune on the dinner table. You can slip the DJ a note to tell him that you want a song dedication for your partner. You can groove to fine beats while you sip on the chilled beer. Music will make the evening better and it is always a good option to associate music with someone you like. Because you will always remember that person whenever you listen to that song or tune.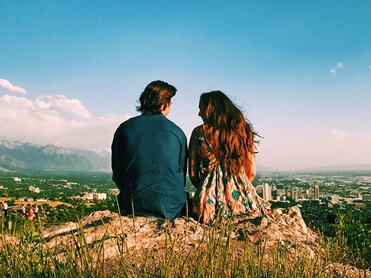 2.4 Create a realistic impression
When you add sufficient photos and music to your profile, the other person will have more data to assess. When you upload the video of your adventure sports, don't forget to add related music. This will give the other person a realistic image in their head. People tend to get attracted to sources where they seem to find some worth. Even though people land up on tinder for various reasons, all of them are looking for something real and fun. So, you might as well show your fun side and give the message to others about what you are looking for.
2.5 Tinder finds you matches
Tinder will give match suggestions based on your music preferences. When you add Spotify anthems, based on the Spotify top artist choices, tinder will show you matches from the stacks of cards it has. When you share 30-second snippets with others on chat or listen to artists on others' profiles, tinder will track your preferences. Based on that, tinder will show you, people. This is a convenient filtering that will save you a lot of time. If you are serious about finding a partner, this will be a huge advantage.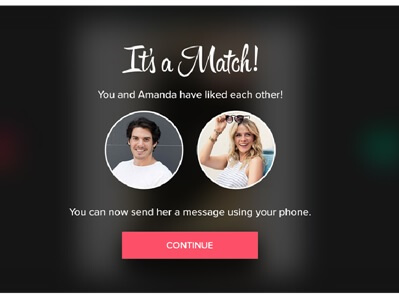 3. What are Tinder Spotify's top artists?
When you add Spotify to tinder, it will automatically look for your music preferences. After a quick check, it will narrow down artists you have listened to often. They have a concise list of artists that they are promoting. In case you happen to listen to them more, they will be instantly displayed on your profile. At the end of the day, they are still your favorite choices.
People's choices change. Based on your mood, you might change your playlist too. Tinder doesn't leave this unnoticed. They will always select your songs based on periods. They check three different time spans. They display songs that you've listened to in the shortest period among the three. The frequency of these songs will be more in the shortest time. That is the criteria for choosing the most played song. As a result, they end up choosing songs that you've listened to recently.
The display of Tinder Spotify top artists is sadly based on popularity. If the artist you are listening to is popular, their songs will find their way to the profile first. Tinder has a list of Top 50 artists. If your guy is among them, he will be the first to get the honors. So, you see that the unconventional choices you have will not be easily made public. These 50 artists are not fixed and permanent. Spotify keeps shuffling these artists every day and Tinder gets the changed list. The feature also depends on this.
Everyone is embarrassed about certain music choices that they have. I like listening to women screaming into the microphones in opera. But I find it too weird to express that side of me. Similarly, you might have some embarrassing choices too. If you listen to such music in incognito mode, Tinder and Spotify won't be able to find them. These songs won't find their place as Tinder's anthem. When you add Spotify to tinder, you should know that incognito plays will not be detected.
Out of all the songs that tinder detects, you can select one song as 'My Anthem'. This should be a wise choice. Because the song you choose will speak loads about your music preferences. This is the first thing that others will see on your profile. Keep it funny, romantic or interesting. Do the necessary to grab some eyeballs.
4. Steps for adding Spotify to Tinder
It is very easy to connect Spotify to your Tinder account. You can display Tinder top spotify artists on your profile in no time. The first thing to do is download Tinder. You can easily do this by downloading the app from the Play store. You can get it for both Android and iOS.
Once you have the photos and the bio ready, you can switch to displaying your favorite songs and artists.
Step 1 - Open Tinder on your phone and go to your profile.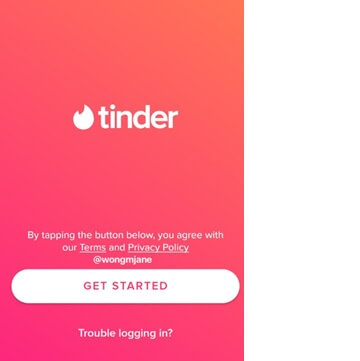 Step 2 - Right below your profile picture on the app, you will find three icons. The one to the right corner looks like a pencil. This is the 'Edit info' icon. Tap on this.
Step 3 - Another page opens where you can make changes to your preferences regarding your partner's gender and your sexual orientation too. On the top you have the Spotify Anthem option. Right below it is Tinder's top Spotify Artists option. You will be prompted to Connect Spotify.
Select that.
Step 4 - Spotify doesn't do anything without permission. This applies to Spotify on tinder too. When you select the 'Connect Spotify' option, open the Spotify app on a separate tab and give permission to allow access to Tinder. And instantly, Tinder will analyse your music choices and you will have your Tinder Spotify anthem ready.
So, it is no rocket science and everyone can easily display their music choices on Tinder using Spotify. You will find your partner and hopefully both of you will sway to the tunes of love soon!