In this new world of technology, there is no reason why you should be single right now, even if you are an introvert. With the new tech-savvy dating apps and websites, you can find love anywhere in the world. The apps let you meet different people, who you would not have met in traditional methods.
Zoosk is one of the leading dating sites, and they also have apps that you can download from Apple Store and Google Play Store.
This article will take you through some of the main features of Zoosk, and how you can use these features to chat, meet friends or date to find a future partner.
Part 1: How does Zoosk work?
If this is the first time you are hearing of Zoosk, you may think that it is the name of some exotic dance.
Zoosk started off as a Facebook application and slowly grew popular and changed into a full-blown dating website. It has millions of registered users, increasing your chance of finding love dramatically. The app is one of the few that seamlessly integrate social networks like Facebook, with online dating. This way, the people you meet will be selected based on several real characteristics.
You can opt to use the free program, but you increase your chance of meeting the right people when you use the premium version. There are several features to select and communicate with people you would love to meet.
Most of the users on Zoosk are quite young and it is especially great for people who are starting out into adulthood.
Part 2: How to set up a profile on Zoosk
Step 1: On the sign up box (web browser or app), type in your email address and Passwords to start up the account.
You may also sign up using your Google or Facebook account. Simply click on the preferred button, and then authorize the signup using these channels.
If you use your email and password, follow the steps below:
Select your gender and also your preferences for those you would like to meet.
Type in your date of birth; month, day and year.
Fill in your email address
Fill in your preferred password.
(If you use Facebook or Google to set up your account, you may skip this step)
Once you are done, click on the "Browse Now" button.
Step 2: It is now time to fill in your location specifications so you can get matches within your area.
In the box labeled "City or Zip Code" type in your City or the zip code that you use for your mail. You will get a drop-down menu that will have a list of places covered by your zip code or city. Click on the option that best describes your location. Now click on "Continue".
Step 3: It is now time for you to add your profile photo.
Browse through your phone or computer and select the picture that you like. Now click on "Open".
If you used your Facebook or Google accounts to sign in, you may choose "Upload from Facebook" or "Upload from Google".
You may also opt to stay without a profile picture by clicking on "Skip" and adding one later.
Step 4: It is now time for you to answer questions about yourself to fill out your profile description.
Each of the questions has a drop-down menu from where you choose the best answer.
What is your body type?
Do you have children?
If you do, do they live with you?
What is the highest level of education that you have achieved?
What is your ethnicity?
One you have finished selecting the answers, click on "Continue".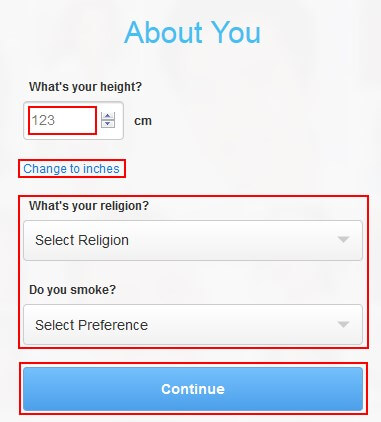 You will find another set of questions to fine tune your profile information. Click on each of the boxes and select from the suggestions or type in your answer.
What is your height?
What is your religion
Do you smoke, and how often?
Once again, click on "Continue".
You are almost done; you now have to verify the email address and the account that you use for Zoosk. You must log into your email address and look for the email sent from Zoosk. Inside, click on the button labeled "Confirm your Email".
That is it! Now your Zoosk account has been set up. The next thing to do is start browsing through the profiles that Zoosk will have selected for you. These are for those people who best match the information you have given.
Part 3: Which group of people will you be dating?
Zoosk, as with all other dating apps, allows you to select the kind of people who you want to date. There are two ways to go about this:
The first method involves swiping through cards which hold profile pictures and a brief summary of the profile.
You can swipe right to accept the suggestion or left to reject. There are many profiles to go to, and this makes it easy to let people know that you are interested in communicating with them
The second method is a bit more complex. You have to go to the search feature and then choose the people you would like to meet based on their age, religion, and education level and body type.