Nowadays, Geocaching has become a part of family activity. "Geocaching for kids", "Geocaching couple" etc. are some of the commonly searched campaigns on the internet.
This may sound surprising but parents are involving their kids too in this activity. There are numerous benefits linked to it. Because it allows the parents to let their kids celebrate little victories in life.
Why do Geocaching for Kids
No wonder why, geocaching for kids is one of the most followed trends these days! With numerous cache points listed across the globe, each family outing is linked to an adventure and a sweet victory.
Also, these days kids are more into the virtual world rather than the natural or real world. And do you know? somewhere you as a parent or guardian are responsible for it. You have to increase your efforts if you want your kid to be more active toward this natural world rather than drowning into gaming screens. You should have the benefit of good technologies like Geocaching to help your child seek some moral values through it.
Some of the benefits are as follows:
Inculcate the sense of team spirit: The importance of working as a team can be taught to the kids. This is only possible if as a parent you're equally enthusiastic and active to take part in an adventurous activity.
Guide and a leader: Let your kids decide the steps and guide you. This will strongly improve his leadership and decision-making skills.
Explore new places: Geocaching with kids provides an opportunity to explore new places and unlock unseen adventures. This will help you to spend more time with your family and strengthen the bond between you and your kid
Exercise: This can be seen as a great opportunity to work out with your kids. Besides, it will help you to get close to nature and exercise outdoors in a fun-filled manner.
Make memories for a lifetime: This whole geocaching experience will provide you with a treasure trove of memories to last for a lifetime
What to bring together while geocaching with kids
Geocaching is an outdoor activity, which requires exploring different places which include mountains, jungles and also difficult terrains. Hence, treat a geocaching-hunt similar to hiking or trekking activity and dress your kids comfortably and carry essential supplies including water and snacks.
You should also know that caches also contain small trade items. Here, the rule of geocaching says that if you are taking something from the cache you've to replace it with something equal or greater value. Therefore, always have your kids pack with replacing assortment of trinkets for the sake of trading
Carry a trekking pole or hiking stick and a flash-light it helps to search caches in the dark places. With all these things don't forget to bring the logbook to leave the proof that you've found it,
How to choose caches for kids
Geocaching for kids sounds perfect, right! And we are sure that no you've got the most interesting idea to get your child out from his virtual world. But there are few measures that you should place in your mind to choose the right cache for your kid. So that you can extract the best from it.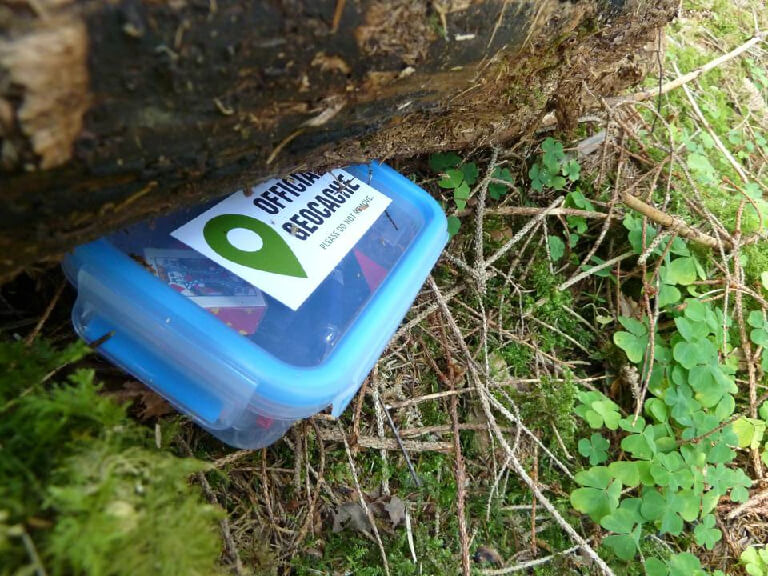 So, while choosing a geocache for your kid, do take care of the following things:
Cache Size: Bigger the cache size, higher the chances that your kids will love it. There's no point in searching if your kid is not satisfied with the fruit. A bouncy ball, a shiny sticker or a toy may fascinate him more than a wooden coin or a nickel coin. So, you should choose at least a medium or a big size cache.
Easy Geocaches: If you're geocaching with kids, you should research the terrain and the location. If you're a premium member do look for the waypoints and uploaded notes.
Ensure that the cache is there: There is no fun if there is no victory. So, ensure beforehand if a geocache is present at the given location or not. Follow leads on the cache page and check out the DNF(Did Not Find) logs to be sure.
Theme-Based Geocache: Try to filter your search and look out for theme-based geocaches. A character from your kids' favorite movie or story will be a suitable one.
Bring snacks: You never know how much time it is going to take. So don't forget to pack some snacks for your kids and your family. Be prepared for everything.
Hiding Your First Cache (kids)
After finding a lot of caches together with your child (100 caches is a good amount) But after that let your kids place their first cache on their own because it is the part of geocaching. After all, you can't be anytime & anywhere with them.
Also, follow the guidelines provided by geocaching.com which ensures you too that your kids would enjoy finding caches themselves. Following are a certain measure that you should go through before letting your child his/her first cache
Is it easy to get to?: If the cache is placed close to any road or high traffic area, and an extremely difficult terrain then there are high chances that someone would stumble on it. Hence, always look for a safe place that will take a bit of time to get to and create some camouflage to hide it.
Is it easy to find?: Don't make it too hard to find it and too visible that a passerby could spot it. Make it a generous challenge and always be sure to include some hints with it.
have permission to hide the cache?: Hiding or placing your cache needs permission whether it is about a private land or public space, which includes all national parks and wildlife refuges. Always check it with the landowner to the land manager or take permission from it.
Stay away from all the preserved areas: There are certain places that are not supposed to be shared for any public interest such as archeological sites, historical monuments, government bodies, etc. Always make your child understand staying away from such places for geocaching.
Weird places to find: Some caches may be hidden behind the dumpster or similar weird places. Would you like to send your child there? Of course not, always check where the cache is placed while letting your child search it.
Do you have a suitable container: Geocaching requires a waterproof, non-breakable, and durable container with a logbook and pen to place the cache. Do you have that?
Review other cache's location in your area: Teach your child to review the area. It may contain other caches. Your cache must be at least 0.1 miles (528 feet) apart from another cache so that other geocachers won't get confused while hunting it.
Things to avoid when Geocaching for kids
These days treasure hunt events like geocaching for students or geocaching for school are also organized at various places. Geocaching clubs are already present in various schools. According to the teachers, this is a fun-filled and an efficient way to teach various skills to the students. They also emphasize the fact that while geocaching with kids, certain things are to be avoided. Some of them are as follows:
Avoid Controlling: Don't be overprotective. Let the kids do what they want. They love to do and find things themselves. Give them a chance to do it themselves. Avoid Controlling them unnecessarily.
Don't settle for micros: Kids don't settle for something small. They're always looking out for something big. So, don't settle for micros and choose at least a medium or big cache.
Avoid tough terrain: While choosing a cache, check the information and details related to it. Study the map of the location and familiarize yourself with the terrain. While traveling with kids, avoid harsh terrain.
Avoid Rushing: Kids take their own time to find something. Let them explore more places and take their time. Allow them to decide whether they want to go home or stay for a while.
Don't be lazy: Kids are always active when they are outdoors. They are full of questions. So, try to answer as many of them as possible. Don't be lazy. Show enthusiasm and unleash your inner kid with them.
Conclusion
That's all from the list of "to-do's" and "don'ts" while geocaching with kids. Still, if any query persists, do notify us in the comments section.
The real meaning of technology is to make life better and smart but from the last 30 years, we have extracted the more percentage of bane from it. Herewith Geocaching we. can again touch the lost connection of nature with us.
It is thrilling, adventurous, exploratory, and knowledgeable. All these expressions are meant to be the nature of Human beings that we should develop with time.
Moreover, 'Einstein' has well said that if you look deep into nature you will find the solution to every problem.
Let's follow the same by 'Geocaching'.
So what're you waiting for: Join the community of million users across the globe and start exploring! Earn Geocaching!
That's all from the story. Stay connected to find more.