"Is POF dating site legit and should I be investing my time on it? What are some other sites like POF that I can also try?"
In the present technologically-driven world, online dating has certainly changed the way we meet new people. One of the popular options out there is Plenty of Fish, which is available on the web and as an Android/iOS app. While the POF website has been around for more than 15 years, users are still not sure about it. Well, to answer your queries about the Plenty of Fish dating site, I have come up with this detailed review. Apart from its pros and cons, I will also suggest some other free dating sites like Plenty of Fish.
Part 1: POF Dating Site: The First Glance
Founded in 2003, the Plenty of Fish dating site is a Canadian company that operates from Vancouver. Presently, users can access its dating services from either its website or its mobile app. The website is more personality-driven and helps us find matches who share the same interests and beliefs as us.
Once you visit the Plenty of Fish website, you would be asked to create your account. Apart from listing things about you, the POF dating website will ask your preferences and what you look for in your partner. The questionnaire would include 70 different parameters about things like religious beliefs, work, lifestyle choices, physical traits, and so much more. After collecting your data, the POF site will suggest the relevant matches for you.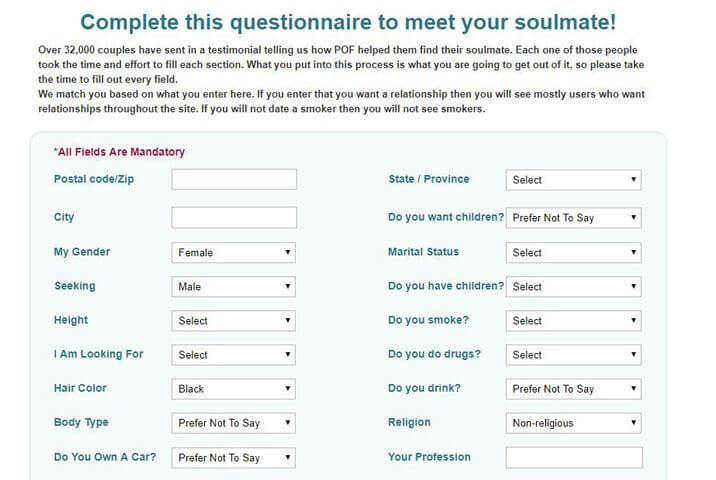 Once you have matched with someone, you can start a conversation with them on the POF dating site or its app. The messaging service is free, but there are some limitations on the number of first messages that you can send. Also, the POF free dating site has some advanced features that you would need to pay to access (after getting a premium account).
Part 2: Plenty of Fish Dating Site: Hits and Misses
Just like any other popular dating platform, Plenty of Fish is also not perfect. While there are some limitations, the website has a lot of things to offer as well. Here are some of the things that I liked (and disliked) about it.
Pros
The POF site is pretty easy to use and has a lightweight interface that anyone can navigate.
Most of the services in the POF dating site are free and it won't charge you anything.
You can see the number of people online at a time and even look up for someone via their username.
There are all kinds of filters and personality tests that would help you find someone who has the same interests and principles as you.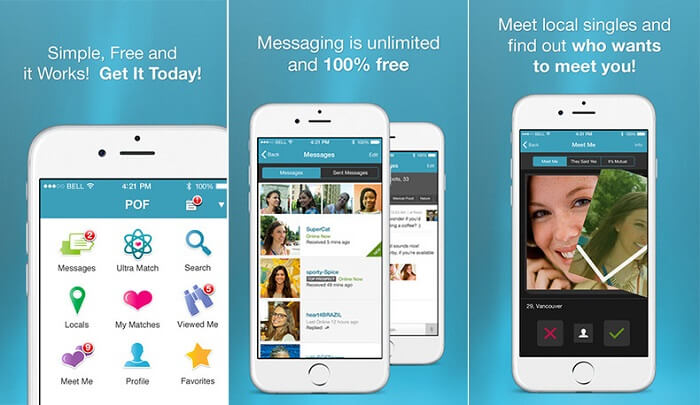 Cons
The Plenty of Fish dating site was developed in 2003 and it hasn't evolved much ever since. The overall interface feels old and rustic.
Presently, it is not available globally and people only from a few countries can access it. For instance, you can only access it from the USA, the UK, Canada, Australia, Spain, Brazil, Ireland, and New Zealand.
The POF website is not considered safe by many. In 2019, it was discovered that the POF dating website was forwarding the private information of its users.
It is not entirely free and some features are only reserved for its premium users. Also, it has a lot of restrictions on sending messages.
Part 3: Tips to Find More Matches on the POF Dating Site
Our overall verdict for the POF website is that it is worth giving a shot. It might take some time, but you will get used to it eventually. Though, if you want to catch more fishes in the POF site, then you can follow these suggestions.
Fill up all the details honestly

After signing-up, the POF site will come up with a long questionnaire that you need to fill. Besides that, there are also some chemistry tests that you can take to know how compatible you are with someone. It is recommended to enter all the details honestly as nobody wants to start a relationship based on dishonesty or half-baked truths.

Send interesting messages

Needless to say, your first messages on the POF website can make or break your impression. Avoid any generic message and try to come up with something interesting and original. You can go through their profile, look for some common interests, and ask them about it. Make sure that you don't send duplicate messages to people else you might get your messages blocked on the POF dating site.

Have a detailed profile

A lot of people make the rookie mistake of skipping a lot of things while making their POF website profile. While it might be a little overwhelming at first, try to devote some time to create an interesting and detailed profile. In this way, the other person can know more about you without asking so many questions.

Spoof your location to get more matches

Since the POF free dating site will only display people of the local area, a lot of users would like to explore other options. I would recommend using the dr.fone – Virtual Location (iOS) tool that can spoof your iPhone location in seconds.
There is no need to jailbreak your phone or go through any technical hassle. Just connect your phone to the system and use the dr.fone application to spoof your location anywhere in the world. This will let you unlock new profiles on POF from the comfort of your home.
Part 4: What are some other Sites like POF?
Apart from the Plenty of Fish dating site, there are tons of other dating platforms out there. If you are looking for more sites like POF, then I would suggest these options.
1. Match.com
Owned by the Match group, this is one of the most trusted dating websites that operate in most of the countries. It has been in operation since 1995 and is still one of the most visited websites globally. Apart from its desktop site, you can also access its mobile app. The platform is available for free, but you also get its premium version to access its advanced features.
2. Bumble
If you are looking for a more personal and safer dating experience, then you can consider using Bumble. It is known as a feminist dating app as it encourages women to make the first move. You can explore the wide range of profiles in your location and start a conversation after a match. Though, the other user would have to reply within the first 24 hours else their profile would automatically be unmatched. This makes the dating game faster and more engaging.
There you go! Now when you know every important thing about the POF dating site, you can easily check if it is the right platform for you or not. Since the POF free dating site won't cost you a single dime, you can simply create an account there. This will let you check the POF website on your own and you can be a judge of this dating service personally. All the best!